It's the perfect time of year to stop and take a minute to count your many blessings. We gathered some friends together for a gratitude blog hop because we wanted to let our families know just how much we love and appreciate them.    Check out my Printable Thanksgiving Quotes and then visit my friends to see what they created with the "Gratitude" theme.  There are recipes, printables and family traditions included in this blog hop.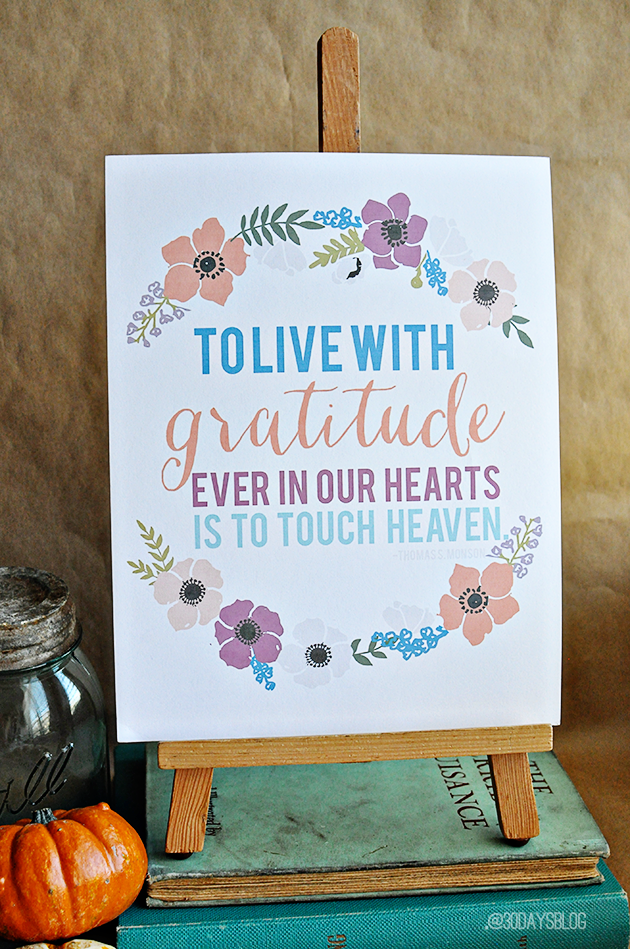 When I was trying to figure out what to share, I looked up some quotes for inspiration.  And I just couldn't help but create some printables.   Surprise, surprise.
Download these gratitude quote printables and hang them up in your home just in time for Thanksgiving! For personal use only.  Thanks.

Hop on over to these fun projects based around the Gratitude theme:
A big, huge thank you to our families for their support and love.  They are our guinea pigs, models, help us when we have last minute deadlines, don't blink when we wear yoga pants for two days in a row and stick through the good, the bad and the ugly.  We are so grateful for you.
Look at all these pretty faces! So much love in this collage: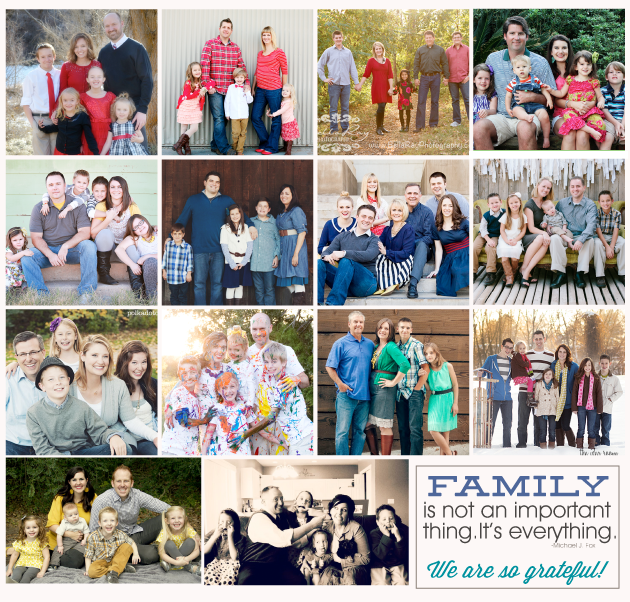 We thought you might have fun getting to know a little bit more about our families too.  So we asked them some questions.  Here's what they had to say:
(if you follow me on Instagram, you're probably used to seeing these faces over and over again :)

Josh
Funniest, smartest guy I know.  We've been married for 15 years and he still is the only person who can make laugh when I'm really angry.  He's going to law school while working full time still, coaching baseball for our youngest, teaches the 10 year olds at church and is a "legal administrator."  Josh loves sports more than anyone I've ever met – with a slight obsession for the LA Dodgers and Pittsburgh Steelers.  He also hates to admit it but is the most romantic guy (a big teddy bear with a heart of gold) and is constantly pulling off the best surprises.
What do you do for a living?
Commercial collections

How did you two meet?
It was love at first site. She was standing in the doorway to my future of bliss.
Note: I really was standing in the doorway when we met- he came to meet his roommate's girlfriend, who happened to be my roommate.
And what do you love most about your wife?
Her determination.

How much time do you think your wife spends on her blog per week?
Oh. 200 hours.  Slight exaggeration.
What is your favorite project/recipe she's made?
Every meal.
Good answer Josh.
What's her favorite thing about blogging?
Independence and creative license.
And least favorite thing about blogging?
Interruptions. She hates when she has to do anything else other than that.Most favorite?
Her sense of empowerment.
I'm grateful that after all these years together we are still going strong. We've weathered so many storms – miscarriage, autism diagnosis, health issues with our parents (he's been my rock this year with my Dad being sick) and more- but when we work together as a team, we are unstoppable.  Josh is the yin to my yang.  We couldn't be more opposite if we tried.  I fall more in love with him as the years go by. 

My kids
I became a mom at the ripe old age of 22 years old.  I feel like I have sort of grown up with my kids.  Jonathan is almost 14- he loves music, movies, swimming, the trampoline, 4 wheeling, camping, hiking, ANYTHING outdoors related.  He was diagnosed with autism (read more about the A word) at the age of 2 and works harder than anyone I have ever met times ten.  My biggest hope for him is that he knows just how much he is loved.  Julia is amost 12- she loves music, food, anything related to England (especially One Direction), playing the piano, her mini iPad, talking with friends and is a creative, girly girl.  She is figuring out who she wants to be and is a typical "tween."  I am proud of her confidence and determination.  Jules' teachers have always said how kind and awesome she is.  (I just wish I could get her to calm down her 11 yr old sass at home!) Andrew is 7 1/2 years old, our caboose- LOVES baseball (more than anyone I've ever ever met, can tell a pro player from behind by their stance) and luckily shines on his travel and all star team, also loves reading, and baking.   He's hilarious, smart, kind, and compassionate.  At a recent parent teacher conference his teacher said "If I had a boy I would want him to be just.like. Andrew!"  Proudest mom moment!
I asked Julia & Andrew to answer these questions since JJ has limited communication.
What are your favorite holiday traditions as a family?
Julia: Christmas Eve – how everyone performs something.
Drew: When we go to Grammy & Papa's house on Thanksgiving
What is your favorite recipe or project that your mom has made?
Julia: That's a tough one.  Because there are lots of ones I really like.   You've done so many good ones, I don't have a favorite.  (BROWNIE POINTS FOR JULIA!)

Do you have any family favorite- games, movies, activities, hobbies?
Julia: Frisbee golf
Drew:  Family Home Evening
Are you tired of taking pictures for Mom's blog? :)
Julia: Yes and no.  It's hard having to take a million pictures just to get the right one but I do like the camera.
Drew: Not really.
Phew!
These three.  How did I get so lucky?  Each brings something completely different to my life.  Patience, compassion, determination. I'm amazed at their ability to make me want to scream one second and to kiss their cute faces the next.  They are growing up soooo fast.   When I was little I knew one thing for sure, I wanted to be a mom.  I am so blessed to be theirs. 
Just a note of thanks to you for visiting 30days, for your sweet comments, sharing the posts that I create and for you support.  You are appreciated!
I'd love to hear about your family and why you're grateful for them! Leave a comment below so I can get to know you a little better.