With the world changing at warp speed, it's important to know what's going on around us, especially when it comes to our kids.  Let's talk about guidelines for kids in regards to social media.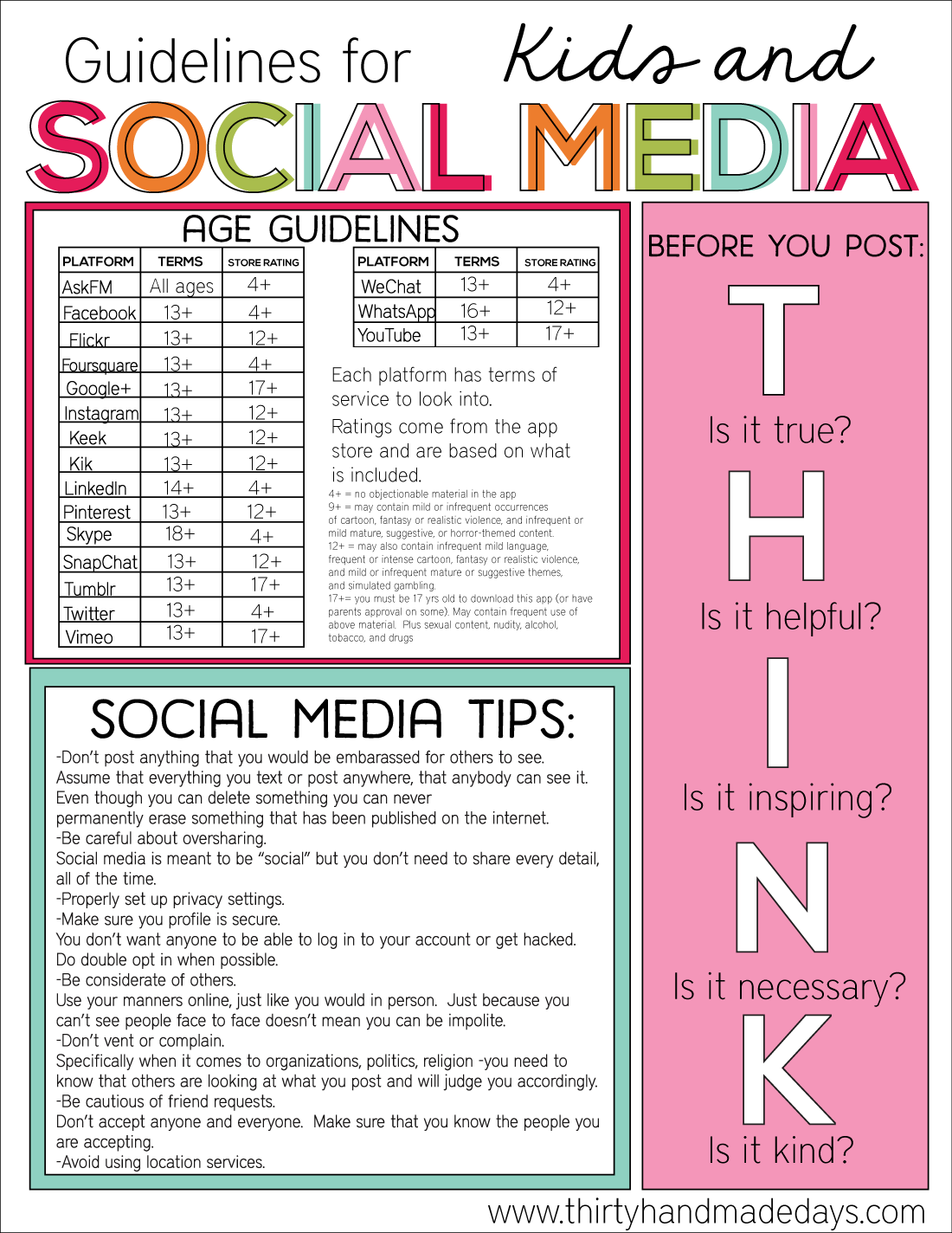 I have posted a ton of parenting guidelines over the years.  I research online, talk to friends and try to share the most up to date information.  But we've entered a weird phase with all of the technology advances.  In some ways it's amazing.  In other ways it's terrifying.  One of those ways is with social media.  I created the above printable guidelines that can be downloaded to use with your family here.
Social Media
Before I go any further, I want to be clear that all social media is not bad.  A lot of good can come from it.  But it can also be used in harmful ways.  Because it's all so new, we really don't know the lasting effects on generations to come.  I've had many conversations with my teenagers about this.  My 16 year has said "Mom you didn't grow up with this" on more than one occasion.  It's true.  I didn't.  We're all just doing the best we can with what we have.  In writing this post I want you to know that social media and how it affects my kids is something I think about often.  But I am still learning and growing – I definitely don't do it right.
There is a lot to consider with social media.  General guidelines are good, but like all other parenting guidelines, you have to do what is best for your family.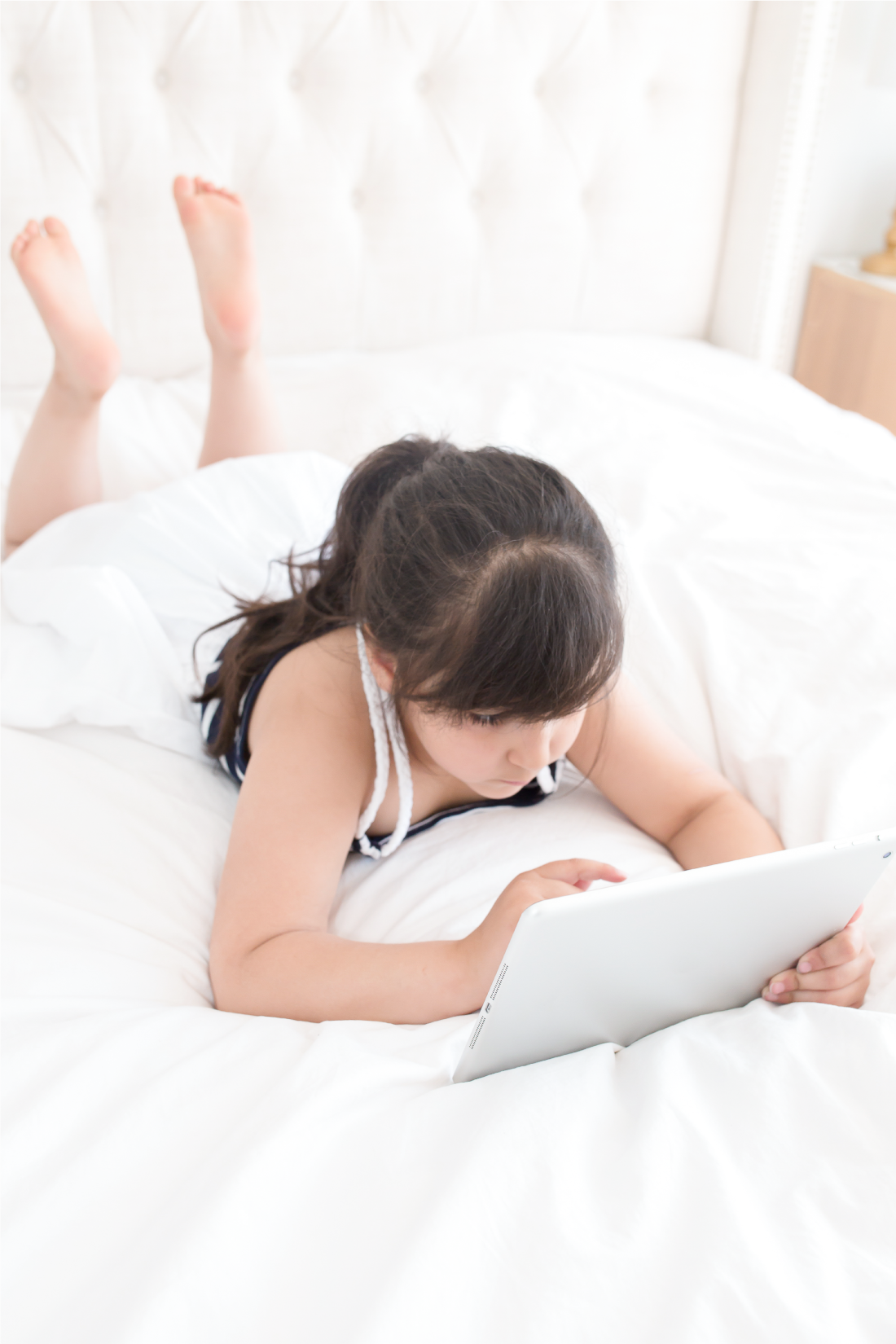 There are all kinds of studies and statistics to show how much time we spend on our phones and tablets. Entreprenuer.com shared the stat that average person will spend 5 years on social media.  Wow.  I'm sure that number will increase as technology continues to advance.  If you want to know how much time you or your child is spending on their phone, there is an app called Moment that will track it for you.  You can also set up Moment Family to manage your child's time.   We also use the app Our Pact with our kids.  It allows us to push a button and shut down apps.  It is awesome! (though my kids would disagree) 
While social media can be used for good, here are some guidelines:
Keep communication open
Communication is key.  Your child needs to know that it's okay to talk to you about anything.
Set boundaries and re-visit them
Kids need clear boundaries.  With social media it is the same.  If you leave things open to interpretation, some might go beyond what you are ok with in your home.  Because of the constant changes, you need to revisit those boundaries as things come up.
Set a good example
Admittedly, this is a hard one for me.  Because my job goes hand in hand with social media, I am on it more than the average person.  But much like everything else, kids learn most by example.  If you are on social media a lot, they will learn from you.  If you are posting things that aren't uplifting, they will learn that from you too.
Educate yourself
Things are changing constantly.  Keep up to date with those changes.  Make sure that you know the latest apps so that you can be aware of what your child might be getting into.
Talk to other parents
I have learned the most from talking with other parents.  Everyone has their own rules and guidelines but talking things out with other parents who are in the same phase as you (or parents who have kids a little bit older than yours), can be so helpful.
Here are a few other posts that I have shared that go hand in hand with this:
Other Guidelines for Parenting: