At the top of my list in parenting is having kids learn important life skills. These are the things that I think my kids will need as they leave our home.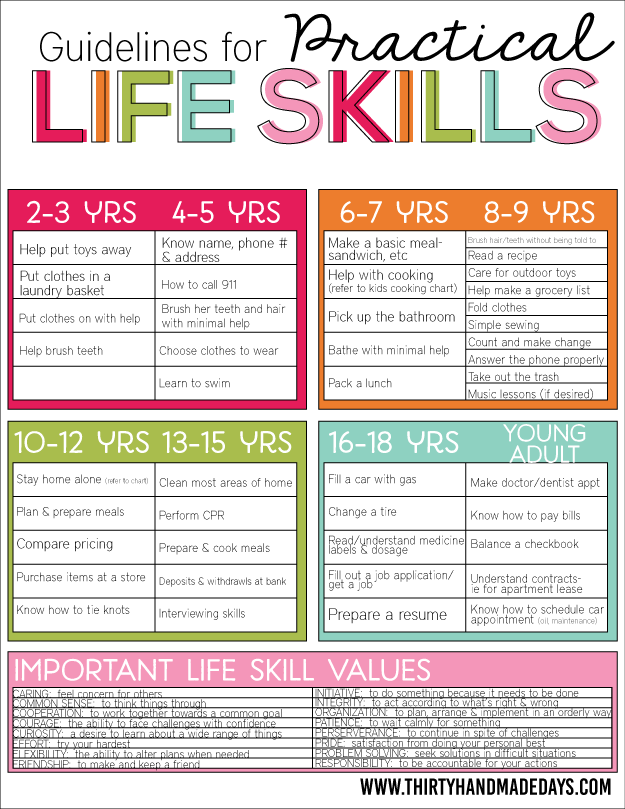 As my kids get older, I think a lot about what I need to teach them. When they were little it was all about surviving. Don't get me wrong- it's still about surviving. Ha! But my focus has changed a bit as I now have an almost 12 year old, 16 and 18 year old. I think often about the types of things they need to know to be successful outside of my home.
I'm here to tell you that I don't do everything right. I probably don't even do this mom thing 1/4 of the way right. I am my own worst critic and am very aware at what and where I lack. I post here not only to help other people but to help me be a little more accountable. So in case you think I'm walking around as a super mom, I AM NOT even close. But I'm trying and every day I work on being a little better.
I scoured the internet and parenting books to find guidelines that seemed appropriate. This is just a guideline and as always, do what works best for your child. All kinds are different – some are very mature and responsible, while others need a lot more guidance and pushing towards responsibility.
Download this guideline. For personal use only.
————->>>>>Download the updated design.
Life Skills
The guidelines above are what I'm going to refer to. But the basic skills that I think are vital to my kids are these:

How to COOK
I've talked about this A TON on here. It is really a passion of mine. I just think so many life lessons can be taught in the kitchen. It's not only about baking and cooking but also about spending time together. And doing math, learning how to clean up, what healthy food is, and more.

How to CLEAN
Probably my least favorite thing ever. We need major improvements on this one over here. I have friends who clean when they are stressed. (how are we friends!?) Cleaning stresses me out. But I want my kids to know how to do it all and how to have a clean home.

How to BUDGET/MONEY MANAGEMENT
We've discussed in the past too. It's something that I feel is vital for kids to know how to budget and manage money. I remember getting a bank account in fourth grade and having a bank representative come talk to our class. How money is used (credit cards) has changed a lot since I was little but the art of budgeting, saving, balancing is definitely something worthwhile to teach kids.

How to WORK
I'll talk more about this one soon. But I feel like kids today aren't required to work as much as they used to. Everything moves at warp speed and things are handed over quicker than they used to be. I think a good work ethic takes you so far in life and it's something that I really want to pass on to my kids.
What life skills are important to you to teach your children?