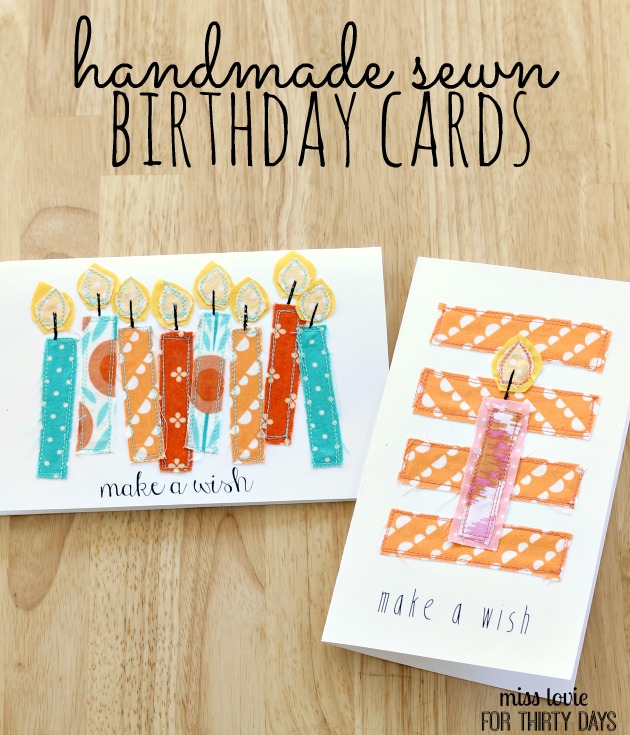 Hi 30 Days readers! Today I'm here with an easy tutorial for making your own birthday cards. These Handmade Sewn Birthday Cards are so simple and versatile that they could be made for a friend, family member, or even a child! And it's a great scrap-busting project and uses materials you probably have in your craft room already!
 I fell like greeting cards are some of the most over-rated and expensive things you can buy someone. If a card is handmade-fine, I'll pay a pretty penny for it, but if not, why do I continually spend $3-$6 dollars on something that will most likely be thrown away?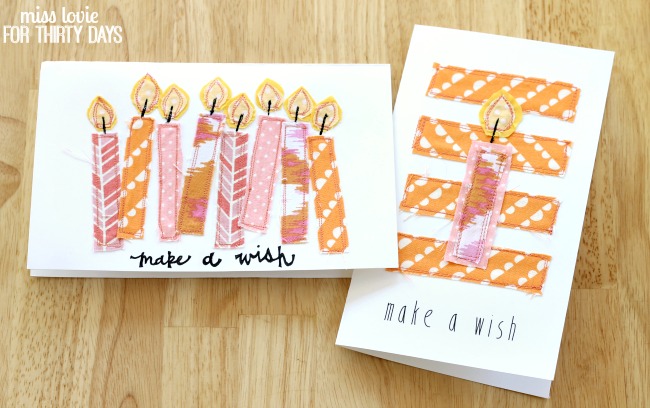 I love making cards for family and friends because I can create the feeling I have in my head for that particular person in a card I made instead of walking the aisle for an hour for a card at a drugstore that isn't usually even that great. And usually they're freeeeeeeee. Being a craft supplies hoarder, I almost always have what I need on hand to make a card for someone. Now I'd be lying if I said I never buy greeting cards from the store because I do (because, let's be honest, I am a procrastinator and I don't always have time to make beautiful cards for everyone), but having the option to make handmade cards that are awesome is nice.
 Since I was making a few handmade gifts to send out to some girlfriends of mine with birthdays, it seemed like the perfect time to make a few birthday cards as well. Sewing fabric on paper or just sewing through paper is super fun for me for some reason. I LOVE the effect it creates!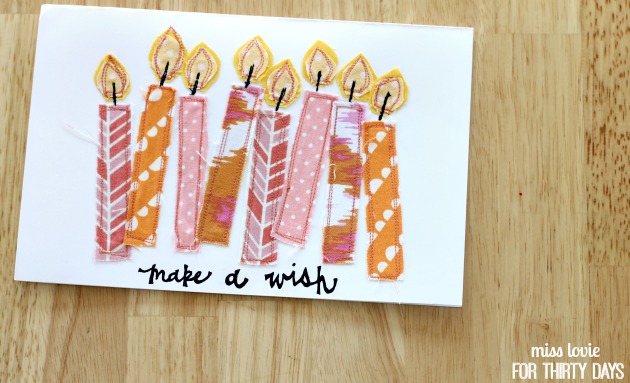 I love the idea of making several of these ahead of time and then have them ready to go when you need them. Or you could even make a set of them and give them as a gift to someone else!
For this project you'll need:
Card stock (I used white, but Kraft paper would be great, too)
Elmer's glue (or any kind of glue that won't show through the fabric- fabric glue would work great, too)
coordinating fabrics (scraps work perfectly!)
good fabric scissors and/or cutting mat and rotary cutter
contrasting or coordinating threads (whatever floats your boat)
black thread for the candle wick
marker to create your own handwriting on the card stock
Or- just use my templates to create the wording if you like! Each card comes in two fonts. (Here is the Horizontal Version  for Card #1 and here is the Vertical Version for Card #2.)
For "Make a Wish" Card #1: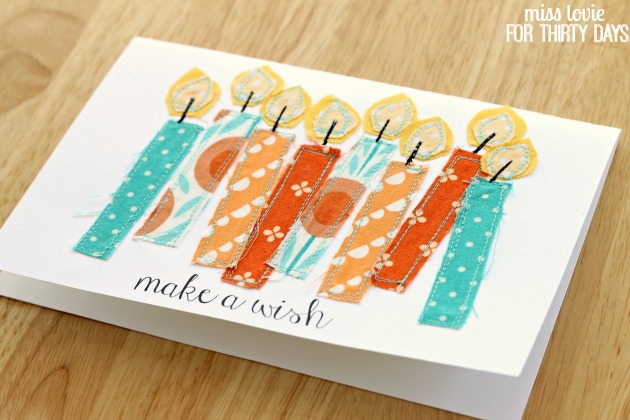 First either print the cards you want using the Horizontal Version of the card template or use a pen and write in your own words onto card stock. Get this right before you start on your sewing!
Next, cut the fabric pieces you need.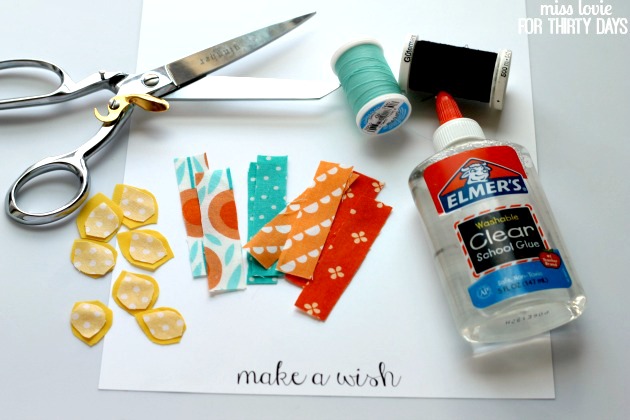 Cut 8 rectangles .75 inches x 3 inches in different coordinating fabrics for the candles.
Cut 8 "flames". These don't have to be perfect. Just little hershey kiss shapes with a flat bottom and pointy top. You could use the double layer for the flames like I did with the solid flame in the back of the polka dot to make it stand out more, but depending on the fabrics you choose, you may not want to.  The flames for these candles are about 1 inch wide and 1.5 inch tall.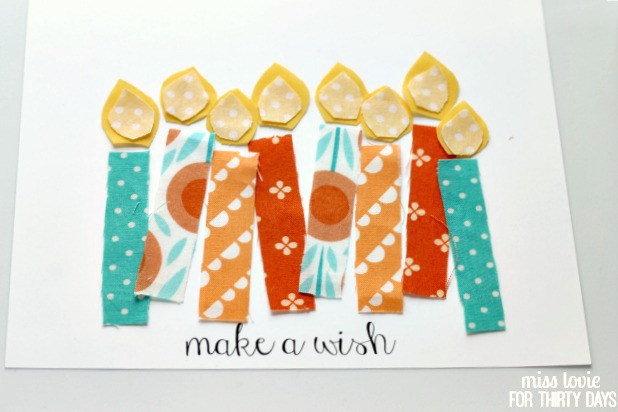 Next, plan how you want your candles to lay and then use tiny amounts of glue to glue them in place.I found that if I got too much glue in one place, it did show through some of the thinner fabrics, so you'll want to avoid that. You need just enough so it doesn't move while you sew. I found that it worked best for me to squeeze a tiny line down the middle and then spread it around in super thin layer. It doesn't need to cover the entire back of the fabric.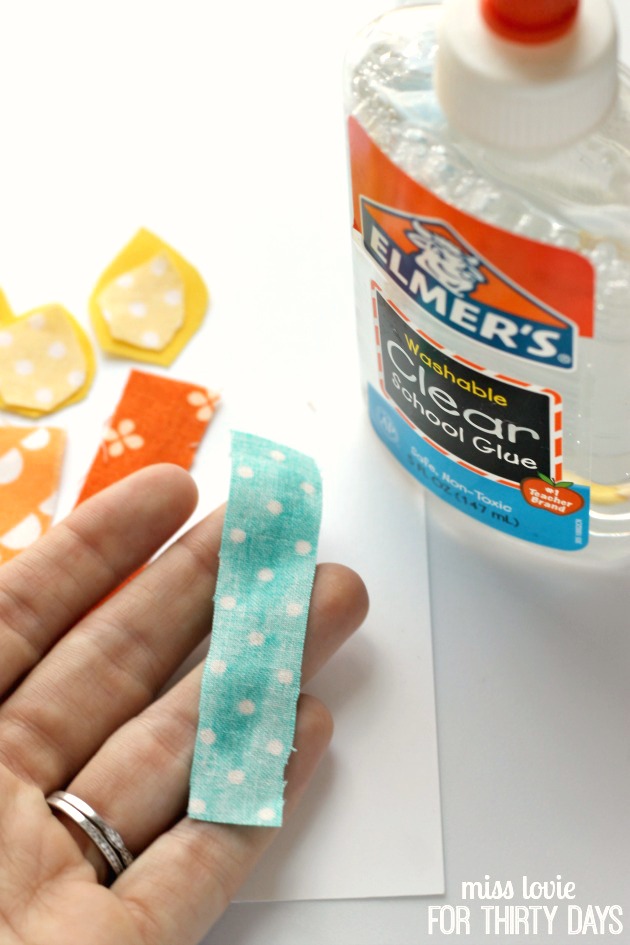 Next, sew! Set your stitch length to around 2. This is a prettier than a smaller stitch. I found that I liked the thread to contrast at least a little bit so it showed up well. I use the same thread for everything besides the candle wicks. Be careful when you're turning your work during this bit. The card stock doesn't give like fabric would so it's in the way sometimes. Just let it roll up if it needs to, but don't let it crease or bend too much.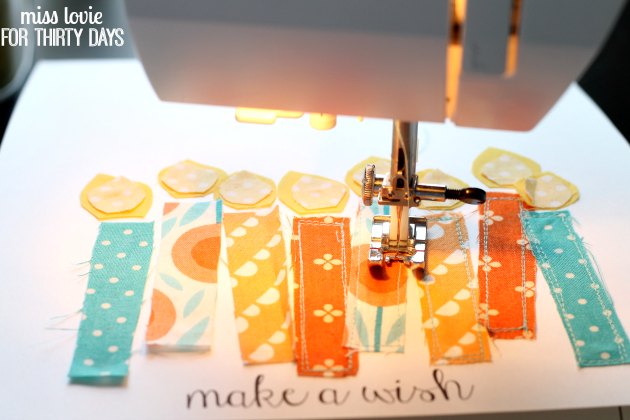 For each candles sew around the outside edges twice (basically creating two rectangles of stitching). If you like, you can make the stitching kind of messy to add interest. Don't worry about super straight lines and have the lines cross over each other sometimes. Don't forget to backstitch! If you want you can just pick up the presser foot, move your work to the next candle and keep going, you can just clip your threads later.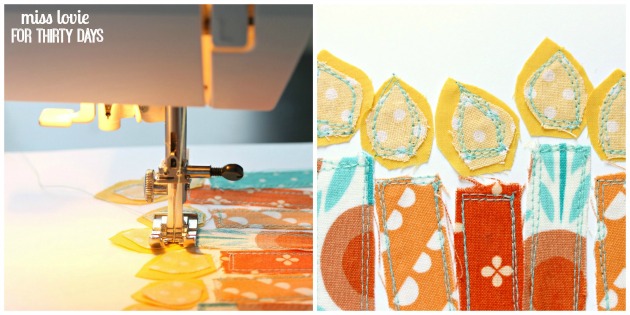 Once all the rectangles are sewn, move on to the flames. These are definitely tricky, especially since your stitch length is a little long. Just go with it. Making mistakes is no big deal because you can always just go over it with a new line of stitching. Just go slow, sew a few stitches, keep your needle down, lift the presser foot, turn your work, sew a few more stitches, repeat. As you can see, I sewed around the flames more than twice and it was usually because the stitching got  a little wonky. It all worked out in the end.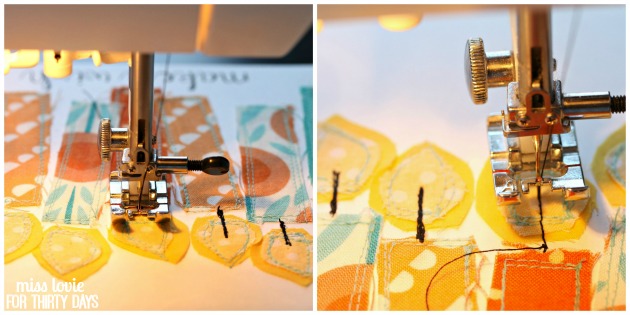 Finally, switch out your thread to black and stitch the wicks. Just stitch four or so lines next to each other (again, a little haphazardly).
Trim all your threads and boom. A beautiful handmade card.
For "Make A Wish Card #2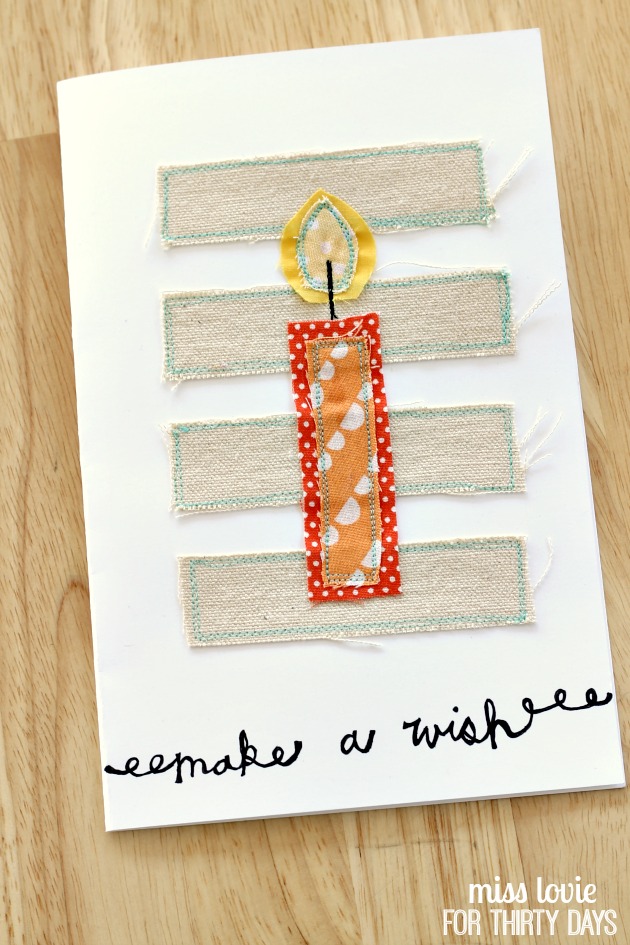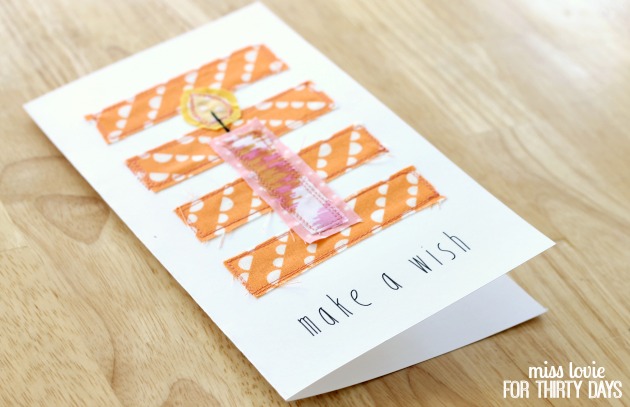 First print the the card you want from the Vertical Version of the card template or hand write your own message onto card stock.
Next cut the fabric pieces you'll need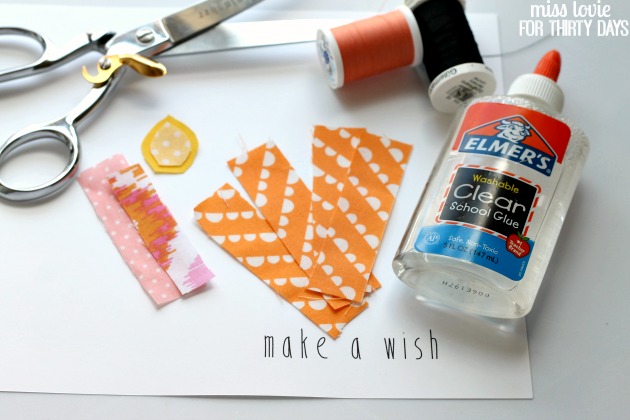 One rectangle 1.25 x3.5 inches and another slightly smaller .75 inches by 2.75 inches  in coordinating fabrics.
One flame (about 1 inch wide and 2.5 inches tall)
Four  rectangles 1 inch x 5 inches for the stripes in neutral fabric or more coordinating fabric if you like!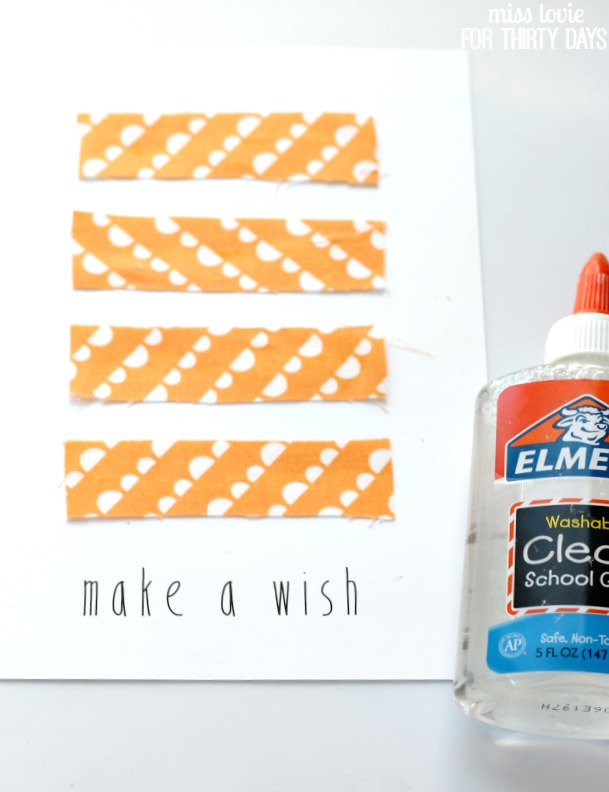 Next glue the fabric pieces in place using very small amounts of glue. Start with the stripes. Glue the first stripe about 1 inch from the top and, centered on the card from each side. Then glue the next ones about 1/2 inch apart. Glue the layers of the candle together (and the flame if you're using two layers) and set aside.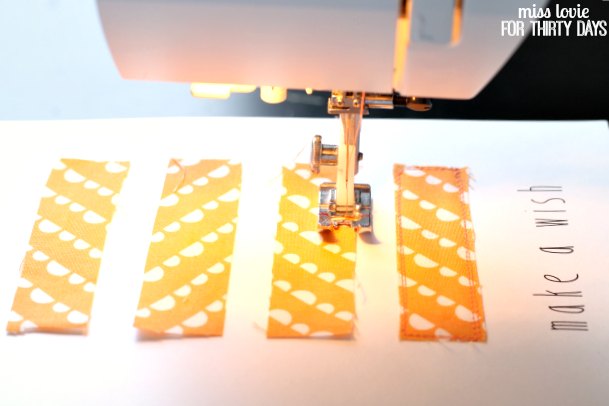 Next, sew along the outside edges of the stripes creating sketchy rectangles on each stripe. Backstitch and trim threads.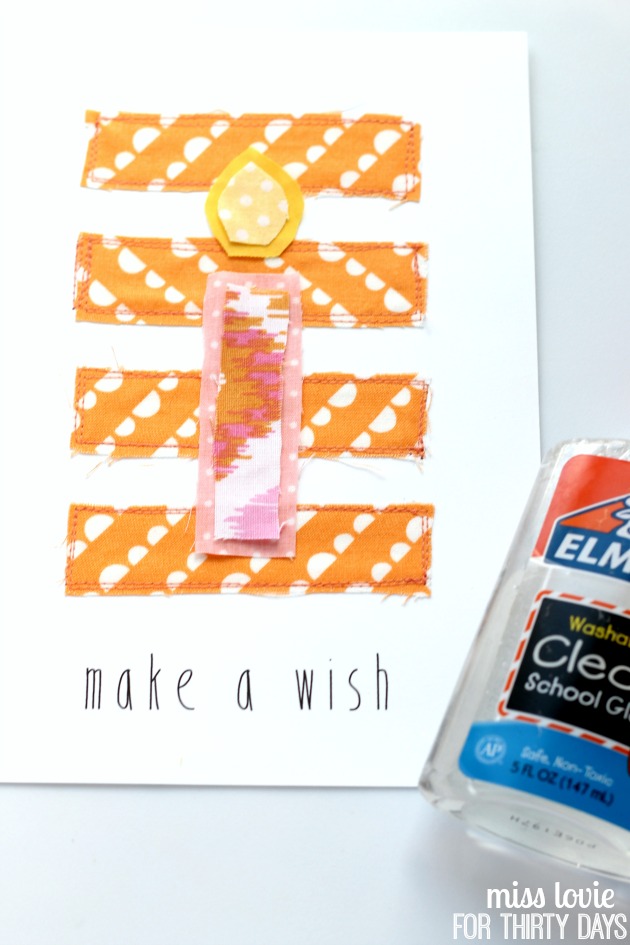 Then, Glue the candle and flame on. The bottom of the candle should line up with the middle of the bottom stripe. Glue the flame above.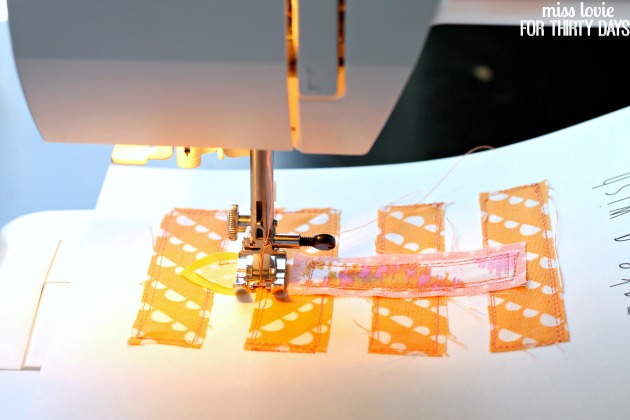 Next,  stitch the candles and flames in the same manner you did for Card #1!
This card sews up a little faster.
Now for the inside of the card, you could definitely cut a layer of cardstock and glue it to cover the stitching. I did this on some cards, but it isn't super necessary.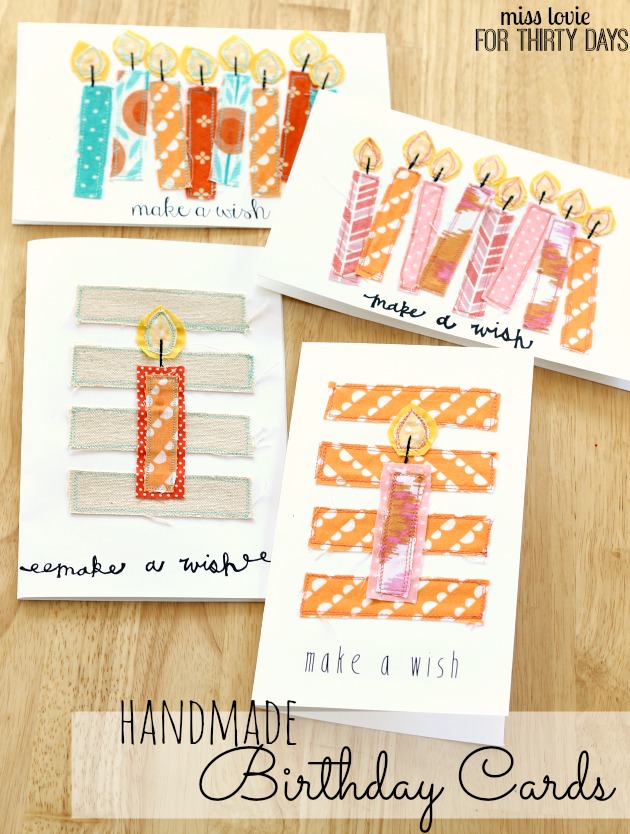 I hope you enjoyed this tutorial!
If you loved this simple sewing ideas, you should check out more of my easy sew ideas: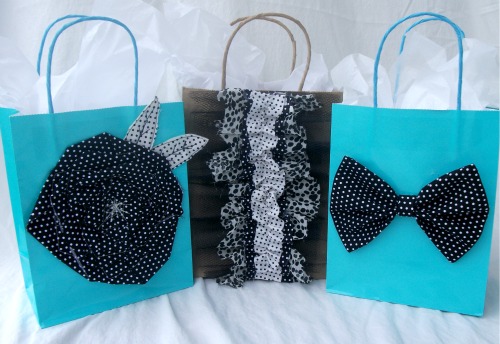 This Embellished Gift Bag Tutorial on my blog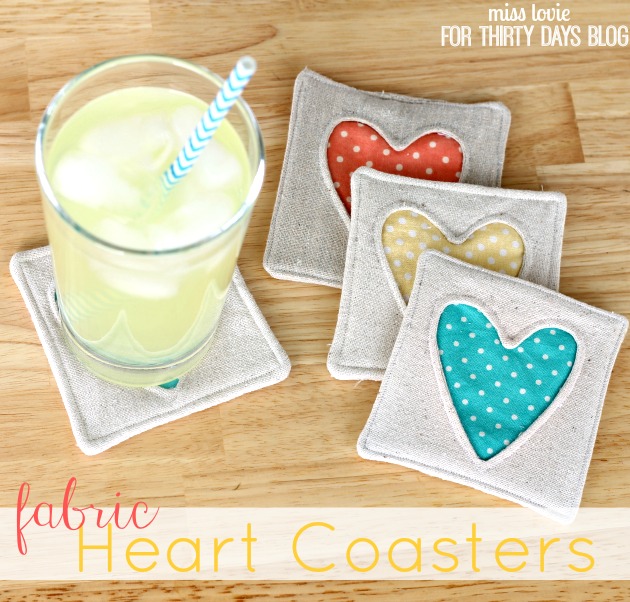 and these Simple Fabric Coasters on Thirty Days!