While watching the Biggest Loser this week, I heard a quote that I knew had to be a printable.  I also appreciated that Bob talked about how eating a treat every once in awhile is okay as long as it's in moderation.  I know it sounds obvious but in the middle of Nutrisystem, I appreciated the reassurance that enjoying a treat here and there is not taboo.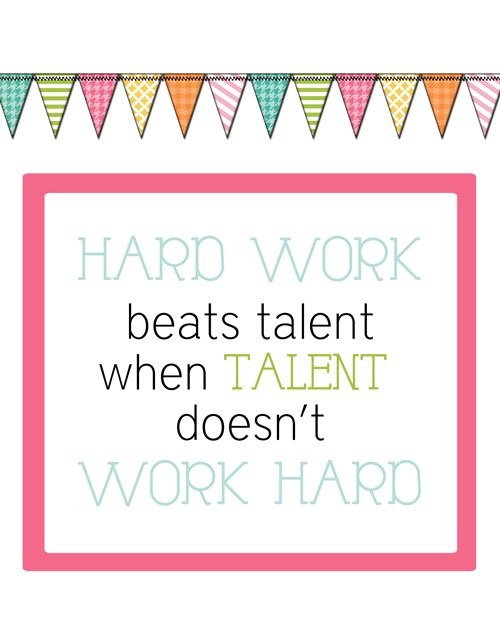 Hard work printable for personal use only.
Cute banner from Crystal Wilkerson
I am taping this to my mirror so that I can look at it every day.  This week I am tackling the gym and running.  I know that it'll be a challenge but I also know I have never felt better than when I was training for my 1/2 marathon or triathlon.  It's time for another goal. 
We ran out of frozen meals and had a hard time with the dry meals we chose.  When I mentioned that we were having a hard time with some of the selections I was able to reorder.  Josh's friend who did NS had the same experience (he called because he didn't like some of the food he picked and they sent him new stuff)- so I know it's not just for the sake of getting a good review on my blog.  I appreciate that they want to accommodate people and are also very supportive. 
Stats almost one month in:
Josh= -14 lbs.
Me= -9 lbs.
Josh's pants are falling off and I am starting to have more wiggle room in my jeans.  It feels good to be making steps in the right direction.
Want to lose weight and get healthy on Nutrisystem? Join today by calling tel:1-888-853-4689 or by visiting http://www.nutrisystem.com/nsblog
Disclosure: Josh and I are not being paid for posting about Nutrisystem. They have provided their program for us to review. All opinions are ours.

Any words of wisdom? I'm all ears….