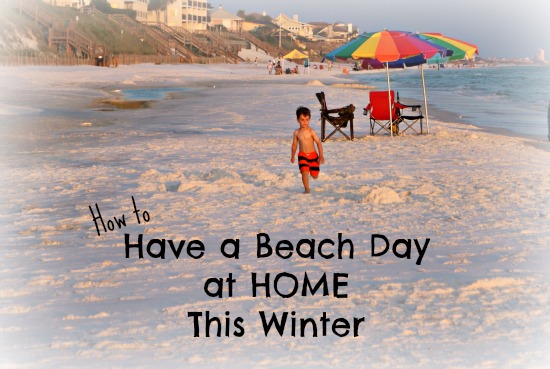 In my neck of the woods, January is always the gloomiest month. The sun rarely shines, and it's always freezing cold.
And that's when I like to have a beach day.
I wait until my husband is out of the house, and I crank up the heat (he likes to keep it nice and cool).
For an added touch, I also turn on our space heater. (And sometimes I light a fire in the fireplace).
The kids put on their bathing suits, and I put on my muumuu.
We turn the sound machine to the "waves" setting.
And then we spread our beach towels out on the family room floor and pretend we're at the beach.
It's especially convincing if you wear sunglasses and play tropical music.
Every now and then I blow up the wading pool, and we sit in it to eat snacks and sip umbrella drinks.
What are your tips for surviving cold, gloomy days?