This post is more of a cry for help than anything.  I hope that by posting about clutter I might be held more accountable.  Clutter is my Achilles' heel.  I have talked about it in the past because I don't want you to get the idea that my house is organized and everything is in it's place just because I post about binders and organization.  It's not.  But I reaaaaaaally want that to change.   So.  This year I'm going to kick clutter to the curb.  Will you help me?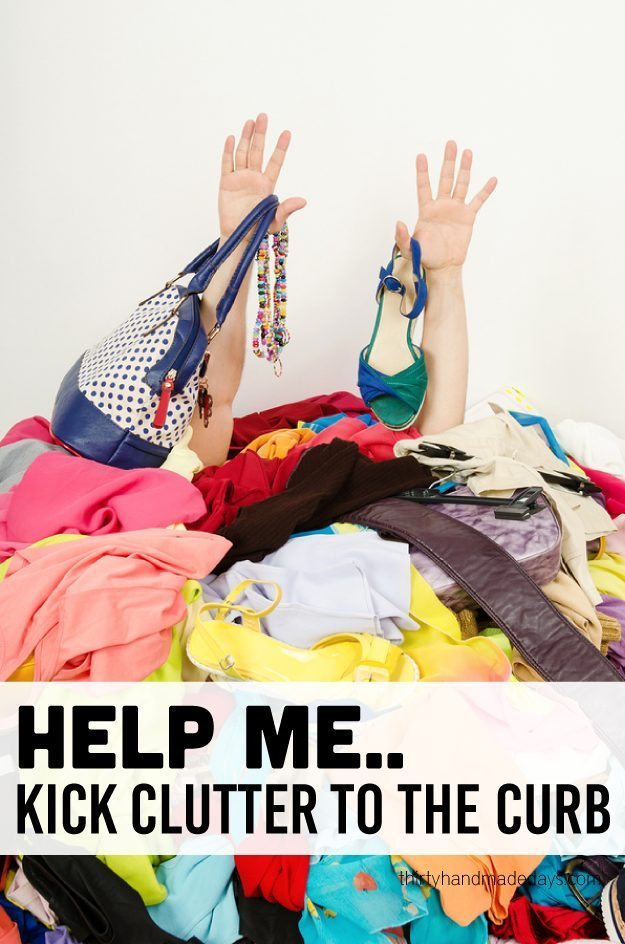 In order to really get rid of the clutter in my life I think it's important to address how it happens.  I've sat down and reflected on why in the world I have things that just take up space in my home, in my life and in my mind.  Here are the top 3 reasons I've come up with:
Bad habit. 
Instead of putting something away right away, I move it to another spot thinking I'll get to it later.  And then that never happens.  This is a reoccurring theme in our home and it needs to change.  It will take work to turn a bad habit into a good one but I know it's possible.
Emotional attachment. 
I'm a feelings kinda girl.  A sentimentalist for sure.  I hold on to things  because they mean something to me.  But the older I get, the more I realize that they are just things.  I still have the memories and I don't need to carry the friendship bracelet from 6th grade.  Even if it is cute.
What if? 
This is another deadly one for me.  I hold onto things because I might need it one day.  The problem is, in the mean time it occupies space for the 2910391029102 days that I don't actually need it.  This is especially dangerous with craft supplies and kitchen gadgets.  They both need a serious purge so that I can actually see what I have to use instead of wanting to pull my hair out every time I need to open a cabinet.
Ok so now that you know why I'm a clutter freak, here's what my plan is to combat:
Good habit. 
Set a timer each day to pick up and put things in the correct space.  I plan on working for a solid 3 hours, then having 10 minutes to organize, then 20-30 minute break.  I think that's doable.  I know that a lot can get done in just 10 minutes and I have no doubt cleaning up the clutter will make me more productive while I'm working.
Emotional Stuff. 
The emotional aspect is especially tough for me.  I know that there's more to this but I've gotten to a place where I just can't anymore.  We've actually rented dumpsters to get rid of all the stuff in the past.  (no we are not "hoarders" but we have held on to a lot of stuff that we didn't need to)  I am ready to make kids boxes for their important papers and for binders.  For anything that doesn't fit in the boxes, I will take pictures of.  The things I truly love will either need to be hung up, put in the box or I need to let it go.  Sorry for saying that, now you have that song in your head, don't you? Oops. 
6 month rule.
In all my reading up, it seems like 6 months is a good place to start.  If I haven't used one of those "what if" items in 6 months, it needs to go.  I'd rather free myself of the space and overall junk than hold on to it just in case.
I found this when I was trying to get some courage to conquer the clutter beast and I LOVE it.  I'm going to plaster it on every wall.  Ok maybe not but still…
Image via Pop Sugar 
——–> Ok so how can you help me kick clutter to the curb?  You can join me as I check in over the next several months and address each area one by one.  You can also give me your tips below. Let me know that I'm crazy because you're a neat freak and don't get it or totally get me because, you too, have issues with clutter!
If you're looking for other posts on organization, check out these awesome organizational posts from the pro's:
Click the images to be taken to the posts.