Chicken Noodle Soup is pure comfort soup and the perfect dinner solution to a cold winter's night!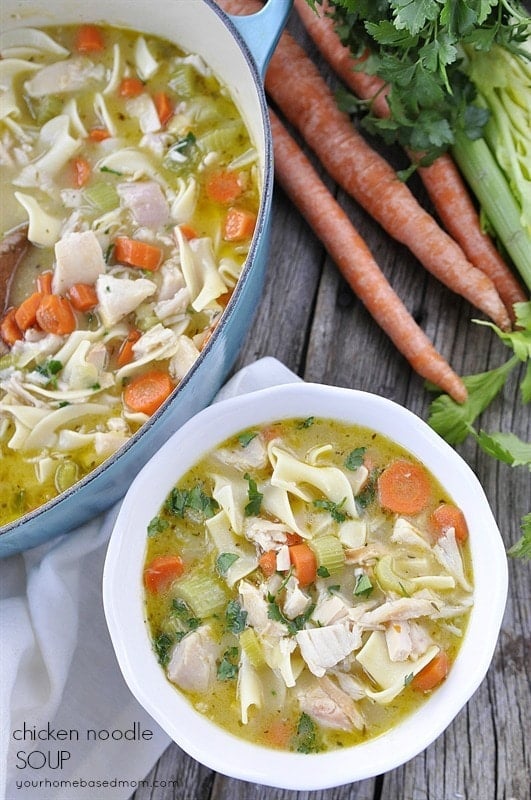 Winter cold and flu season has unfortunately arrived at our house. My husband's Christmas gift to me was a cold and sinus infection. Isn't he generous!! I don't know about you but nothing tastes better when I've got a bad cold than a bowl of chicken noodle soup. It may be an emotional tie from my childhood or because they advertise it as such but it just seems to work!
When I was a child that chicken noodle soup always came out of that red and white can but now that I am older and wiser I much prefer a pot of homemade chicken noodle soup. To make the process easier I used some rotisserie chicken. You can buy a rotisserie chicken and pull the meat off it or if you want to make it even easier and pick up a package of the chicken meat at Costco that they have already removed from the chicken for you! Trader Joe's also carries a similar product.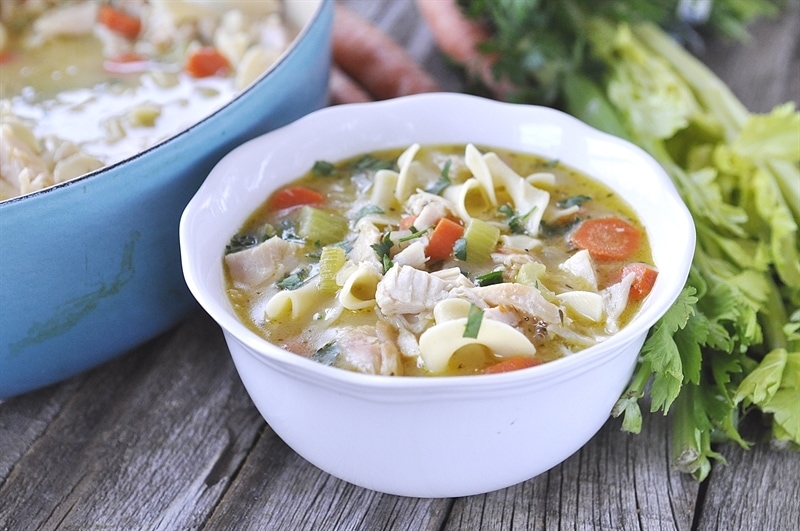 I like my chicken broth a little thicker so I use a roux – a mixture of butter and flour, to thicken up the soup. It helps make the broth nice and creamy without having to add milk.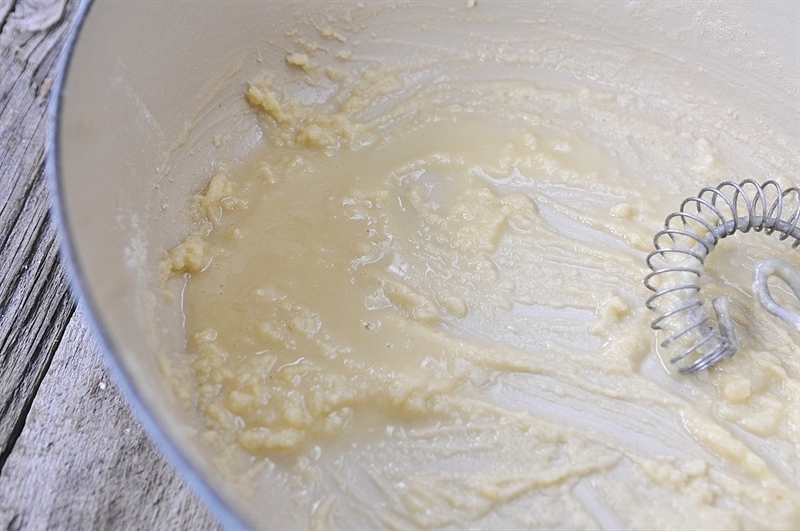 After everything is in the pot, just let it simmer and it will thicken up. If it gets too thick just add in some more chicken broth to get it the consistency that you want.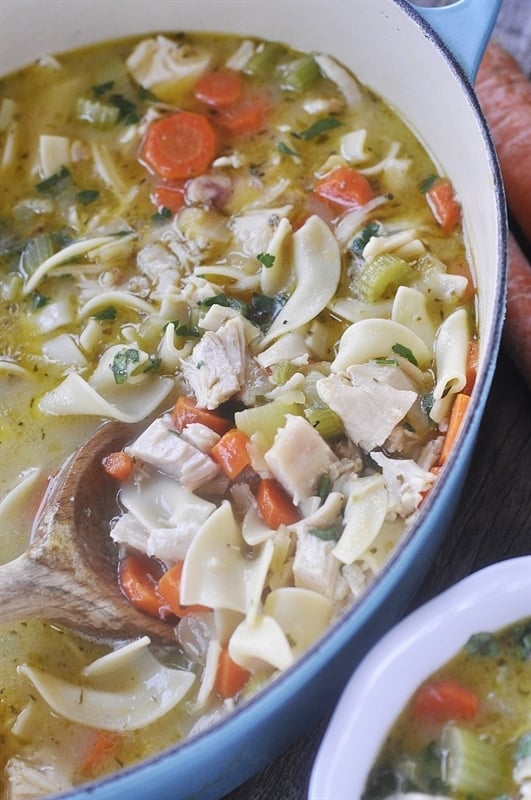 I also like to cook my noodles seperately, not in the soup so they don't absorb too much of the yummy broth. I boil them in water and then add them into the soup.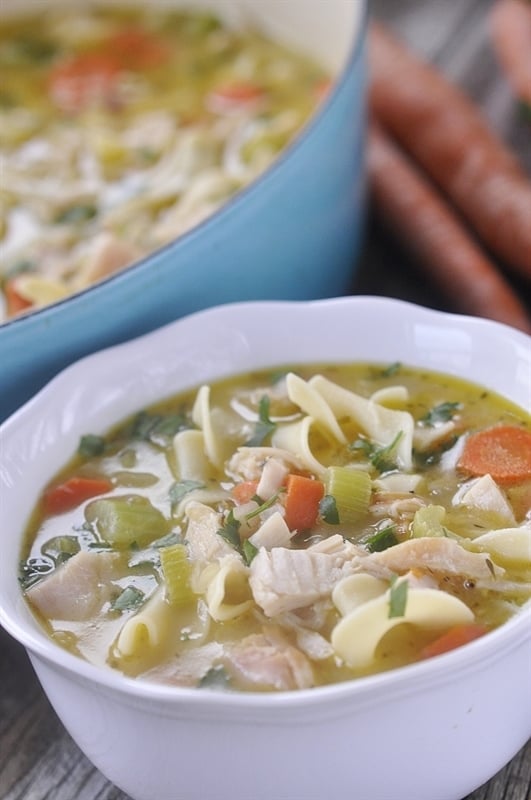 The addition of fresh garlic, oregano, thyme and fresh parsley give the soup lots of flavor.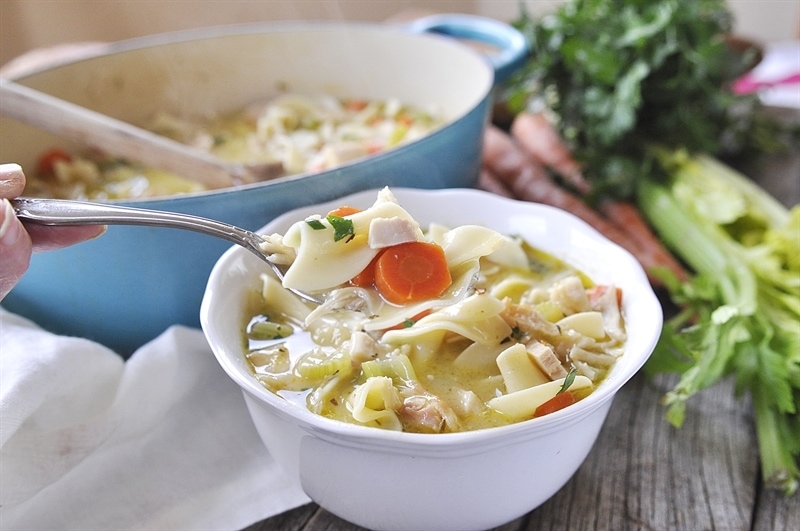 But dont' wait until you have a cold to try this soup. I heard it's good for keeping colds away too!
A few of my other favorite soups are:
Crockpot Chipotle Butternut Squash Soup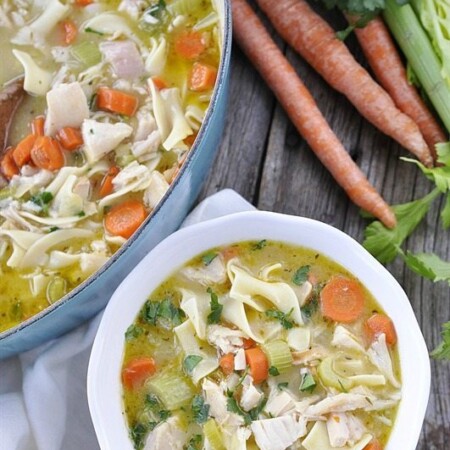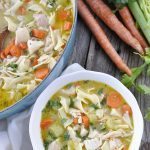 Print Recipe
Homemade Chicken Noodle Soup
Nothing beats Homemade Chicken Noodle Soup - and this recipe is one of the best! It's healthy, comfort food at its finest!
Ingredients
4

tbsp

flour

4

tbsp

butter

2

tbsp

olive oil

4

carrots

peeled and diced

2

stalks celery

diced

1

onion

diced

4

c

chicken broth

½

tsp

dried oregano

½

tsp

dried thyme leaves

2

tbsp

fresh parsley

chopped

1

tsp

fresh garlic

minced

3

c

chicken

shredded or cubed

1 ½

c

noodles
Instructions
In a pan, melt butter and add in flour; whisk together. Stir for 2 minutes. Set aside.

Saute carrots, celery and onion in olive oil until tender.

Boil noodles in water until tender.

Add in all remaining ingredients, including flour mixture, except for cooked noodles.

Bring to a boil and then simmer for 20 minutes or until soup thickens to desired consistency.

Add in cooked noodles.
Nutrition
Calories:
415
kcal
|
Carbohydrates:
33
g
|
Protein:
13
g
|
Fat:
25
g
|
Saturated Fat:
10
g
|
Cholesterol:
61
mg
|
Sodium:
1052
mg
|
Potassium:
612
mg
|
Fiber:
3
g
|
Sugar:
5
g
|
Vitamin A:
10850
IU
|
Vitamin C:
26.1
mg
|
Calcium:
64
mg
|
Iron:
2
mg