I've got a two-fer for you today – learn how to clean your shutters and download a fall cleaning checklist.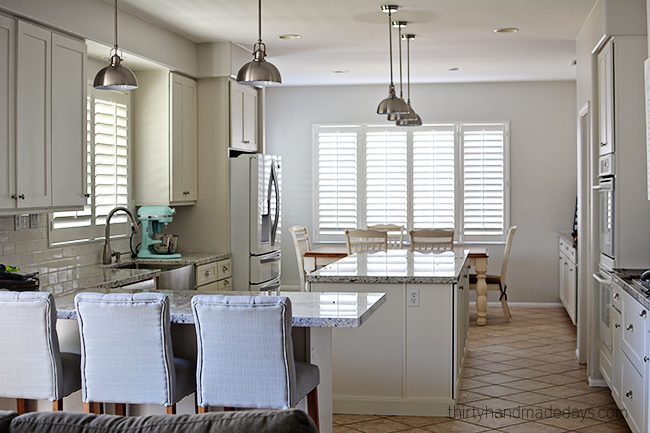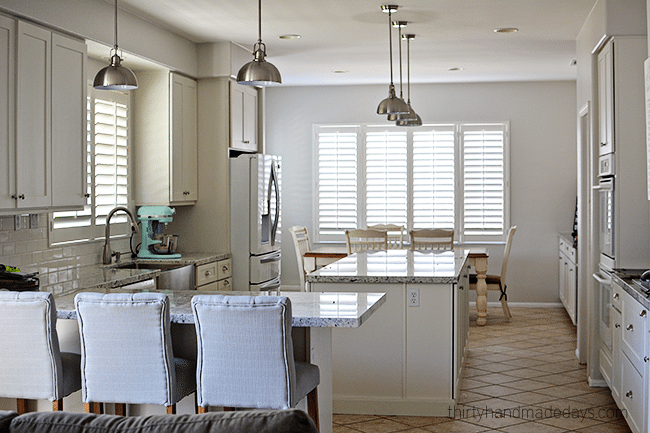 Earlier this year we set out to remodel our kitchen.  It was a project that took over our lives for a few months but in the end it was worth it.  I am still love with that space but there was one thing missing – good window coverings.
For years we had blinds that were put in by the previous owners in most of the family room and kitchen.  I hung curtains in the biggest kitchen window that made everything so dark.  It was all supposed to be temporary but nine years later… we still had curtains in some spots, some broken blinds and even some spaces with nothing.   The last piece to the kitchen puzzle was to add Blinds.com Signature Wood Shutters.   It was the cherry on top!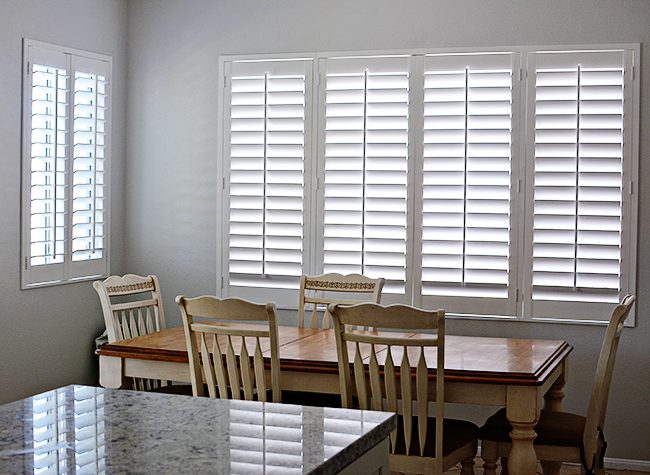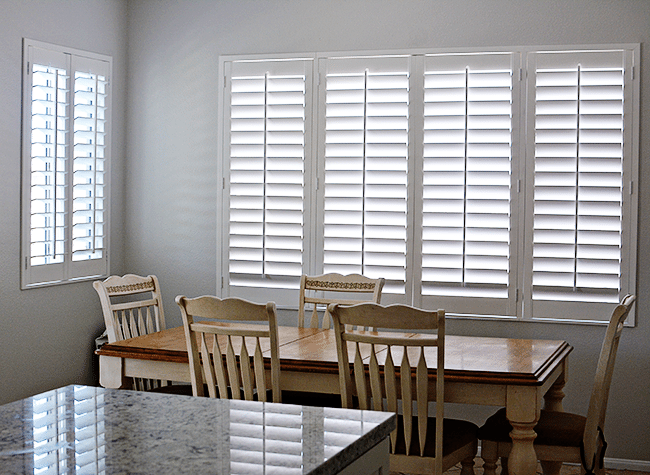 We are fortunate to have a large kitchen space with a lot of windows.  It is something I love about our house.  But I've never really liked the options we've come up with to cover this space.  Until now.  After putting in the plantation shutters, there is so much light and brightness in the space.  If it's hot I can shut them down or if I want to open it all up, it's so easy to do.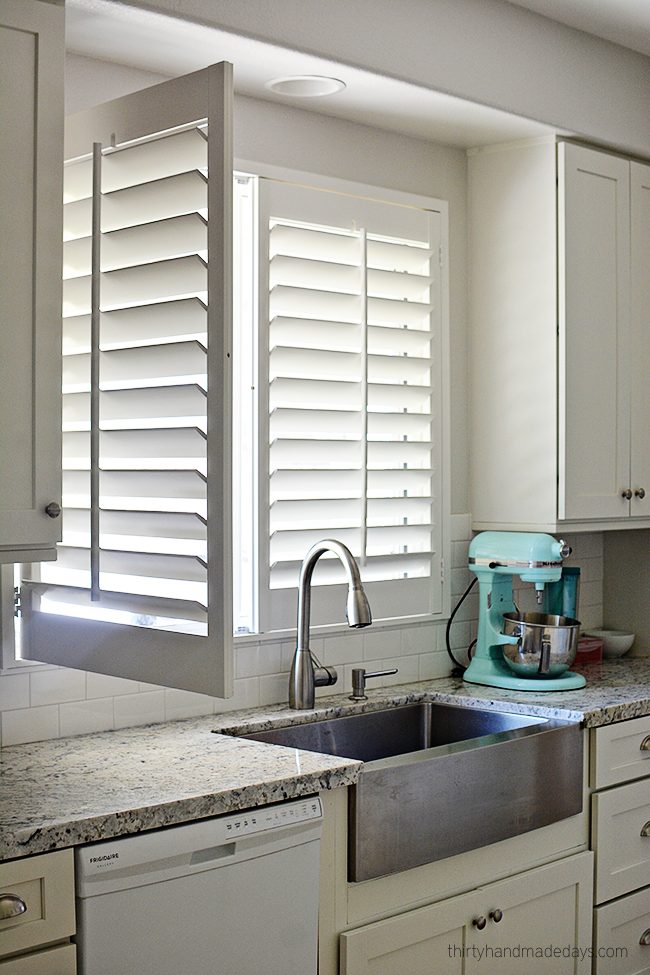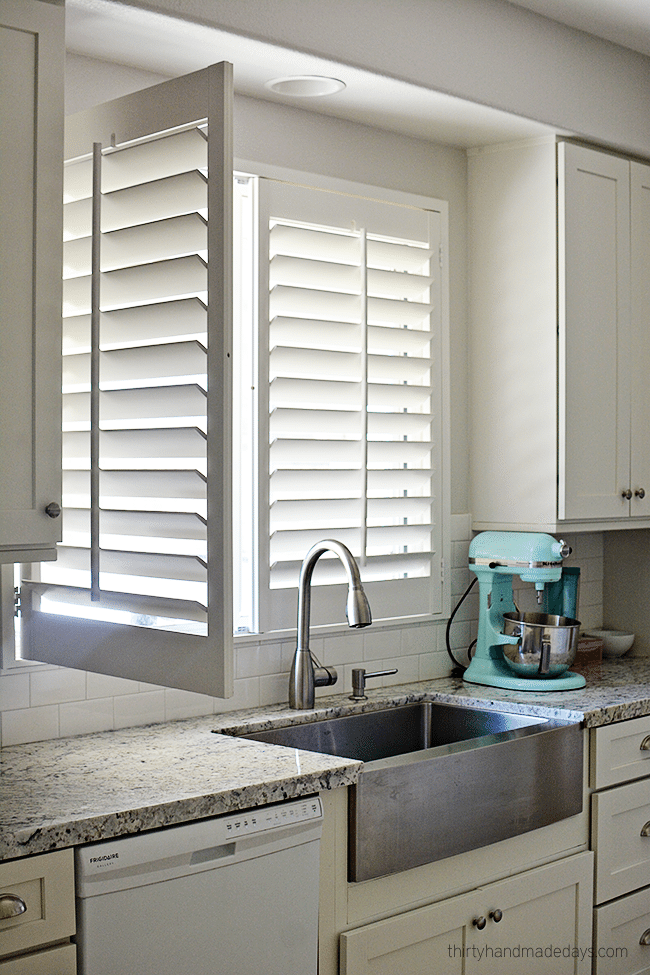 One of the things I was impressed in working with Blinds.com is the shutters for the sink window.  When redoing the kitchen, I spent hours looking at different faucets and decided on one that I still love.  The only thing is that it was potentially in the way for the interior shutters.  I had nothing to fear as Blinds.com has a special shutter that can be popped out for cleaning for situations like this one.  The shutter on the left opens all the time (as shown).  The shutter on the right can be slid out for cleaning purposes.   Voila!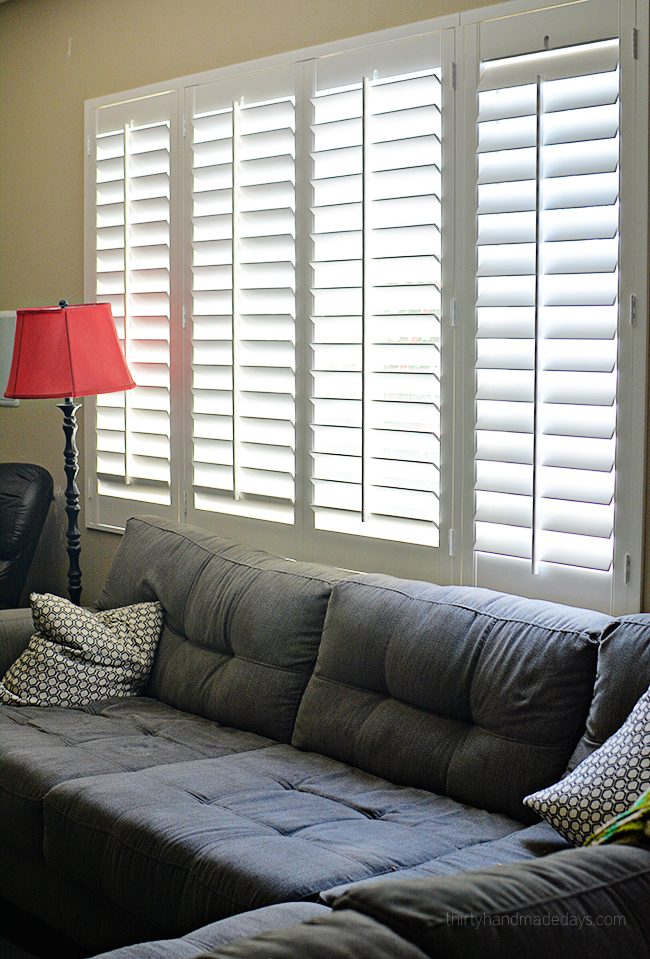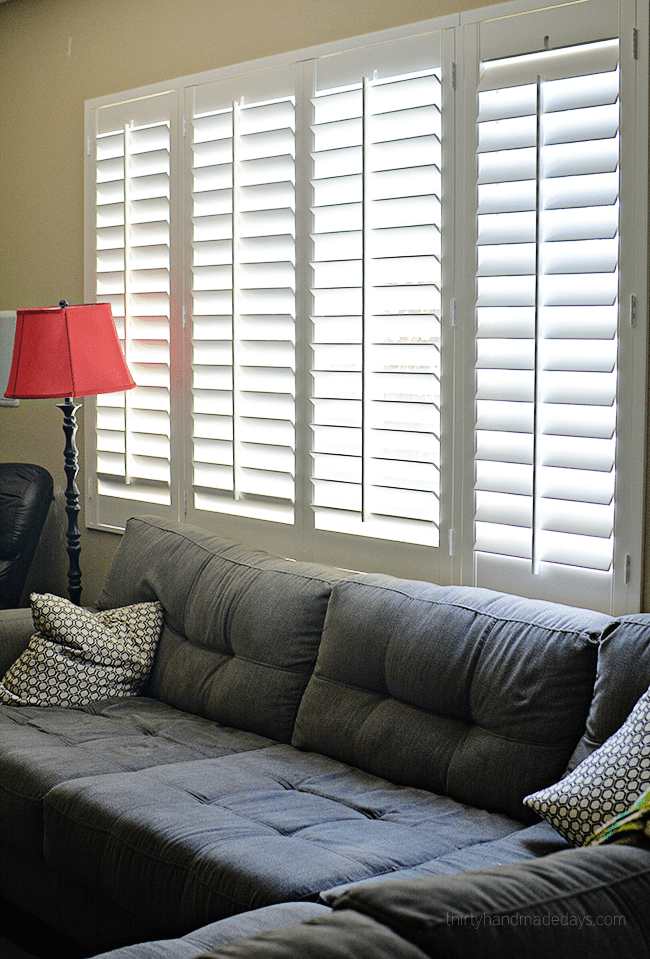 Our family room area has a huge window.  It has always been covered by curtains making the space seem really dark.  I liked the look of the curtains but not the feeling of the room.  Adding plantation shutters not only make it a functional space but I love the look of them.  They bring so much light to the room and brighten up the downstairs in general.
Can you tell that I am loving all of the brightness these plantation shutters bring into our home? It makes such a drastic difference.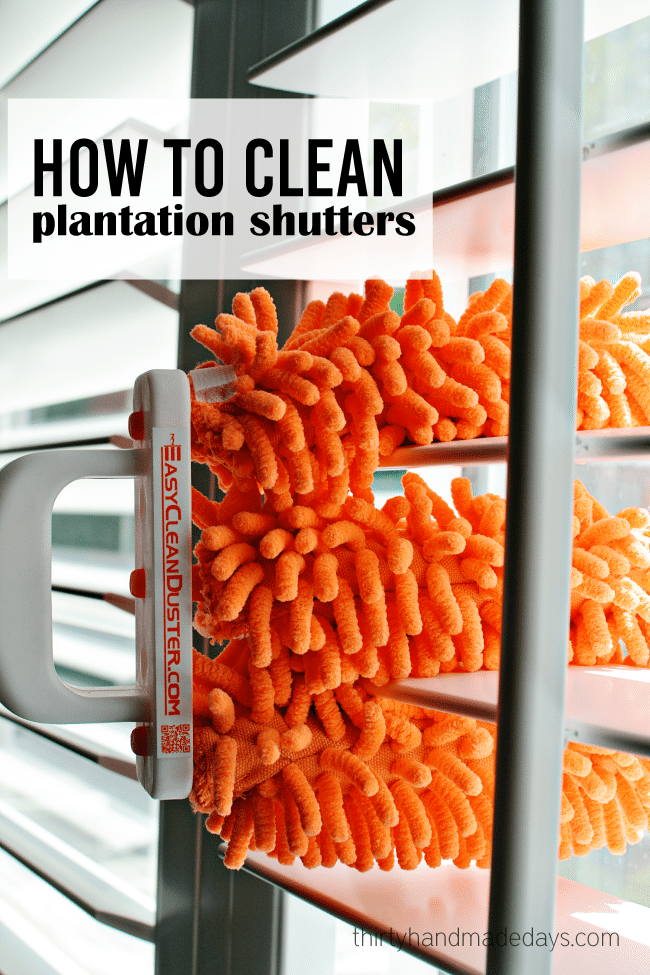 I know the biggest beef that most people have with plantation style shutters is cleaning them.  I honestly think the pros way outweigh the cons.  Having a beautiful, functional space is well worth it to me to have to wipe them down from time to time.  I specifically asked Blinds.com for the best way to clean shutters so that they will last and look their best.  This was what they suggested:
Dry dust with Easy Clean Duster (pictured above).  This thing will make your shutter cleaning life so much easier!  So worth it.  Then follow up with a vacuum brush attachment for bonus points.
Wipe surfaces with a microfiber cloth and spray furniture polish for a nice shine.
Use a toothbrush and polish to remove dust from hard to reach spaces.
Do NOT use soap or water on wood shutters to avoid warping.
I know most people think of "spring cleaning" and not necessarily cleaning in the fall (or is that just people who aren't naturally organized like me? Hmmmm…).  But checking off some fall cleaning items is important too.   So I'm including a printable fall cleaning checklist below.  You can use my basic cleaning checklist to keep up on every day stuff.  This is more specific for the fall.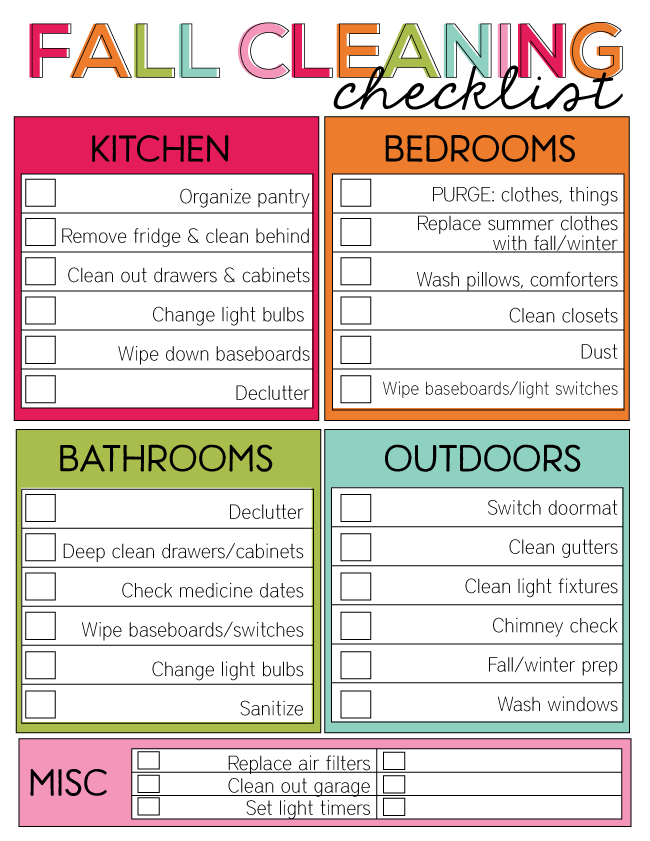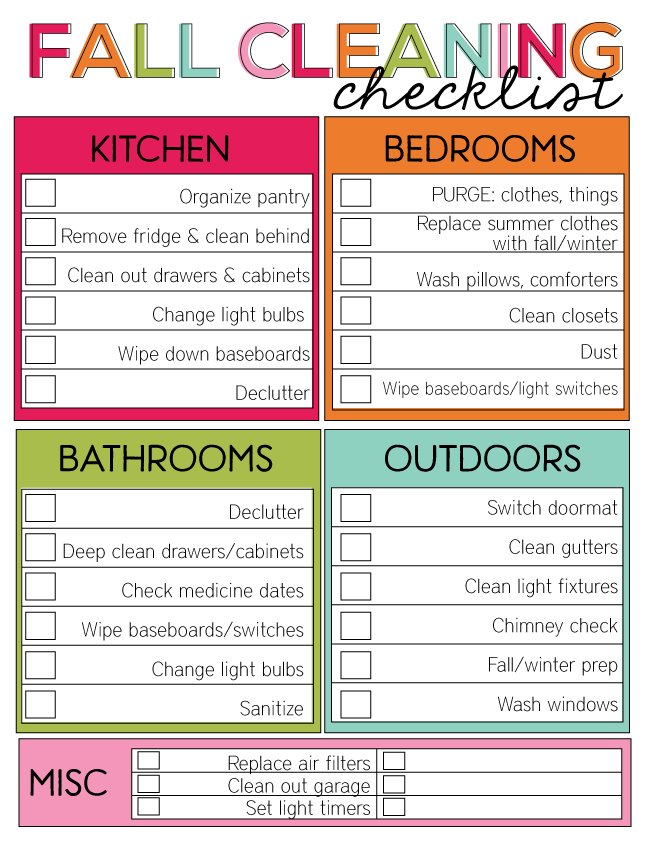 Download printable fall cleaning list.  For personal use only.  Thanks!