Hi, this is Anna from My Life and Kids, and I LOVE the holidays!
My kids and I attempted our very first gingerbread house last year. I had been seeing gorgeous gingerbread-house pictures all over Pinterest, and I was ready to tackle a house of my very own.
I learned a few things last year, and I'm sharing my top Gingerbread House Building Tips with you…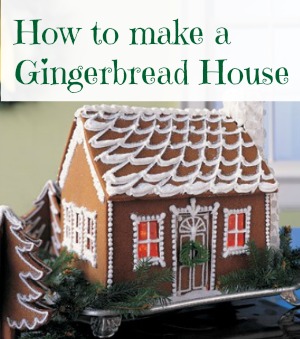 #1 – Just because everyone else seems to be doing something so easily, doesn't mean that it's going to be easy for you.
Even when you buy a kit and everything seems like it should be really easy, it might still be really hard. It's okay – don't feel like a failure.
#2 – It is possible to break your beaters.
Who knew? If you do buy a kit, beware of the frosting. Or just follow the directions. Either way, don't be too upset if you break your beaters. You can carry on.
#3 – Sometimes you shouldn't follow the directions
Are the walls falling down around you? Do you want to pull your hair out because it's so much harder than you thought it would be?
Don't worry – just whip out your hot glue gun and take care of business. No one will ever know (unless you take pictures and post them on your blog.)
#4 – Accept the fact that not everything you make is going to be Pinterest-perfect.
Even after you break your beaters and use hot glue to hold your walls together, your house might still look terrible. Carry on – it could get a little worse…
#5 – Make bold choices!
Decorating your gingerbread house isn't the time to do what everyone else is doing!
Food from your pantry can be super decorative! (especially if you've already eaten all of the decorative candy that came with your kit.)
Enjoy your special house!
Display your gingerbread house with pride and give yourself a pat on the back for creating such a masterpiece!
Want more great Holiday Traditions?
Want your holidays to be Merry & Bright this year? Subscribe to my monthly newsletter and receive your FREE copy of the Holiday Traditions eBook. It's more than 20 pages long and includes Thanksgiving, Christmas, Hanukkah and Winter.