The perfect activity for summer- learn how to make lip balm.  This 4th of July Strawberry Blueberry version is so awesome!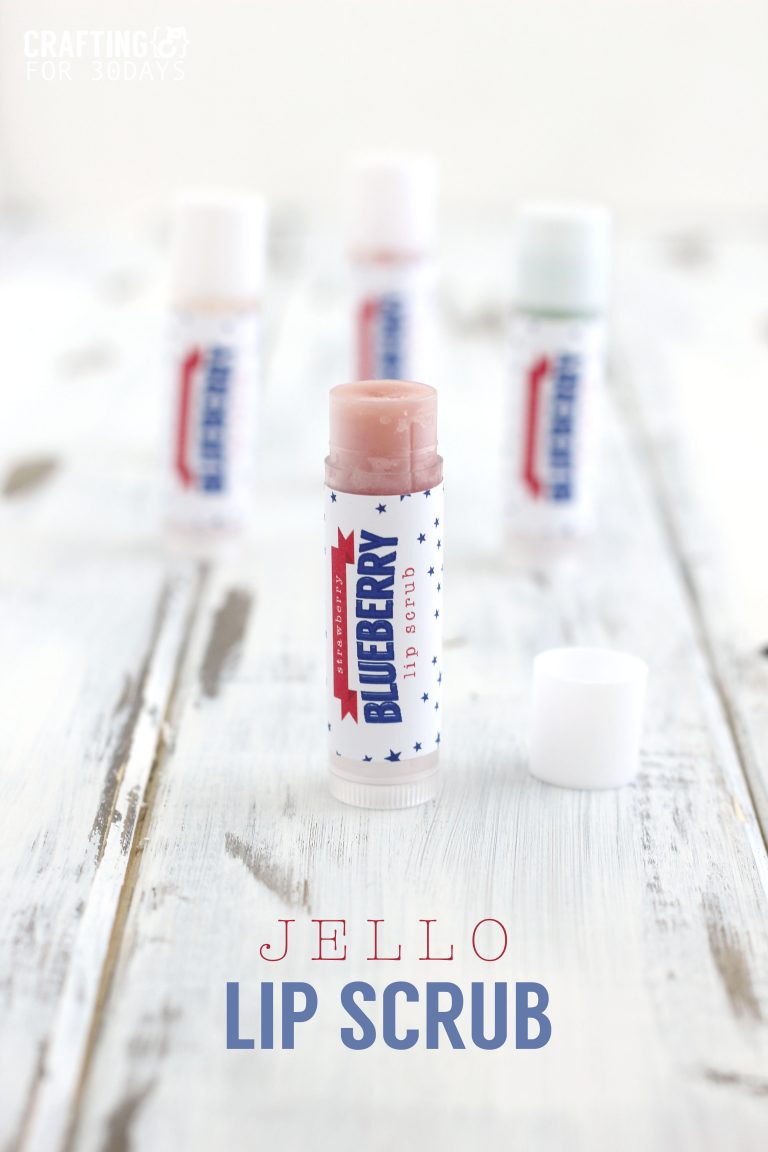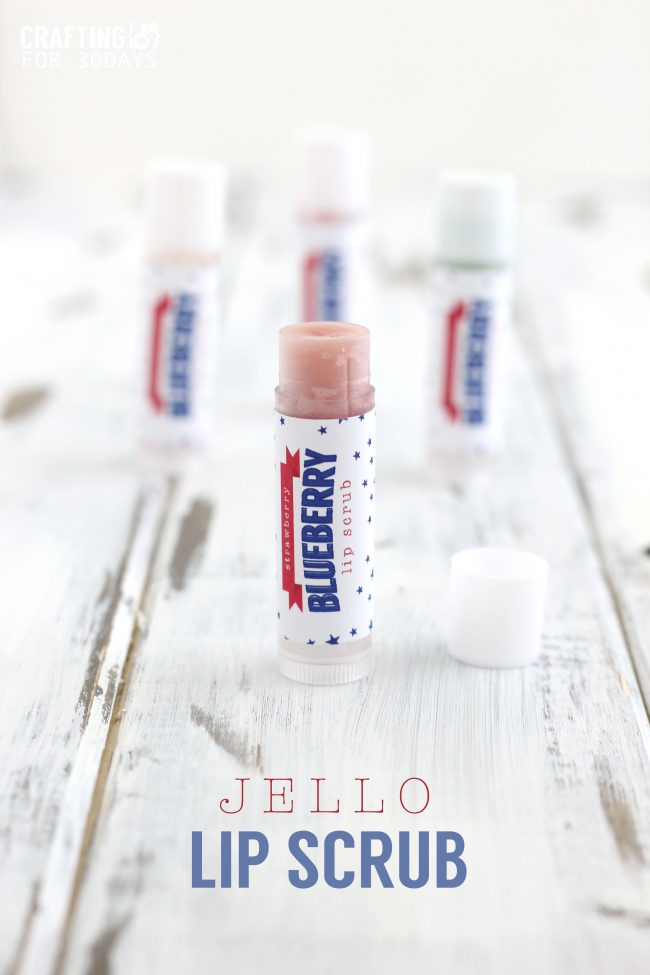 Hi Thirty Handmade Days readers! I hope you all are having a great summer! I am so excited to share this fun 4th of July themed project with you guys (well really, it is perfect for anytime in the year). This Strawberry Blueberry Lip Balm is made using Jello powder, beeswax, chapstick containers, and coconut oil. The Jello powder gives it an amazing fruity flavor and also a beautiful tint.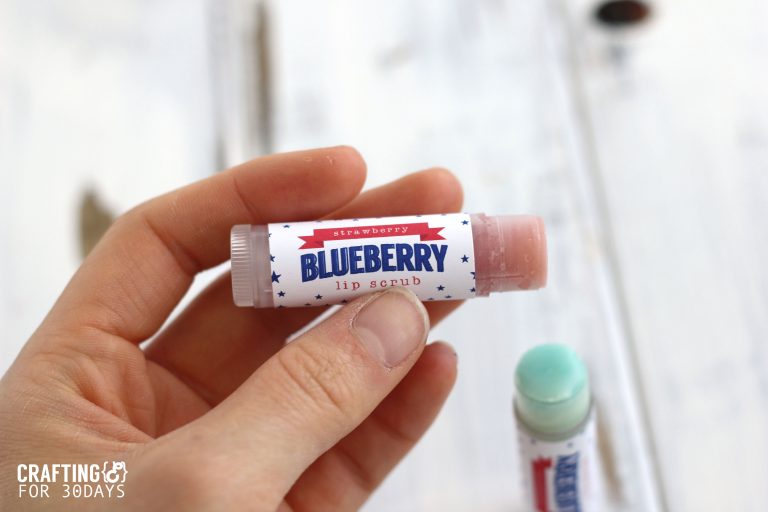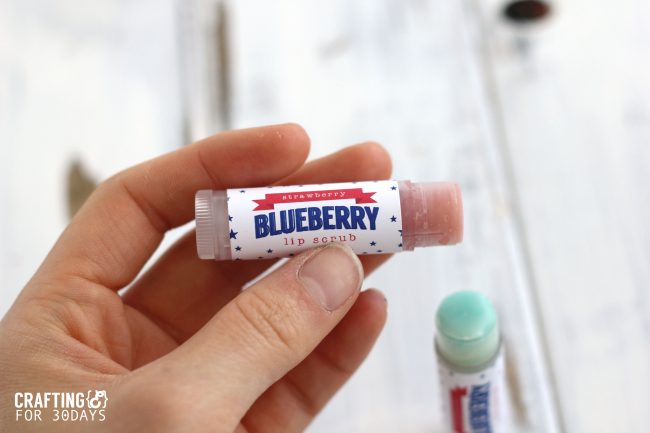 It is a perfect project for kids (although they will need a little assistance to make it) and it a perfect little accessory to celebrate Fourth of July. I love using homemade chapstick and this is no exception. A couple years ago I started making homemade lip balm and now it is all I use. It is super in expensive to make and easy to whip up in batches.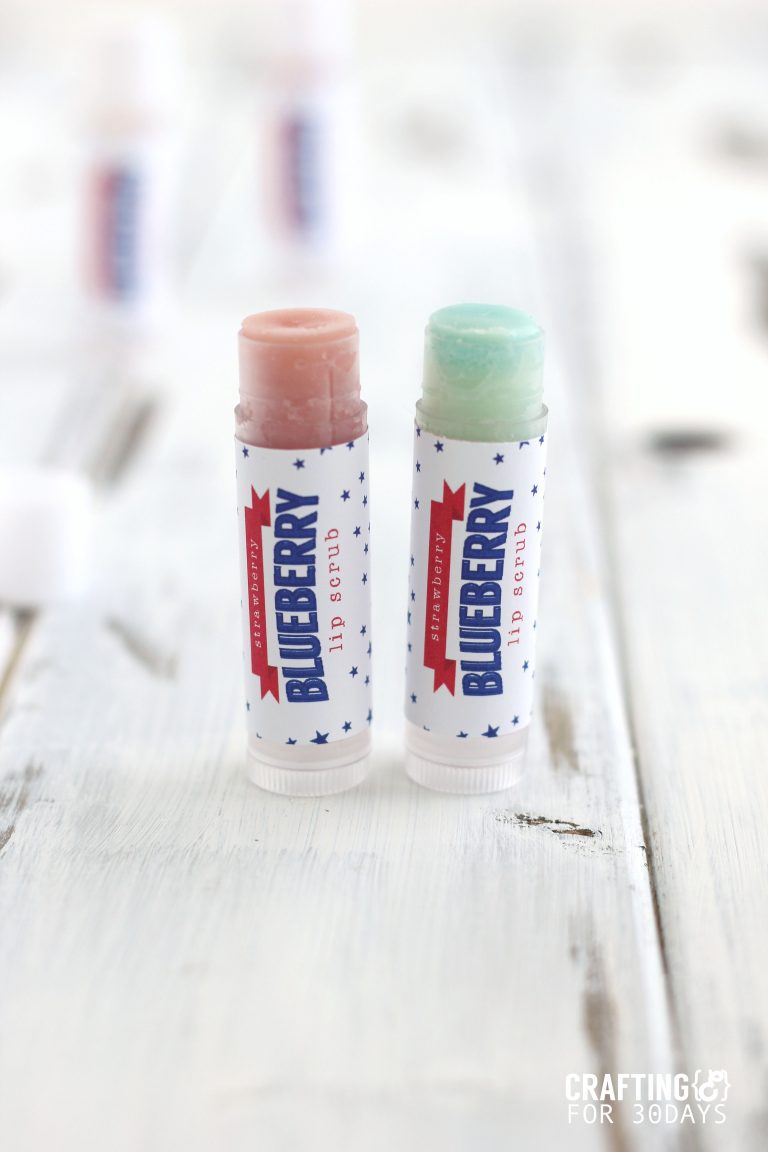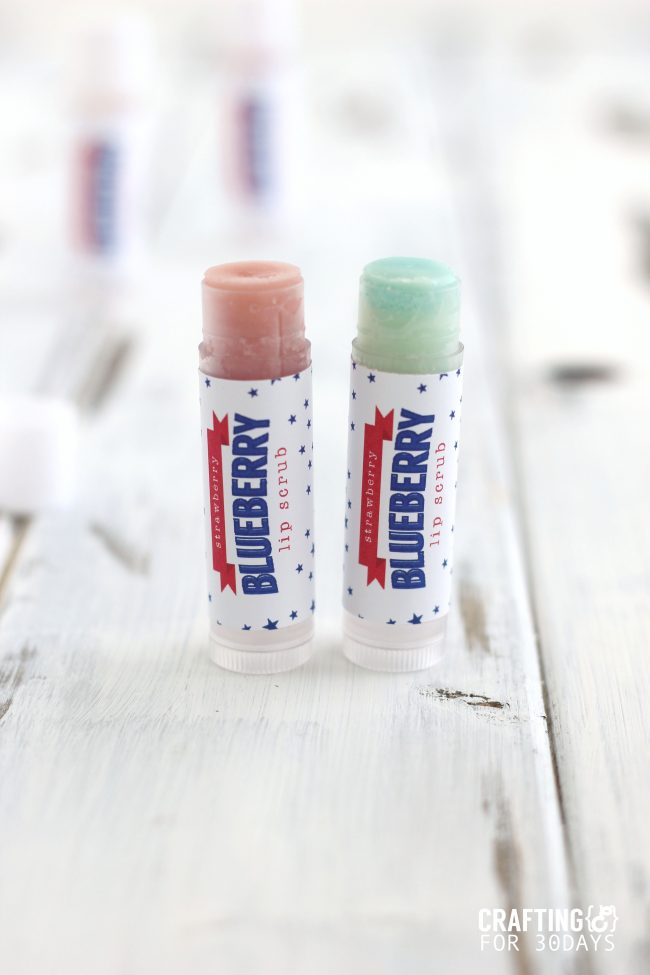 I feel like it always moisturizes my lips more than store bought lip balms do. I made this recipe by altering a couple of ingredients in my go-to lip balm recipe and I am so happy with the results! Also, can I just say I love the lip balm labels?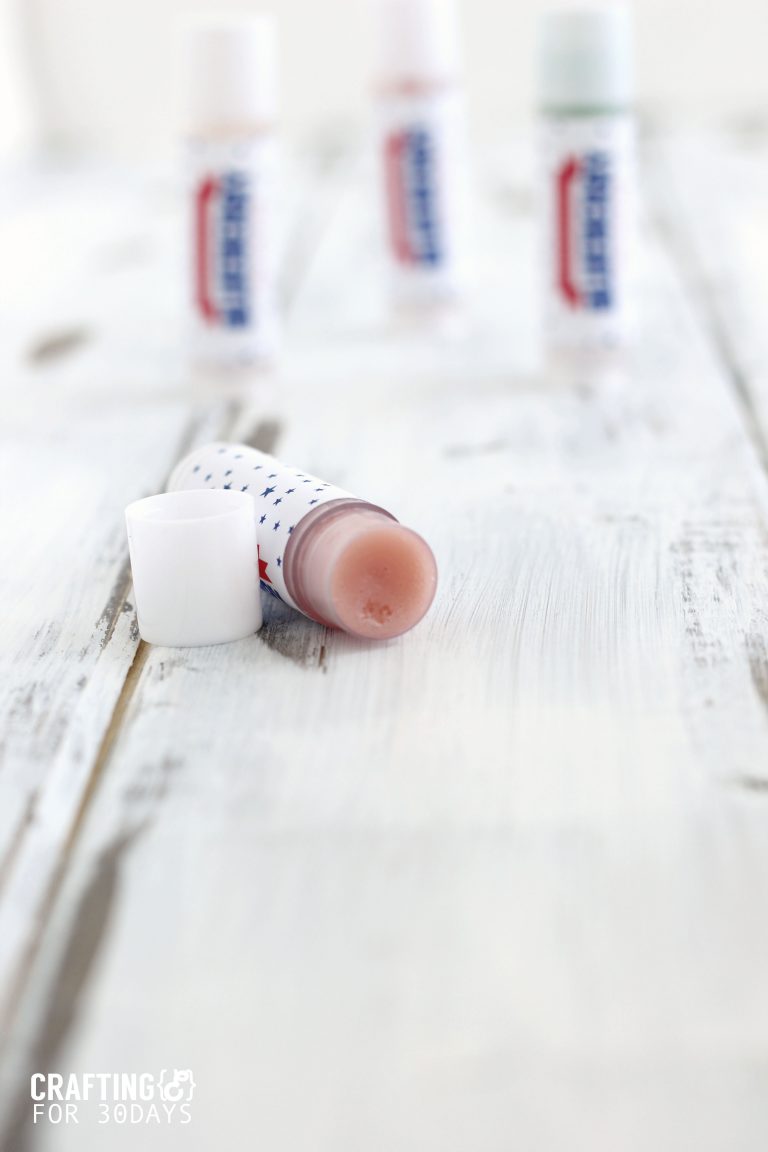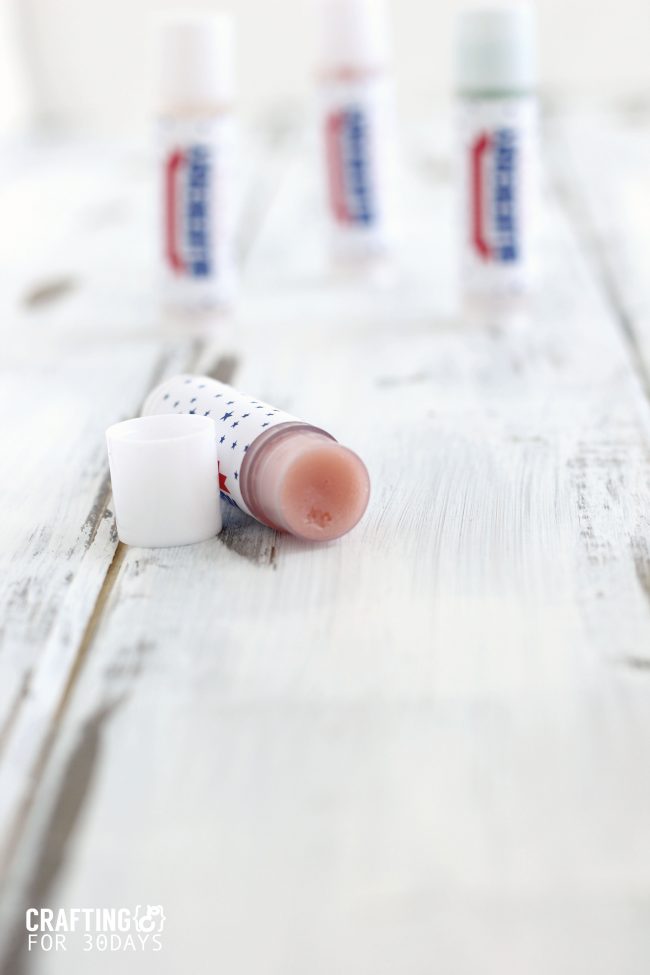 The labels are so festive and fun! Also, the files for the lip balm labels are linked at the end of this post. You can download the tags for free! My favorite way to attach the labels is to print them on adhesive paper, but you can also use normal paper and glue them onto your container.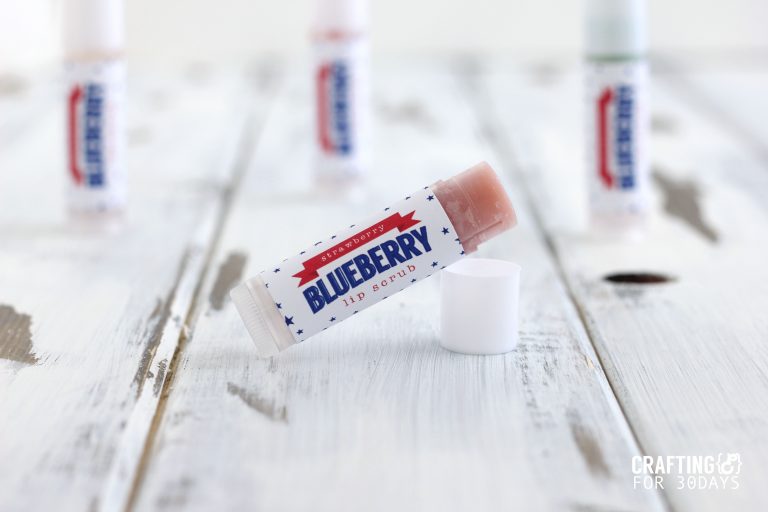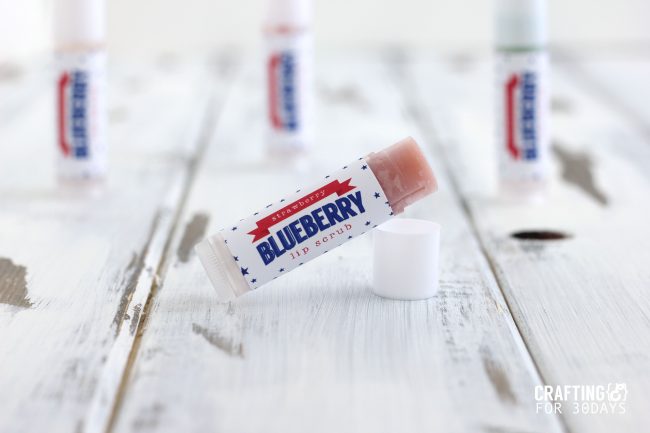 This lip scrub has a very similar texture to normal lip balm, but the texture of the jello powder makes it into a lip scrub!
MATERIALS:
2 tbsp beeswax
4 tbsp coconut oil
Strawberry and blueberry jello mixes
Lip balm tubes or any other small container (mine are from Amazon)
Lip balm labels (a link to download them can be found at the end of this post)
Medicine syringe
DIRECTIONS:
First, set up your lip balm tubes onto a piece of parchment paper (this way if the lip scrub spills, it won't be a big deal).
Put the beeswax and coconut oil in a bowl and heat both in the microwave until melted. Make sure both the oil and the beeswax are combined.
Separate the mixture into two equal parts.
Add 2 tsp of the strawberry Jello powder into one half of the mixture and 2 tsp of blueberry Jello powder into the other.
Use a medicine syringe to transfer the melted scrub into the lip balm containers. Start with either the red or the blue layer and allow it to dry. Once the first layer has dried, add the second color (either red or blue depending on what you started with) on top of it.
Allow both to dry and then wrap the labels around the lip scrubs.