This is Mique jumping in really quickly to say THANK YOU so much to the fabulous Devenie and Shawna from Salty Bison. They have contributed their amazing DIY ideas for over a year. This is their last post here on 30days (for the time being anyway- I might be able to convince them to share their awesomeness every once in awhile). Show them some love in the comments! Thank you ladies- I've loved having you share every month.  xo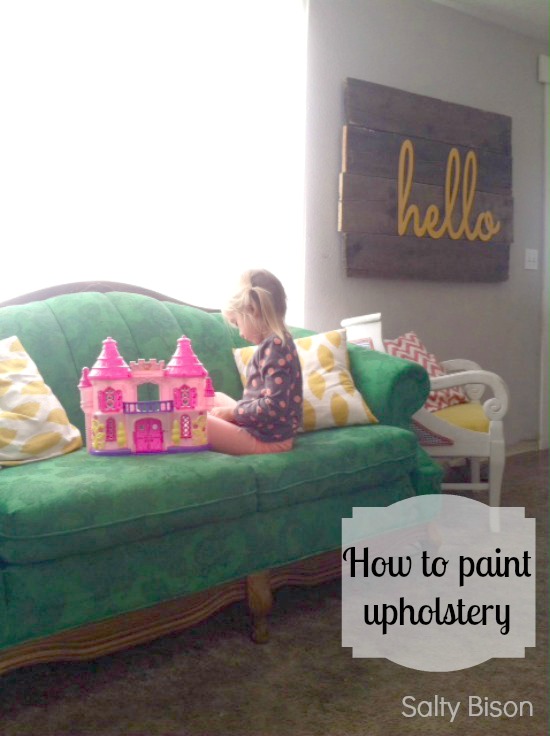 Hi everyone! OK. First things first… there are several tutorials online on painting upholstery. Each one is a little different.. We are just going to show you how we did it. This is definitely not for everyone. The paint isn't super crunchy.. but its not really soft and cozy. Make sense? I would totally do this on a chair first to see if you like the end result.  I was impatient and jumped right into doing a love seat.
OK, now to the details….
I have always had a sweet spot for bright green couches. Well, really any bright color…but I'm super drawn to green. This couch from Ikea is my favorite. Hello velvet, I love you… I don't have an extra grand lying around so I decided to take my living rooms future into my own hands. Literally.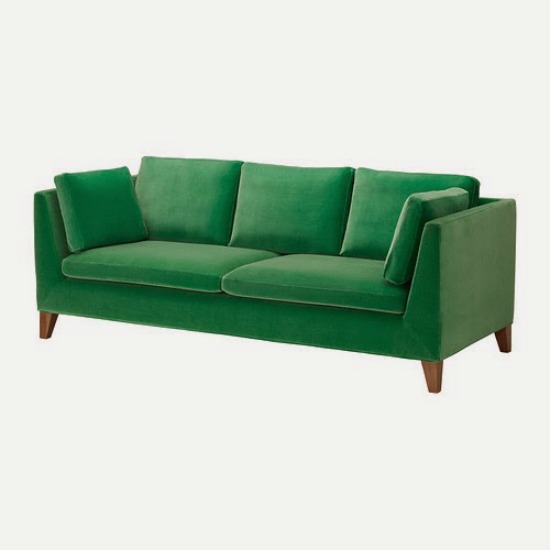 I searched online for a couch with the right bones and at a great price. I was looking for something a little more vintage looking. I wanted to tackle re-upholstery first. I thought it would be a great project to figure out. I have done chairs before but never anything bigger than that. After I priced out the fabric I wanted and reality sunk in on how many zillions of hours it would take me.. I changed my mind. I moved to paint! I studied several tutorials online and went back and forth with color choices for a good couple of weeks. Yikes, the commitment was freaking me out. But, in the end I kept coming back to this awesome green. Swoon.
This is the only before I could find of the love seat. My daughter and her best friend chillin….on the pastel flower monster.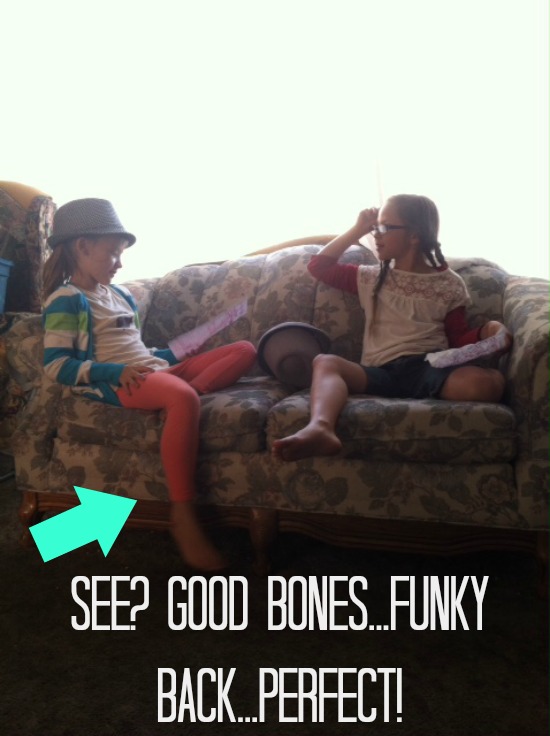 I bought a flat paint and mixed some plaster of Paris with it.You can find both of these at any home improvement store. I used this formula: 2 Cups Paint, 1/3 Cup Plaster of Paris. I tripled this and added some fabric medium. This helps the paint to be soft. I also watered it down a bit. I taped off the wood parts and just jumped in. Some people recommended spraying water onto the upholstery to help the paint. I just did really light layers of paint. Beware: the first coat of the love seat took about three hours. Its super time consuming.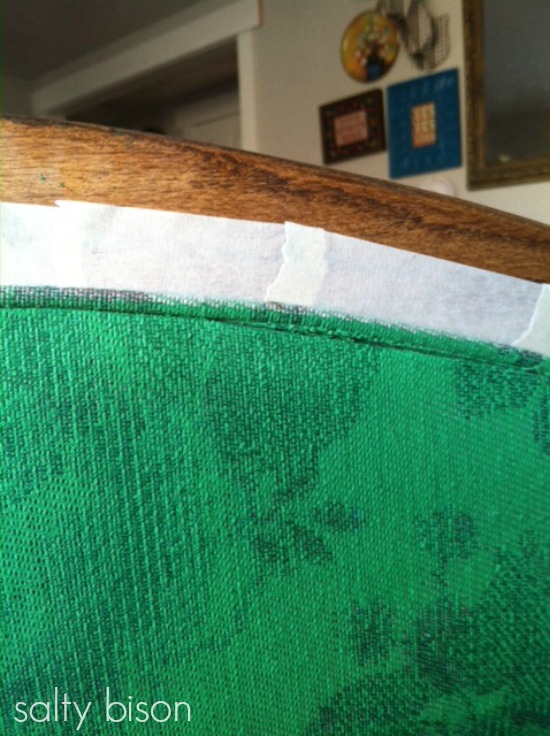 Remember to dab really lightly onto the fabric. You don't want paint to sink into the cushions too much.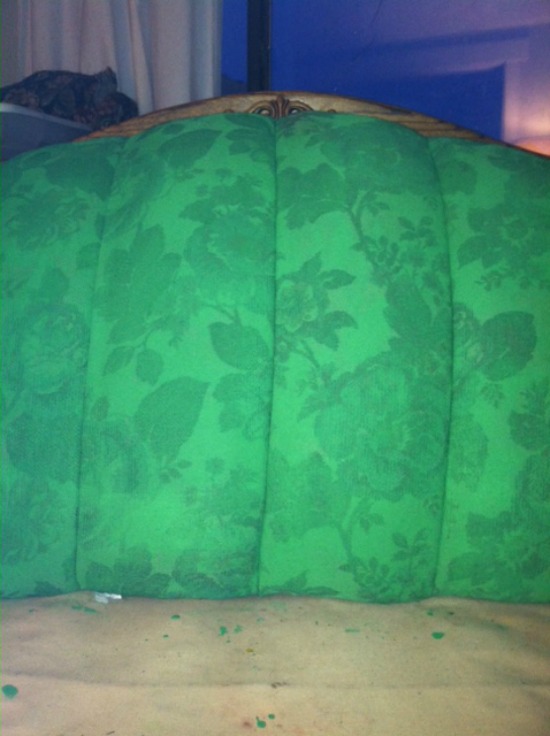 Make sure you pull any pleats and get in there good. This part was a mess. But, its very important to get paint into the nooks and crannies. (is that a word?)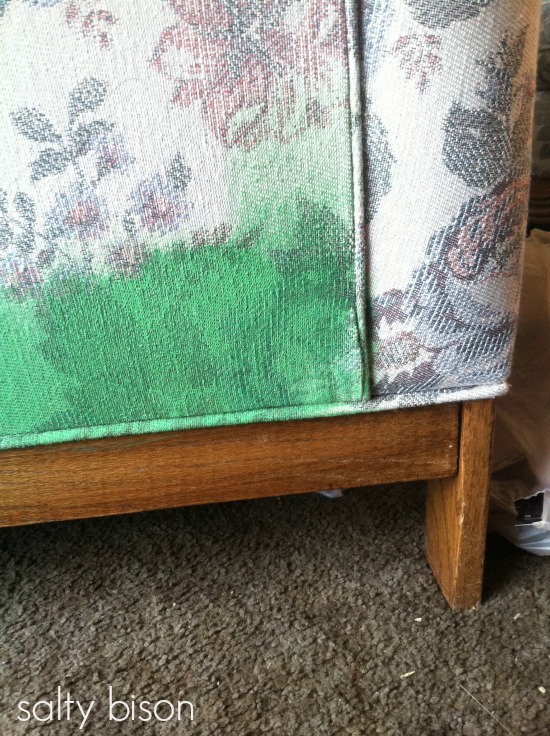 If you are doing more than one layer (highly recommended) you should do it soon after the first. When you are done with the paint you can rub on some furniture wax. Seriously. It sounds strange.. but it gives it a softer finish. Let these layers dry for a few days before you start sitting on the cushions. Nobody wants a green bum. I have also found that it is getting softer with time. Although, I wouldn't recommend rubbing your face across the fabric, it may scratch you.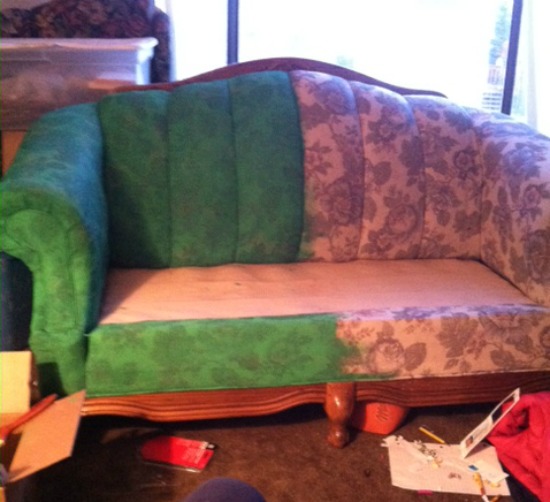 So. Lessons I have learned: 1.You should totally start with a chair to make sure you love the finished product. 2. It's not super soft and cozy. 3. This total project cost me $50.00 thats a fraction of what it would have cost to have it upholstered. Or to buy that yummy velvet adoraballs couch from IKEA.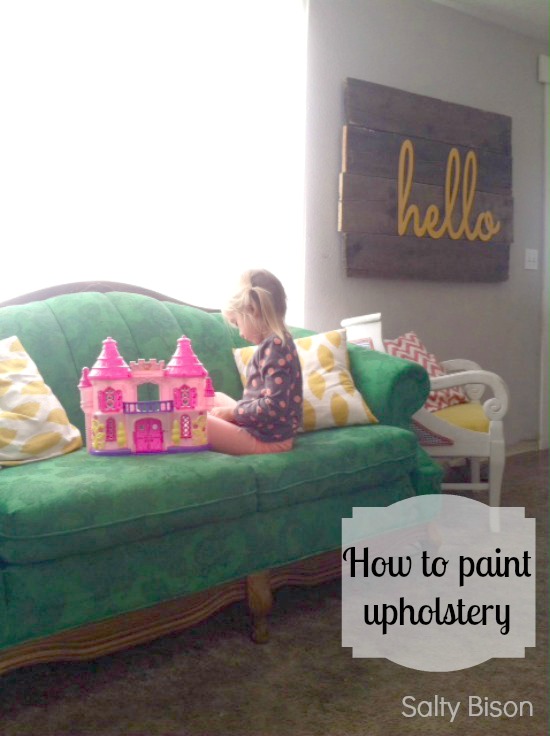 So, there you go. She's a beauty and I love her. And now I need to find a chair to do…..
Ta Loves!
~Salty Bison