I had no idea that when I started a blog on the side from my family one that it would turn into a full time job.  It was almost 10 years ago when people didn't really know why I wanted to start one or what the point was.   My how times have changed.  I've had this post in my head for probably 5 years and figured it was time to write it all down.   So — you want to start a blog?  Let's do it!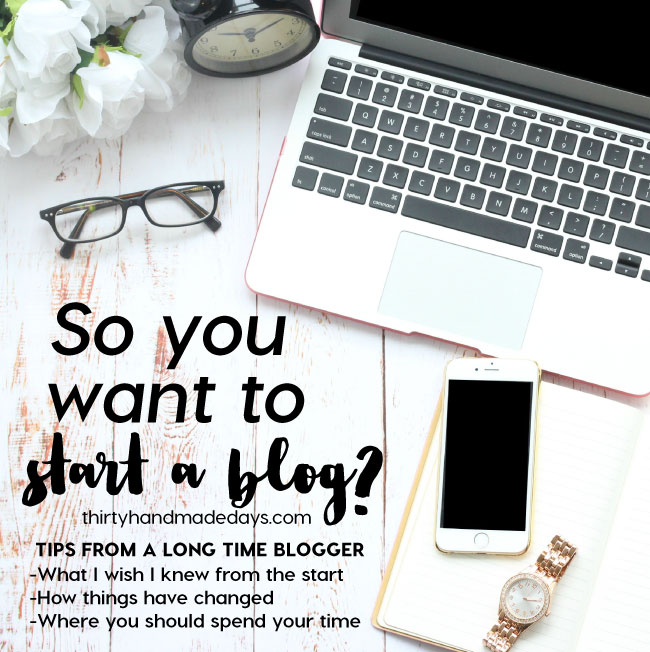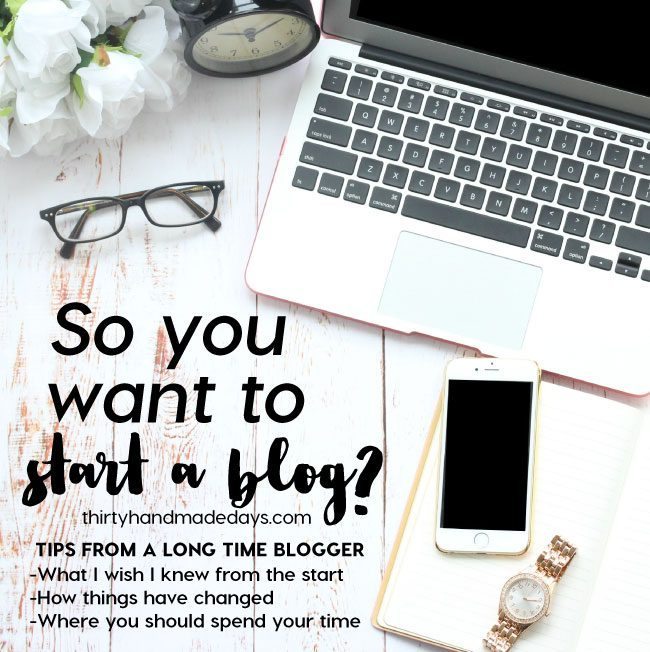 Take a deep breath because this is going to be a long one.  I will try my hardest to completely overwhelm you.  
Note: some affiliate links are included below.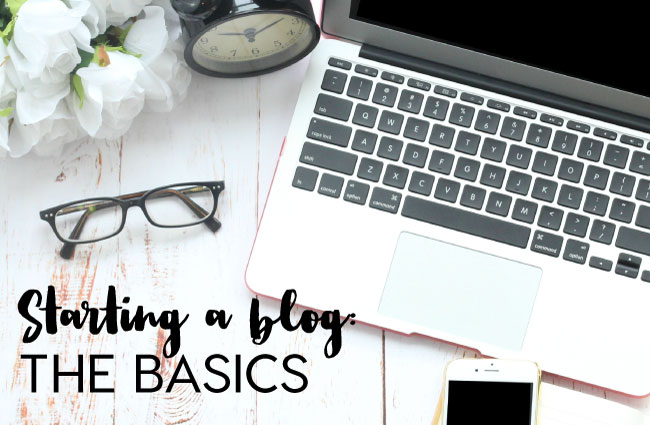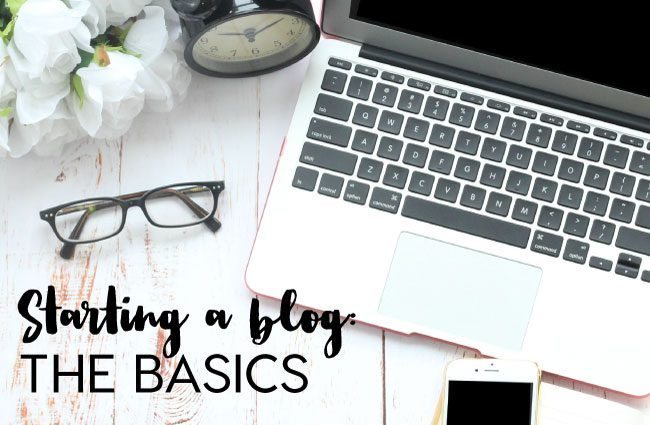 Start with a good name.
Think hard about your name. My blog name doesn't really make sense these days but there's no going back now. Had I known then what I know now I would've never had a long name and one having to do with numbers.  There are too many options for people to misspell my blog name.  It can cause confusion.  Once you decide on a name make it consistent. Have your Facebook page be the same, your Twitter handle, everything you do in the blogging world be the same.
Start on WordPress.
I started on Blogger and transferred over to WordPress in 2011.   The transfer process was painful.  I ended up having issues with my host that caused me to lose weeks of content.  I cried many tears.   It was a nightmare at the time.
So do yourself a favor and get set up from the beginning with WordPress.  It is free but you have to pay for hosting.  (more on that below)
While my experience is with WP, there are lots of new bloggers using SquareSpace.  It's worth looking into.
Get set up with good hosting.
Hosting fees are usually calculated by the amount of traffic you get.  I have had a few different experiences with hosting.  And not all of them were pleasant.  The one thing I'll say about having a WordPress site is that if you don't have a good host, your site can go down at any point.  Not good.
A good option to get going with is Blue Host.    It is $3.95/month which is such a deal!


Design.
This one can be overwhelming.  There are a lot of options.  Like 983723923892 options.  And I have had about 3902392039230 designs in the past 9 years.  My most recent design is from Melissa Rose Design and she was a pleasure to work with.
I'd also highly recommend Shay Bocks.



Ok let's move on to something that I've recently started focusing on and would encourage you to do the same —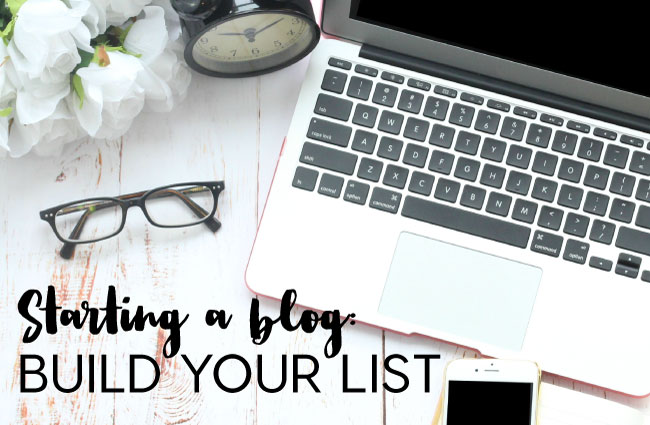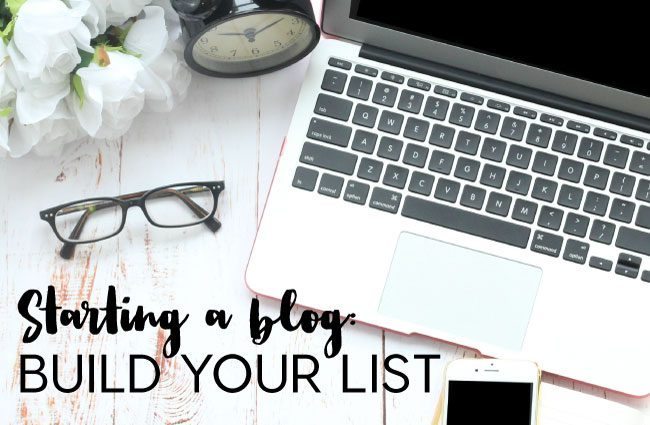 The biggest thing that I want to encourage new bloggers is to build your newsletter list.  People have been telling me this for years and I kind of put it off because it was one.more.thing.  But for reals – if you get nothing else from this post, set up your newsletter and focus on that.
There are tons of options when it comes to newsletter providers.  I am currently using ConvertKit and absolutely love it.  There is definitely a learning curve involved but it has the ability to do so much.   The starting fee is $29/month.
I started with Mail Chimp but was frustrated with the processes and that I couldn't do very much with it.  When I switched to ConvertKit, my newsletter subscribers went from 12,000 to 75,000 in just 4 months.  I plan on doing a post on how I did that soon.
While lots of people focus on building their social media, it can be heart breaking when a new change is made that is out of our control and you lose traffic, income and more.  Focusing on your list is one place you have all of the control.  It's definitely worth the time investment.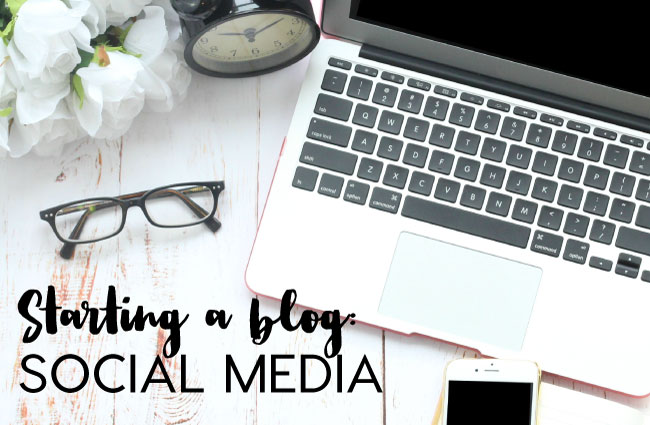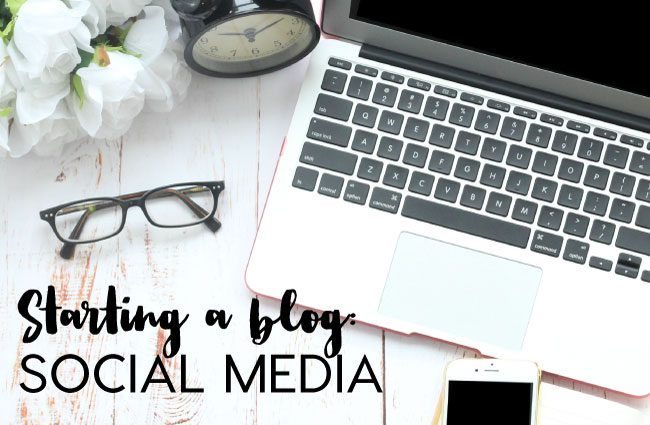 When I first started blogging, social media wasn't really a thing.  In the very beginning I didn't have a smart phone.  (that makes me sound old doesn't it?) Then I found Twitter.  And I majorly connected with people there.  Eventually Facebook came along.  Then Instagram.   Now there is Periscope, SnapChat and about 290139103091190 other types of social media.  I have a few thoughts on this –
Get accounts for all of them with your blog name – this might even be something to consider when you are coming up with a name.  Check on social media to see if it's available with that name.  It would stink to spend a bunch of time on your name only to realize that some random person a million miles away has taken that handle on Instagram.
Figure out where your target audience is and spend the majority of your time there.   In the beginning of starting a blog, the to do list is huge.  Knowing where your people hang out is key.
Some things are out of your control — the one known thing about social media is that they are always changing it.  Know that there will be algorithm changes and things that you won't be able to predict.  Set it all up right but learn to roll with the punches.
While I am active in Pinterest and Instagram, Facebook is where the majority of my people are.  I have spent the last 2 years working hard on growing my page.  It's something that I'm passionate about and I will be speaking about it at SNAP next week.  I've written a little about it in the past —
6 Tips to Increase Your Facebook Page.  And I'll write more about it in the future.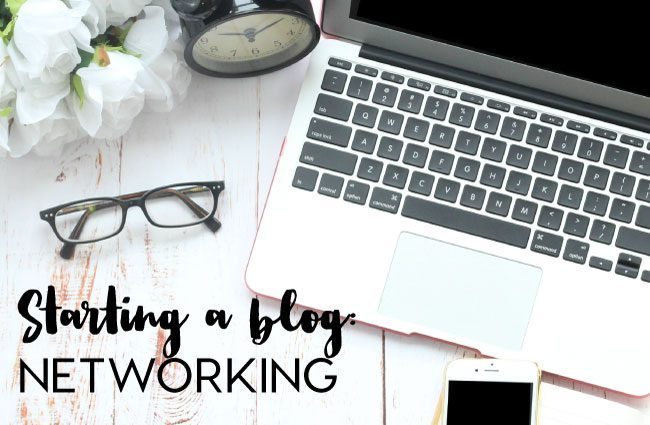 This is one of the things that has sustained me all of these years.  I thoroughly enjoy connecting with new people.   When I asked my sister what one thing she thinks I'm passionate about she said "relationships."  And that made me so proud. 
Not sure where to start?  Look for other bloggers starting out that are in your same niche.  Go to your favorite blogs and leave comments (though don't bombard them).  Connect with people on social media.  There are so many bloggers out there looking to connect just like you are.  Once you start getting to know some people, get together to help each other out.  You can have a private FB group, chat on Skype, make a mastermind group and more.   The possibilities are endless but having a group of people to bounce ideas off of, share content, encourage one another is invaluable.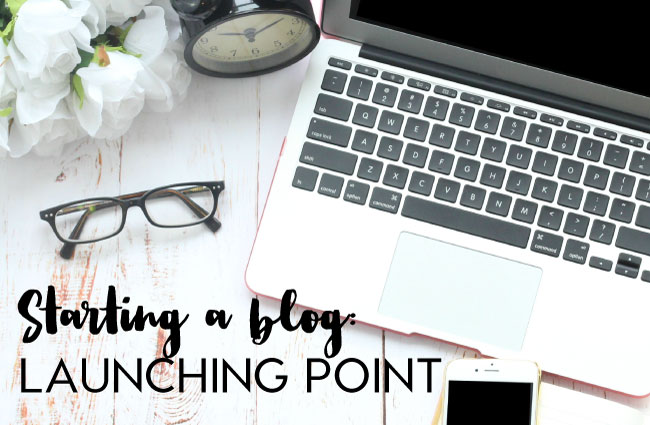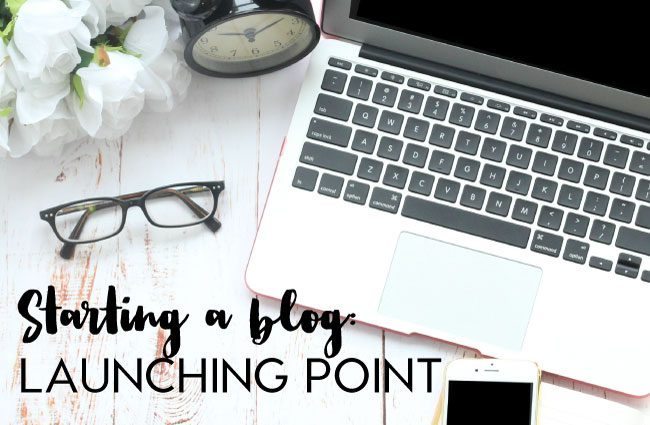 As I mentioned, times are changing.  Things in the blog world are moving in a new direction.  For years the majority of income has been made from ads and sponsored content but it feels like things are shifting.  Some people are freaking out, others are embracing the changes.  One thing that I know is that there are lots of opportunities that come by way of blogging.  Be smart about using your blog as the launching point.  I was able to write a book thanks to 30days (amazing!!!).  I have also recently started producing more binders and working on e-books.  There are some exciting things on the horizon that I can't wait to share with all of you.  My point is that having a blog can simply be a launching point for other opportunities.  Think of it as your home base to all of the different types of projects you want to tackle.
If you're ready to jump in, you should check out my top tools for running a successful blog!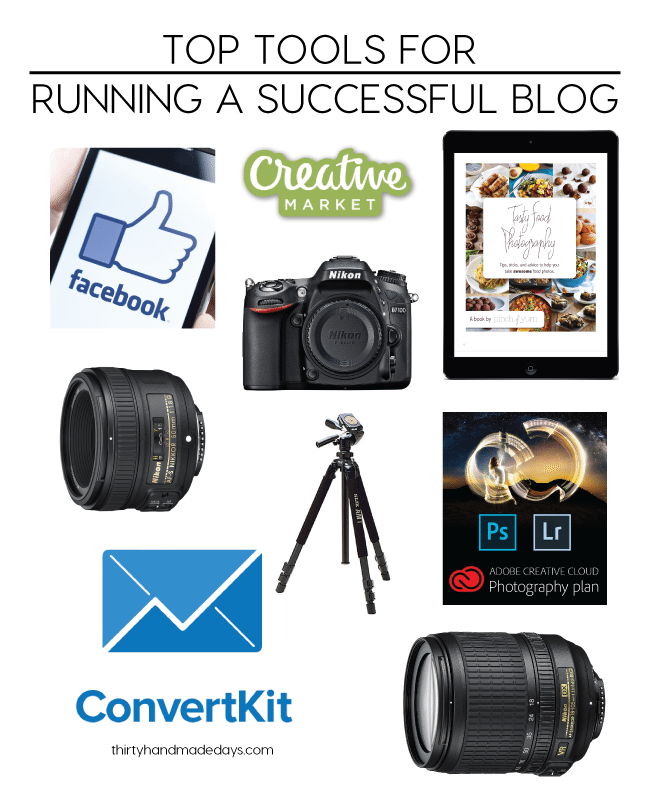 Oh and I'd super recommend Abby from Just a Girl and Her Blog's ebook called Building a Framework.   It will walk you through more details of starting a blog.  She is awesome at explaining things!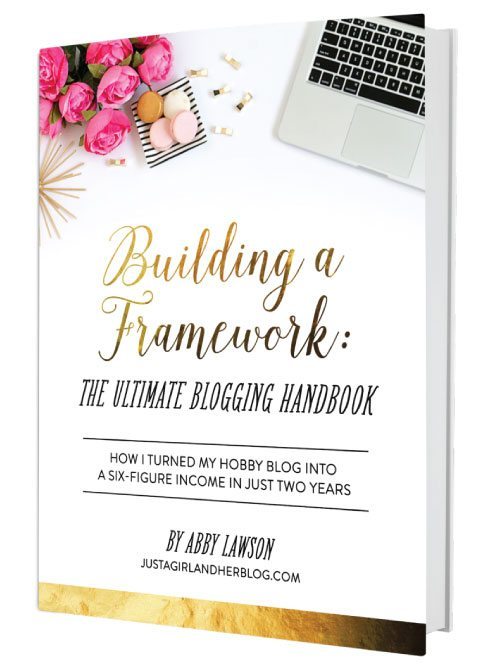 And once you get going, feel free to use this printable blog planner: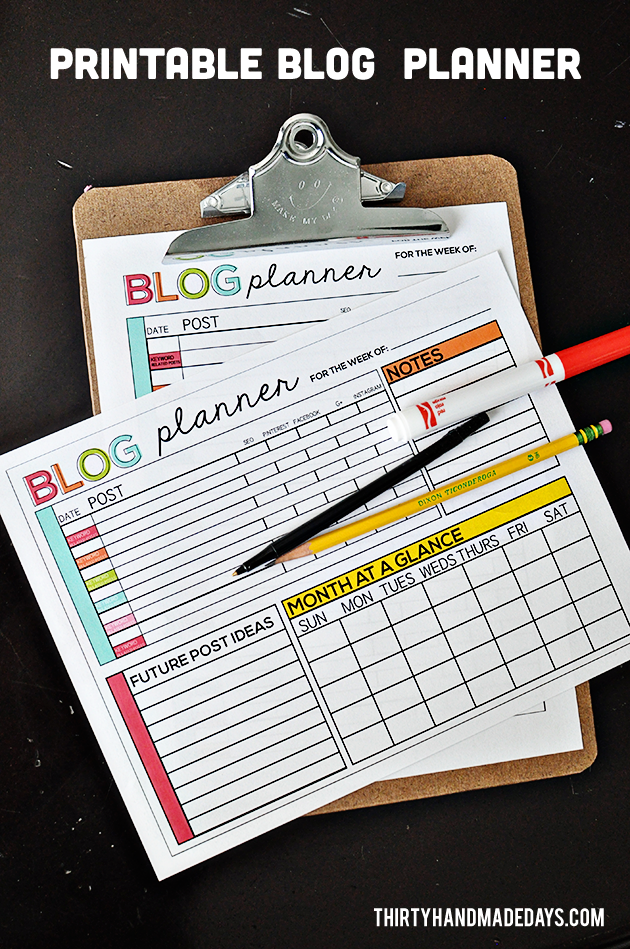 Let me know what types of questions you have or how I can help!