Not too long ago I talked about technology and the internet with kids.  It's both a blessing and a curse with this generation that we never ever dreamed possible when I was growing up.  I mean back in the day it was a huge deal to have a remote control for the tv and VHS that could rewind and fast forward.  (Hello am I dating myself?) But now, everything is at our finger tips.   Today we're going to chat a little bit about how we can provide a safe environment with boundaries for our families.
I know that each family will feel comfortable with different boundaries.  But I think it's fair to say that everyone wants their kids to be safe, right?  So this is meant to start the conversation and get you thinking.  As with all of my posts, there is no judging from me – I do what is right for my family, you do what's right for yours.  Sound good?
Have the tough talk with your kids.
I've had lots of serious (sometimes uncomfortable) conversations with my kids.  I am an over preparer.  They roll their eyes at me a lot.  I don't mind.  Because they always know where I stand on something.  They shouldn't ever come to me and say "I didn't know" because we've talked about everything under the sun.
So make sure to break it all down for them, let them ask you questions.  A few good guidelines to start with:
Never give out your personal information to someone online.  (address, phone number, school information, etc)
Never send a picture to a stranger.
Check with an adult before downloading something.
Tell your parents right away if something makes you feel uncomfortable.
No buying anything online.
Take precautions with parental controls.
There are things that parents can do to set parental controls.  But there are also some cool products to purchase like a Circle.  It is ridiculously simple to use and awesome.
Have set rules for when/where kids can access things online.  
Again, this will be different for each household.  There are some families that have a no phone in privacy policy- not in bedrooms, the bathroom, anywhere that someone else isn't present.  Others aren't as strict.  The biggest thing about this is that you discuss it with your spouse and be consistent.  While kids might complain about not being able to have their phone, tablet, etc in private, let them know that you make the rules!
Along with that – we recently decided that we needed to be better about turning devices in at night.  I've gotten into a bad habit of the kids having the phone or iPad in their room (doors open always) past bedtime.  There's no reason for this.  And it can actually be dangerous – nothing good can come of late night texting/browsing.   So I cleared off our desk area in the hallway upstairs and made a little reminder.  We've been better about turning things in but not perfect yet.  Our rule is 9pm everything is turned in (I have older kids – with younger kids it might be earlier than that).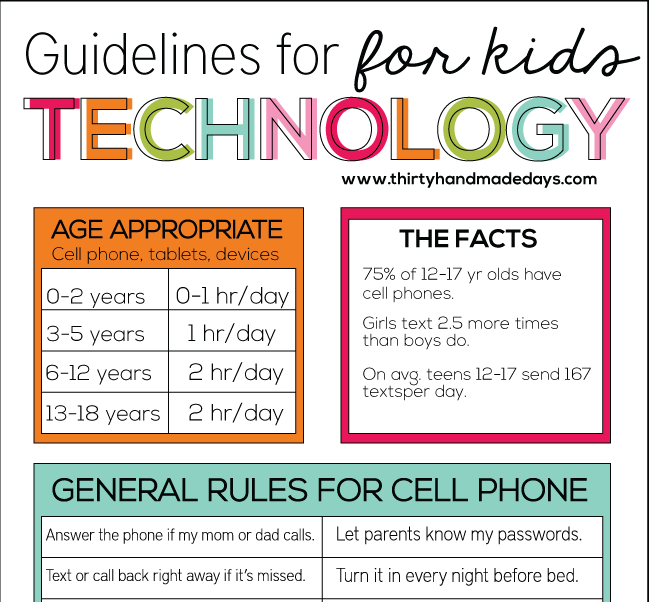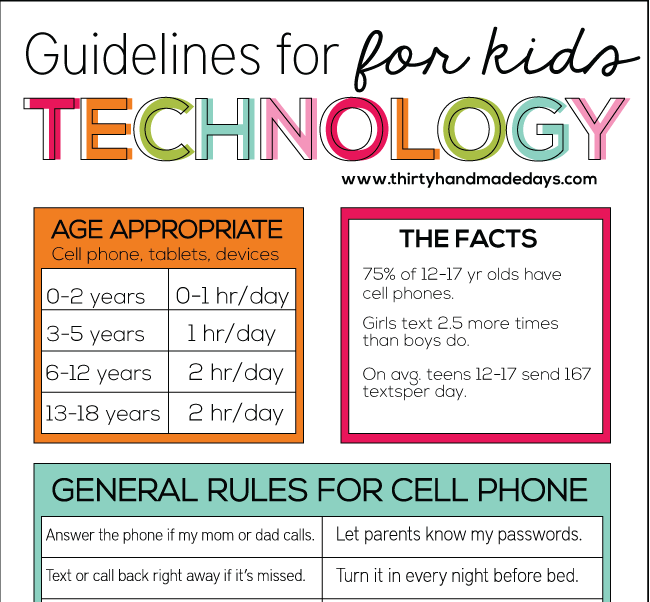 Check out my post with guidelines for kids and technology.
Keep the line of communication open.
I have heard scary stories about crazy things happening to kids by way of the internet.  I'm sure you have too.  One of the most basic things that we can do for our kids is to keep the line of communication open for them so they know they can come to us for any reason.  Sometimes that's easier said than done (something I need to work on) but the truth is that if your kids know that they can trust you, they will come to you with questions, concerns or even (and especially) when they've done something they shouldn't have.  Make an effort to keep that line of communication open as much as possible.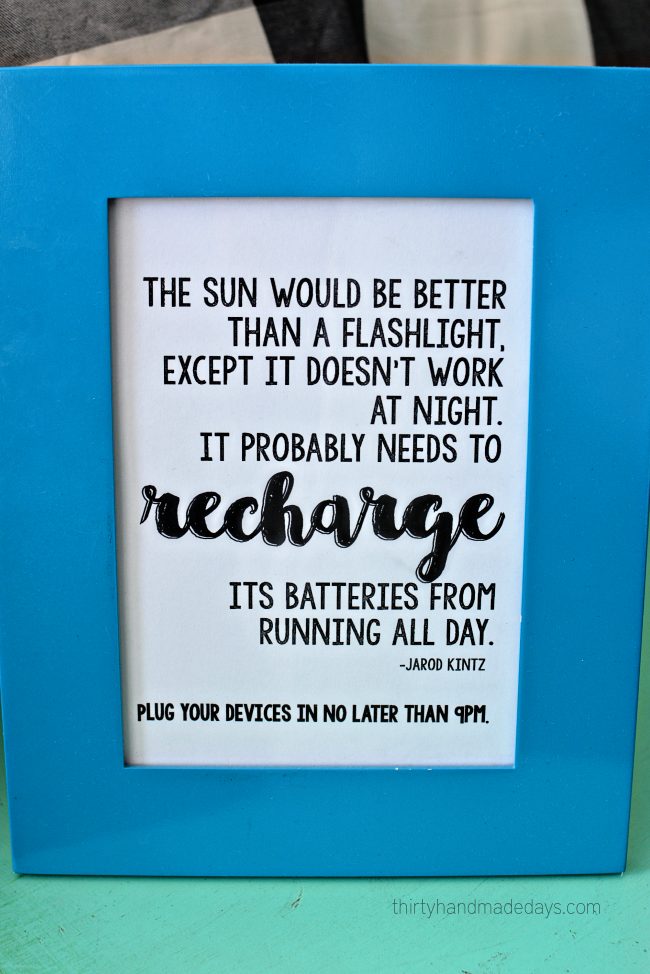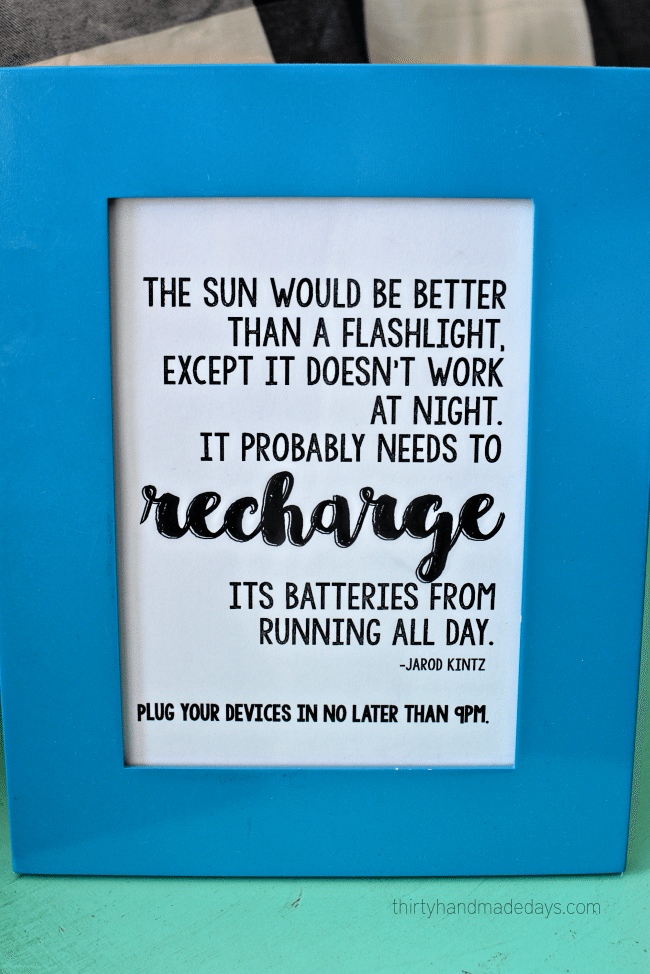 Download this  Recharge printable. This is for subscribers to 30days and personal use only.   Those who are signed up for my newsletter are able to download all of the printables I offer for free.  Thanks!