At dinner with some friends I found myself talking about how when I was little that I thought my life would be a certain way as an adult.  And how it has gone so very differently than I planned.   It got me thinking about what I want my kids to know when they are heading out into the world.  I think it's important to teach them chores, money, responsibility and organization.  (that's another post for another day) I'm far from being a perfect mom and I have a lot to learn yet but these are some of the things I want my kids to know without a doubt.    And by the way, these are still things that I'm working on for myself.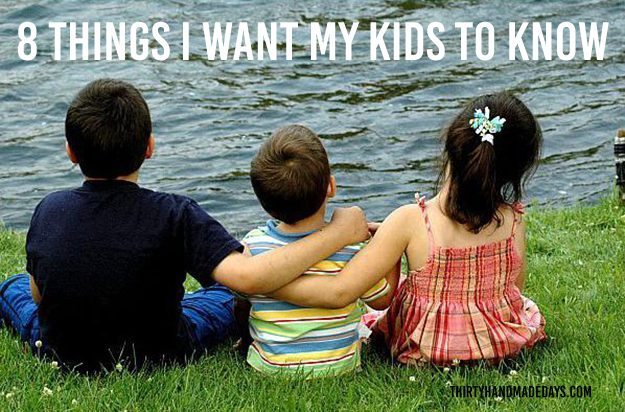 It's okay to have a plan.
Because ya know Benjamin Franklin said "If you fail to plan you plan to fail."  So sit down and figure out what you want to do and what you expect of out of life.  But when things don't quite go the way you thought they would, that's okay.  You will have some bumps in the road on your journey.  You will question which way to go.  Sometimes you will veer off of your plan completely and other times, things will fall perfectly into place.  All of these times will help shape you into an even amazing person.
You can do anything you set your mind to.
I want you to know that if you make up your mind, you can do anything you want.  With some work and dedication, nothing is out of reach.  That doesn't always mean that things will be easy.  But sometimes the sweetest rewards come from the hardest work.  I want you know that *I* believe in you.
But you don't have to do everything.
One of the hardest things to figure out is what is worth setting your mind to.  There will be lots of great things to focus on.  Sometimes you'll be choosing between good, better and best.  But you don't have to do it all, all the time.  You have a whole lifetime to accomplish your goals and dreams.  So focus on the things that matter most and everything else will fall into place.
Mistakes are meant to guide you not define you.
Making mistakes is part of being a human.  Everyone messes up.  It's what you do after you make a mistake that matters.   Don't let it get you down or define you.  Say I'm sorry.  Be open to feedback.  Take the lessons you need to and apply them to your life to be better.
Embrace differences.
How boring would it be if everyone was the same?  We wouldn't learn anything from each other.  Take the time to get to know people who do things differently and are from different cultures.  Some of my greatest friendships have grown from people who are nothing like me.  Had I judged them for being different, I would've missed out in a big way.
Nice matters.
There will be times when it will be hard to be nice.  Do it anyway.  It can be as simple and hard as that.  Remember "it's nice to be important but it's more important to be nice."
Be a helper.
Remember how a few years ago there was a tragedy in Connecticut?  It was hard for us to talk about and I wasn't sure how much I wanted to share with you.  But I found a Mr. Rogers quote that I fell in love with.  I hope that you will always be a helper, someone that other people can rely on and look to.
You are loved.
Always.  No matter what.  Even when we aren't seeing eye to eye.  Or when you think we're upset.  Your Dad and I will always be your biggest cheerleaders.  We loved you from the moment you were laid in our arms and we'll love you forever.