The London Olympics are fast approaching and we can't wait!  I'm excited to have our family watch the Opening Ceremony.  I created some kids worksheets- an Opening Ceremony BINGO- to keep them entertained while they watch.
I have always really enjoyed watching the Olympics.  Swimming and gymnastics are my favorite favorite favorites.  I was a swimmer in high school and loved every second of it.  (ok maybe not the two hour daily drills…..) 
My love for the Olympics grew when my Dad's company designed the Long Beach Olympic Trials pools in 2004.  We were able to go watch Michael Phelps and other amazing swimmers compete.  It was an unforgettable night.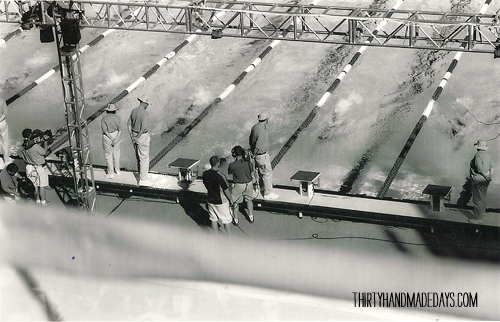 I want my kids to love the Olympics as much as I do.  But I know that sometimes they can run long.  I thought looking for things in the Opening Ceremony would help keep their interest. They can use a marker, sticker or whatever they want to cross off each thing that they see on tv. 

Kids Worksheets
For 30days subscribers and personal use only:
Download your Olympics Opening Ceremony BINGO sheet.
**UPDATED: Thanks to a sweet London reader, I have corrected the bridge on this printable.  Originally I had London Bridge but it is in fact the Tower Bridge. Thanks!**
What's your favorite event at the Olympics?