This post is sponsored by Personal Creations. All opinions are 1 million% my own and I'm happy to be working with a company I believe in.
It's hard to believe that I'm headed over the hill. Not yet! Not for a few years. But my husband recently celebrated his 39th birthday. Crazy!  I had the chance to work with Personal Creations to create a unique and fun birthday party idea.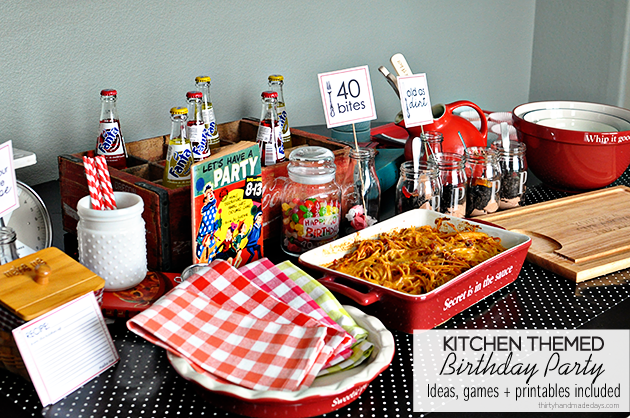 We love to spend time in the kitchen.  I may have mentioned that a few times.  It seemed like a natural fit to center my theme around the kitchen with baking and cooking.  The personalization options were endless.  If you've read 30days for any length of time, you know that puns are my favorite.  So I went a little pun crazy.  I loved thinking out of the box and coming up with these ideas.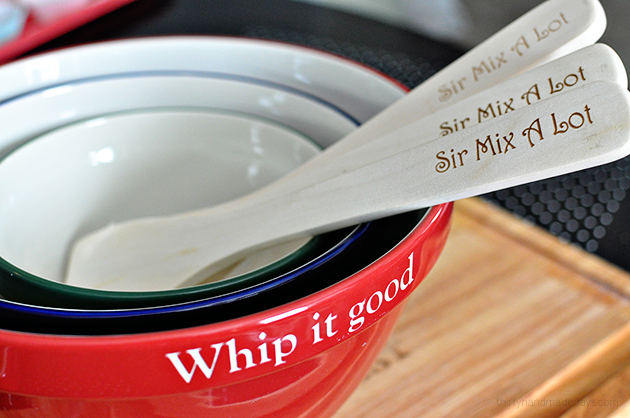 When I  was talking to Josh about this party idea,  he's the one who came up with some of the best ways to personalize.  "Sir Mix A lot" for the custom wooden spoons were his creation.  I thought they were hilarious and fit perfectly with a set of mixing bowls that say "Whip it good."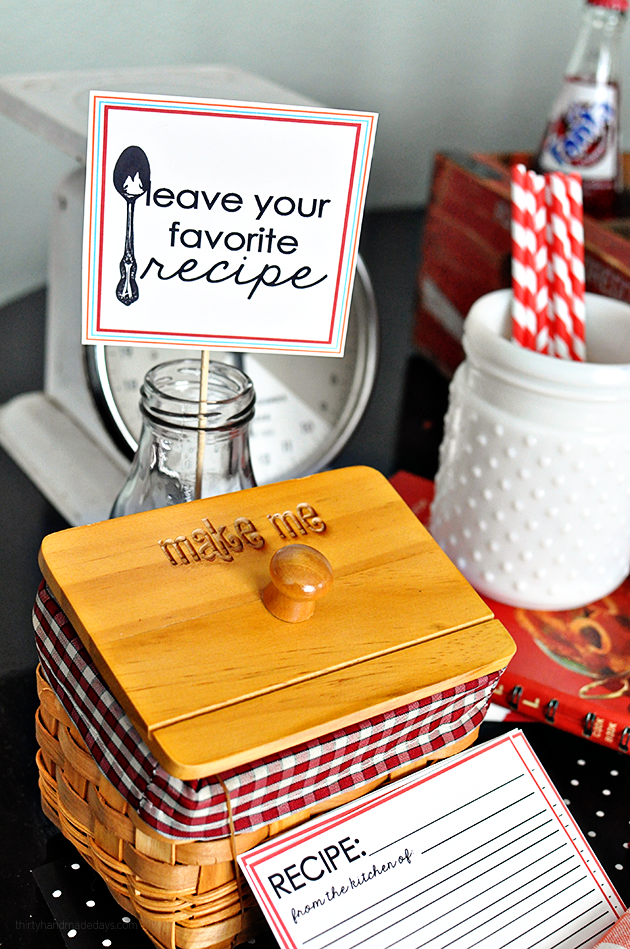 I had a recipe box made with "make me" printed on it.  The idea is to have recipe cards sent with each invitation.  Invite each guest to bring their favorite recipe to add in to the birthday guy or girl's recipe box.  That way they can not only add to their collection, but have some a little piece of each of their guests.  It really is all about the little details, isn't it?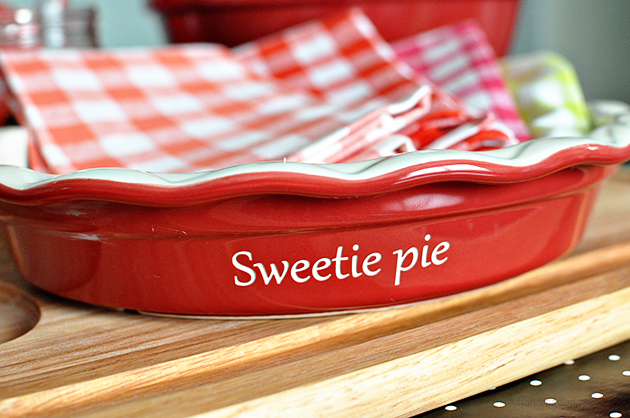 Sweetie pie is something my Mom and Dad called us growing up.  I couldn't resist adding that to this pie plate.  "Cutie pie" would be a fun one to add too.  And for the math lovers of the world "Cutie π" would be the best gift!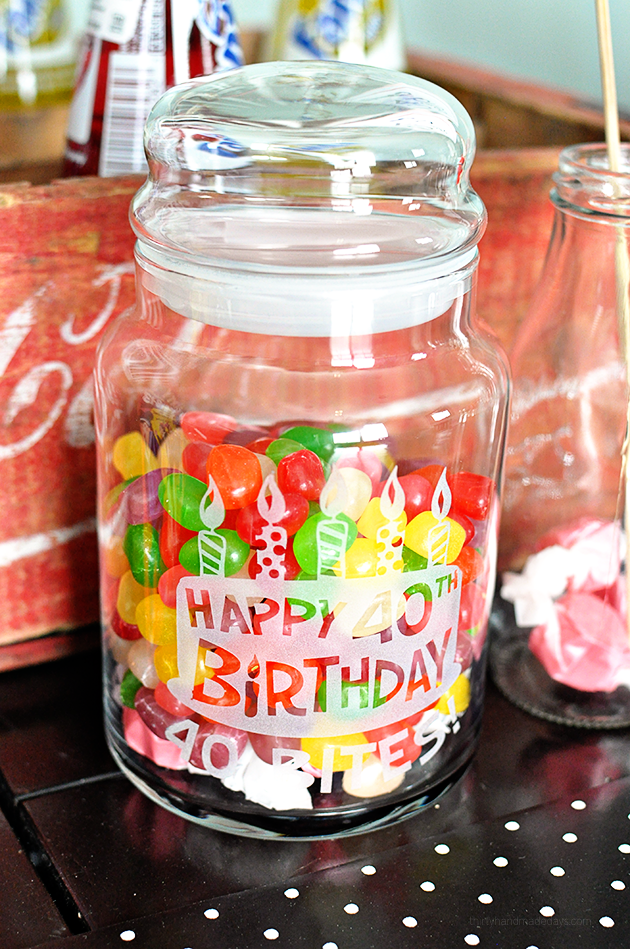 I wanted to do a generic jar (as opposed to adding someone's name to it) so in the place where it would normally have a name, I added "40 bites" and my theme was born.  Get it? Kitchen/baking related… 40, bites ?  The coolest thing is that even if you aren't normally considered "crafty" Personal Creations makes is really easy to appear that way.  Not all of these products have to be used to throw a birthday party.  Order some for yourself (shhhh… I won't tell) or for a gift for that really hard to to buy for friend or family member.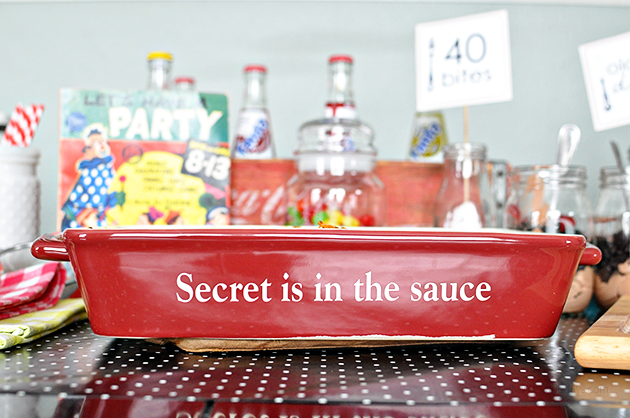 Most of the time when I use a casserole dish there is a sauce involved.  I couldn't help but put "secret is in the sauce" for this one.  It just felt right.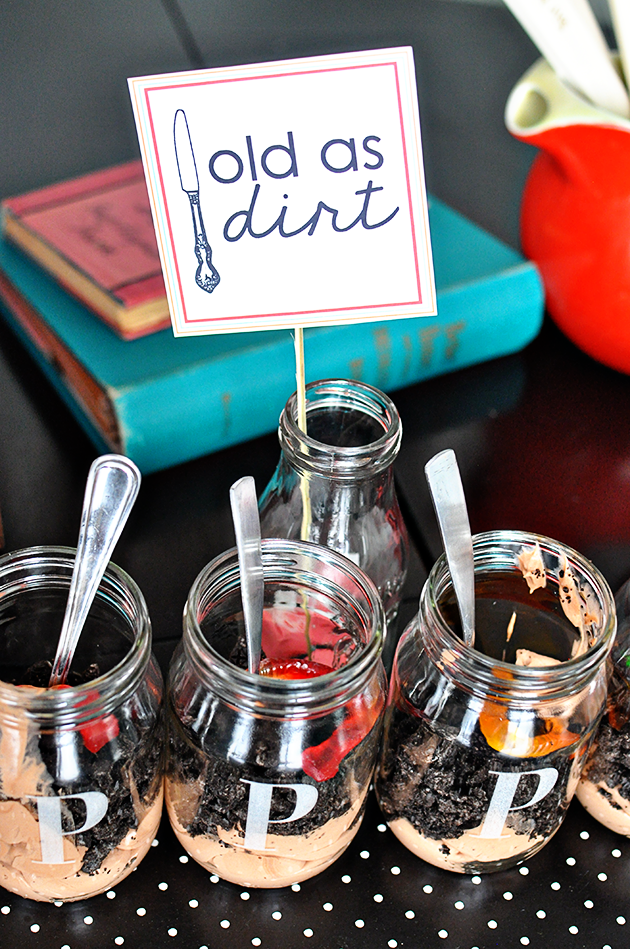 For dessert it was a no brainer – Dirt Cups with a sign that says "Old as dirt" were the perfect touch.  They are fun, colorful and taste amazing too.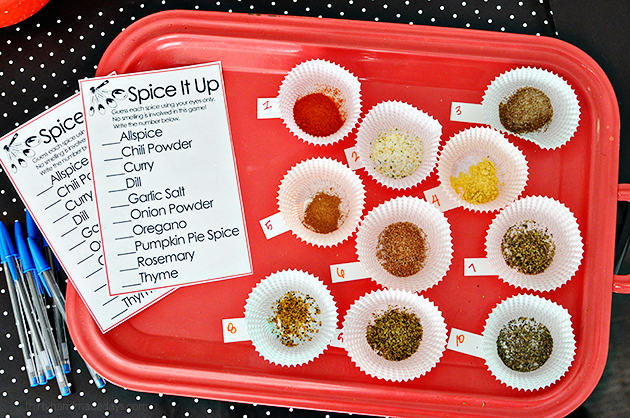 I knew that I wanted to do some kind of game and searched until I found the basics for this game – Spice It Up.   The idea is simple – you place spices into containers (in my case I used brightly colored cupcake wrappers) and have numbers next to each one.  Guests are not allowed to smell .. because that would be way too easy.  But based on look alone, can they guess which one goes with which?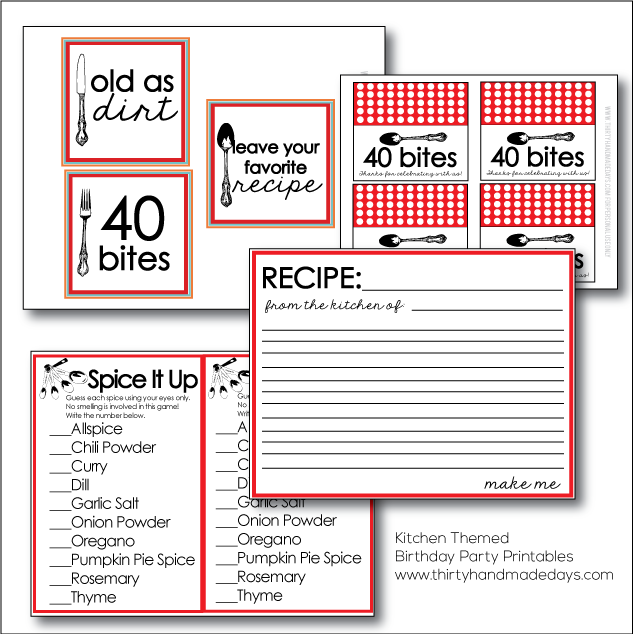 Click to download a whole pack of Kitchen Themed Birthday Printables.  For personal use only. Thanks. I'd love to know what your favorite birthday party you've thrown or party that's been thrown for you is? Personal Creation has offered a 20% off  your entire purchase.  Use the code PCSM20 at checkout.  No minimum purchase is required. AND guess what? I get to  be a part of giving away a $500 gift card to Personal Creations.  Woohoo! Enter below in the widget:
a Rafflecopter giveaway

This giveaway will be open from July 28 to August 10 at midnight PST and will be sponsored by Sway Group.
One winner (from all 10 giveaways) will be selected to receive a $500 gift code to Personal Creations.
Sway Group will select a winner on or about Monday, August 11, which will be highlighted in the Rafflecopter.   Sway Group will get in touch with the winner. 
This post is sponsored by Personal Creations. All opinions are 1 million% my own and I'm happy to be working with a company I believe in.