A Lemon Blueberry Streusel Coffee Cake is the perfect guest at your upcoming Easter Brunch or any breakfast or brunch.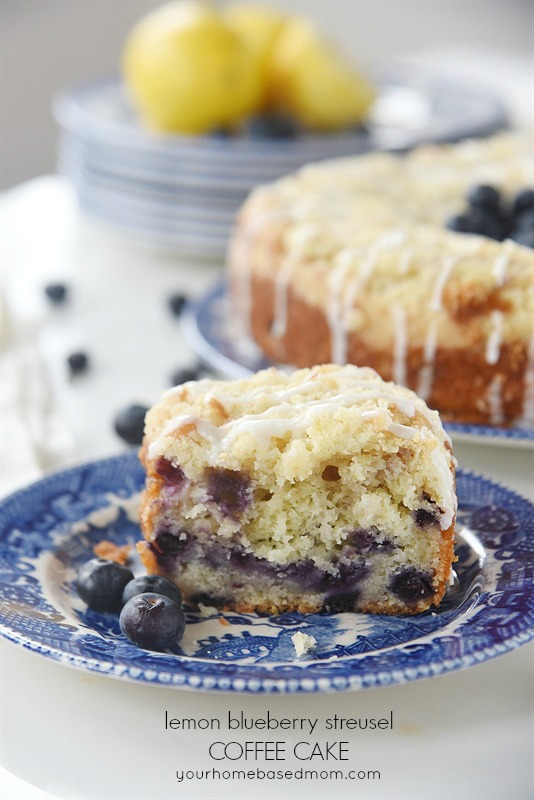 I woke up to snow in Portland today, and it's March.  Something crazy is going on around here and I wish it would stop!  Even though it looked and felt like winter outside I decided to bring spring inside and one of my favorite ways to do that is with lemons!  This lemon blueberry streusel coffee cake definitely says spring.  Nothing says or smells more like spring than fresh lemons.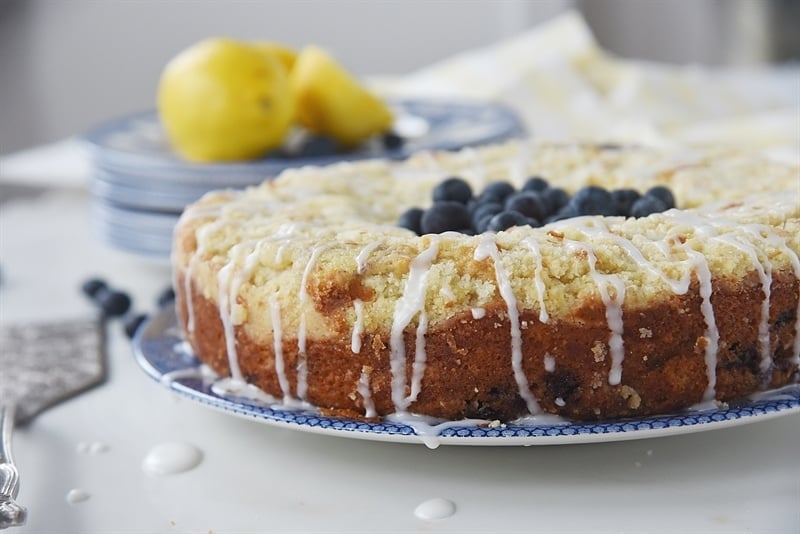 I think lemon and blueberry is a perfect flavor combination and the colors go so lovely together too.  I look for any excuse to use my blue and white dishes and this coffee cake was the perfect thing.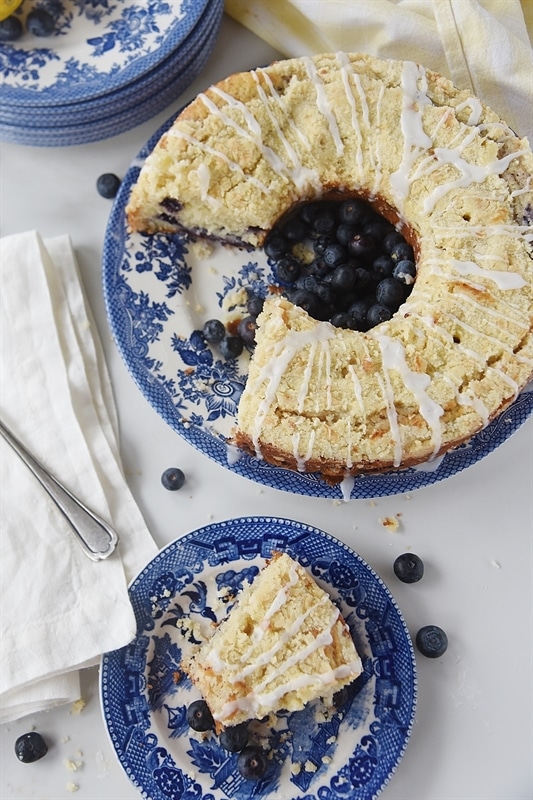 I used a round tube pan to make this coffee cake but you can also do it in a 9 x 13.  Just be sure and adjust the baking time (details in the recipe.)  If you use a tube pan or an angel food cake pan make sure the bottom is removable as it makes it much easier to get the coffee cake out of the pan. Trust me on this one. A bundt pan will also work.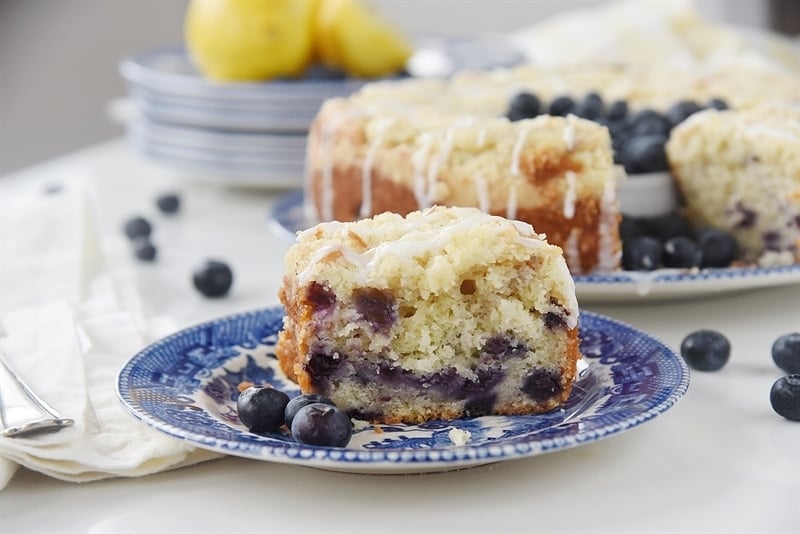 This recipe works well with both frozen blueberries (thawed) and fresh blueberries.  Coat the berries in some of the flour first before adding them to the batter so they don't all sink to the bottom of the cake, although many of them will anyway! But that's o.k., it's still going to be tender and lemony!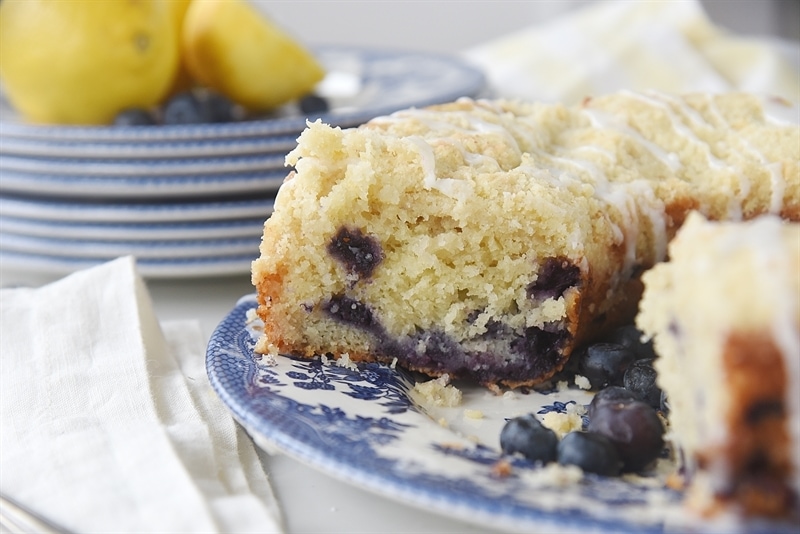 A drizzle of lemon glaze over the top adds an extra lemon punch and makes it look prettier too. Happy Spring!
Some of my other favorite lemon and blueberry combos are this Blueberry Lemon Curd Coffee Cake ,  Blueberry Buttermilk Coffee Cake with Browned Butter Glaze and Lemon Blueberry Marble Cake.

Lemon Blueberry Streusel Coffee Cake
Author:
Leigh Anne Wilkes
Ingredients
Streusel Toppoing
½ cup granulated sugar
1 cup all purpose flour
3 Tbsp lemon zest
6 Tbsp butter, softened
¼ tsp lemon extract
pinch of salt
Cake
½ cup butter, softened
1 cup granulated sugar
2 eggs
1 cup plain Greek yogurt
1 tsp vanilla extract
2 Tbsp lemon juice
2 cups all pupose flour
1 tsp baking powder
½ tsp baking soda
½ tsp salt
2 cups fresh or frozen blueberres, thawed and well drained
Glaze:
1 cup powdered sugar
1-2 Tbsp lemon juice
Instructions
Preheat oven to 350 degress F.
Grease a 10" tube pan (with removeable bottom), 9 x 13" baking pan or two 8" x 2" round pans.
Make lemon streusel by combining sugar, flour and salt in a medium bowl. Add in lemon zest and stir to combine.
Add in butter and using a pastry blender, work the mixture until it resembles small pebbles.
Add in lemon extract and stir to combine. Set aside mixture.
Cake
Mix together butter and sugar until light and fluffy.
Add in eggs, one at a time. Scrape down bowl.
Add in sour cream, lemon juice and vanilla.
Add in flour (minus a tablespoon), baking powder, baking soda and salt.
Mix to combine, do not over beat.
Sprinkle blueberries with remaining 1 Tablespoon flour and stir to coat the berries.
Gently fold berries into the batter.
Pour batter into prepared pan and spread evenly.
Cover the top with the streusel mixture.
Bake for 40-50 minutes in the tube pan, 30-35 minutes in a 9 x 13 or ckae pan.
Insert a toothpick to see if cake is done, should come out clean.
Remove from oven and allow to cook on a rack.
Remove from pan after it has cooled.
Glaze
Combine powdered sugar and enough lemon juice to make a good drizzling consistency.
Drizzle over top of cooled coffee cake.