This post was created in partnership with American Express, but all opinions are my own. I am beyond thrilled to work with a company I absolutely love!
With a house full of teens, we have a lot of opportunities to teach important life lessons. Financial responsibility is something that has been on the forefront of our minds lately. Today's post is all about teaching kids how to be more financially responsible.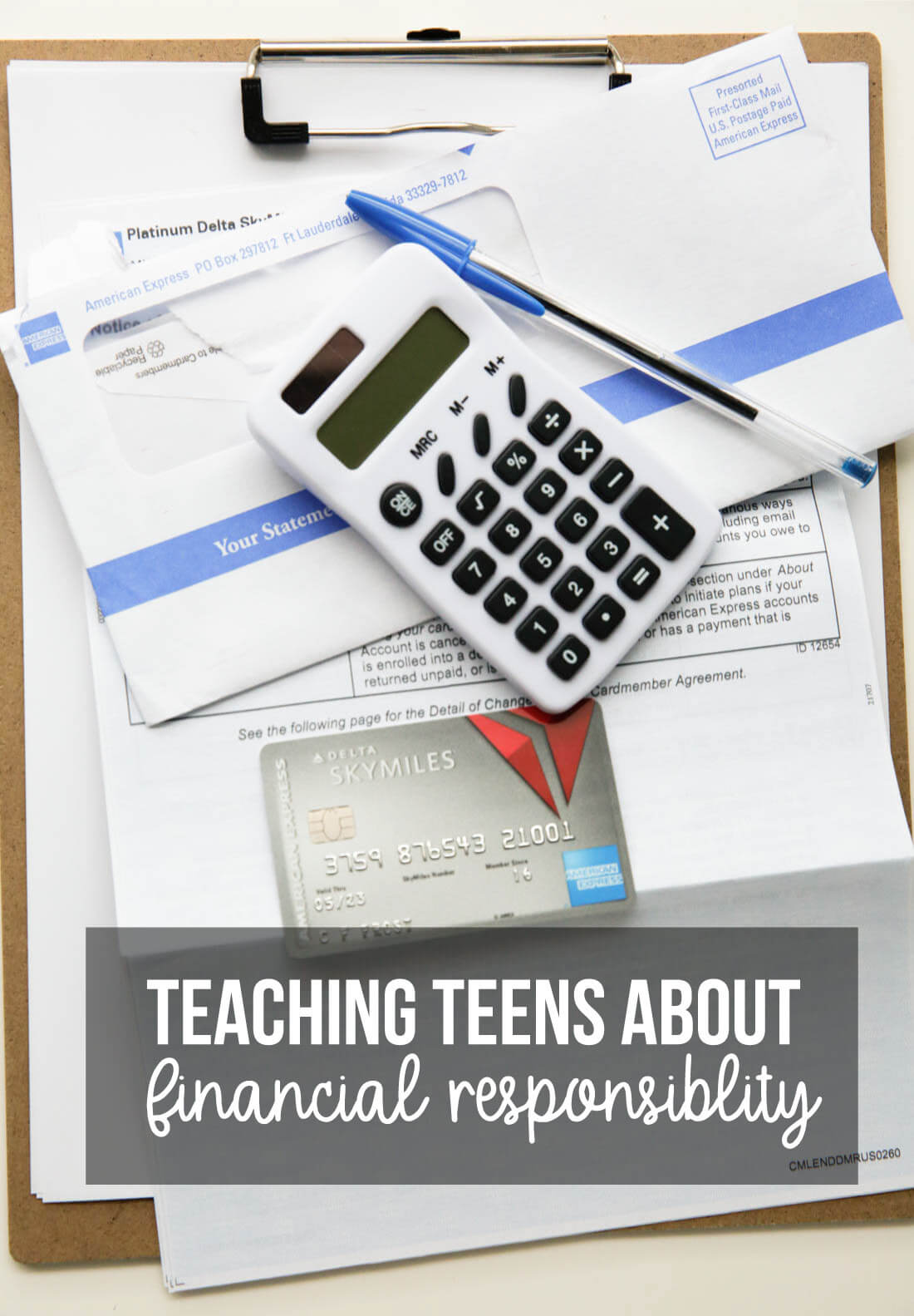 FINANCIAL RESPONSIBILITY
I was only 17 years old when I left home to start college. Being the oldest kid in my family and pretty independent, I felt like I was more than ready to be out on my own… but quickly learned that was not the case. I still had so much to learn. How to cook, how to really clean, how to take care of the bills. You know, all of that "fun" adult stuff!
While I still sometimes think that I don't know what I'm doing, I have come a long way from that naive 17-year-old. It's crazy to me that in two short years, my daughter will be setting off on her own. I feel the pressure to make sure she knows important life skills. Since my husband has been in the credit industry for over 25 years now, we often talk about money in our home. We have guidelines for how to talk to kids about money. But I still feel like there is more to cover before Julia leaves our nest.
These are the things that I think are critical to make sure that teens know before they leave the home:
STICKING TO A BUDGET
A key step in teaching your kids about financial responsibility is creating a budget. It's important to have an open conversation about what it means to budget and the importance of sticking to it. Whether you give your kids allowance or they have a part -time job, it's crucial to have a conversation about how to spend within your means. With Julia as an Additional Card Member, we're able to set a monthly budget she can spend within and track her spending within the mobile app. That way she always knows how to manage her money. Learn more about how set up your American Express account to fit your needs by clicking here.
SAVINGS VS. SPENDING
I feel like a lot of teens today have no clue how important money is and why it's imperative to save. We live in a very "me me me" world with a lot of entitlement. There is a lot of instant gratification going on. Each family has their own ideas about how much they should save versus spend but it's always good to have the conversation with your teens as they start spending their own money. We give 10% of our income to charities but you could have your teens give it to local charities or anything they feel passionate about. One way to encourage saving is to match money when they save it. Or give them a bonus of 5-10% for every time they save instead of spending their money right away.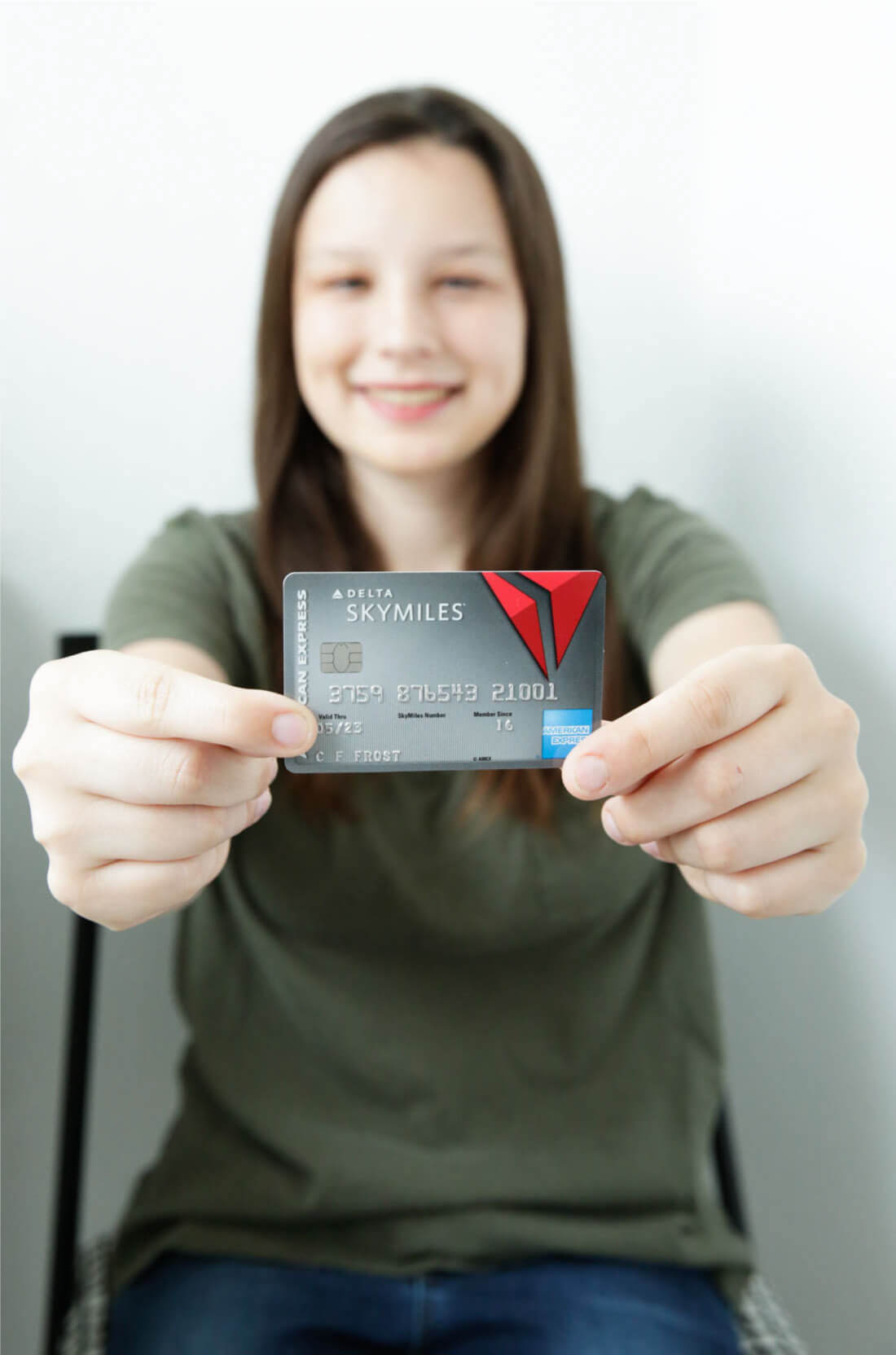 WHAT IS CREDIT AND HOW DO YOU USE IT?
This is a biggie. When I went to college there were booths set up in the hallway at orientation to get credit cards. I never had any experience with a credit card and signed up right then and there. I started spending on it right away. I didn't get into a ton of debt, but enough to feel the effects of it.
Discussing what credit is and how to use it responsibly with your kids will help them out so much. As I mentioned, we recently added Julia to my American Express account as an Additional Card Member. The way that it works is:
If

you

already

have

an

American

Express

Card,

you

can

sign

up

for

an

Additional

Card

for

any

teen

13

years

or

older.

If

you

don't

have

an

American

Express

Card,

you

can

apply

for

one

and,

once

approved,

add

additional

family

members,

like

your

spouse

or

any 

child 13+ years old.

You

are

sent

the

Additional

Cards

and

they

can

start

using

them.

You

can

set

alerts

and

budgets

for

the

Additional

Card

Member

to

help

monitor

your

child's

spending.

You

earn

rewards for

purchase

made

by

the

Additional

Card

Member.

For

example,

we

have

a

Platinum

Delta

SkyMiles American

Express

Card.

The

things

Julia

spends

on

would

go

towards

my

miles.

Charges

for

each

Additional

Card

are

separated

on

your

monthly

statement.

This

is

awesome

because

the

charges

are

listed

with

your

statement

in

a

separate

section,

so

you

can

teach

your

child

good

spending

habits

by

looking

through

statements

together.

Each

Card

has

its

own

account

number

so

if

it's

lost

or

stolen,

only

that

card

needs

to

be

replaced,

not

the

whole

account.
There are so many benefits to doing this. Instead of sending my daughter out into the world having no knowledge of credit, she will have experience using a credit card and paying it off each month. She will be under our supervision to help her learn how to properly manage everything. It will also help her when she turns 18 to build good credit. It's so important to me to teach my kids about credit cards in a responsible way, so this is an amazing tool our family.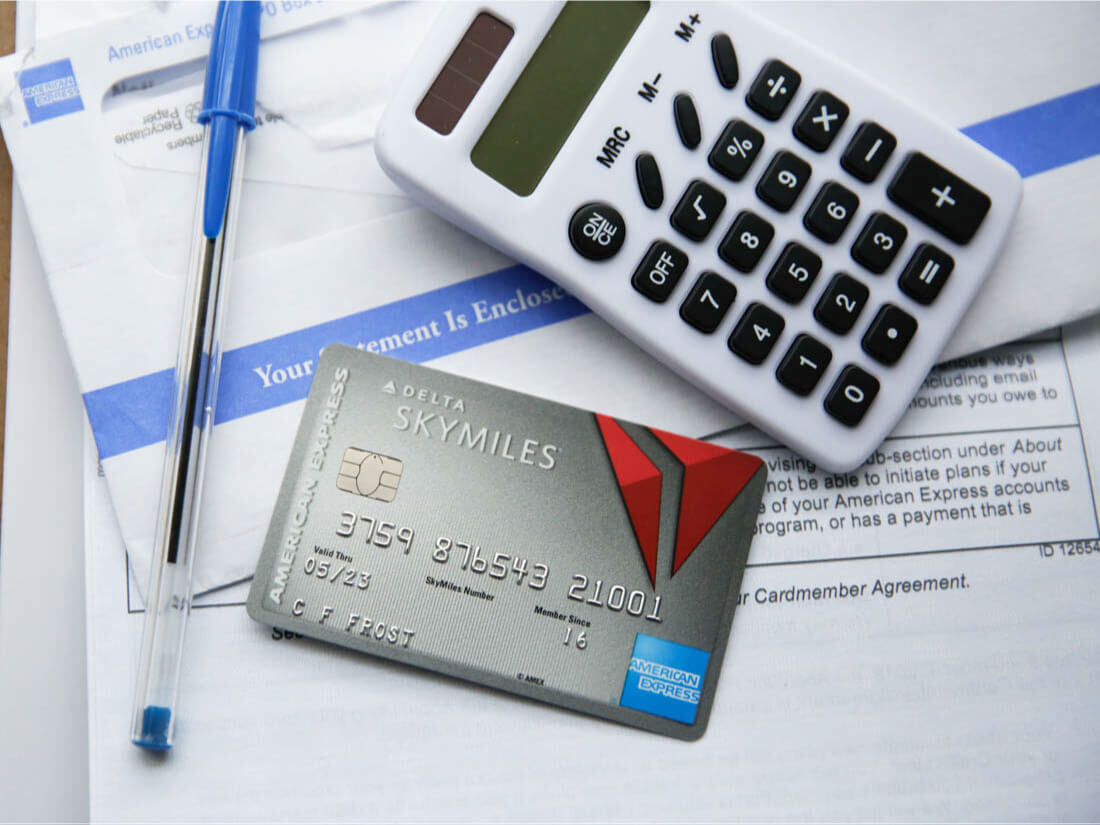 A few things to note – just like anything else, you probably don't want to throw all of this information at your teen at once, because it might overwhelm them. (It would probably overwhelm an adult too!!) Teach them over time, piece by piece so that they get a really good overall sense of how to manage finances.
Each child is SO different. I have one child who is extremely responsible who really loves learning about things like stocks and finances. I have another child who gets very overwhelmed with any talk of finances. Make sure to adapt everything you talk about to each child. Help them understand in a way that works for them. Learn more about how to add your teen to your account as an Additional Card Member here.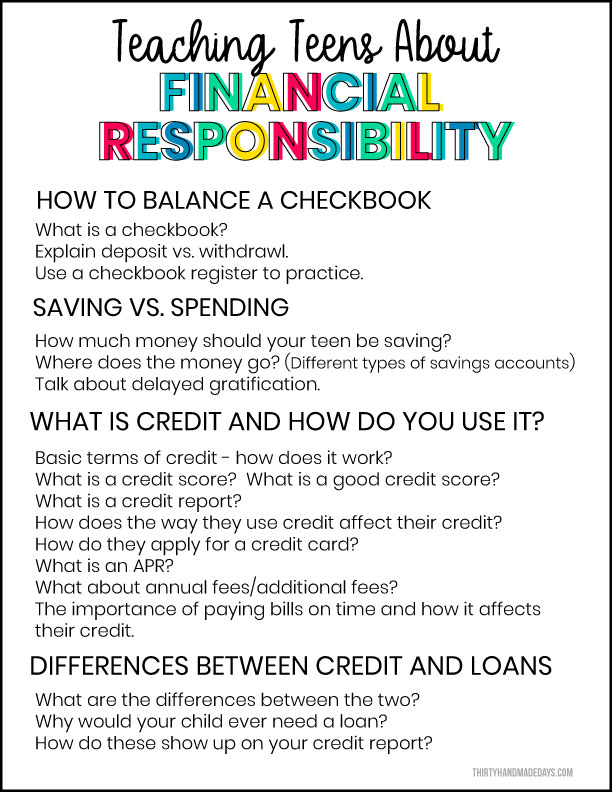 I created a printable checklist to use as a guide for having important discussions about finances. For personal use only.