Remember a few weeks ago when I was challenged to use mangos and eat healthier at our home?  We made some yummy mango banana smoothies.  One of the other mango recipes I came up with was this one for Mango Crumble.  As much as Josh loves mangos, I love crumbles.  Peach crumble, apple crumble- you name it, if it has a crispy topping I'm in.  So this is my attempt at adding mangos into the mix.  The whole family loved it and I hope you do too!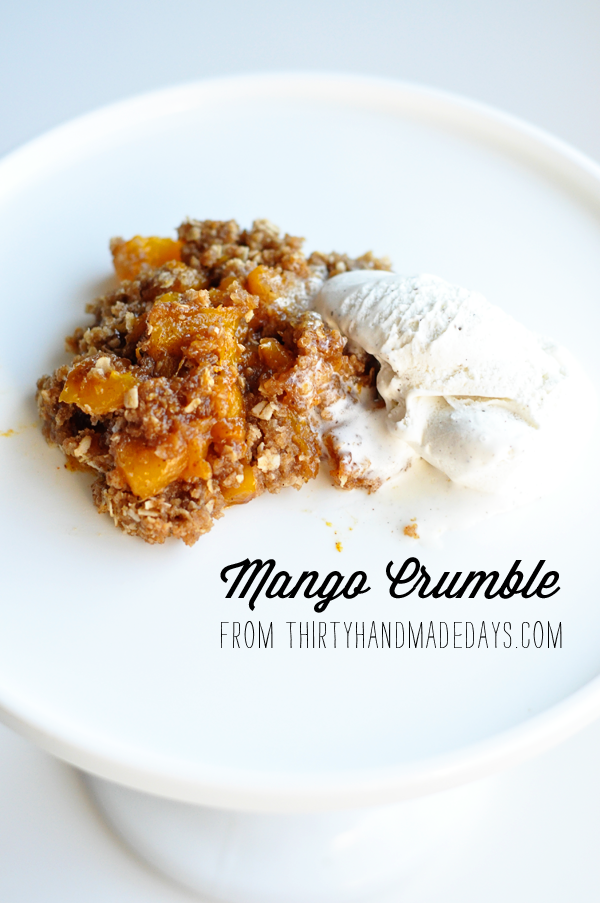 Simple mango crumble - tropical with a spice.
Author:
Mique from Thirty Handmade Days
Ingredients
3 large sweet mangos, sliced
½ c brown sugar
pinch of nutmeg
1 tsp cinnamon
Topping
½ c. butter
1 c. brown sugar
¾ c. flour
¾ c. quick oatmeal
½ tsp. cinnamon
¼ tsp. salt
Instructions
Preheat the oven to 350.
Place the sliced mango in a saucepan with brown sugar, cinnamon, and nutmeg.
Cook on low- medium low, stirring often for 5 minutes.
For the crumble:
Put the flour into a large mixing bowl and rub the butter in with your fingertips. You want the ingredients to start to hold together,but will still break apart.
Add sugar, cinnamon, salt then the oats and mix.
Spoon the mango mixture into a small buttered ovenproof dish and sprinkle over the crumble topping.
Bake for 30-40 minutes until the topping is golden brown. Serve with vanilla ice cream.
Variations
If you have no fresh mango, use a tin of mangoes, apricots or peaches. Drain before use.
Spread the crumbs on prepared fruit.
Bake at 350 for 35 to 40 minutes.
Notes
If the topping begin to brown too much during baking, cover loosely with a piece of foil. Remove the foil the last few minutes of baking so the crumbs will crisp.
Enjoy!