This post is in partnership with Minute Maid.  I am beyond thrilled to work with a company I absolutely love and believe in!
You know how sometimes the stars align just perfectly? That's what happened with this project an opportunity to meet with five-time Olympic Gold Medalist, Missy Franklin and her parents, to discuss parenting and Minute Maid's #doingood campaign. To go along with this theme, I created some cute mason jar gift ideas and designed some printables.  More on that below.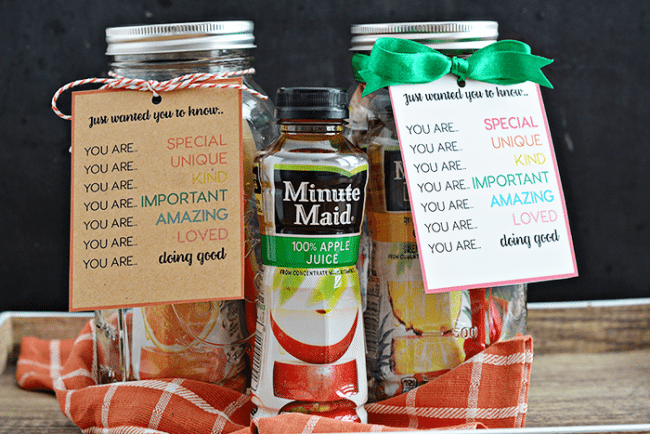 I've mentioned my love of the Olympics several times, especially last month with the Games being held in Brazil.  I especially love watching swimming as I was a swimmer in high school and my dad worked in the waterpark/pool industry for over 20 years. Since the London 2012 Olympic Games, one of the swimmers that I have admired most is Missy Franklin. She was not only great in the pool but seemed to be so positive and an all-around fantastic person. So this summer as I watched the games, I couldn't help but cry every time this one commercial came on:
How could you not watch that and be inspired?! When I had the chance to go to Coca-Cola Headquarters and meet Missy and her parents, to say that I was excited is a huge understatement. Not only was the event amazing, but I left feeling inspired and even more encouraged by Missy and her parents about the job I was doing as a parent. I wish everyone could've been there to feel the warm fuzzies and hear the stories that were shared.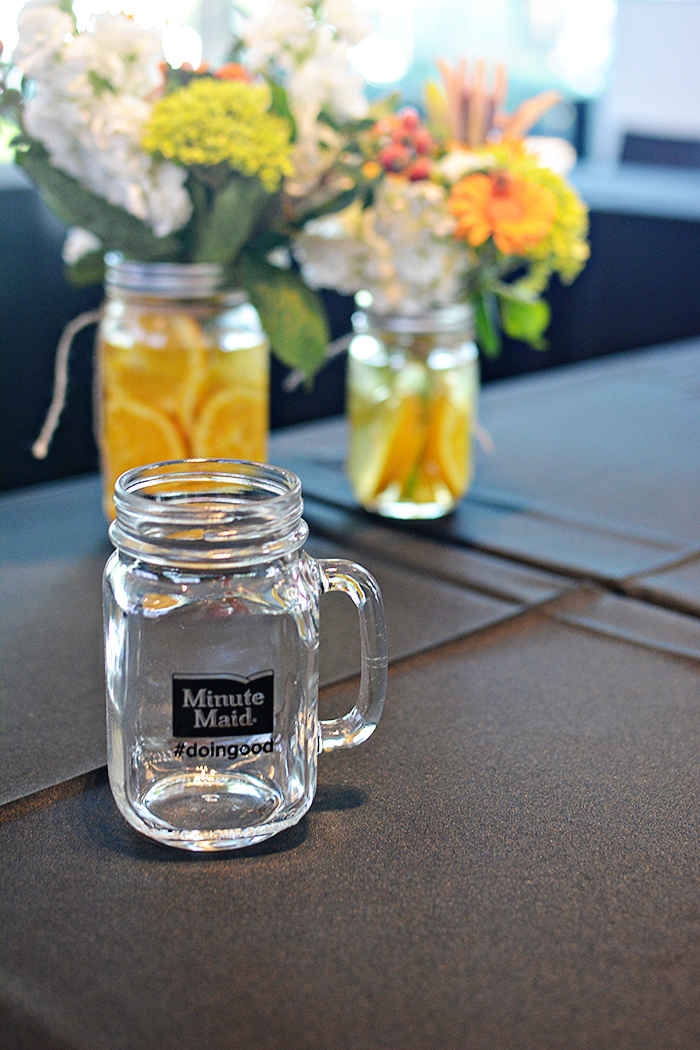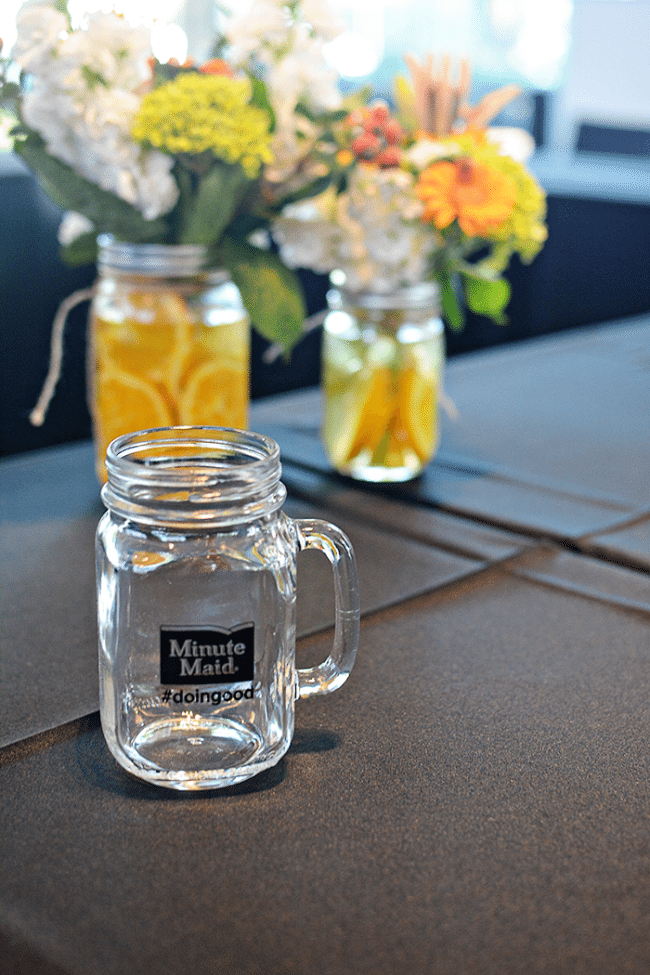 Minute Maid came up with a campaign to highlight how often times as parents we feel like we're not doing enough. Through the #doingood campaign, Minute Maid is reminding parents of all the wonderful things – big and small – they do to make a positive difference in their children's lives on a regular basis. I haven't been shy about my feelings about my best not being good enough. All I ever wanted to do was be a mom… and yet there are a lot of days that I feel like I am failing at the most important job I'll ever have.  You know what I learned while I was in Atlanta?  That parents are spending an average of 64% MORE time with their kids than parents of past generations. That absolutely blew my mind. While we may do things differently than our parents did with us, we are putting in the time, the work and the love.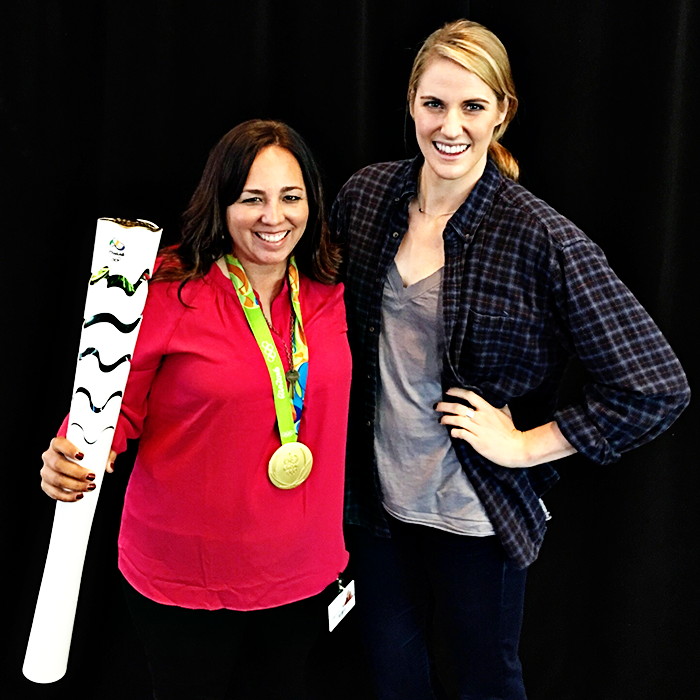 Getting to wear the Olympic gold medal and hold the torch with Missy was a highlight. 
One of the things that touched my heart in our discussion is the work that Missy's mom, D.A., has done in her practice as a physician with developmentally disabled kids. She talked about how those kids gravitated towards Missy any time that she visited her mom's work. I can absolutely see that as she is so genuine, loving and kind. As an autism mom, I couldn't help but beam thinking about all of the good they have done. I'm telling you, Minute Maid partnering with her for the #doingood campaign is the perfect pairing!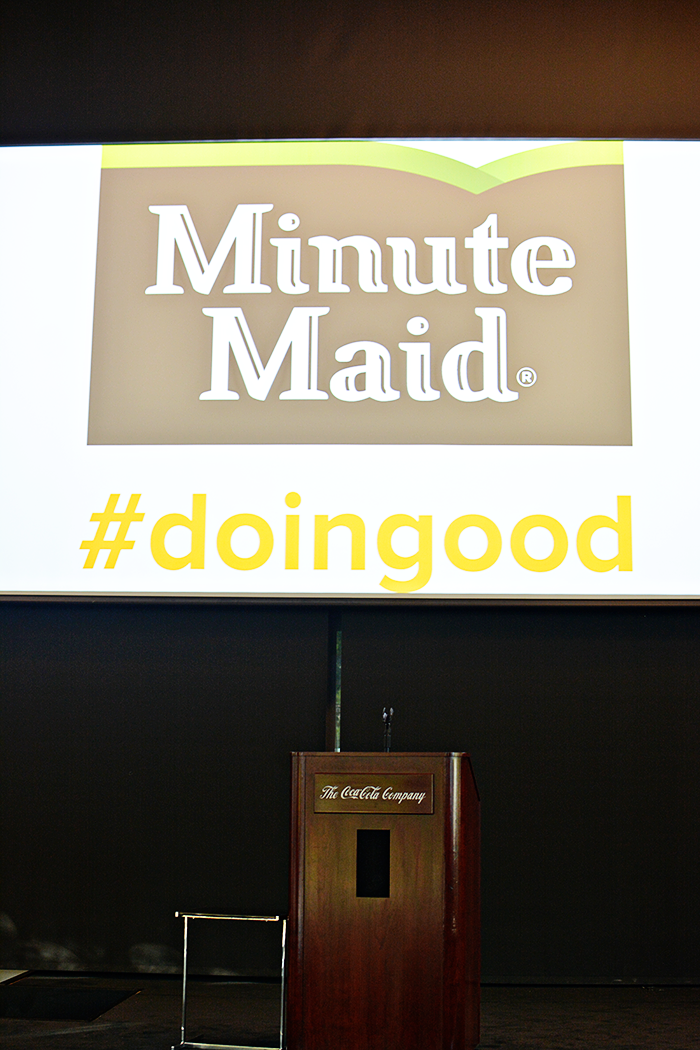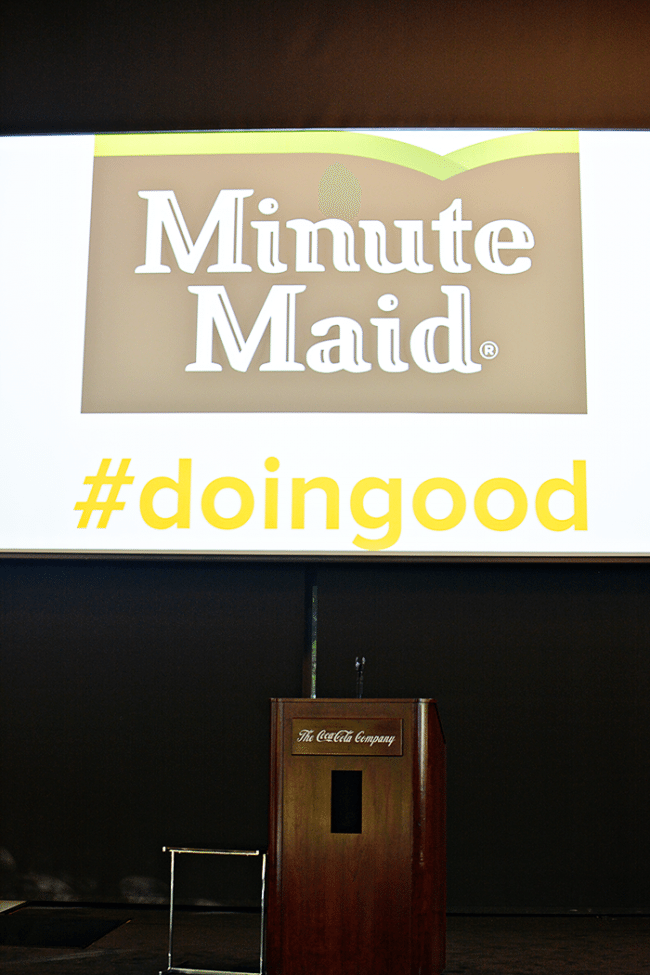 So what does this all have to do with you?  Here's where I want to encourage you – you are doing a good job. Yes, you. You may not be raising an Olympic Gold Medalist (don't worry, I'm not either) but the things you are doing, big and small, are making an impact on your children.
I'd like to take this one step further and encourage you to recognize someone in your life who is #doingood. I created some mason jar gift sets with cute tags. Think of someone you admire or the person who might go unnoticed – it can be your own parents, your sister, your neighbor, someone at school, at church…anywhere. Put a jar together for him or her and deliver it. You can do it anonymously if you want or you can sit down and talk to them about how awesome they are. It only takes a moment to tell someone they are #doingood, and the smallest gesture can make all the difference to someone's day.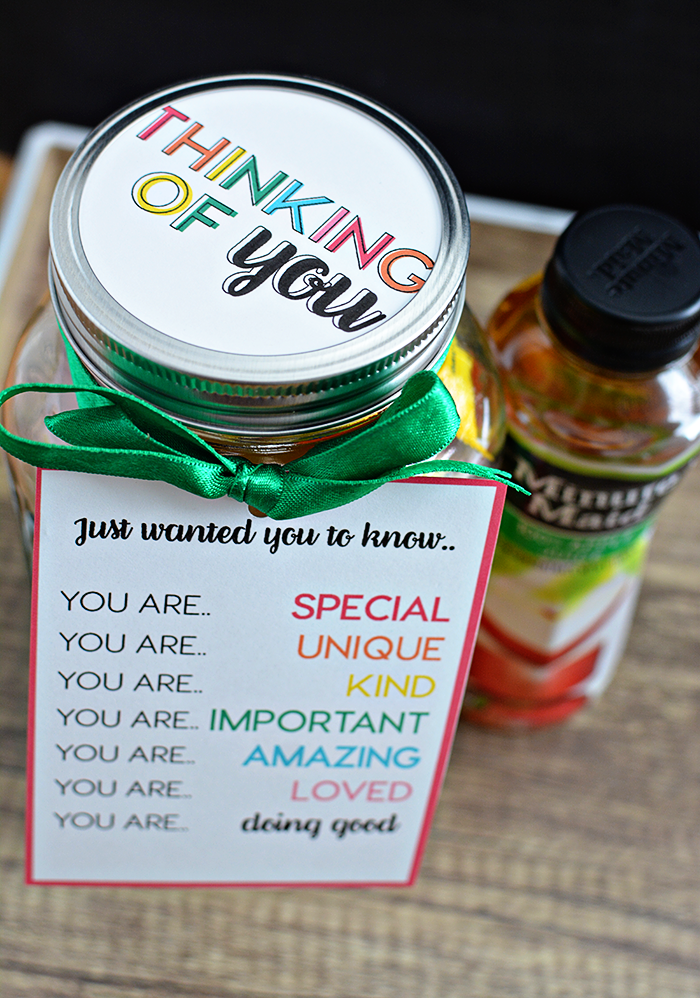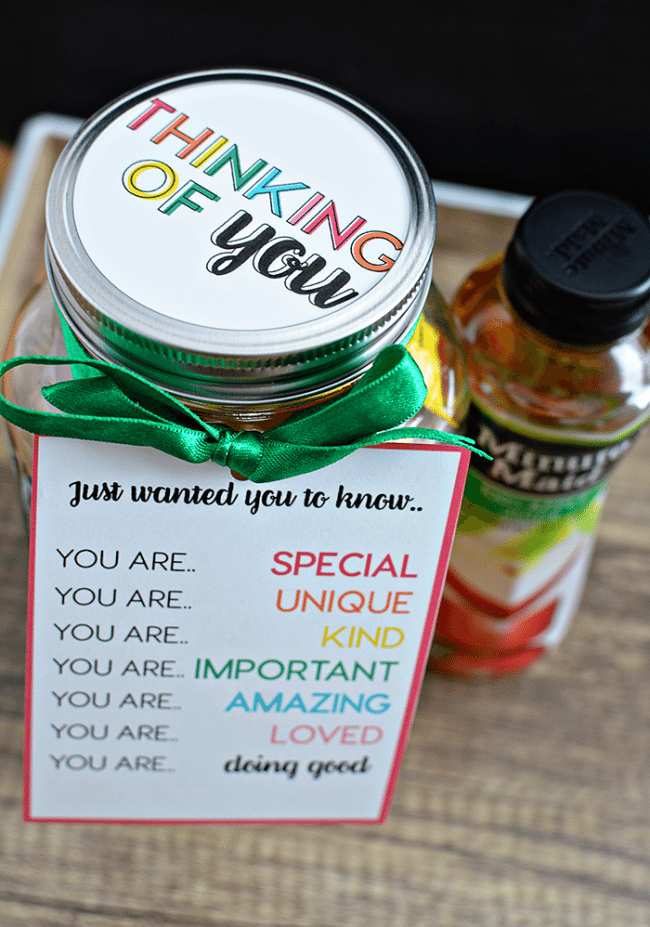 Here's what you'll need for this simple gift:
Large mason jar
Little gifts to add to the mason jar – I made a rainbow one and an orange one
Printables (below)
Ribbon, twine, string to tie it together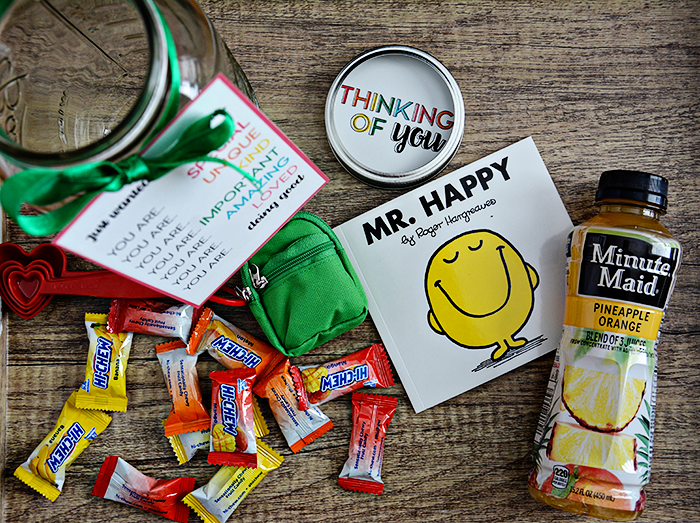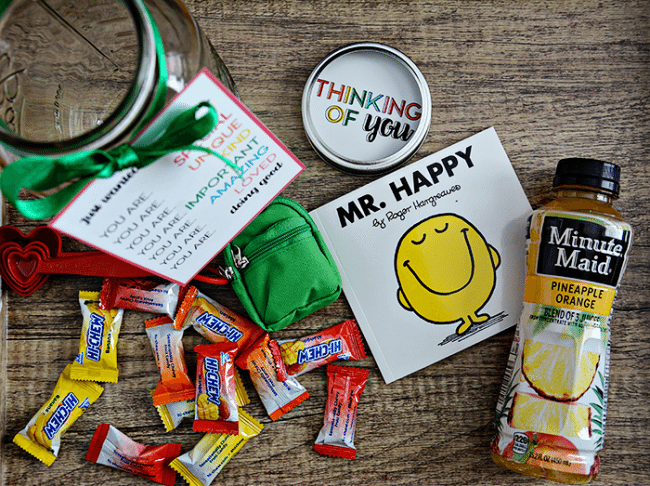 I found the things for both jars at the grocery store and craft store. It was fun looking for small, colorful items to add in. With fall on its way, I also wanted to put together an orange jar. I added Minute Maid orange juice, a pencil, hand towel, some candies, and more.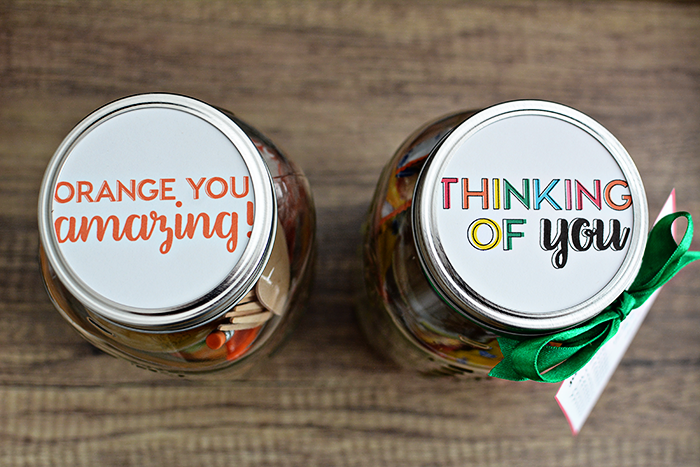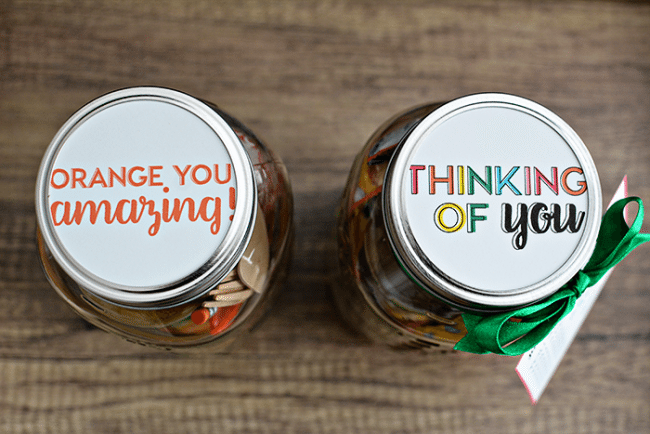 Print the mason jar printables.  For personal use only.

Cut around the circle and add to the top of the mason jar lid. You can tape it if you want it to feel secure.  Otherwise it will stay in place.
And you can celebrate a parent in your life by reminding them they are #doingood on social media with @MinuteMaid on Twitter, Facebook and Instagram.