Since I started my binder obsession I've had a few different requests.  One I kept hearing was for a medical binder.  But I've put it off because I wasn't sure that I could make it work for everyone.  I finally threw caution to the wind and just went for it.   I asked for some advice about what to include.  I will continue to add to it as I get more suggestions or see a need for add ons.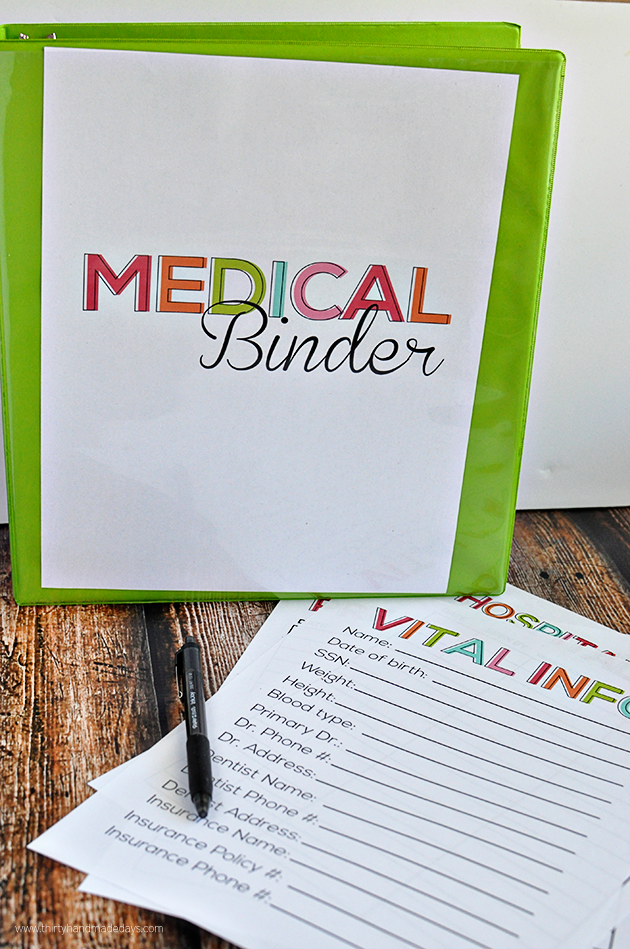 The idea, similar to all my other binders, is to grab a binder (supplies below), print it off and start getting organized.  When you first print this off, there will be things to fill in right away.  There are other sheets that will help moving forward.   It can be used for people with young kids who will want to use the well visits sheets and for people who are caregivers for their family members with more significant needs.   Vital info would be great to include for every person in your family in the family binder.
I included a spot for "step by step" in case you have a loved one who has regular occurrences where a step by step would be helpful.   The "incidents" page is also for those who have consistent incidents that need to be documented.
There is a medical release form because someone suggested it.  The idea is to get it notarized and have in place for when you need to go out of town or have people watching over your children.  I have signed lots of medical release forms for school over the years but it never occurred to me to have it on hand while I am away from home.    Notarization just ensures to the medical staff who is taking care of your child that it's your signature.  It's one less thing to think about for the caregiver if there were an emergency.
If you are looking for the binder and supplies, here are some that I have used:
Affiliate links are used below.
Keep in mind, you don't have to make a separate binder with these files if you don't want to.  You can make another section in your Family Binder or Always Prepared Binder.  I made them to coordinate with everything I've designed in the past.
Note: Since I took pictures for this post I added a few little things to this Vital Info sheet after asking for some opinions.
TO PRINT THIS BINDER: 
Download the PDF below.  If you are having issues downloading, make sure that you have downloaded a program that can read PDF's.  Adobe Reader is free to download.  These printables are not editable.  After you download, you can click to print the entire thing or you can print one page at a time.  Each printer is different but you have the ability on all printers to print in black and white and all or selected pages.  If something doesn't work for you, you don't have to print that page.  Do with it whatever you'd like! Make it work for you.
Have questions? Visit my FAQ printables page.   And my favorite fonts page that I use for a lot of my printables.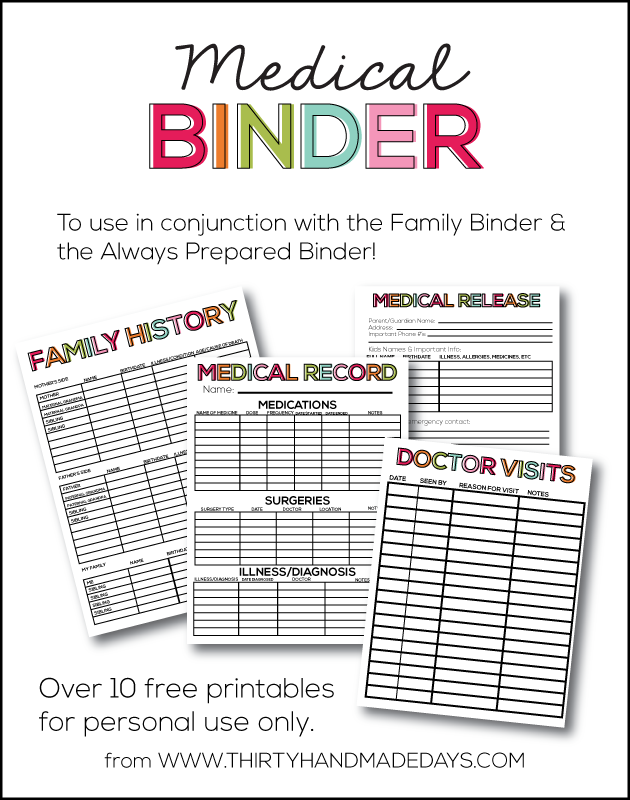 Download this Medical Binder.  For personal use only.  Thanks!




Are you trying to get more organized?  Make sure to check out my entire binder section: