At the beginning of the year I put out a call for new contributors for 30days.  I was thrilled with the response that I got.  What a fun group of people that applied.  I asked everyone that filled out the application for a joke and those jokes were so fun to read.    Today I get to introduce you to the girls that will be sharing their ideas here over the next several months.  Please welcome my friends: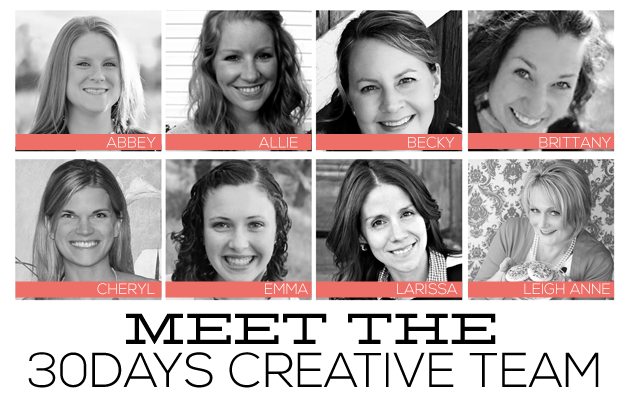 Abbey from The Cards We Drew
Allie from Miss Lovie
Becky from Clean Mama
Brittany from bebe a la mode
Cheryl from That's What Che Said
Emma from Craftinge
Larissa from Just Another Day in Paradise
Leigh Anne from Your Homebased Mom
Take a minute to get to know them a little better on my "Meet the Team" page.  Want to know which I prefer- vanilla or chocolate? (hint, it's not chocolate)… get to know more about me too.
While I'll still be sharing my printables, recipes, gift ideas and more, these girls will post their fun ideas as well.
To kick off this new season with these bloggers I'm having a little giveaway! Woot woot.  One lucky winner will get $100 gift card of their choice.  To play along, use the widget below:
*The only required entry is your name and email but I'd love to know what you'd like to see more of on 30days too! Leave us a comment below.
If it is loading slow, please be patient.. it will show up.