I recently shared my brand new 2016 All Inclusive Binder and over 500 people have jumped on board with it.  So exciting!! I asked if anyone was interested in a mini version and there was a resounding yes.  So I got busy and re-worked the bigger version a bit.  Woohoo!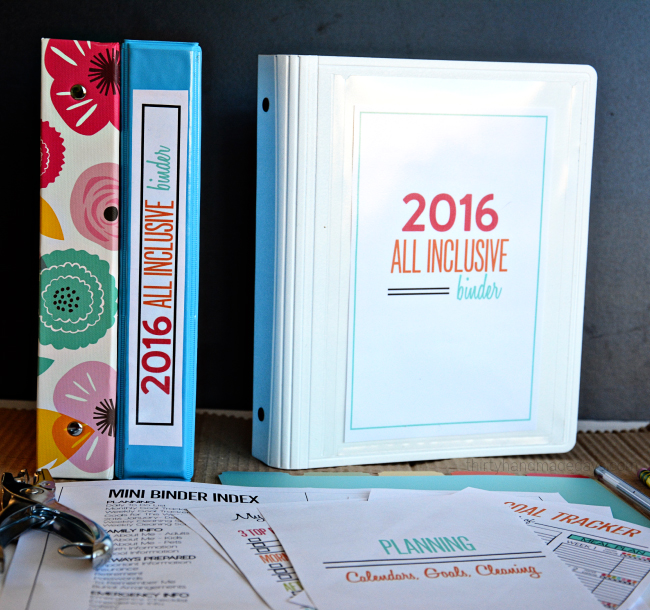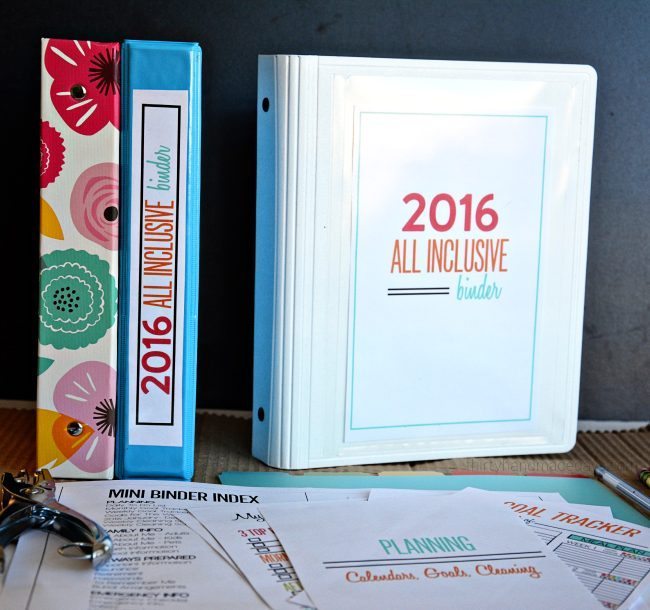 It's similar to the bigger version but it's just a smaller size.  I started creating the mini version of binders after people requested it a few years ago.  The awesome thing is that it is so small that it can fit in most purses and be brought on the go with you.   I haven't made mini versions of the medical, always prepared, travel, get healthy binders up to this point so now is your chance to snatch it up.  You can download, push print and put it together for the most comprehensive binder ever.  In it you will find these sections:
Planning
Family
Emergency
Always Prepared
Budgeting
Medical
Recipes
Get Healthy
Travel/Babysitter
There's a calendar, to do lists, cleaning lists, family info, budgeting, medical records, favorite recipe section, recipe cards, food journals, and everything you'd need for when you need to go away.  Plus a whole lot more.
This binder is a mini size – it is formatted to print on 8.5″ x 11″ paper and then cut in half to go in the mini binder.  (5.5″ x 8.5″)
And I'm still working on a kids version that will have spots for school, accountability, and more.   Be on the look out for that one soon.  I'm hoping to get it done before Christmas (so in the next couple of days) so that you can wrap it up as a gift (nice subtle present!) to give to your kids.
One more idea- I think this would make a unique, practical gift for the holidays.  Along with my book. :)  You know the person who's hard to buy for?  Print this out for them and get it all together and wrap it up.  They will love you for it.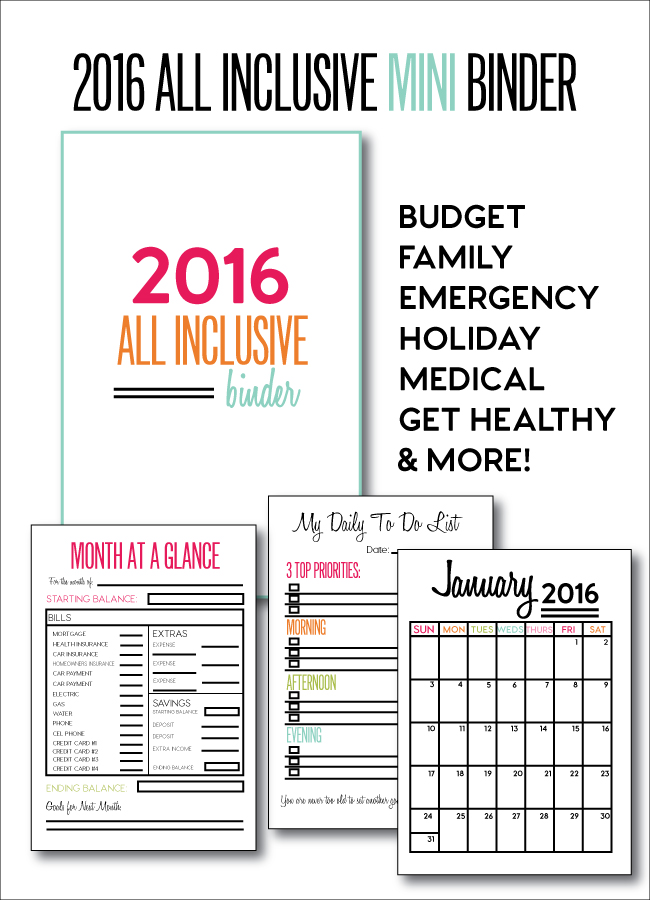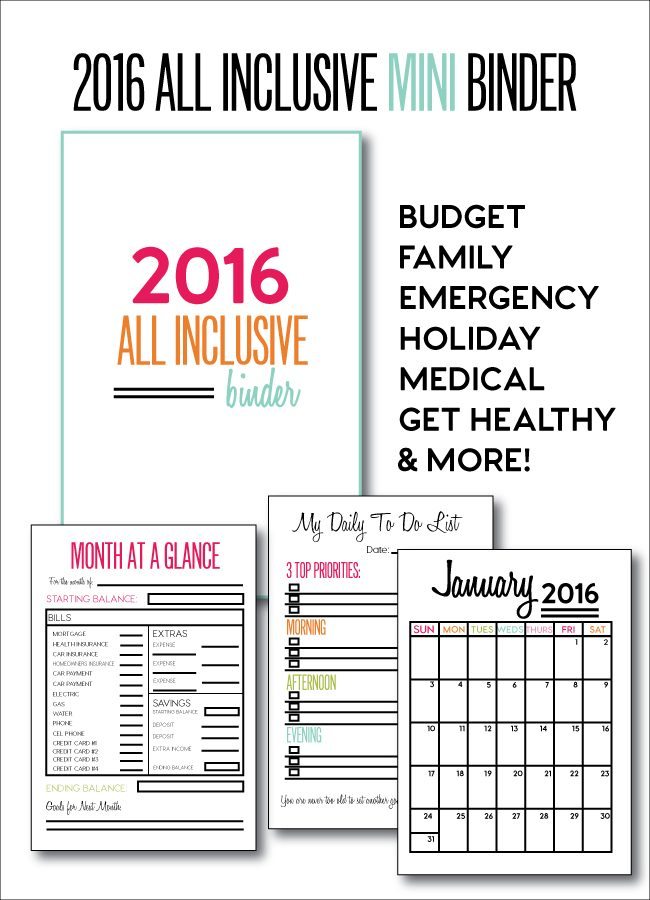 Note: Like all of my binders and printables, this is a digital product only.  Nothing physical will be sent to you.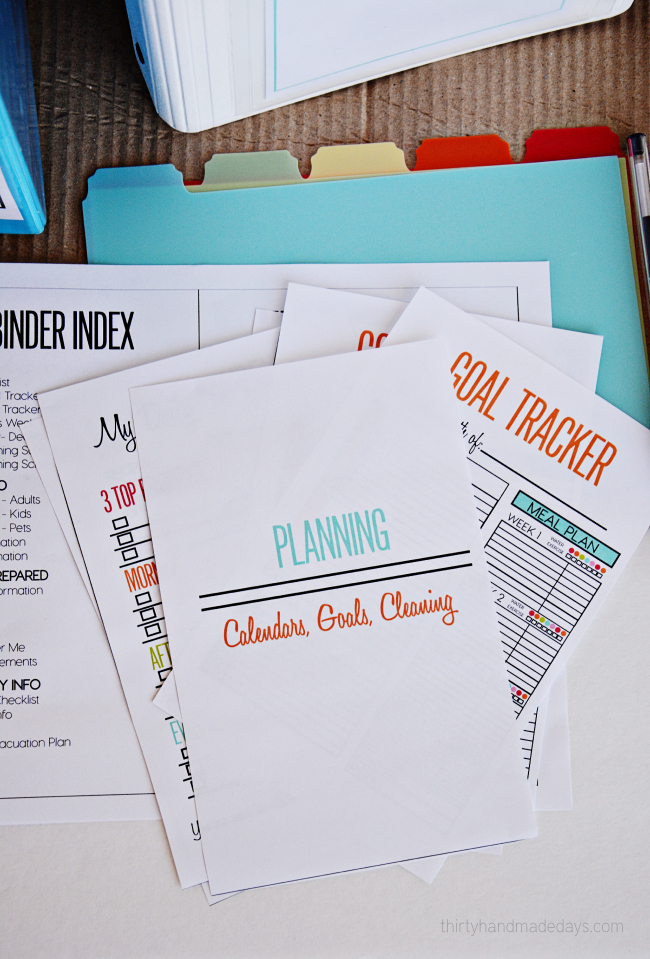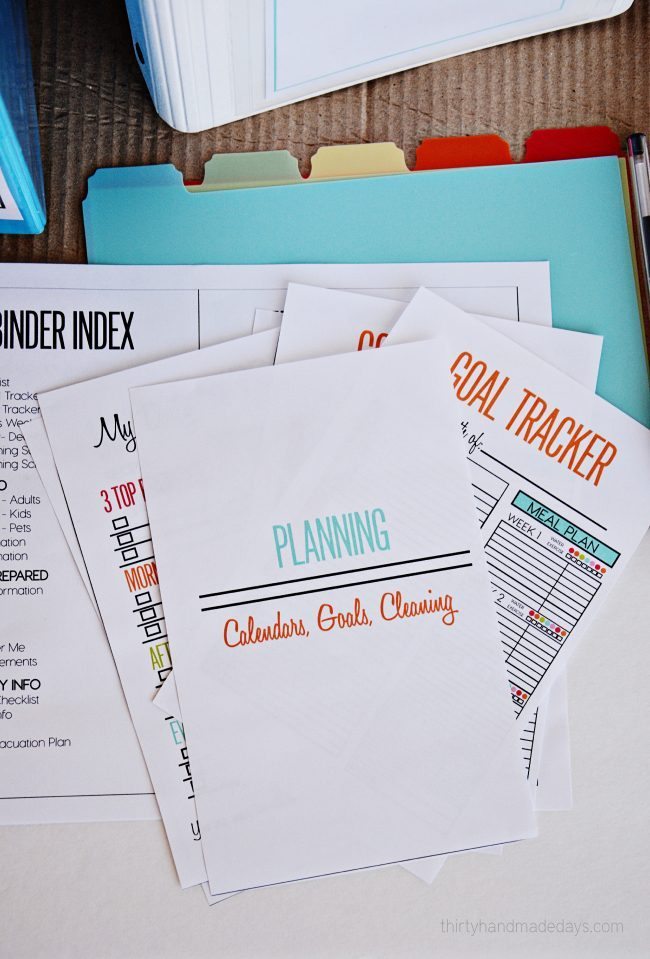 I also just finished a KIDS version that I'll be posting about soon here on 30days.  For now, you can check it out here.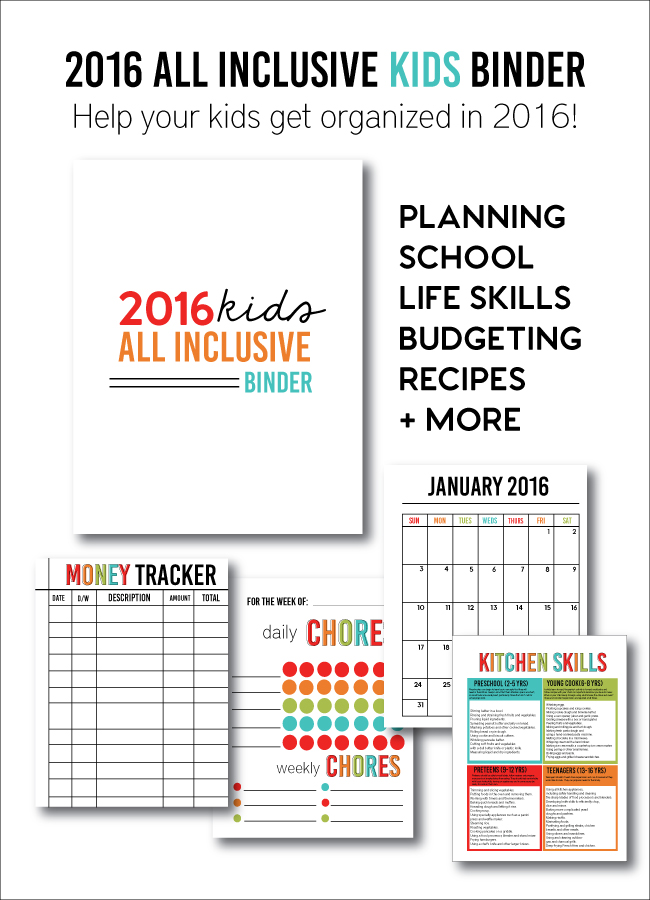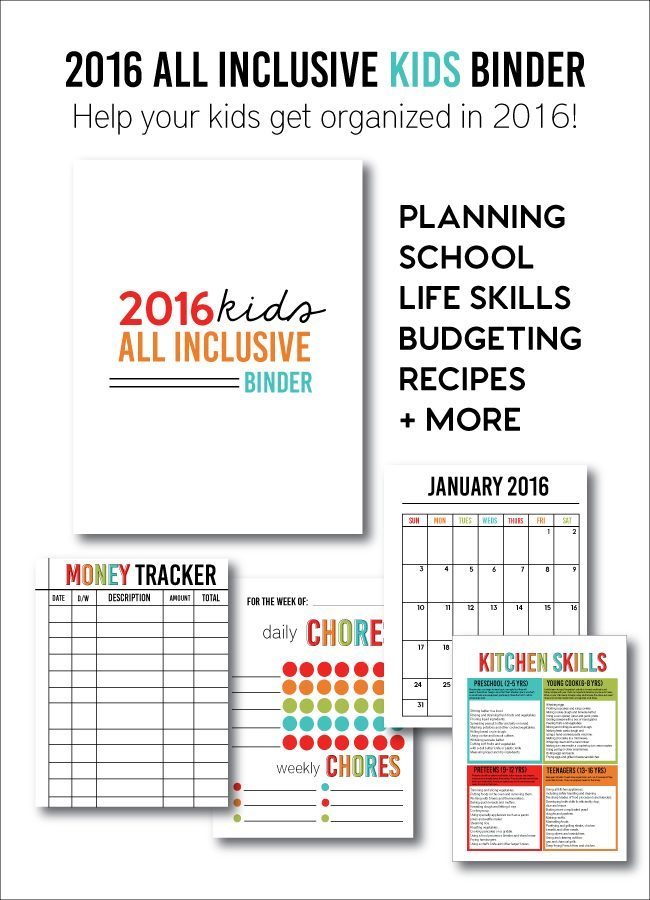 Creating a mini binder is so much fun. Not sure where to get supplies?  I've found the cutest binders at Target and online.
Here are some of the products I used:
*Affiliate links are used below.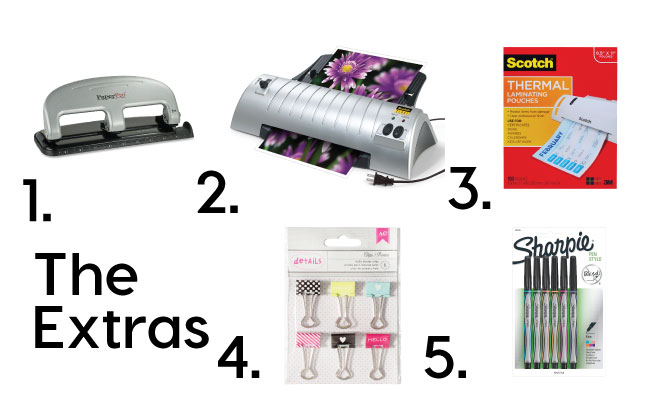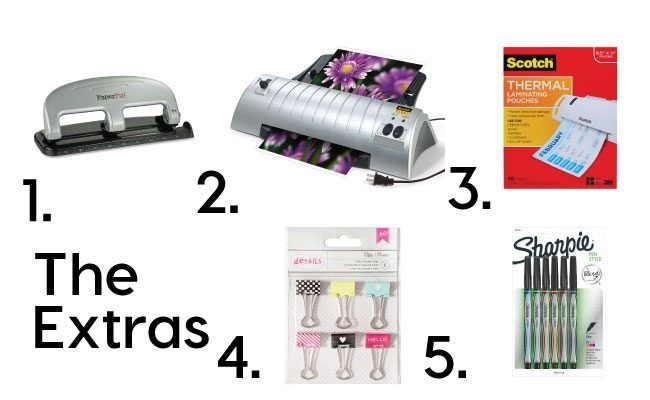 The Extras:
I've found products at Target, Walmart, all office supply stores too.  I just like the comfort of ordering from home or on my phone and having it delivered to me within 2 days instead of driving around trying to find what I want.  And sometimes I can find things specifically online that I can't at stores.  I got the cute Martha Stewart divider tabs on a fluke from Staples.  They are the perfect colors to go with my designs but are hard to find as she is no longer making that line.  So sad!
If you'd rather send your binder off to a printer, you can definitely do that.  Any office supply store- Staples, FedEx/Kinko's, Office Depot, etc, will be able to print it for you.  They would have to cut it in half in order to bind it for you.  Collating and binding is all the rage!   I would consider adding tabbed dividers in between the sections though before binding.  That way you can easily access the sections.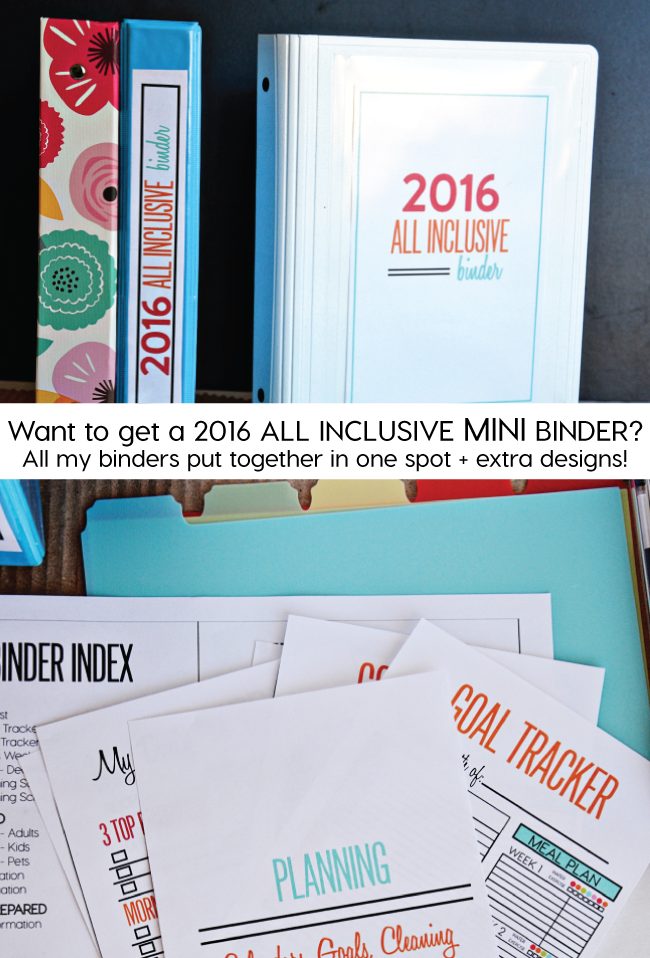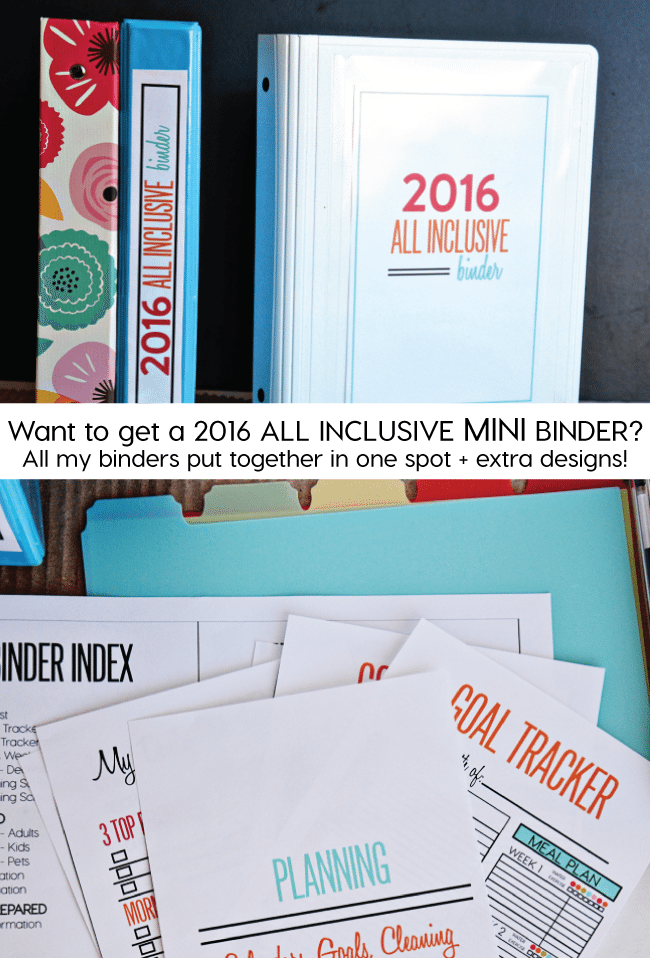 So what do ya think?  Ready to tackle the new year ahead of the game?  Get your Mini All Inclusive Binder and go for it!!
If you're more of a big binder kinda person, you can get one here.