Hello, it's Vanessa from Blog 5 to 9 here to share another fun DIY party idea.  Being a full time working mother of two busy boys, it's easy to get in the habit of "all work and no play".  My husband and I make a strong effort to have regular date nights, but it's not always easy to get a babysitter.  When we can't go out, we love to have people over for a movie.  I've been wanting to do a classic themed movie night for a while and now I'm here to share the details with you!
I created a fun and easy homemade concessions stand that incorporates all of our favorite movie theater treats!
Our guests decided they'd like to see a silent Chaplin film so I chose Modern Times, as it is based on early production line systems in Detroit, our hometown. 
 For drinks, we served bottled water and soda in classic glass bottles. To display the soda, I used a white photo box.  I used a tall glass vase I purchased from a dollar store for the licorice.
 We bought a variety of classic movie theater candy and used the top of the picture boxes as a display tray. I love getting double duty out of my crafts and props!
 These popcorn cupcakes were so much fun to make and really got the guests guessing! I found this idea one day while browsing online and fell in love.  I took store bought cupcakes, smoothed out the frosting with a spatula, and wrapped with a homemade cupcake sleeve. To make the marshmallow popcorn, I squeezed together two mini marshmallows and made a diagonal cut using kitchen sheers.
 My favorite element of the concession stand has to be this soft pretzel tower.  I really really wanted to find a pretzel stand but had no luck online. I started dreaming up of ways I can make one myself but as I was shopping I found this really cool mug holder and it was perfect! 
 While looking up some movie trivia, I found a list of movie goofs and thought it could make a fun activity. I listed different goof-ups on 3×5 cards and handed them out for each person to find and point out the movie goof.
 Although we didn't have an old movie projector to keep with the theme, we used our modern computer projector to project the movie on our living room wall.
We had a wonderful and entertaining night all from the comforts of home and hope to do it again soon!  Any suggestions for our next movie night theme?
Download the Free Classic Movie Night Printable Collection to help you get started on hosting a movie night of your own!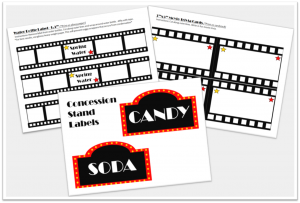 Vanessa has been awesome contributing here on 30days.  This will be her last party post.  Thank you SO much for all of the fun ideas you have shared here Vanessa!  Make sure to keep up with her at Blog 5 to 9.