Yesterday I had just left the mall when I got a text from a friend saying how upset she was about Connecticut.  I had no idea what she was talking about.  She told me the news that would shake me to my core.  How? Where? WHY???
The last time I remember feeling this sad, scared and like I wanted to never ever let my children leave my side was on 9-11-2001.   To say it's unsettling and heart breaking, would be a ridiculous understatement. I appreciated this post from Beth of  Home Stories A to Z on how to talk to your kids.
Still, not sure what to say or do (with myself, my kids or in general), I found a quote from Mr. Rogers in Amy of Positively Splendid's Facebook feed.  I quickly shared it on my own 30days feed.   Unable to get it out of my mind, I created a little image and posted it to Instagram.
My heart is shattered for everyone who has been affected by the events in Newtown.  I am grateful for all of the helpers and holding my kids tighter today.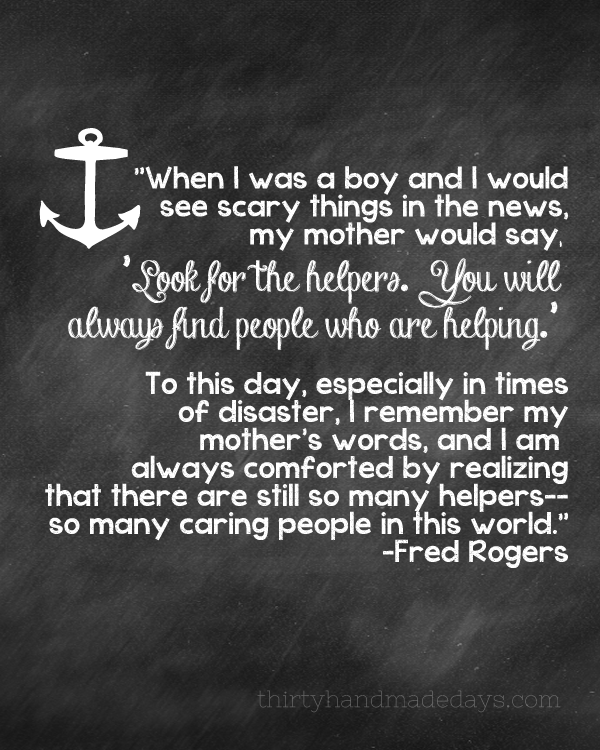 Download an 8×10 print of Mr. Roger's quote
For 30days subscribers and personal use only. Thanks!
Edited to add:
I debated on editing this post because I rarely get personal on this blog.  I try to keep it rainbows and big puffy pink hearts on 30days.  It's been my happy place and I want it to continue for it to be that way.  But I appreciated Amy's post and others like it.  I absolutely know that sitting by won't cause change. And I strongly feel like we must get busy doing something. 
As details have been shared about what happened and more about who was behind it, I am at even more of a loss.  While I am absolutely heart broken about every one of those little angels and for the adults who died protecting those students (they are the helpers that Mr. Rogers eloquently spoke of), I am also heart sick for people who desperately need help that aren't getting it.  I know how that feels.   I've talked about being an autism momma and I've shared some of the struggles and how lonely and hard it can be.  I echo this article published in the Huffington Post about one mother's view on mental illness in America.  I agonize for that mother because I am like her.  I love my child so much and yet I am scared and exhausted and unsure what the future will bring. 
I really strongly feel like we need to start talking loudly about mental illness.  I'm not exactly sure how we can change things but I know that it needs to happen. 
..A good place to start might be with less judging and more loving.  I'm not condoning violent behavior.  Ever. Ever. Ever.  And I know that not all parents are doing the best they can- some are absent, some are doing harm to their kids and those kids act out because of it.  But in general, all the parents that I know, are doing the best darn job they know how to.   I can't tell you the number of times that I've been stared at because of my son acting out in public or been stung by rude, hurtful comments by people that had no idea that not only am I trying my hardest, but my child is trying his very hardest as well.  Then there are times that people have given me a smile or even better "Don't worry sweetie, I completely understand,"  when I was having an especially hard time with J.  Please please please…if you are ever in a place where someone is having a tough time…show compassion instead of criticism. 
I don't want to take away from the memory of those who have lost their lives.  I have thought about them nonstop.  I cried when a sweet missionary prayed for them at the beginning of church yesterday.  I was emotional when I taught the women at church about forgiveness- a lesson that was assigned long ago.  Tears streamed down my face as their names were read by our president.  I lost it completely when I read about the teacher who told each student she loved them because she didn't want gunshots to be the last thing they heard. 
I want to remember each of them and start making changes so nothing like this happens again.