With Christmas and New Year's Day coming, you might be having a party or two at your home! It can get really expensive, but it doesn't have to be. We host a lot of parties, year round at our home, so I've learned a thing or two about keeping the cost down and the fun up.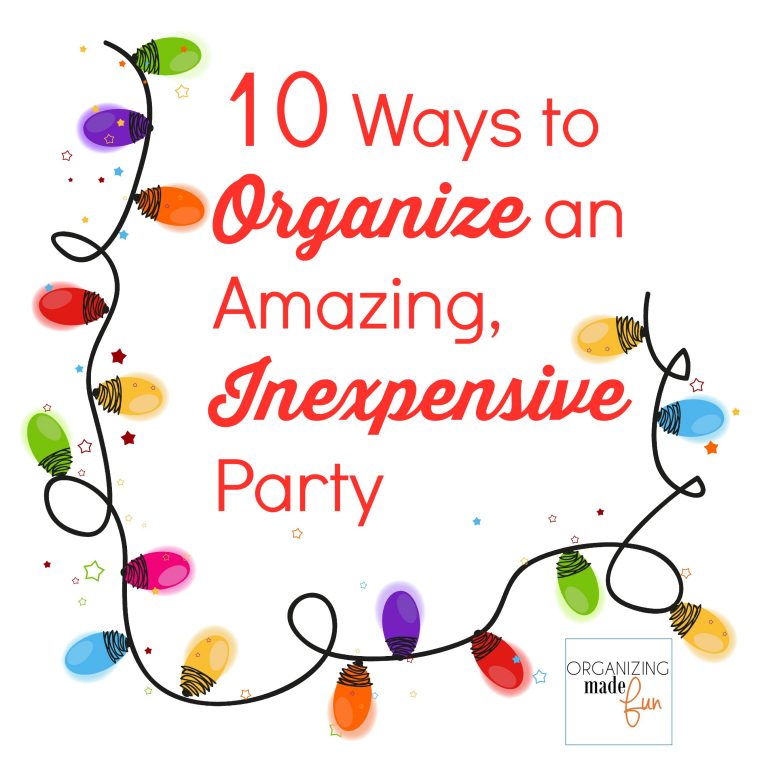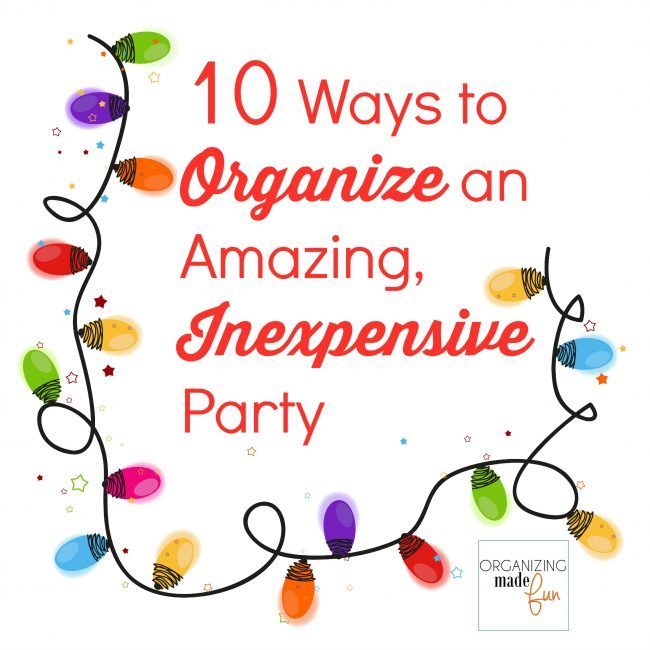 1.  Keep it simple.
When you're having a party, it's not about going over board and buying lavish decorations. Sometimes, less is more, and it's just easier to incorporate your seasonal decorations into your party. Here you can see how I took some candles and wrapped ribbon around them. They are sitting on a cake stand I already had, with ornaments around them.
2. Make your own decorations.
Finding printables online to print and hang up, or coming up with cute banners that you cut and paste with letters, are fun and add to the feel of the party. Whatever season it is, incorporate that as part of your party colors or decor. Even making your own pom poms to hang can be easy and very inexpensive with tissue paper. Make place cards simple by cutting out shapes and sticking into a fork, as below.
3. Keep the guest list small.
The more people you have, the more money it will cost you to feed them. Pick those who you really want to spend your time with or choose a group of people that you'd like to get to know better. Keeping the group small will give you more intimate and meaningful conversations. Having pre-planned questions to ask your guests can also help ease the awkward lulls you might encounter during the party.
4. Be creative.
Look around your place to find things that you can use to create an intimate feel.
Take white Christmas lights and string them up
in a unique way. Dim the lights for a beautiful evening effect. Take an old suitcase and open it up and use for display. Something old and unused can be a pretty way of decorating once you set it up on display around a buffet table.
5. Have an open house.
Instead of a traditional party where people are invited at a specific time, have an open house party. This is where you can have an open ended time for those to come in, stay a bit, and leave when they need to. This works great for a housewarming party, especially. You don't have to worry about a lot of seating, since most people will only stay a short time, and you can serve small appetizers instead of a large dish for each person.
6. Go online!
Instead of mailing out invitations, use an online invitation. Use can even use Facebook and set up an event on there, too!
7. Find inspiration.
I find a ton of my inspiration online, from blogs, and from
Pinterest
. Sometimes just getting some good ideas plants a seed in my head of what I could do with some of the supplies I already have around the house.
8. Ask for help!
Gather everyone around the kitchen to help with food preparations. Oftentimes, I find that most of my guests actually WANT to help out, but don't know what I need. Have a potluck and ask others to bring a small dish or a bottle of wine.
9. Move things around!
Consider moving your furniture around in an unconventional way. If you are inside or outside, try to move things around to make it set the scene for your party – doesn't  cost a penny! When I had my daughter's party, we 
moved our outdoor couch
to set up on the driveway for a cozy feeling when they watched the movie outside. Move your kitchen table into your living room and push other furniture against the wall – or move couches around. Or use pieces already in the room as buffet servers.
10. Plan ahead.
With a little bit of planning, you can find the time to make decorations, get your place in shape, ask for help, send out emailed invitations, without going crazy or breaking the bank!
Do you have people over for Christmas or New Year's?