Are you ready to get serious and get organized this year? I sure hope so! Being organized isn't that hard, but sometimes we have this idea of what organizing IS and it's WRONG! So, start your year right by organizing the RIGHT way, not the wrong way!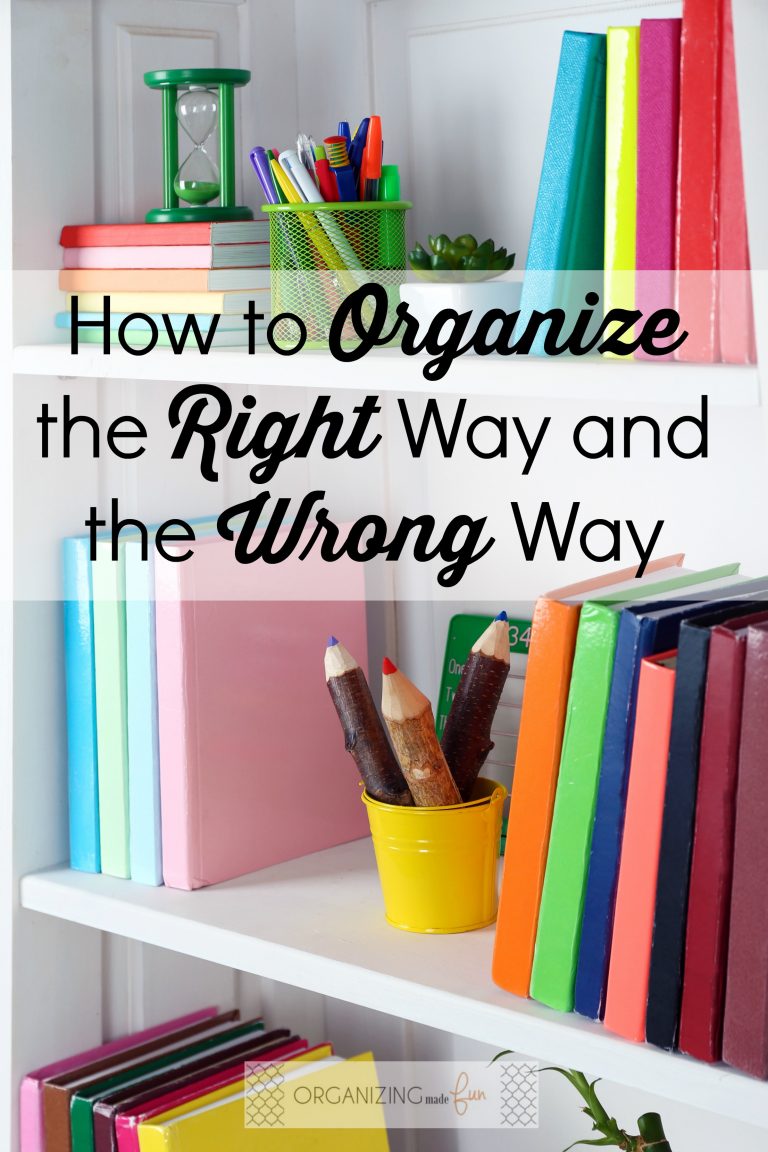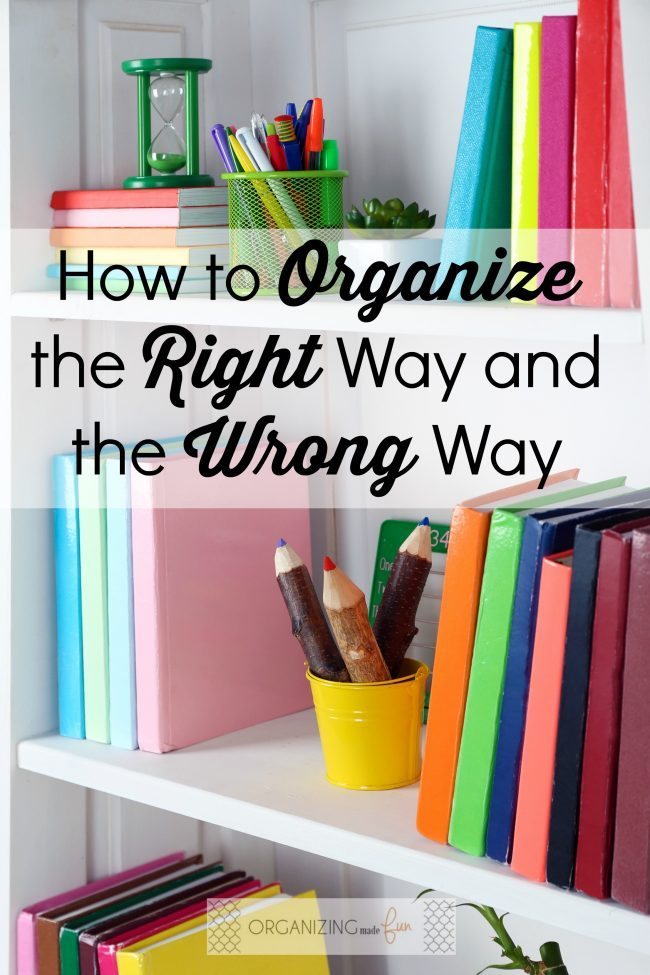 Let's start with the wrong way:
Never putting anything back
If you want to get organize, you have to put things back where they belong. You have to first make a place for it, then put it away after each use – or help others learn to put things away where they belong.
2. Trying to overdo it
It's important that you don't try to declutter and organize your entire house in one day. It won't happen. Take a small area – perhaps just a drawer or cupboard – at a time.
3. Never asking for help
If you are overwhelmed, ask for help. You can't always do it yourself. Having someone help you or hold you accountable is a good idea.
4. Putting things in unobvious places
Do you ever lose something, and you look in all the places you think something would be? THAT's where you should be putting your things – in those obvious places.
5. Giving up after 5 minutes
Have a plan and keep at it.
6. Trying to organize like you see everything on Pinterest
Pinterest is great, but don't let it fool you! You have to figure out your own way of organizing.
7. Expecting a room full of clutter to be easy
It takes a LOT of time to go through clutter. Give yourself a slotted amount of time daily to get through a big room of it. Keep at it and you'll succeed eventually!
8. Expecting everyone else to know your system
You really have to teach everyone how you set up your system and label things.

Here's the right way:
Having realistic expectations
THIS will help you, for sure! Don't go overboard with how much you can handle organizing at once.
2. Getting in a habit of putting things away where they belong
This is an important habit!
3. Knowing when to ask for help
Of course, you can always hire a professional organizer to help you out!
4. Label things and put in a logical place
Like I said before, if you are always looking for something that you lost in a certain place – it's time to put it there!
5. Looking at things differently
When is the last time I used this or wore this? Why do you have it? Are you REALLY going to use it in the next year? Even if you do, couldn't you borrow it from someone else should you actually need it?
6. Using Pinterest to motivate you
Never look for perfection or getting "jealous" that your space doesn't look like that. Use it for inspiration and to get ideas to incorporate in your unique space.
7. Take one task at a time
I'm a little "ADD" when it comes to doing stuff around the house. But, I have to just focus on one area at the a time, one specific task, one drawer…etc. I know it's hard because I struggle with this, too!
8.   Do what's right for you
Never feel like what your friend does has to be exactly how you do it. Never feel like what I show you is the only way. It's not. What I do is inspire and motivate you. What YOU do is take my ideas and make them your own. You like color coded? Go for it. You don't? Don't do it!
9. Teach your family
The biggest "complaint" I hear from readers is that the rest of your family won't keep things organized. It's not easy. Not all kids are programmed to organize, so you have to teach them. Encourage them. Make consequences when they don't. But, make it fun. Let them start with a small area when they are little to organize. They might surprise you. Teach them about sorting and putting like things together. I also hear from you about your Hubby's – this one you can't nag. You can compromise and ask nicely. But, you can't MAKE him organize if you have this problem. Mine does it about half the time. I just clean up after him – but he's the ONLY one I'll do this for. Some things he doesn't like organized – like his sock drawer. So, I don't – I just throw them all in a big pile like he wants it. Compromise!
10. Be flexible
Realizing when something doesn't work and be able to change it is very important. I often change up my organizing and try new ways if something didn't work. Don't be a stickler about it having to be a certain way.
So, are you organizing the RIGHT way or the WRONG way? Check out my blog, Organizing Made Fun, for a LOT more inspiration!