This post brought to you by BISSELL Homecare, Inc.. All opinions are 100% mine.
Let's talk party prep shall we? I have a love/hate relationship with throwing parties. The idea of gathering people together is the love part. The cleaning is the hate part. I could (and have) spent hours and hours on the details of making a party fun, but then there counters to be wiped down, toilets to clean, and floors to be vacuumed. I'd rather focus of the F U N. Wouldn't you? My kids are finally at the age to be helping more around the house. Really helping. Woohoo! So I've given them more jobs over the past few months. One of those jobs is vacuuming:
We have several hard to clean places in our home. The rug in our family room is walked on, played on the most and collects lots of crumbs. The corners in the kitchen aren't much better. Our stair landing gets a ton of foot traffic and it shows. Julia got to test out the new PowerGlide® with Lift-Off® Technology from BISSELL. It's lightweight and swivels so it's easy for her to use. There's a long (27 ft!) cord so she can go all over our rooms without a problem. There are also tools that come with it so she can suction up all the small little things. If my eleven year old can use this BISSELL and clean well with it, it passes my test! And one less thing for me to have to do. Especially when I'm scrambling to get all the last minute party details done.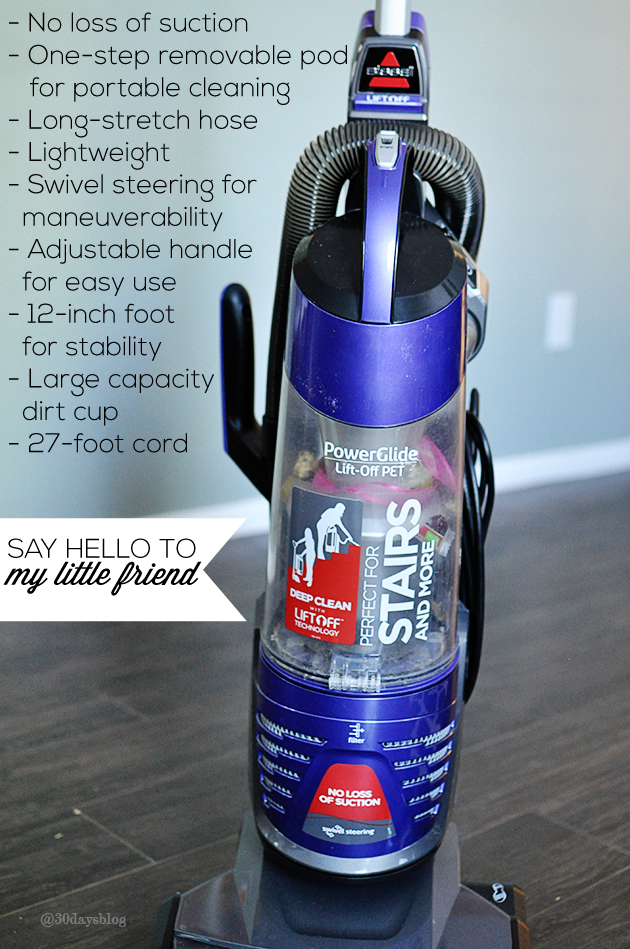 If you want to test out the new BISSELL, there's a promo code (woot woot!). Use POWERGLIDE and get $20 off plus free shipping on these products: PowerGlide Pet Vacuum with Lift-Off Technology – 2763, PowerGlide Pet Bagged Rewind Vacuum – 38631, and PowerGlide Pet Vacuum – 1044. It's only valid through 11/30/2013.
So Julia is all over the vacuuming but there's a whole lot of other things on my to do list. As I've mentioned recently, I am more of a mental list taker. That usually ends up with me forgetting something. Not good. Why not make a little party preparation checklist? Just because I wanna.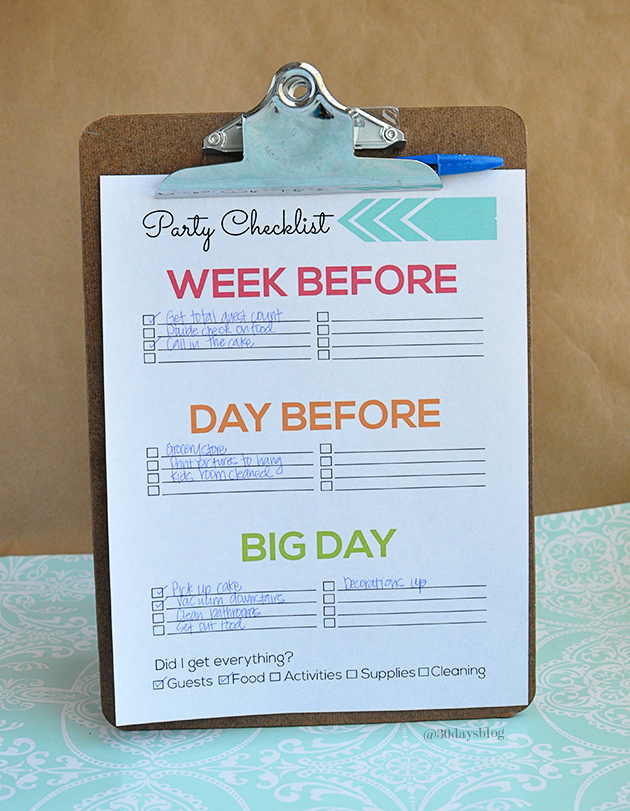 Download this
Party Preparation Checklist
.
For personal use only. Thanks!
How do you get ready for parties? Do you have your kids help you?
Enter to win
this BISSELL's sweepstakes! And check out these
cleaning tips
too.