I've had this mom gig for twelve years now.  In that time I've seen hundreds if not thousands of books.  Character books, girly books, books for animal lovers, you name, I've seen it.  Until this adorable book landed on my doorstep: Press Here.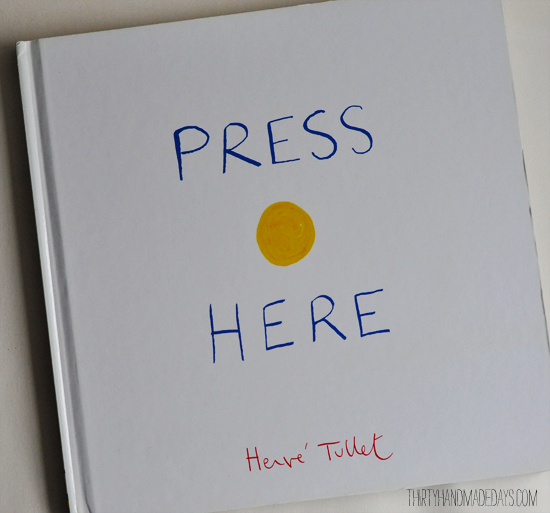 You start out with one yellow dot and follow the directions.  It's such a simple book but completely magical.  My kindergartner fell in love with it.  My fourth grader smiled her way through and then at the end said "I know that book was always like that.  It wasn't because I was making it happen."  Frankly if she hadn't figured that out on her own I'd be alarmed.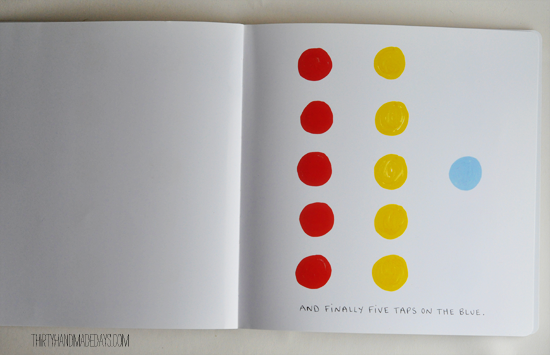 The cherry on top is that a Press Here app has just launched.  I mean seriously, fifteen games and activities that encourage imagination, how cool is that?  This app loving family is in heaven.
The author Herve Tullet based the app on his best selling book, but wanted to make sure that it wasn't an exact copy.  He wanted the app to be something new and innovative.  Mission accomplished.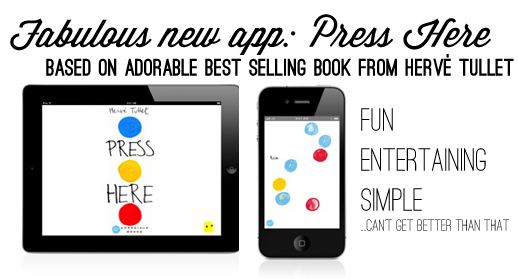 The toughest critics I could find (my three kids) tested out the app and here's what they had to say:
J, 12 yrs old: Not much of a talker, he smiled and liked pushing the dots together. 
J, 10 yrs old: "I love it.  My favorite is 'Fireworks.' I like watching them collide."
A, almost 6 yrs old: "Hey my favorite is Fireworks too!"
Check out this cute trailer for the app to get a feel for what it's all about:
Download the app and let me know what you think. 

Tell me if your toughest critics approved it as well!
AND one lucky reader can win a copy of the book, Press Here, plus a download code for both the iPad and iPhone version. 
TO WIN: Leave one comment on this post- it can be anything you want- how much you love books, apps, why you want to win, etc.
I will pick a winner on Thursday, April 26th. 

 This is a sponsored post.  All opinions are 100% mine and my kids.