I've been asked a bunch by blogging friends if I'd make a printable blog planner.  I've started and stopped creating it several times because I wanted to add certain things but wasn't sure what was important to other people.  In the end I decided that I'd share what works for me and then add some blank versions so people can do what works best for them.  Deal?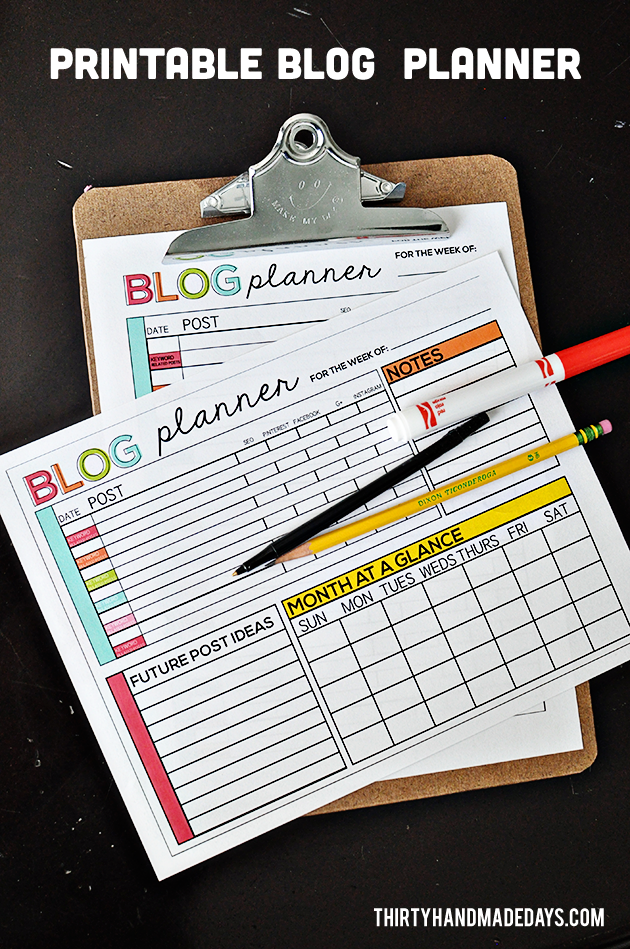 I started blogging back in the olden days – 2007.  I'm a dinosaur of a blogger.  But it wasn't until a couple years ago that things took a turn to a more full-time professional route.  Back in the day I posted about whatever I thought of at that moment.  Now because it has turned full time, I have to be more deliberate about it.   I think there are some myths about blogging but that's another post for another day….
As I said, I know that everyone who has a blog handles things differently.  But here is what has worked for me:
I try to plan at least a week in advance.  That doesn't always happen.  But there are times that I have a whole month scheduled!
These printables are based on that idea that I'm doing a week in advance.  Every day I schedule what I can (Post, Facebook, Pinterest) and then check in throughout the day.  The things that I make sure to do every day are – schedule using good keywords and SEO, then sharing on Facebook, Pinterest, G+ and Instagram (sometimes).
On these printables I also left a spot under each post for "related posts" because I know how important it is to link to past posts that are related.
I know lots of friends have virtual assistants who handle some of this stuff for them, but up to this point I have not.  I think it's time.  :)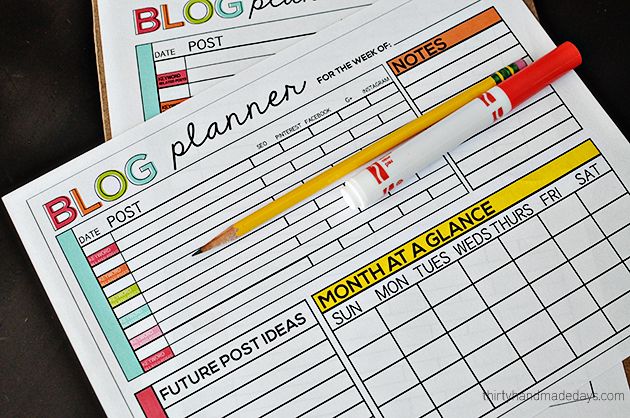 I made one sheet that is horizontal and more of a complete overview.  As well as one that is a full vertical sheet.  These would be perfect to laminate and use dry erase markers with!
——-Download a filled in Blog Planner or generic Blog Planner.  Plus a vertical Blog Planner.  For personal use only.  Thanks! 
In case you want a version to use on your computer, I made a non-printable Excel (or Google Doc) version.
In this version, I added a few more pages.  There is the blog planner and then a sheet for Future post ideas, Facebook and Pinterest.  You can switch out whatever you'd like once it's downloaded and use it however you want.  But here's how I use them:
The blog planner and future post ideas are pretty self explanatory.
The Facebook sheet –  I looove interacting on my Facebook page.  I have the majority of my conversations over there as comments have died down.  It's quick and fun.  But I schedule things out the night before.  So I use this sheet to plan out what is going where.  I think some people think that I'm on Facebook all day because of the amount of posts that I share.  But I am really just on there to interact.  Which I love!
The Pinterest sheet – This is mainly used because of group boards that I'm on.  I share my own posts on different group boards often and don't want to duplicate too much or make followers nuts with seeing the same content on Pinterest over and over.  I put the post in the post column, board names where it says "board" at the top and then dates below in the spaces below the board.  It took some work in the beginning to do this but it has been so easy since I got it set up.
I have been fortunate to network with other amazing bloggers over the years and have learned some awesome tips, tricks and ideas from them.  These spreadsheets were suggested by a few of them and I have tweaked them to work for me and my blog.  Thanks to those friends who have been wonderful on this crazy blogging journey – you know who you are. ;)
Download this Excel/Google Doc version.  For personal use only.  Thanks!
I'd love to know if this is something you are interested in using?  Or learning more about?  There are so many aspects to blogging that I'd love to share…but I'm not sure if anyone would want to know more… so let me know in the comments below.
And make sure to check out my other organizational posts: