This post is sponsored by Bounce as a part of the Mom It Forward Blogger Network. All opinions are 1 million% my own and I'm happy to be working with a company I believe in.
Have you ever had a time where you wish you could just push rewind? Or delete? Or restart?  When I was little I thought I had so much to learn but it turns out, as a Mom I have so much more to learn.   I guess what they say is true- you never stop learning.  It can be overwhelming at times.   I make mistakes, say the wrong things, yell too much, don't have enough patience, and the list goes on.
Bounce is celebrating every day #bouncebacks.   They are getting social to show people everywhere the lighter side of laundry.  And all along the way, I'm recognizing small victories and times that I've bounced back from my challenges.  There have been so many to think about.  I guess that just means I have a whole lot more to learn, doesn't it?
When I'm feeling like I need to hit reset, I look for a good quote of the day (have you seen some of my quotes on Instagram?). This is one of my favorites: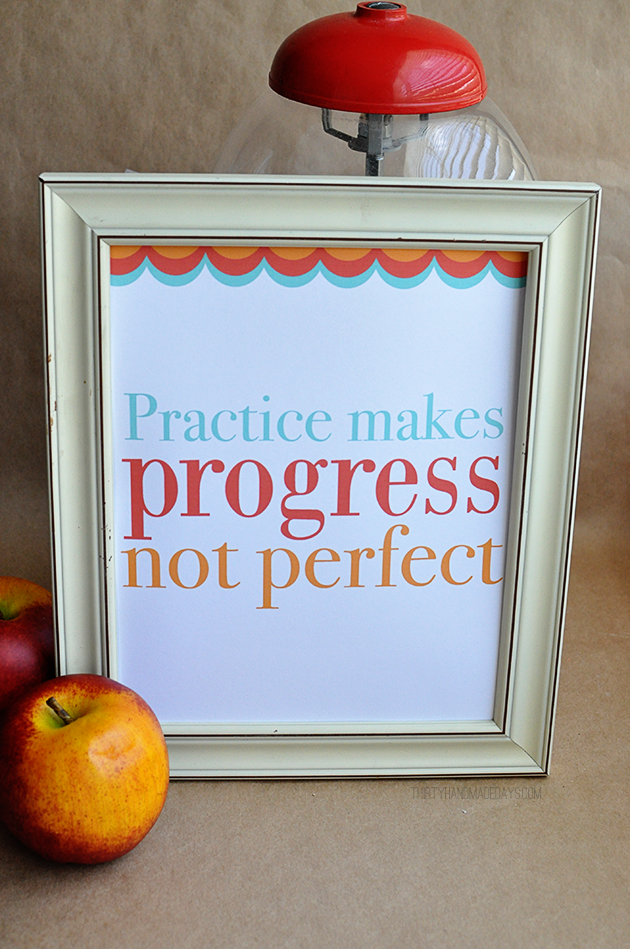 Download an 8×10 printable practice quote.  For personal use only.  Thanks!
 I try to remind myself of this quote as often as I can.  Every day is an opportunity to start over, to practice and to keep progressing.  Perfection is a great goal but can be oh so overwhelming!  My kids often say "But Moooooooo0–oooooom, I don't know how to do it."  My response is always the same, " How are you ever going to learn if you don't practice?"  They now say it before I have the chance to tell them.  I love telling them that they need to practice, but sometimes forget myself that the only way that I'll get better at anything is to keep on keeping on and practice what I preach.  Literally.
Like that one time that my daughter couldn't find her iPad.  We looked and looked and looked.  And by "we" I really mean "I."  I'm the "looker" and the "finder" (a title I would most definitely give up).  Instead of being patient and kind, I lost it.  I was sick of being the looker and finder.  After searching and searching I gave up.  And then Josh mentioned that I should look in the trash because maybe it accidentally was thrown away. 
Say what?
But it was worth a shot.  Guess where that darn iPad appeared?  Yep, in a stinky, smelly  garbage bag.
Sometimes you just have to stop and smell the roses.  Even sweeter in the form of a dryer sheet.