It happens all the time.  Someone starts a group text to "talk" to everyone at once.  Announce a baby's birth, where to meet for dinner, or that they started a new job.  It's awesome.  Only sometimes it's not.  Did you know there are some simple things you can do to save your sanity in group texts?  Yes you can! And I'm here to share a few.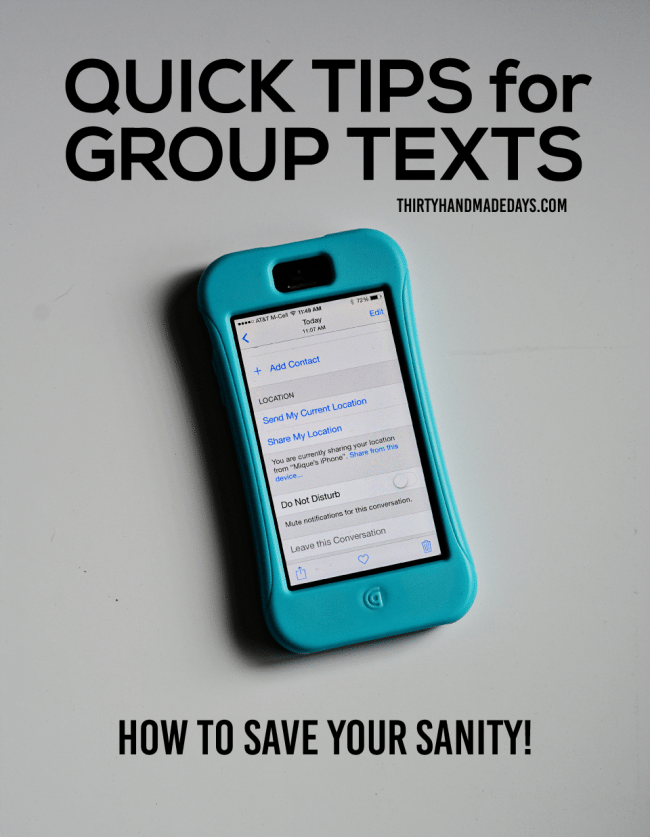 Group texts always start innocent enough.  And then you find yourself amongst 2910914595 other people who feel the need to text at 2:30am.  Not cool.  Not cool at all!  There are a few keys to touch that will make your life easier.  These apply to those who have iPhones with the most recent update.  I have heard that there are similar things for other phones but since I have an iPhone, this is what works for me.  If you have another phone and know the tips for yours, please share in the comments!
I'm a visual learner for sure so I thought it'd be best to take screen shots and show you that way.  I'll also include written explanation.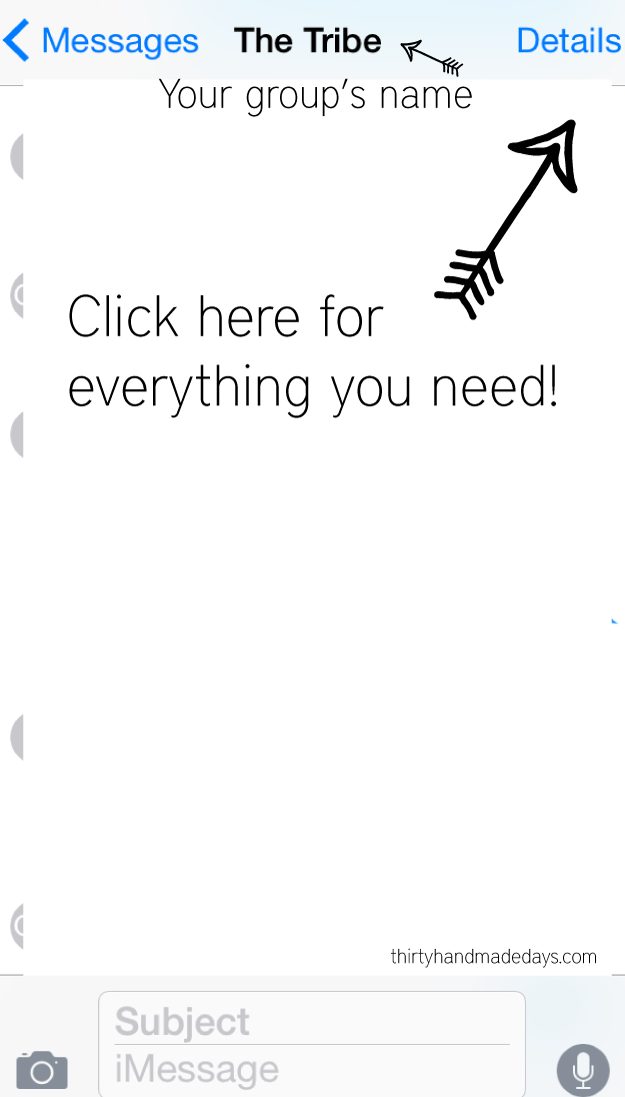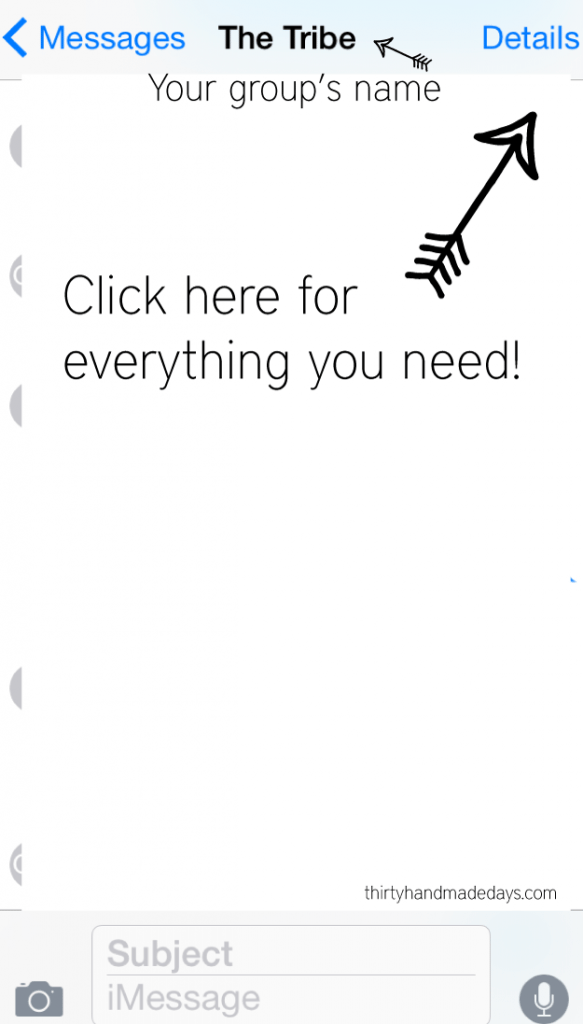 Ok so you're in your group text and you want to make them stop coming or at least not get 493 notifications?  Simply click on the details button on the upper right hand corner of your screen.  That will take you to this next screen: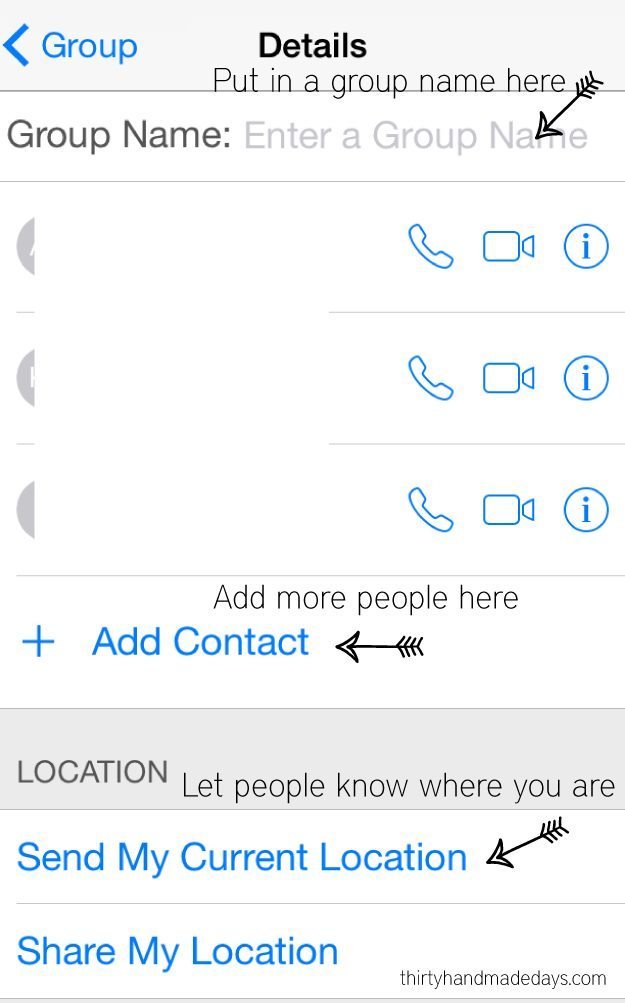 From the "details" part of the group text, you can do oh so much.
NAME YOUR GROUP
You can name your group.  As you can see in the first screen shot, one of my group texts is named "The Tribe."   Those are my girls! Be warned- when you name your group, everyone can see it and the group text shows up as what you named it for EVERYONE.  So don't name a group "Mean Girls" or something like that.
ADD A NEW PERSON
In details you can also add more people to the group.  It didn't used to be this way.  You used to have to start a whole new thread.  Now you simply click on  "add contact" and they are in.
SEND LOCATION
You can send your location so that if someone is meeting you somewhere, they can get the address that way.  If you click on "Send my current location" a map will show up and you can click on "directions to here. " Easy peasy!  You can also turn on "Share my location" and it gives you options – Share for one hour, share until end of day and share indefinitely.  This is more of check in type setting.  And you can change it at any time.
I like that they give you different options for this.  But parents, be aware of this setting.  I wouldn't want my 13 year old sharing where she is. Something to important to know about.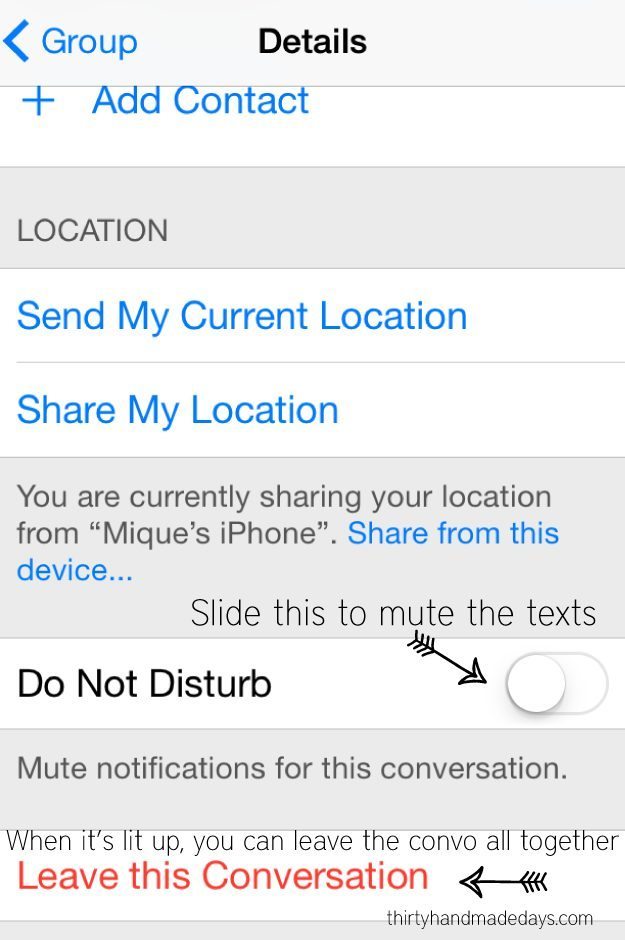 Here's the biggie – if you are going nuts over all of the conversation you have two main options – leave the group or mute.
DO NOT DISTURB
This is a great setting if you still want to be in the group but are sick of all the texting while you're in a meeting.  Or if it's 3 in the morning, just slide that little button and you won't hear anymore dings or be notified.  You can always turn this back on by sliding it back over.  Again, great for when you're in a meeting, driving or in the middle of the night.  (you can put your phone on "Do not disturb" in general if you want too!)
LEAVE THE CONVERSATION
If you've just straight up had enough, you can click on "leave this conversation."  You can only leave the group if it's lit up in red.  It will be lit up if everyone in the group is using iMessage and has iOS 8 or higher.  So if you have friends that have an Android, this won't work.  Bummer! Apple doesn't have a way to block or remove you from other carriers.   If the bubbles are green instead of blue, you won't be able to leave because those are regular text messages not iMessage.  If "leave this conversation" is grayed out it means that other people in the tread don't have the most up to date iOS.  So "leave my conversation" won't work all of the time but it will for a majority of the time (at least I've found in most of my group texts it's available).
Note- if you leave the conversation it will show up as "Mique left this conversation at 3:13am."  If you are trying to be sly about it, that won't happen.
So there you have it – my group text tips to save sanity.  Do you have any additional tips to share?