It's been six months since I started my #loveforjj  Random Acts of Kindness project.  What a six months it's been!  I've learned many things along the way.  Things like-
it really doesn't take a ton of time to spread kindness
there are A LOT of people that could use a simple friendly gesture to turn their outlook around
sometimes it's hard to get going but once you start, it's almost addicting
my service love language is food- the first thought I have is always to bake a treat
serving others benefits the people you serve and you!
during one of the toughest years of my life, simple RAOKs have helped me look past my trials and focus on other people – such a blessing
kids learn by example
there are sooo many good good people out there…..
The list goes on and on.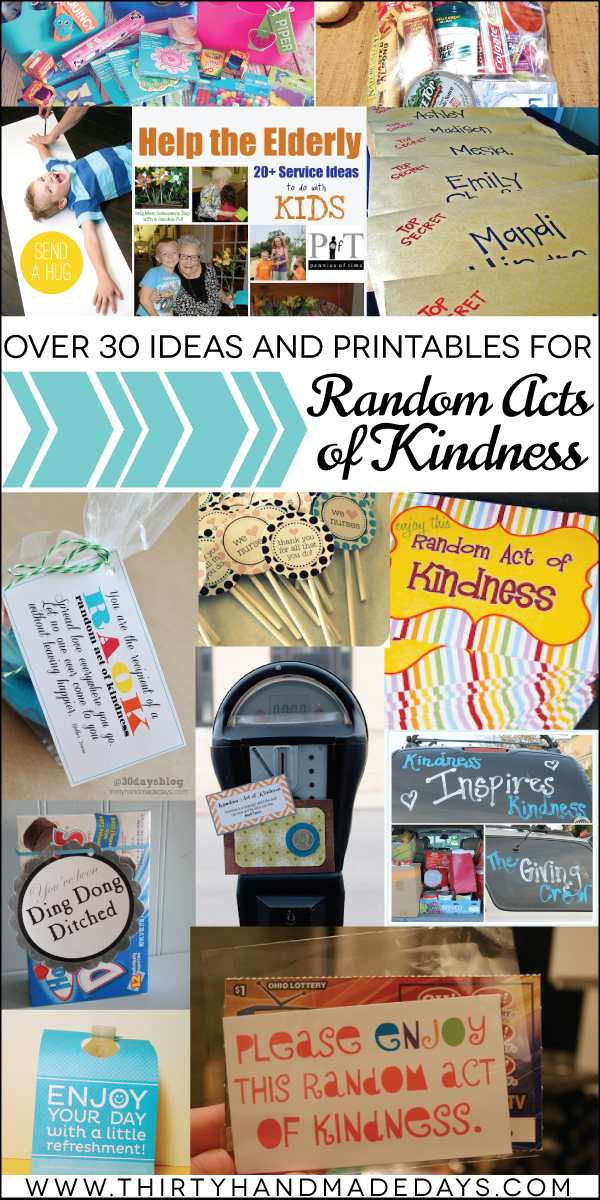 Lots of people have asked me for ideas for Random Acts of Kindness.  There are about a million of them out there.  But I've compiled a list so you have plenty of them right at your fingertips.  Here are over 30 posts with ideas of things you can do to spread some joy:

Random Acts of Kindness for Birthday from Daze of Adventure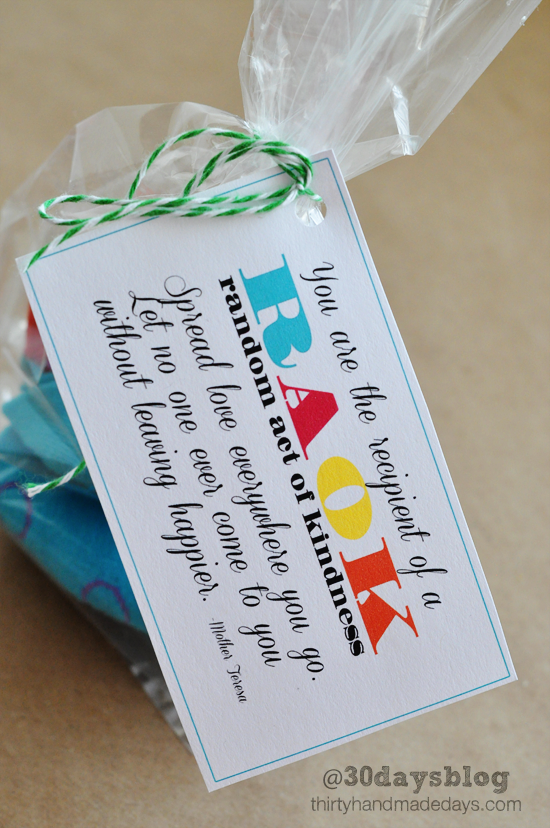 Random Acts of Kindness printable

Send a hug from Paging Supermom


Treat someone printable from 30days via Life Rearranged

Collect hotel toiletries for the Ronald McDonald House from According to Kelly via Somewhat Simple


You've Been Ding Dong Ditched from Poppies at Play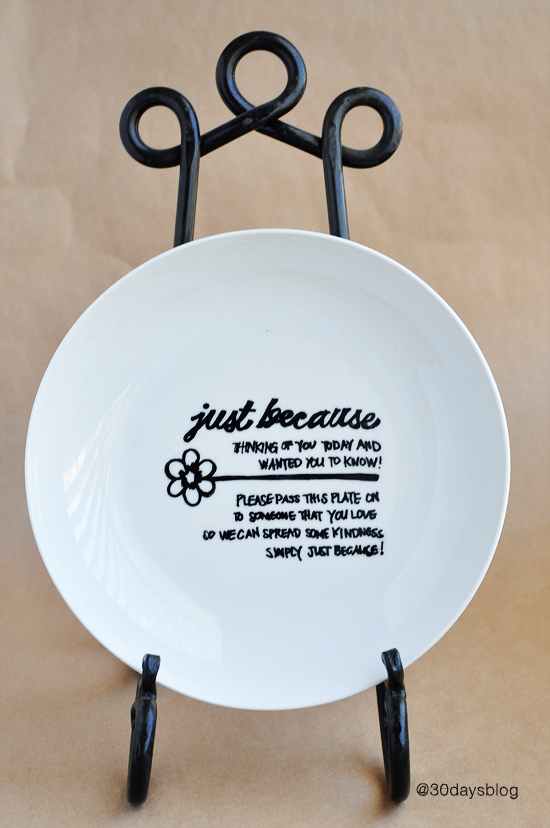 Just Because Plate

The Kind Kids Club from a Year of Many Firsts


Refresh someone from Joy's Hope


Kids Totes from eighteen 25


30th Birthday Random Acts of Kindness from Warm Winter Wishes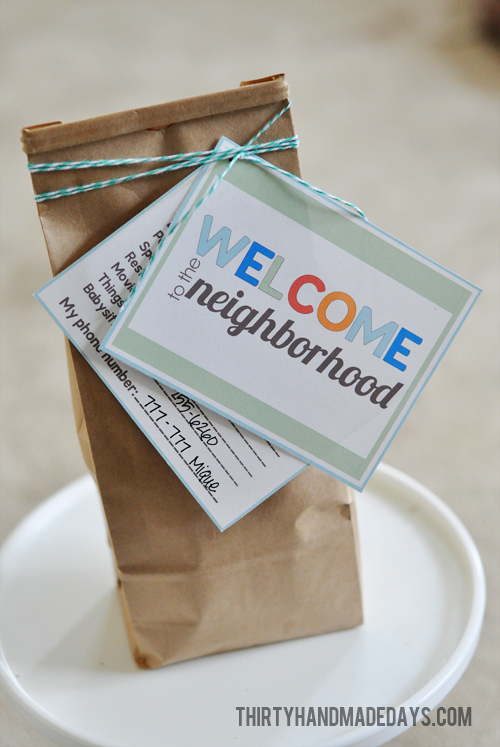 Welcome a new neighbor printable

Thank you toppers for hospital from Somewhat Simple


Bring a treat to neighbors from 30days via Joy's Hope

Small & Simple Acts of Service from Less Cake More Frosting via Somewhat Simple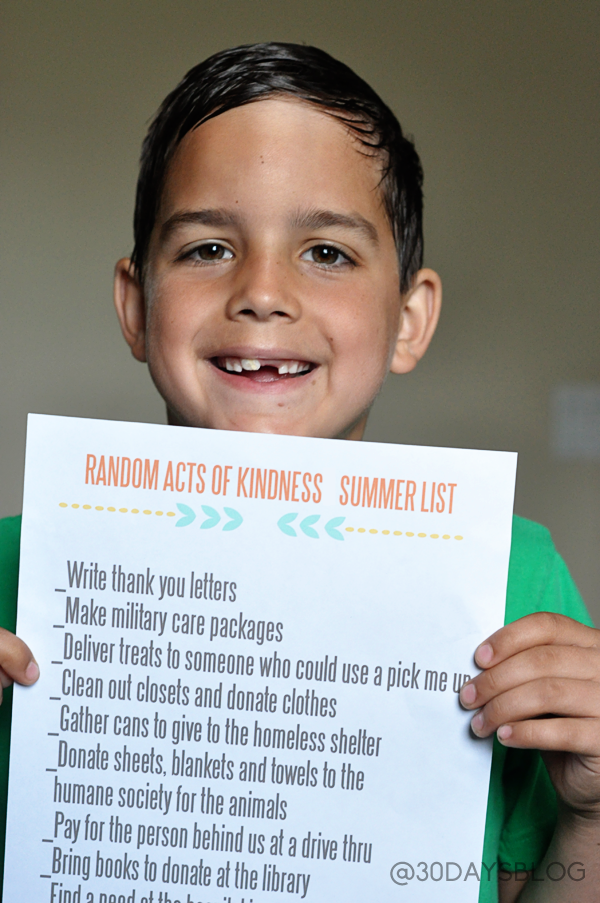 RAOK Summer List


A little bit of sunshine, painted rocks from seven thirty three


Help the Elderly – Service Ideas to Do with Kids from Pennies of Time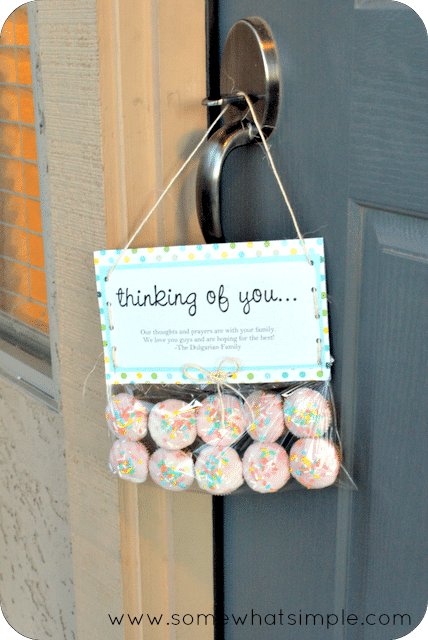 Thinking of you cupcakes from Somewhat Simple

Give a book to a friend from Joy's Hope


Make Chemo Care Packages from Pennies of Time

Blessing Bags from Top of the Page via Joy's Hope


The Birthday Project with Printables from Girl with a Glue Gun

Kindness Note Printables from Kind Over Matter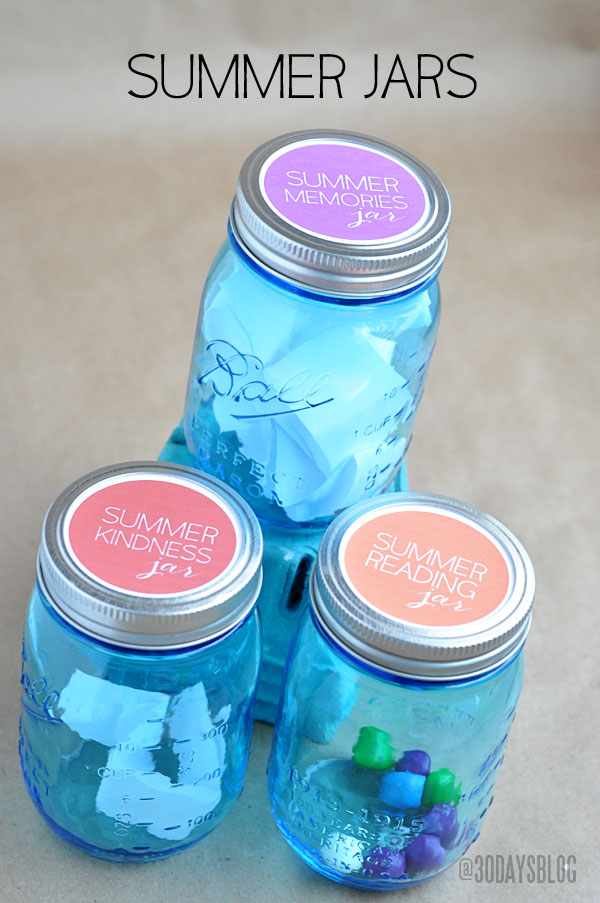 Summer Kindness Jar


Secret Service Activity from the Fickle Pickle

Kindness Day from Hart to Heart

Thank someone in service from Joy's Hope


40 Acts of Kindness for 40th Birthday from Making Life Whimsical

Handwritten Note Day  printable from Pen and Paint via Life Rearranged


Random Acts of Kindness Cards from So Wonderful So Marvelous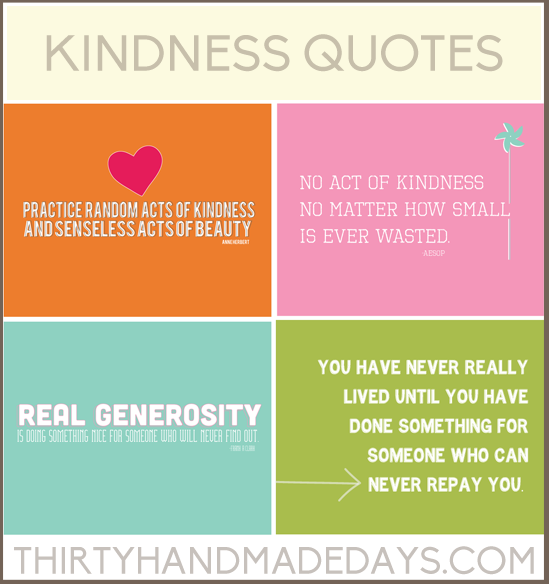 Kindness quotes
If you follow me on Instagram you may have seen some of the things we have done as a family since January. I haven't documented everything but I've tried to post pics as I've gone along.


In February we delivered donuts to neighbors. In March I made a "just because" plate.


In May it was the RAOK Summer list.

In June more treats were delivered. (see – I told you I liked delivering treats!) And just yesterday we donated clothes to Goodwill, books to our local library and blankets to the animal shelter.
The main thing I hope to convey is that ANYONE can do what we've done.  You don't have to tackle all 30+ ideas on this list.  Start simple and go for it!!
I'd love to hear some of the things you've done to spread kindness! Leave a comment and let me know.