When I was in 5th grade a friend and I joined forces to write a book.  It was super professional on blank white paper and all.  I had finally found my passion for reading that year in the Babysitters Club series.  I have since immersed myself in all kinds of books and a little seed was planted for writing my own book.  It was a bucket list type of thing but I never really thought it would happen.  I mean, how does one go about writing a book?  And what would a book I write even be about?  Around this time last year I knew that I needed to retire from the Queen Bee Market.  It was time. But amazingly right when I stepped away from QBM and closed that door, this new door was opened to me.  Life is funny sometimes. The stars aligned and suddenly I found myself with the opportunity to check that box on my list of dreams.
This blog has presented itself with all kinds of cool things that I never knew were in the realm of possibility.  Working with companies I've always admired, trips to awesome places, meeting amazing people, attending conferences and more.   Don't get me wrong, I work hard behind the scenes.  This is a full time gig.  It's not for the faint of heart.  There have been many times that I've had to step back and re-evaluate things.  But then I'm asked to write a book and I pinch myself and think 'Wow. I really am lucky!'  So thanks for coming to my site, for reading and enjoying what I post.  I obviously would be nowhere without each of you.  Thank you!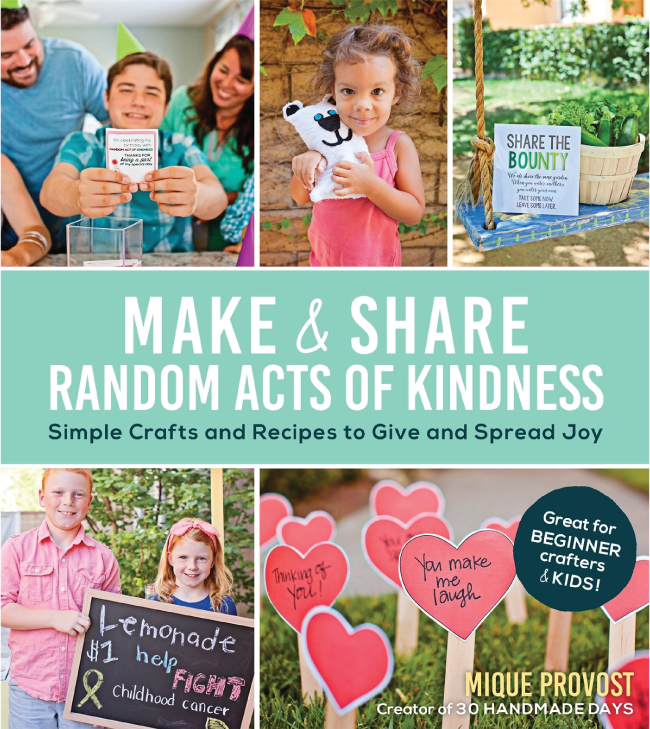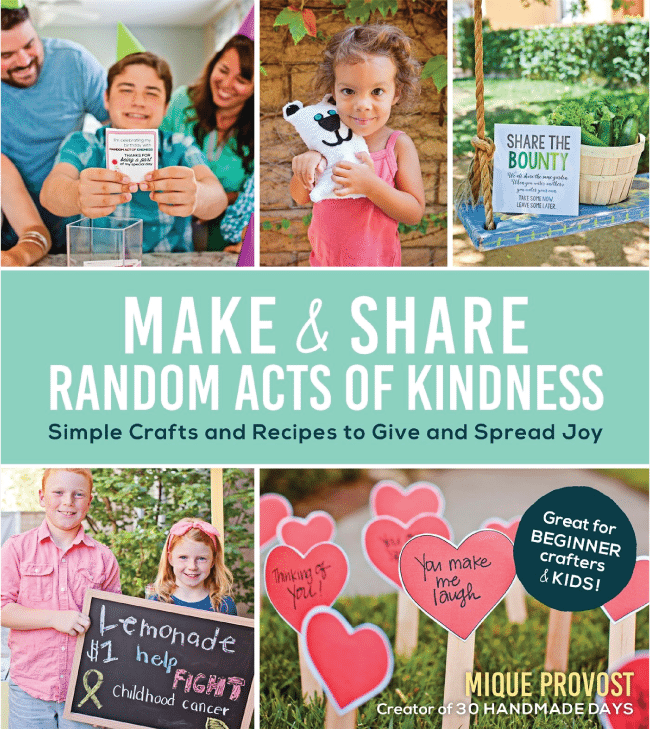 What is this book about?  It's called Make and Share Random Acts of Kindness: Simple Crafts and Recipes to Give and Spread Joy.
I was approached about doing a book on home organization.  And I laughed.  Because honestly, nobody would say that I'm a source for home organization.  I post about it but that's because it's something I struggle with so much.  But I knew that I couldn't do a whole book about it.  What I did think I could do a whole book on is random acts of kindness.  If you've followed my site for awhile, you may have seen me post RAOK ideas and read my post on how I got started.  It's something that I'm passionate about.   And I wanted to create a book that was uplifting and would encourage kindness.  So that's exactly what I did.   Thanks to my publisher and editors at Page Street Publishing who saw my vision and let me run with it.
The truth is, writing this book has been humbling.  I have spent a lot of hours coming up with ideas, writing, and designing.  There were deadlines and timelines and all kinds of things.  Including some tears…  I've struggled with self doubt – will anyone like it?  What if it's not good enough? But then it all started to come together and I am so dang proud of it.  It is full of all my favorite things – craft ideas, recipes, tips, tricks, quotes, stories and a whole huge section of tear out designs.  If you like what I do on my blog,  I think you're going to love it! Is it okay to say that?   It is so me.  The colors, the fonts, the projects, everything.  And I can't help but smile when I look at it.  I hope you'll do the same when you get it.
How can you order?  It's available for pre-order right now.
The book is set to ship on December 8th.  It will be to you right in time for Christmas.  And I think it'll not only make a great coffee table book and one that you'll want to dig into right away, but it would be a fantastic Christmas gift.  You can order at the following:
Amazon
Barnes & Noble
Books-a-Million
Indie Bound
and wherever books are sold!
I'll be sharing more info as it gets closer but I wanted to let you all know about my project that I've been working on all year.  And count this as your reminder-  go for your dreams!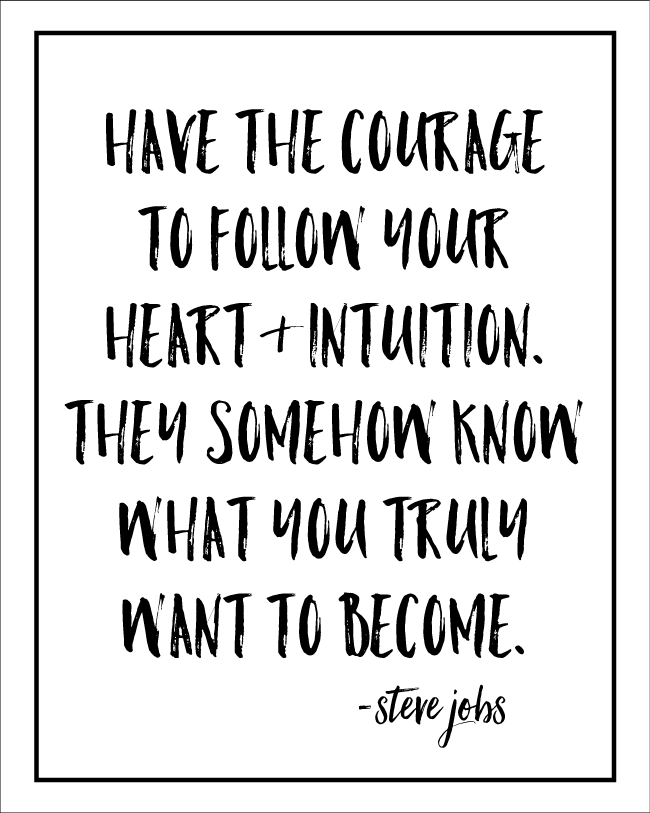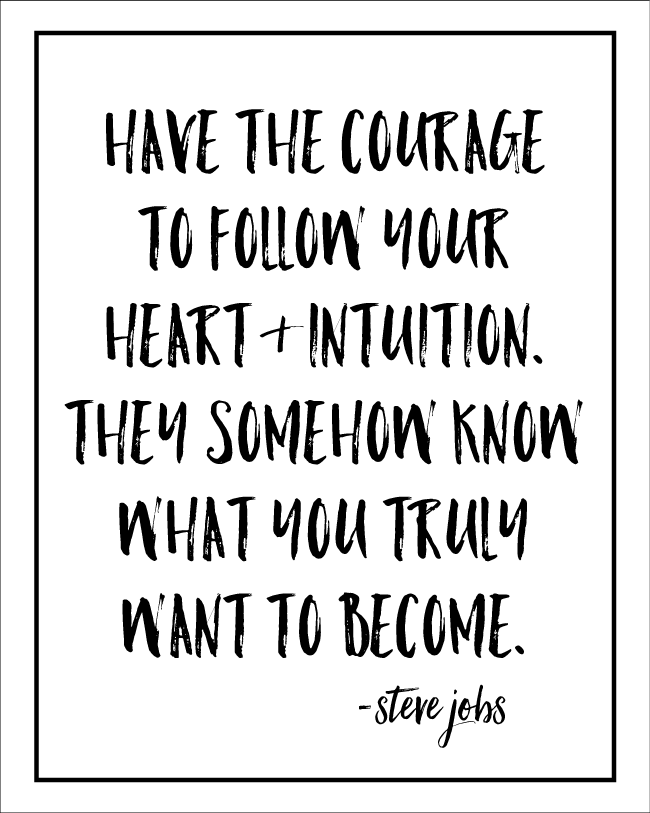 Just for fun, download this printable quote. This is for subscribers to 30days and personal use only.   Those who are signed up for my newsletter are able to download all of the printables I offer for free.  Thanks!