Continuing on with another sentimental idea, this time I want to share a gift I received- a recipe book with hand written recipes.  I thought you might enjoy some recipe cards to create your own.

A couple of years ago I mentioned to my mom that I would love to have my favorite family recipes in her handwriting.  She took my (rather obvious) hint and created a recipe book for me.  My sister also compiled a recipe book filled to the brim of holiday desserts.  I love it!
While technology is awesome and storing recipes online is fabulous, there is nothing quite like having tried and trues in my mom's handwriting.  I think this is a perfect gift for mom to daughter, grandma to granddaughter, etc. Anyone who loves to cook or wants to learn- would appreciate something like this.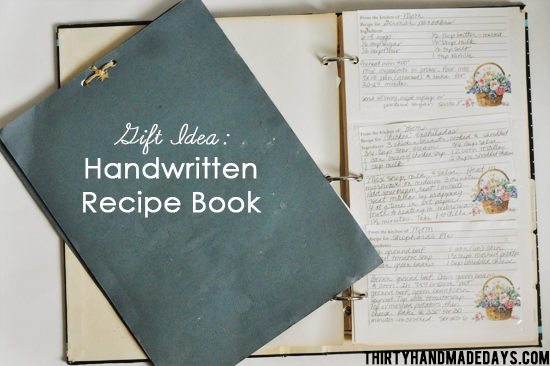 To help you get started in the process, here are some recipe cards that I created for my 30days followers.  There are 4 to a page.  I use Avery postcards A TON.  They are the perfect size for a project like this. You can buy them at Target, Walmart, or any office supply store.  Or you could just use cardstock, print them out and cut them up.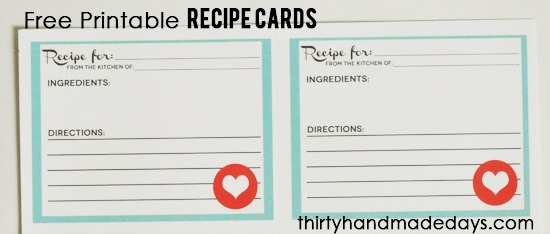 4 recipe cards
For personal use only.
What is your favorite family recipe?