Hello! I'm Vanessa from See Vanessa Craft and I'm excited to be here! Today, I'm sharing how to make reindeer milk bottles. Fill them with chocolate candy and it becomes an instant gift for teachers, neighbors and many more! Save your old Frappuccino bottles or buy actual milk bottles (which can be found at your local craft store) for this project. I filled these bottles with chocolate malt balls, but anything brown will work.
Materials
Clean Frappuccino Bottles
Brown Pipe Cleaners (2 per bottle)
Googly Eyes (2 per bottle)
Small Red Pom Poms (1 per bottle)
Hot Glue Gun
Malt Balls (or another brown treat)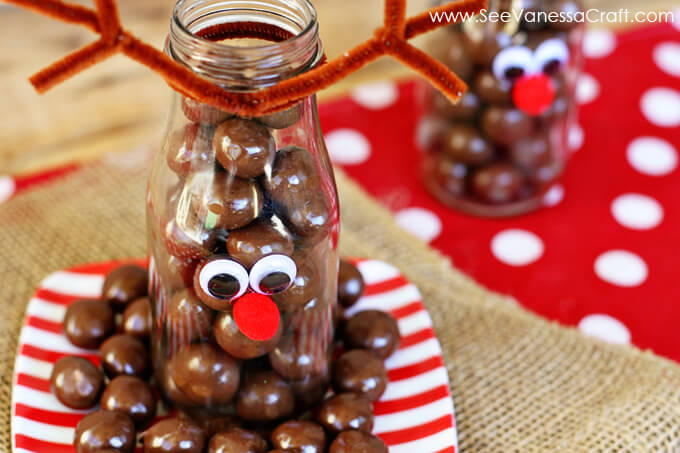 Instructions: Hot glue 2 googly eyes and 1 red pom pom to the front of the Frappuccino bottle. Twist a brown pipe cleaner around the rim and then twist half a pipe cleaner around the ends, trimming off excess to look like antlers. Fill the bottle with chocolate malt balls, chocolate milk or another brown treat.