The Winter Olympics start this week! I can't wait. In honor of the games being held in Russia, I researched some recipes and gave them a try.  One of the recipes I loved were traditional Blini or Russian Crepes.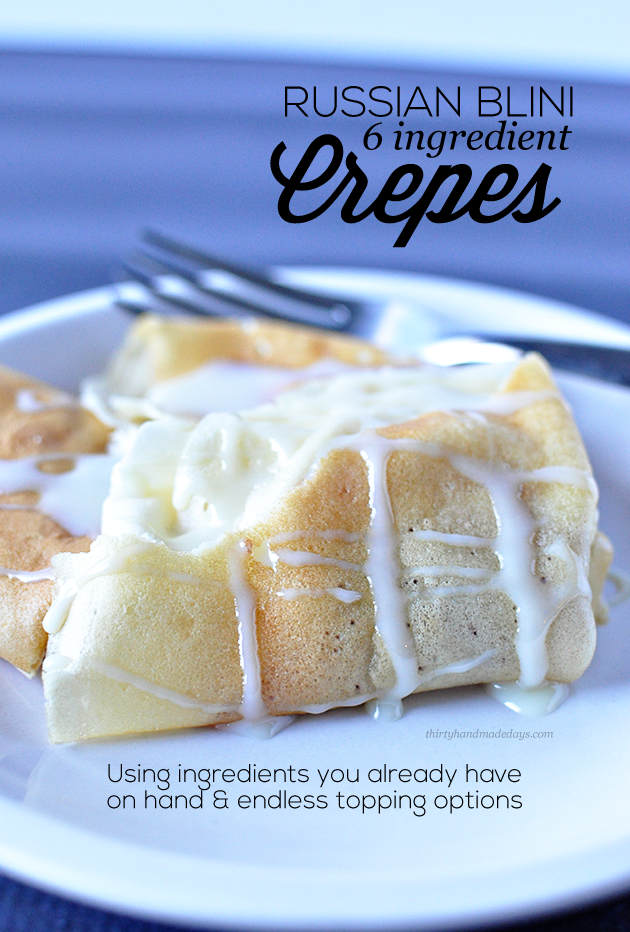 I grew up having "Rolie Polies."  My Aunt Janet called them that and the name stuck.   I didn't even know that the real name was crepes until I went away to college.  At school we had a floor lounge where we could make simple dishes (reaaaaally simple dishes- it wasn't a kitchen).  One of my friends had a crepe maker that we all loved to use.  She eventually gave me one that I have held on to for over fifteen years.  I pulled it out for this recipe.  I couldn't find my version online but this crepe maker is similar to the one that I own.  Using a crepe maker makes is so easy.  All you do is turn it on, put the batter in a shallow dish, dip the maker into the batter and wait until the light turns on that it's done.  It's totally worth the $30ish in my opinion for the headache free, perfectly done crepes.  But don't use cooking spray.  I learned that the hard way!  *Affiliate links were used above.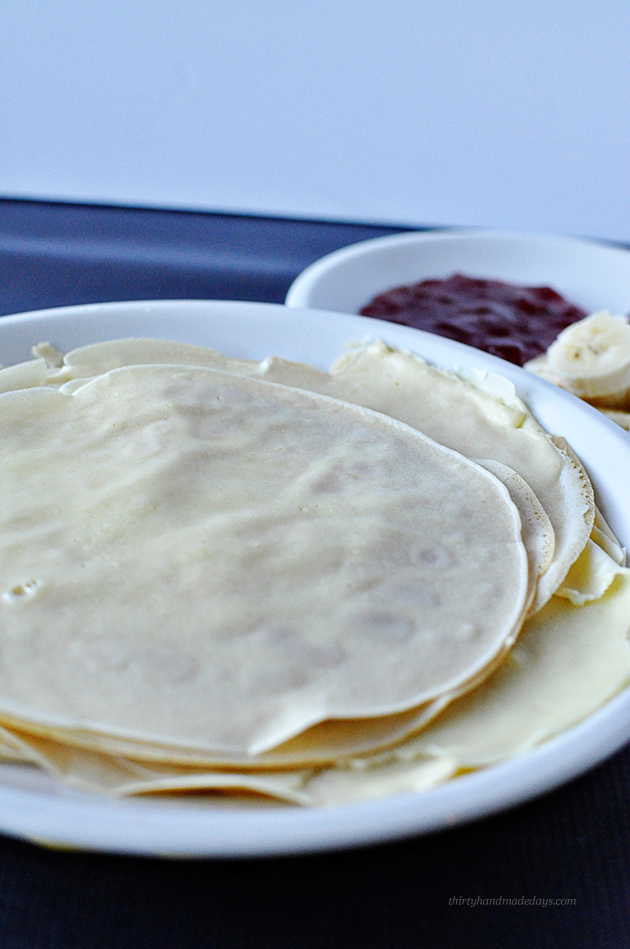 To make crepes, you only need a handful of ingredients and a little patience.  If you don't have a crepe maker, it takes some practice to get the right rhythm down in the pan.  The two biggest things are- use a small amount of batter (thin layer) and quickly tilting the pan in a circular motion.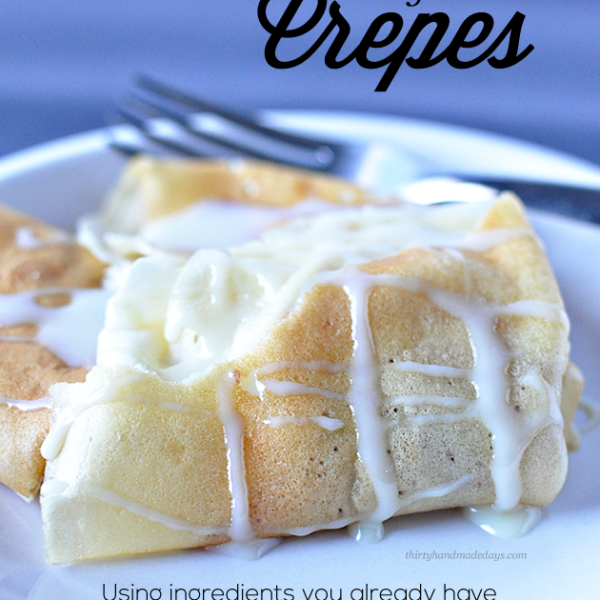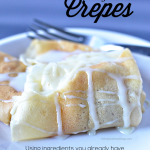 Print Recipe
Russian Blini aka Crepes
I love Russian Blini (aka Crepes) - they are light and delicious and can be customized with so many different yummy toppings.
Ingredients
2

eggs

2

c

milk

1

tbsp

sugar

½

tsp

salt

2

c

flour

2

tbsp

oil

Optional filling - fruit, Nutella, jam, yogurt

Optional drizzle - sweetened condensed milk, powdered sugar
Instructions
Whisk eggs, milk, sugar and salt.

Slowly start stirring in flour, adjusting as you go.

Stir in oil.

Let sit for 15 minutes.

Rub oil on pan if not using crepe maker.

Use a small cup (start with ¼ c) to pour batter into the pan and tilt in a circular motion to cover the pan in a thin layer.

Cook for approximately 2 minutes until brown on one side, flip and cook for just 30 more seconds.

Fill with jam, fruit, Nutella, etc.

Drizzle sweetened condensed milk or powdered sugar.
Nutrition
Calories:
108
kcal
|
Carbohydrates:
15
g
|
Protein:
3
g
|
Fat:
3
g
|
Saturated Fat:
0
g
|
Cholesterol:
25
mg
|
Sodium:
100
mg
|
Potassium:
68
mg
|
Fiber:
0
g
|
Sugar:
2
g
|
Vitamin A:
85
IU
|
Calcium:
43
mg
|
Iron:
0.9
mg
Recipe slightly adapted from Russian Bites.
According to articles I read traditional Blini is served with sweetened condensed milk, jam and/or sour cream.  While I had those options available for my family, I also pulled out fresh fruit, Nutella and powdered sugar.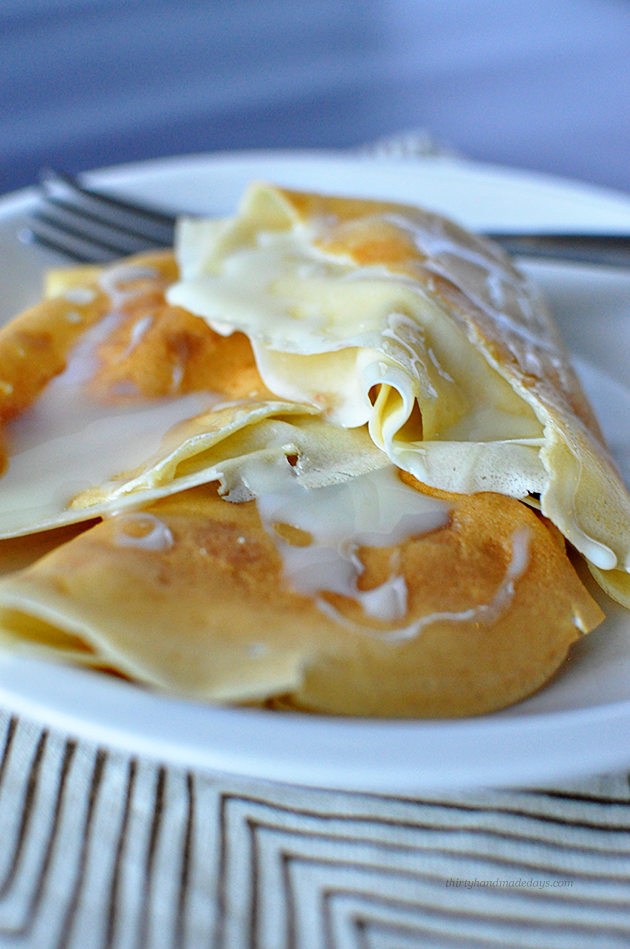 When we made these crepes I had some Vanilla Strawberry Whip on hand.  Josh went weak in the knees when I added it to the crepes.  Whip some up and spread a layer in the crepes.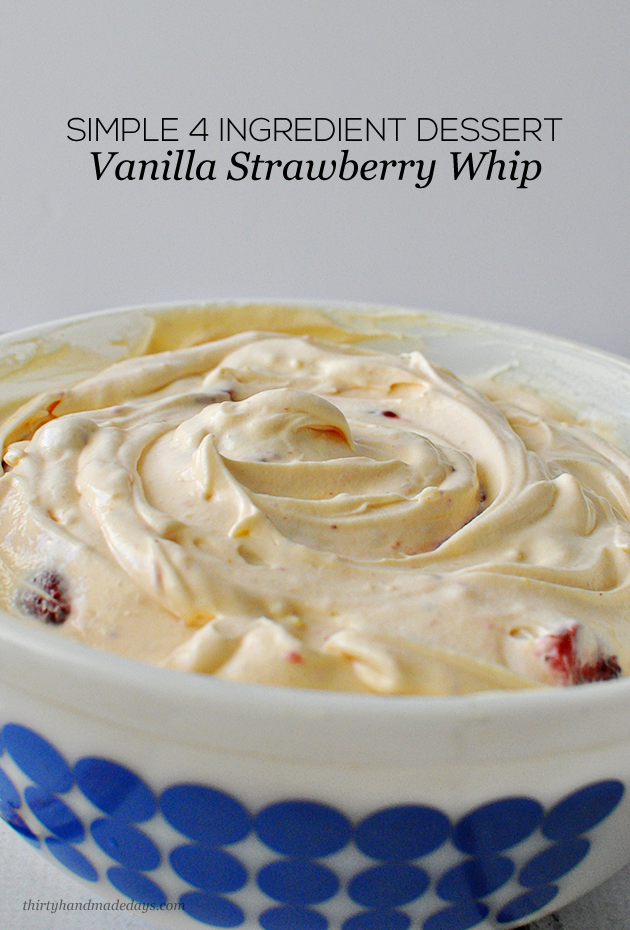 Are you excited for the Olympics too?  Make sure to download Opening Ceremony BINGO sheets: