People in my life would maybe say that I'm an all or nothing kind of girl. Once I make up my mind, there's no going back.  Remember how I recently made a family binder and Post-it Note grids?  Well that started an organizational kick.  Finally.  It only took 30 something years, but I am feeling the need to organize.  Phew!  Part of my organizing kick included this back to school binder.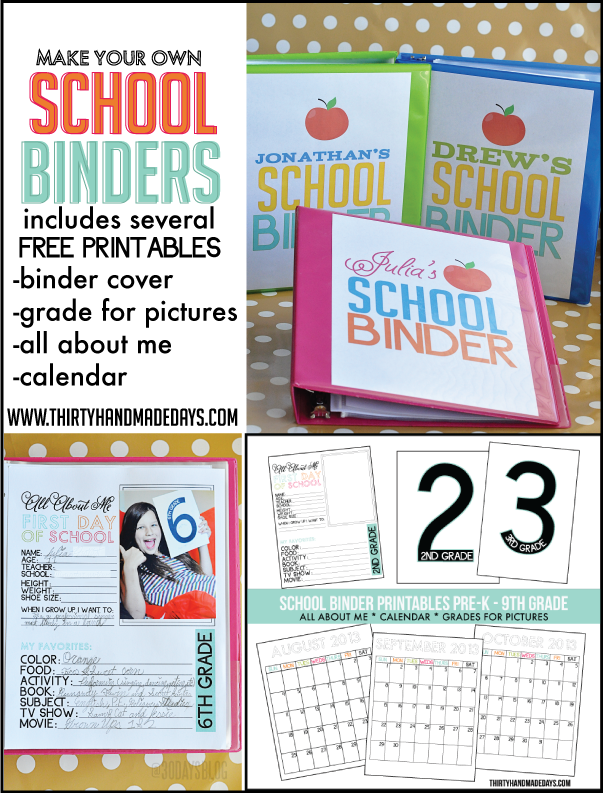 I've always wanted to make a school binder for each of my kids but I've never gotten my act together.  I spent some time in Illustrator creating files for each of my kids (and now you).
First things first, I bought different colored binders and created a simple cover for each one.  Below I shared a generic version so you can add your child's name to it.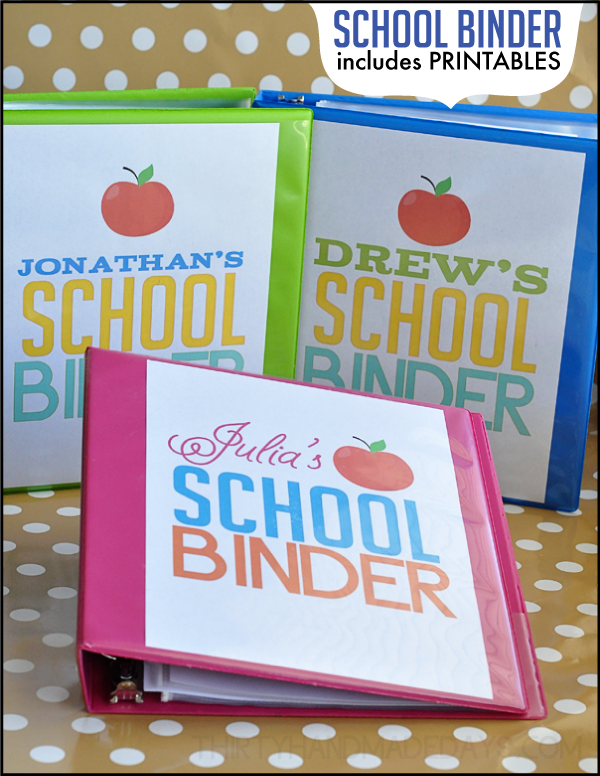 I wanted a grade printable for my almost 2nd, 6th and 8th grader.  Originally I was just going to have them hold it for a picture but then I decided it'd be fun to have them write what they were looking forward to or hoping for in their upcoming year around the grade.
These days my 6th grader is not a fan of traditional smiling pictures.  Instead I get this: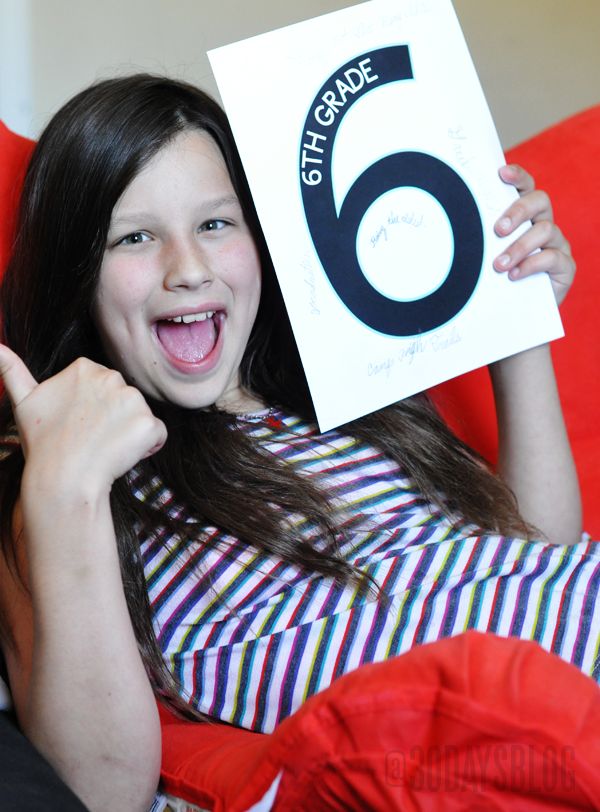 After I took her picture, I put that printable grade into a sheet protector and it's at the beginning of her binder: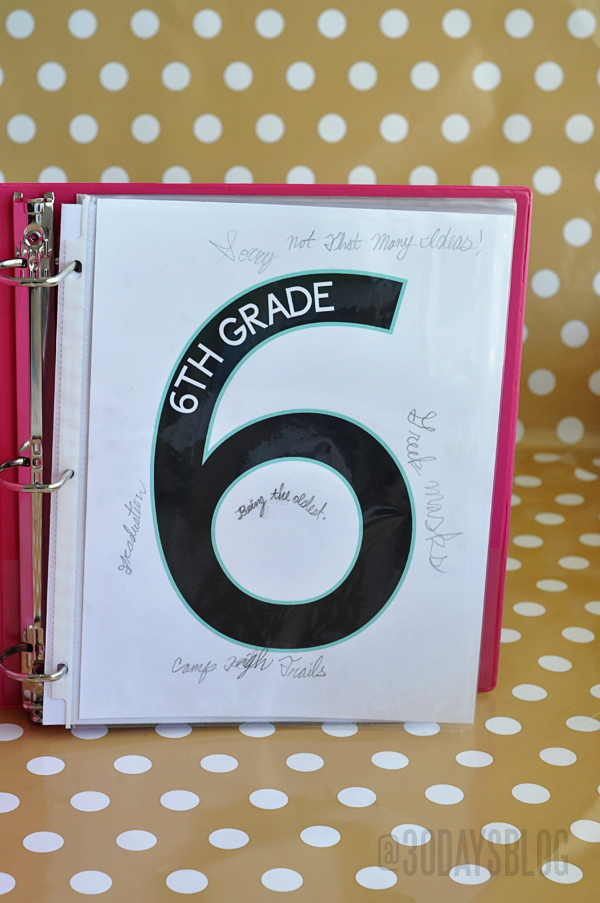 Next I created an "All About Me" sheet for each grade. (see printables below) I added the picture of Julia into it and had her fill out the sheet.  I plan on having each one of my kids fill one out at the end of the year too.  There is a spot for a 4×6 picture on this sheet.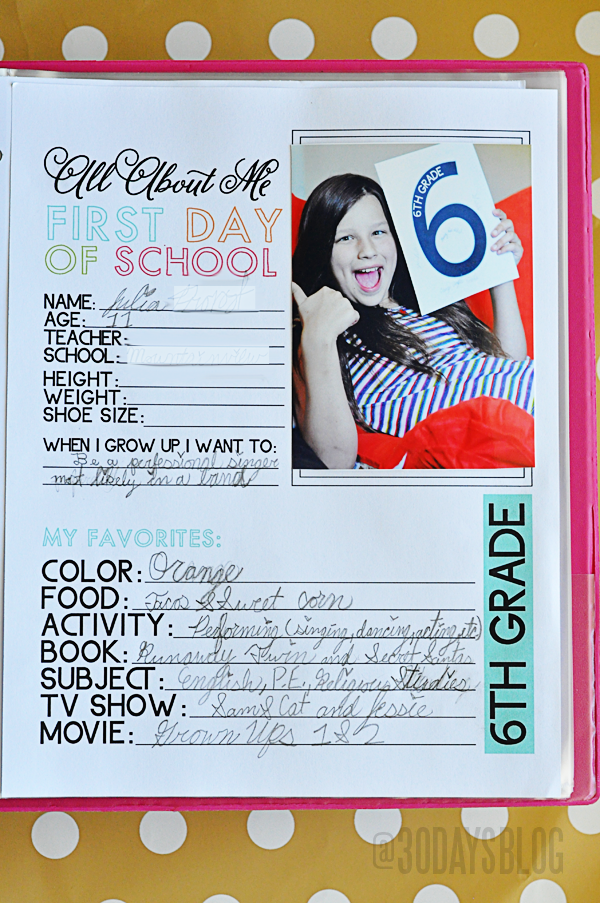 In this school binder, there are several sections.  The idea is to have one for each child so that all of their important things can be in their binder.  This binder can carry on through the rest of the grades.  Some of the sections are: homework, artwork, grades, and calendar.  Sadly for her, Julia carries on her mom's not-so-organized trait.  One of the things I'm determined to teach her this year is to keep better track of things.  To help with that,  I made a calendar and punched holes to add it to her binder.  She can pencil in all of her important assignments and things she needs to remember.  I want her to start junior high next year as a much more organized and responsible student.
I've done all the hard work creating the sheets, you just have to click below! Grab a binder, some sheet protectors, dividers and school supplies at any store and get to it.  Now is the time to do this when there are SO many deals for supplies.  I found several posts on deal sites sharing school supply sales (ie this Back to School Stock Up Worthy post).  In some cases you can get stuff for free.  For free people!! And if I'm sharing these for free…..then the whole thing is free….and you really have no excuses.  Right?  Right.  If I can tackle this project, anyone can.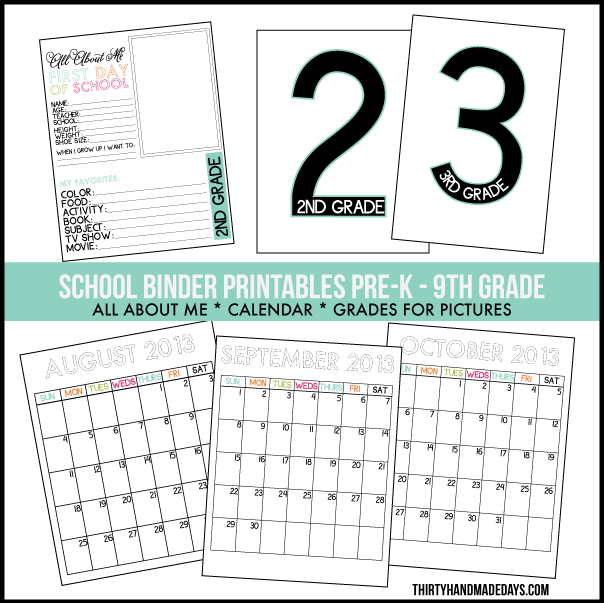 As always, all printables are for 30days subscribers and personal use only.  Thank you!
The following printables are 8.5×11."  Make sure to check your printer settings when printing.
GENERIC BINDER COVERS:
Just write your child's name on the line and you're set.
Boys Binder Cover
Girls Binder Cover
GRADE PRINTABLES:
Pre-K
Kindergarten
1st grade
2nd grade
3rd grade
4th grade
5th grade
6th grade
7th grade
8th grade
9th grade
10th grade
11th grade
12th grade
ALL ABOUT ME PRINTABLES:
Preschool
Kindergarten
1st grade
2nd grade
3rd grade
4th grade
5th grade
6th grade
7th grade
8th grade
9th grade
10th grade
11th grade
12th grade
Here's a generic version of All About Me if you want to make copies to use in future years!
You can get the all new Student Binder here!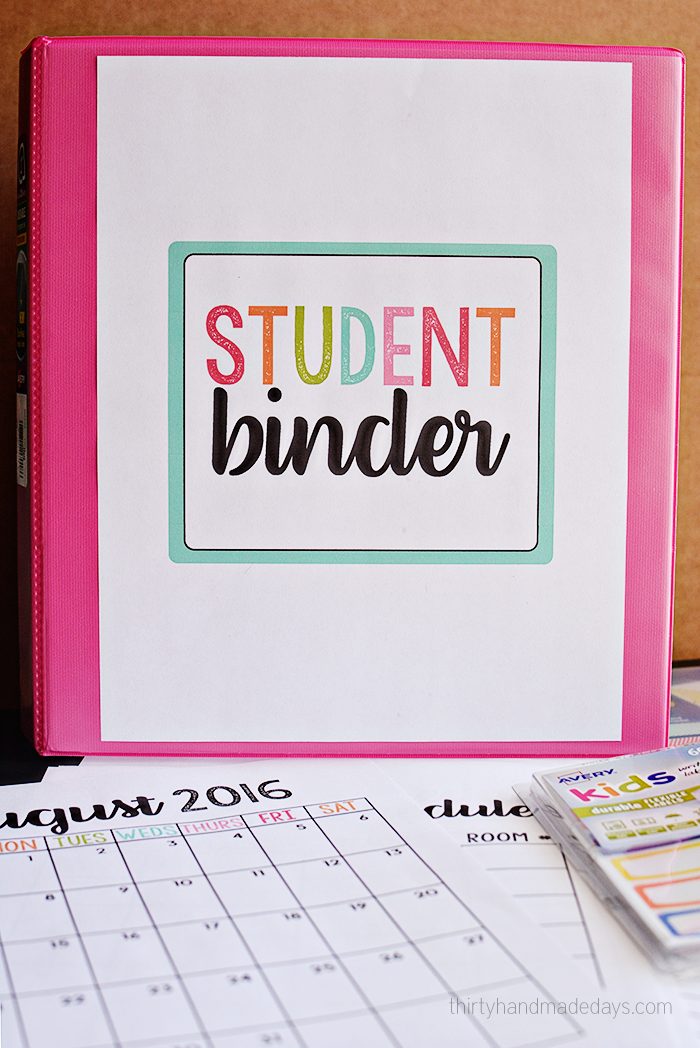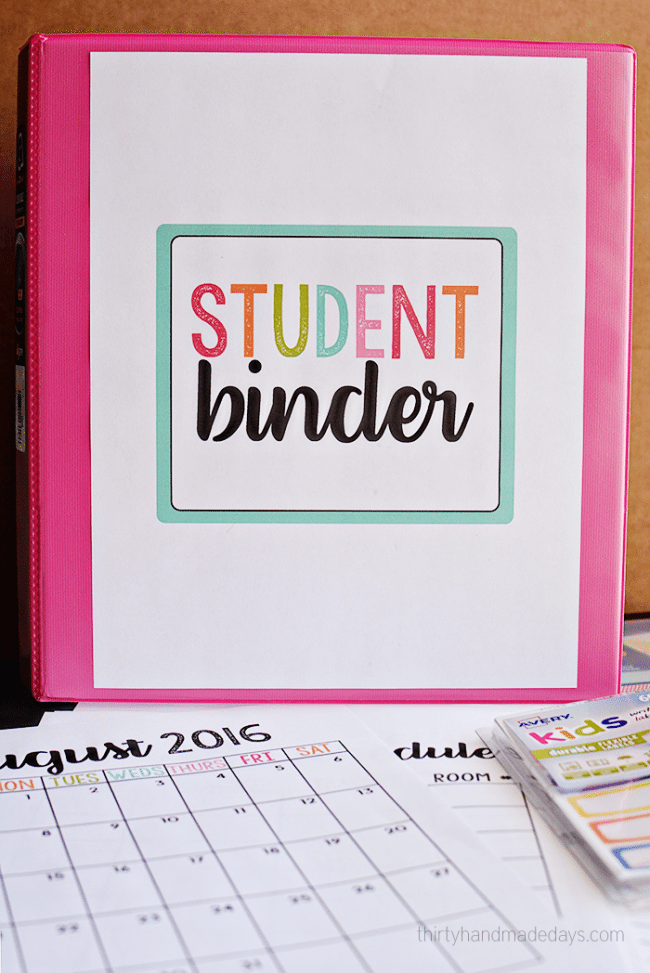 Follow me on Instagram to see what printables and projects I'm working on next! And don't miss my other 100+ printables.