I asked Josh to help me talk about credit a couple weeks ago.  The response was fantastic!  We got asked a few questions in the comments and via email about repairing credit.  Unfortunately with the recession lots of people were hit hard with losing jobs and dipping into savings or borrowing on credit.  Some got behind on bills and tried everything to stay afloat.  Josh helped me come up with this list for simple things you can do now to re-establish your credit.   These things also apply to people whose credit is great!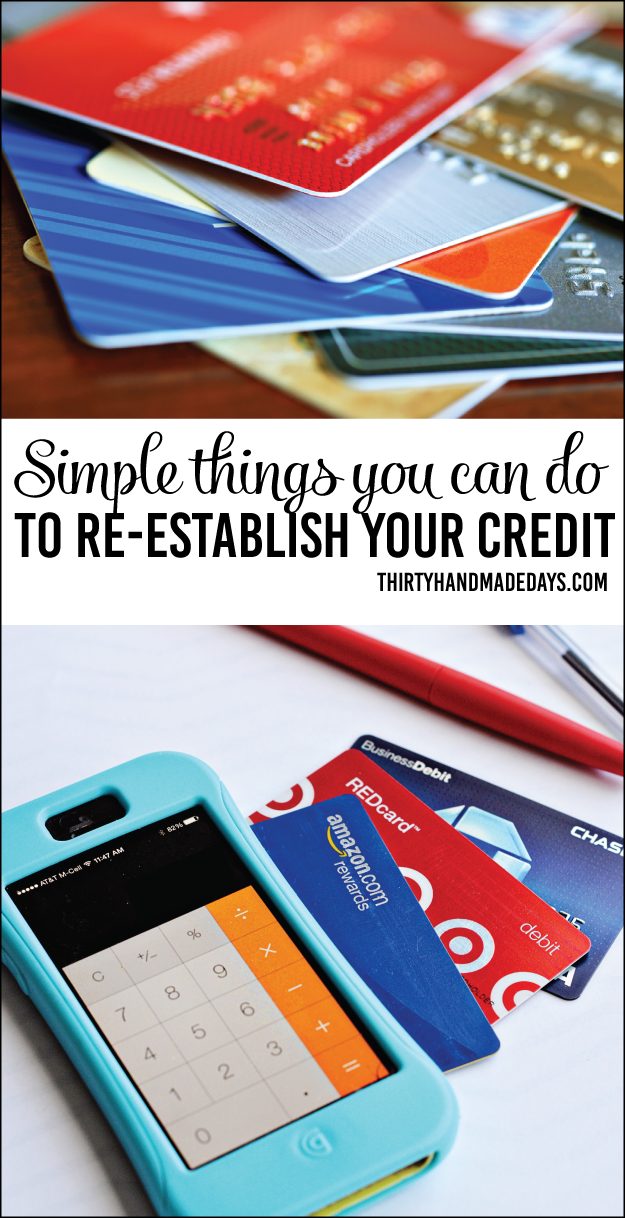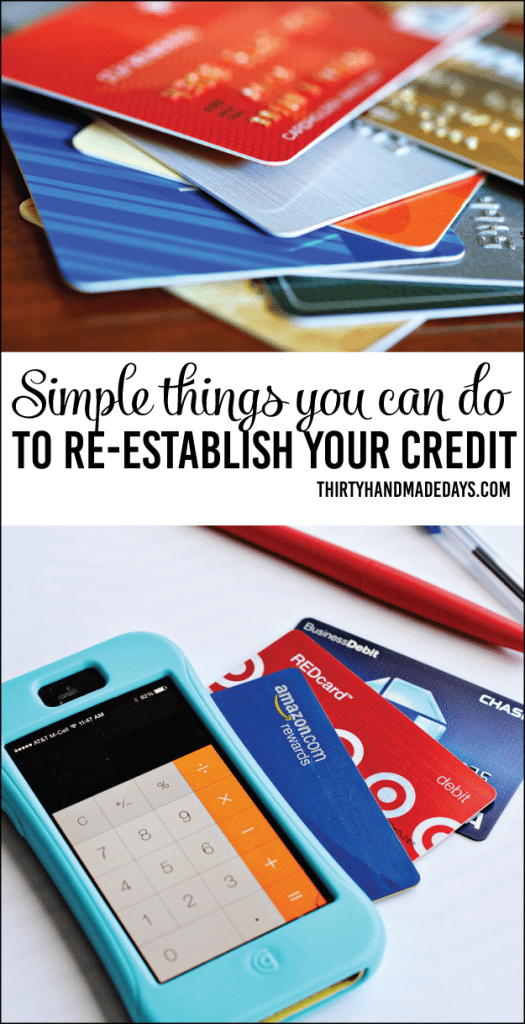 1.  Learn to pay your bills and live within your means.
I know, I know.  This one seems obvious.  But if you're reading this, you probably want to get everything back on track…
If you can't manage your finances you're going to fall back into the same situation over and over.  Make the decision today to pay your bills on time and live within your means.  I have several posts that deal with budgeting.  Read 5 ways to get your budget in control.
2. Apply for a secured credit card through your bank.
This is one of the easiest ways to re-establish your credit.  Banks can give you a savings account and tie a credit line to it.  As you pay that credit card, it will reflect on your credit as a positive trade line.  It will show that you're making payments towards outstanding balances.
3.  Apply for high interest credit cards.
Often when you have had money issues the only options are to get high interest credit cards.  These are not ideal but you can absolutely re-build your credit with them.  The key is to pay off the balance every month so that you won't have to pay that high interest rate.  The downside to high interest/high risk credit cards is that often an annual fee or activation fee is required.  Make sure to read the fine print so that you don't get stuck with those additional fees.
4.  Turn to one or two credit unions. 
Credit unions are typically more forgiving with past debt.  It's easier to get a car loan through a credit union if you have damaged or no credit.  When Josh and I first got married we found a credit union that we liked and built credit easily.   Credit unions are also typically more personal than big banks.
5.  If you have collection accounts, contact the collection agency.
I know it can seem intimidating, but make that call.  When you contact the agency, don't just pay them outright.  Make your payment contingent that it will fall off of your credit report.   It isn't a big deal for agents to get the account to fall off your report and if they are getting the payment, they are usually more than willing to make it happen.  A paid collection account isn't much better than a regular collection account.  This is big on the list of re-establishing yourself.  It might take some time if you have several accounts but it is for sure worth it.
Did you know that you can negotiate your collections?  Collectors get paid on commission. Much like you can get a better deal on purchasing a car on the last day of the month, you can negotiate payment for collections best on the last day of the month.   Each agency is different but it is worth negotiating to take care of the debt.