Slow Cooker Chicken Pot Pie Soup is the perfect way to let your slow cooker do the work and enjoy some comfort food in a delicious bowl of soup!  
I live in the Pacific NW but grew up in Wisconsin.  There are things I don't miss about the midwest including the humidity.  There are two things I do miss,  fireflies and snow.  We don't have fireflies in Oregon or much snow.  When it does snow, it only sticks around for a day.  Some years, we don't have any snow but this year we've already had snow twice and I loved it.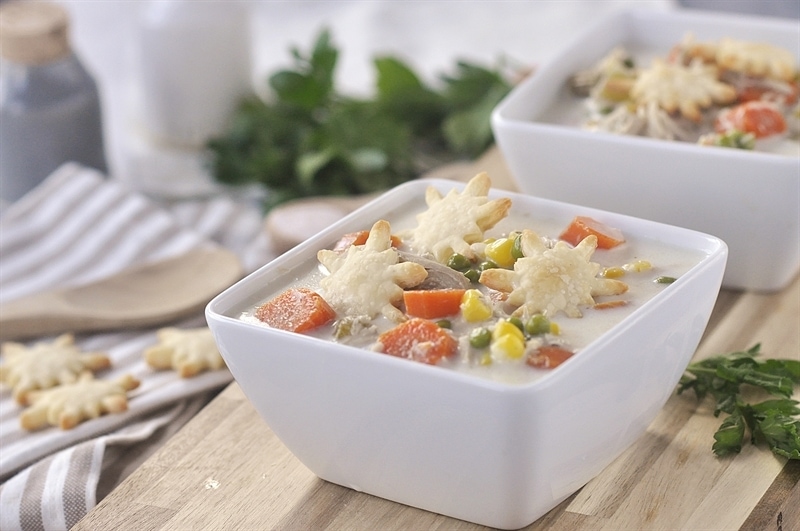 My favorite thing to do when it snows is cook up some comfort food. One of my favorite comfort foods is chicken pot pie.  When it snowed a few weeks ago I decided to make some chicken pot pie soup. I'm in the middle of writing a slow cooker cookbook so I used my slow cooker, of course!  Soup and snow just seem to go together.  The soup is super easy and delicious.
Everything goes into the slow cooker and four hours later all you have to do is shred the chicken and add in some half and half.  My favorite part of chicken pot pie is the pie crust so I cut some cute little snowflakes out of a ready made pie crust, baked them and topped my soup with them.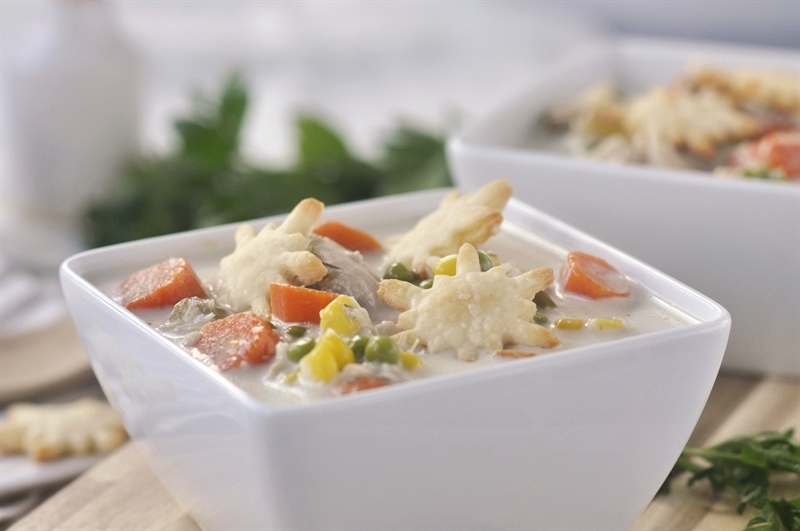 It's simple and delicious!
For some other yummy slow cooker soups check out these : Slow Cooker Beef & Barley Soup – Slow Cooker Chipotle Butternut Squash Soup – Slow Cooker Tomato Basil Soup
I hope you'll come over and visit me on the blog.
Slow Cooker Chicken Pot Pie Soup
Ingredients
1 lb. boneless,skinless chicken breast (about 2 chicken breasts)
½ cup onion, chopped
½ cup celery, chopped
1 cup carrots, chopped
1 cup frozen peas
1 cup frozen corn
2 tsp garlic, minced
1 tsp salt
¼ tsp pepper
1 tsp oregano
½ tsp thyme
4 cups chicken broth
½ cup half and half
¼ cup flour or cornstarch
store bought pie crust
Instructions
Add all ingredients except for the peas, corn and half and half into slow cooker.
Cover and cook on high for 4 hours or until chicken is cooked through and shreds easily.
Remove chicken and shred. Return to slow cooker
In a bowl combine half and half and flour. Return to the slow cooker along with the peas and corn and allow it to cook on high for an additional 30 minutes so the broth thickens partially (it won't get real thick)
While soup is cooking use a cookie cutter and cut out shapes from the pie crust. Bake according to directions on package and use as garnish on your soup.