Perfect for the holidays – use these snowflake patterns to make adorable Christmas ornaments!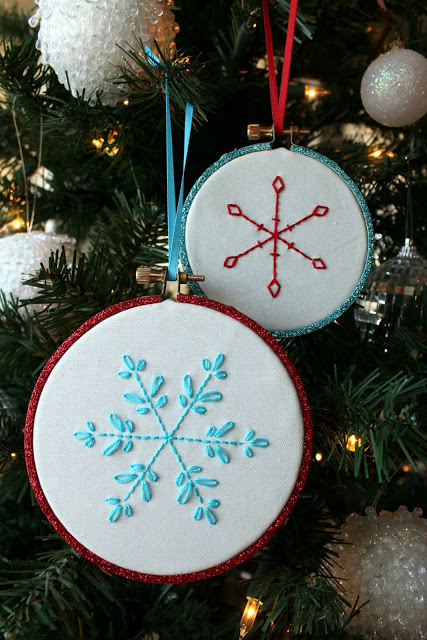 Hi 30 days readers! It's Allison from little lovelies. I have really been having fun sharing embroidery posts with you! So far, we have started with the basics, gone over the back stitch, chain stitch, and stem stitch. I hope you have all been practicing away, because I have a special treat for you!
In the spirit of the season, I created my first ever embroidery pattern to share with you! It's simple, but oh-so-pretty stitched up.  I used the back stitch for most of the stitching, and the chain stitch for the loops on the turquoise snowflake.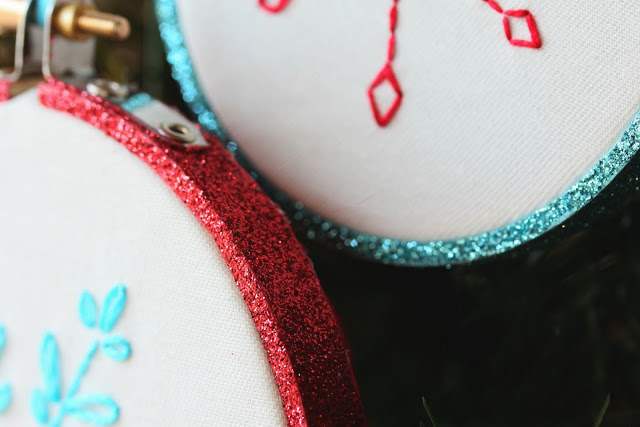 I painted the embroidery hoops with red and turquoise paint, and then covered them in glitter for a little extra shine.
Add some ribbon to hang them, and you have a perfect little ornament. One of my favorite things about this project is that since these are not exclusively Christmas themed, you can keep these out to display well into January. Mine will be out all winter. I just love them that much!
Here is the free pattern. Just copy or save the image, paste into the program of your choice (I used Word), and print. Trace using a light source and water soluble pen, and you are ready to stitch.
I hope you all enjoy the pattern and can find some precious free time in all the holiday chaos to get stitching. If you do, I would love for you to share!