Start with a simple project when you're teaching kids to hand sew! The step by step guide on how to do this with your own kids. There are many hand sewing projects for kids, this one is pretty easy for them to start with.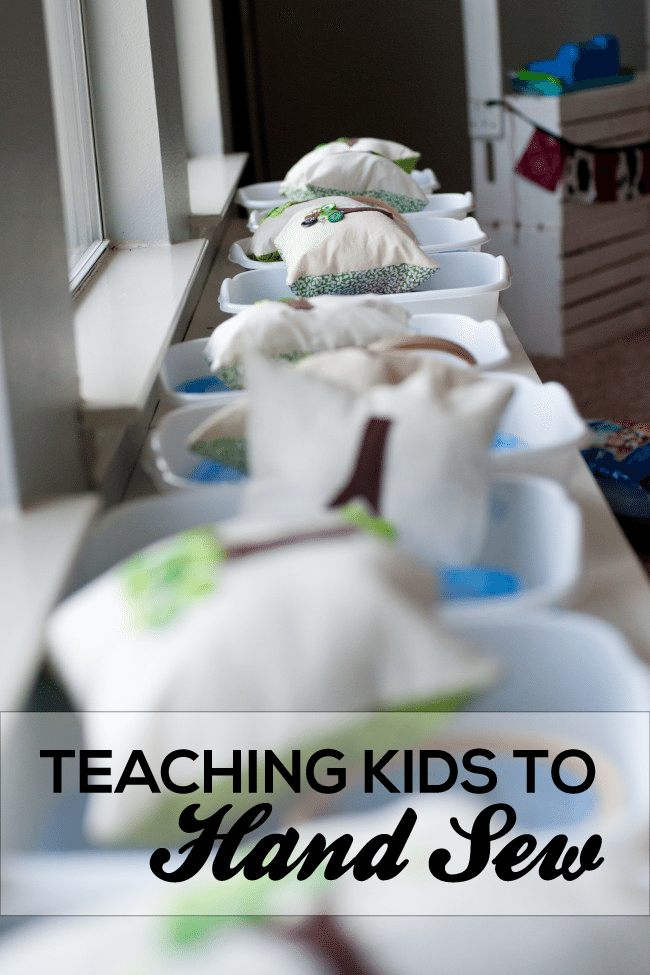 Last week I taught a three day Hand Sewing Camp to nine 6-10 year old girls (boys were invited too, but none signed up).  Each class was two hours long and covered a different hand sewing skill: sewing buttons, cross stitching, and simple embroidery. I hosted it mainly for selfish reasons—hand sewing is great for kids on road trips and long airplane rides, both of which we have planned this summer and I wanted my daughter to learn.
Hand Sewing
Each class was carefully planned out so that the projects wouldn't be too hard for the girls but would teach them enough that they would be able to go home and continue perfecting their skills.   I provided all of the supplies (the girls each had to bring a pair of scissors from home).
The girls received a white bin (we decorated this the first day) to keep all of their projects/supplies in, as well as a compartmentalized container for their needle, embroidery thread, fabric marker, and buttons. Both containers were purchased at Dollar Tree.
If you aren't interested in hosting a camp of your own, all of these ideas can be scaled down to teach just one or two kids as well.   Hand sewing is such a great, practical skill for children to learn, it's portable (think trips!), and is a fabulous boredom buster.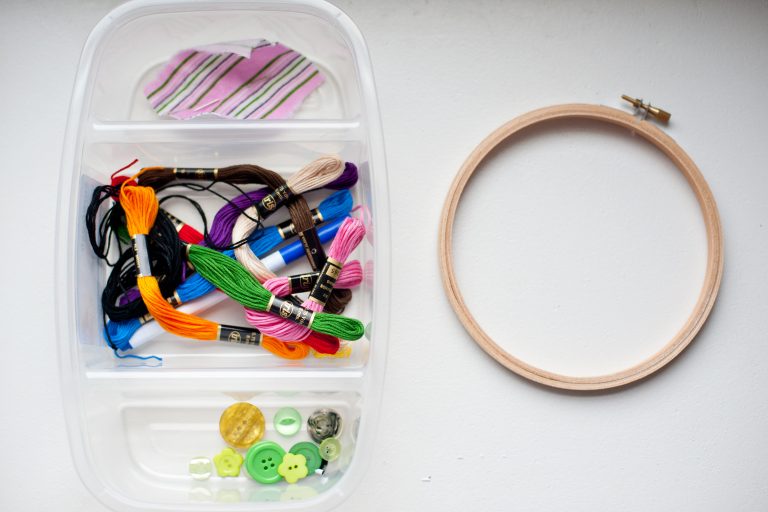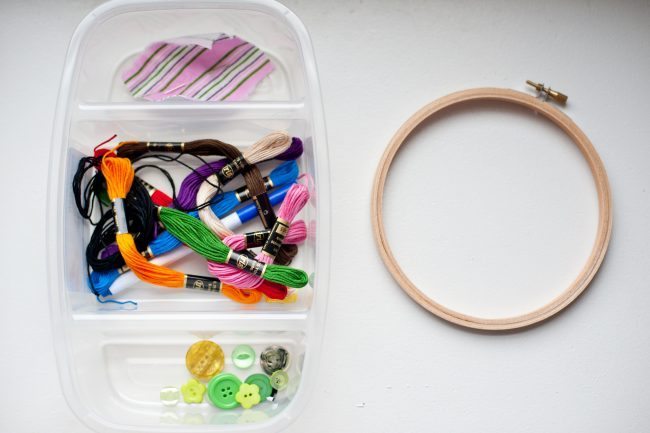 Supplies:  For each girl, the supplies were $10-$12.

How to Sew By Hand
Day One: Hand Sewing Button Trees
Day Two: Cross Stitching Hearts

Day Three:  Embroidered Tissue Holders

Hand Sewing Camp was such a great experience and tons of fun!  I encourage any parent who has been thinking about doing something like this to go for it!  If you feel like you aren't talented enough, remember that kids will have no idea whether you are an expert or not.
Last summer I held Art Camp at my home.  If you want to read more about the projects and lesson plans I created for that, head over to Vermillion Rules for the details!
Here are some more great hand sewing projects perfect for kids: