You are super mom.  It's true.  Don't click away. Don't shrug it off.  Or think that this post couldn't possibly apply to you.  I'm talking especially to you… the one that might be feeling the opposite.  You might not make Pinterest worthy parties, have kids with perfectly hand sewn clothing, and cute lunch box notes.  But you are the best cheerleader on the sidelines of the soccer game.  Or you might throw the best parties on the planet but aren't great at screaming from the sidelines.  No matter what, you are what your child needs.  And as long as you are trying a little harder to be a little better every day, you are a super mom.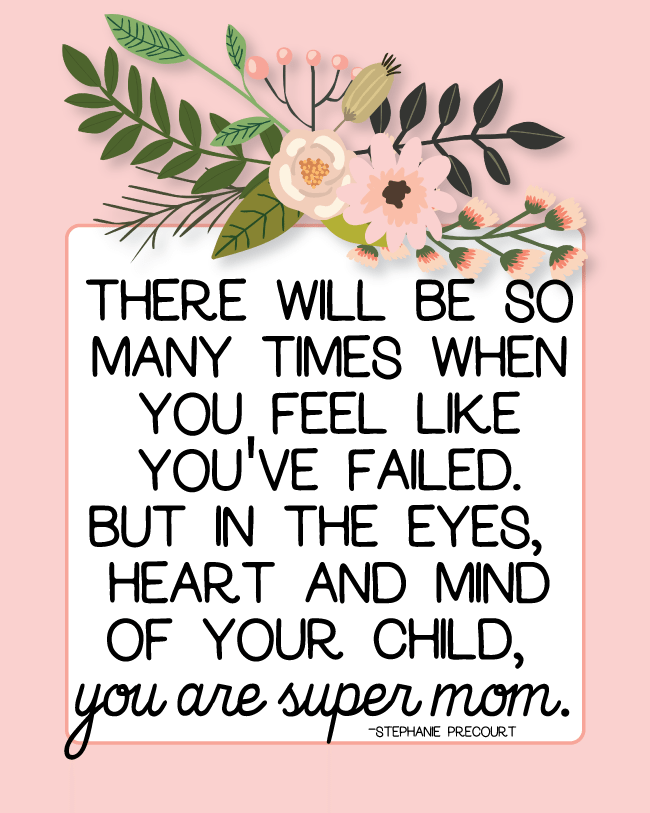 Download this 8×10 printable. For personal use only.  Thanks.
Truth: I'm sharing this to remind myself as I go through some immense challenges and decisions that I never thought I'd have to make, that I haven't failed.
This post is part of a series with 5 other Mother's Day related printables.  At the end, you will have 6 of your very own, amazingly cute, free printables.  Follow the instructions in my Instagram post today to complete the entire hop. Your next destination will be Lolly Jane's Instagram post. Happy hopping!
Printing Directions and Suggestions:
All prints can be printed from a home computer but please note due to the variety of home printers and ink options, the colors could be off just a tad. If you are printing on a home computer, printing on a heavy (80-100 lb) paper, like cardstock, will give you the best results. Note: Each print is 8X10 in size. To print from a home computer: Download the image by clicking on the Download Image link. Once downloaded, open up the file and click the print button, or, File>Print. Another option is to take it to a print shop, like Kinkos, FedEx or any local printer. To print your files with this option, you will need to download the file and save it to a thumb-drive, or many companies will let you upload the file to their website and complete the order right at home. Either way you choose to print your special gifts, they will add a beautiful touch to your home! When you have all 6 printables, let us know what you did with them by tagging us in any photos! We'd love to see your creativity!