Summertime can be really hard on our hair, especially when a lot of that time is revolved around swimming. Use these tips and summer hairstyles!
This post was shared by McKenzie of Girl Loves Glam for my Funner in the Summer Series.
Summer is just the best, isn't it? I am McKenzie from Girl Loves Glam, where I share glimpses into my life as a mom who is just trying to find the glamorous things in an everyday life. I enjoy sharing beauty tutorials and fun things that I do with my family!
It is no secret that chlorine is hard on skin and hair, but that doesn't mean that swimming needs to be completely avoided this summer! With the right hairstyles and products, you and your kids can enjoy the pool all summer long.
Summer Hairstyles
The absolute most important part about your hair while swimming is taking care of it! Wash your hair as soon as you are able to when you finish swimming. You don't want your hair marinating in that chlorine any longer than necessary. If you or your child is in chlorine more than 3 times a week, use a clarifying shampoo once a week. This basically strips out all of that extra stuff off of the hair, but is too extreme of a shampoo to use on a daily basis. Use a shampoo that is great for moisture on an everyday basis. The combination of sun and chlorine can really dry out your hair! Always, always use conditioner! There are many conditioners out there that are specifically made for swimmers, but if you aren't interested in investing in one of those just purchase a good moisturizing conditioner.
Letting hair air dry is one of the best things you can do for your hair this summer. With the sun beating down on your hair all day, the last thing it needs is more heat added to it. Put serum in your hair and let it dry. Try to find some great hairstyles that can work well with air dried hair. Some of my favorites are maiden braids and a headband tuck. They are easy to do and don't even look like your hair has air dried!
Both of these hairstyles can easily be worn on both women and children too! They make great beach day options as well.
Another way to keep your hair healthy while swimming is to style it well. This may sound silly, but I have seen too many moms have to pull out their child's hair when their goggles get stuck in it! Lots of tangles can easily be avoided if the hair is pulled back correctly from the beginning. You don't even have to make the sacrifice of wearing a swimming cap! Some of our favorites are simple french braid pigtails and twisted ponytails. They don't take very much effort to do, but they can save you and your family from a lot of headaches!
If your hair is pulled back from the beginning, you won't have to worry about it getting in the way of swimming lessons or any of your summer fun either!
Now you may be concerned about using all of those elastics while swimming, but there is an easy trick for that too! If you use plastic elastics, they can be removed really easily by cutting them with seam rippers! It is by far our favorite hair hack to use!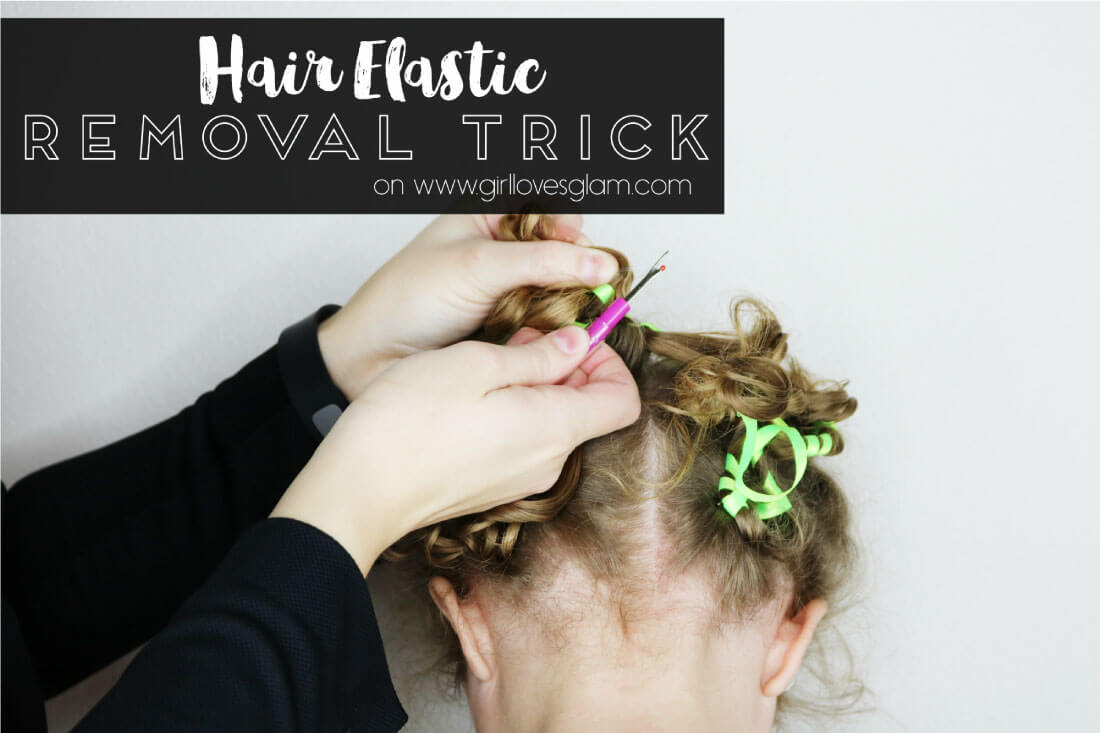 When you have protected your hair and done what you can to avoid swimming hair drama, you can enjoy your summer swimming a lot more! Enjoy the rest of these summer days out in the sun!