This post is in partnership with Minute Maid.  I am beyond thrilled to work with a company I absolutely love and believe in!
After the excitement of Halloween in our home, I look forward to Thanksgiving.  We eat good food, reflect on what we're grateful for and enjoy time as a family.  I admit that I don't normally go all out with decorations but this year I thought it'd be nice to jazz things up a bit and designed some Thanksgiving printables.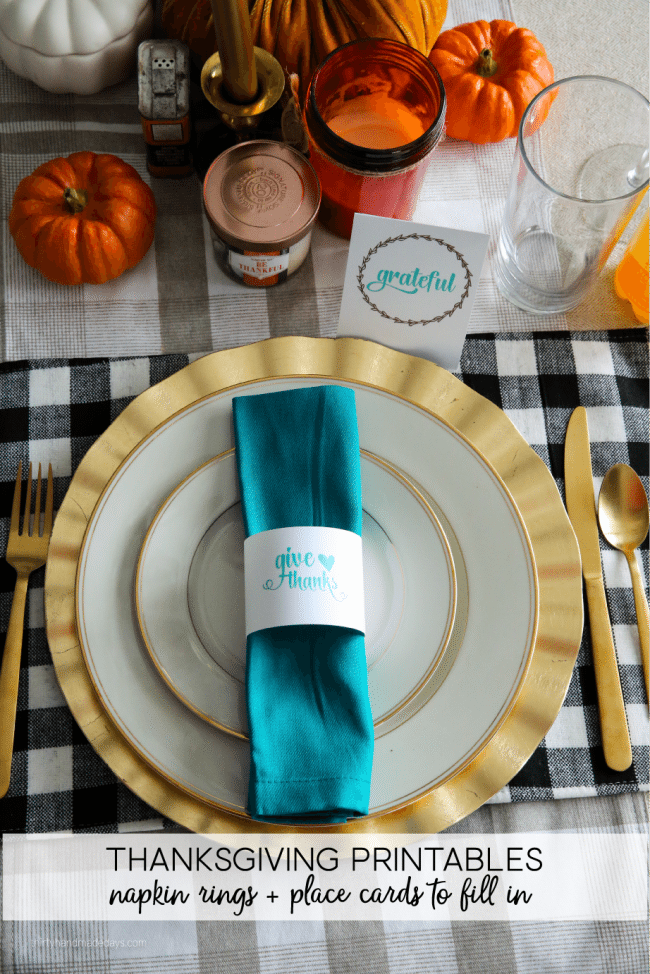 18+ years ago for our wedding, Josh and I received 12 china place settings (!!!).  It wasn't until recently when he asked (again) why we had held onto them all of these years.  I took that as a challenge and brought them out to dress up our dining room table.  I had fun gathering fall colors and making it look pretty.  While I don't love the scary stuff that Halloween brings, I do love the pumpkins that easily cross into Thanksgiving and can be used all throughout the fall.  This all set the mood for our Thanksgiving table.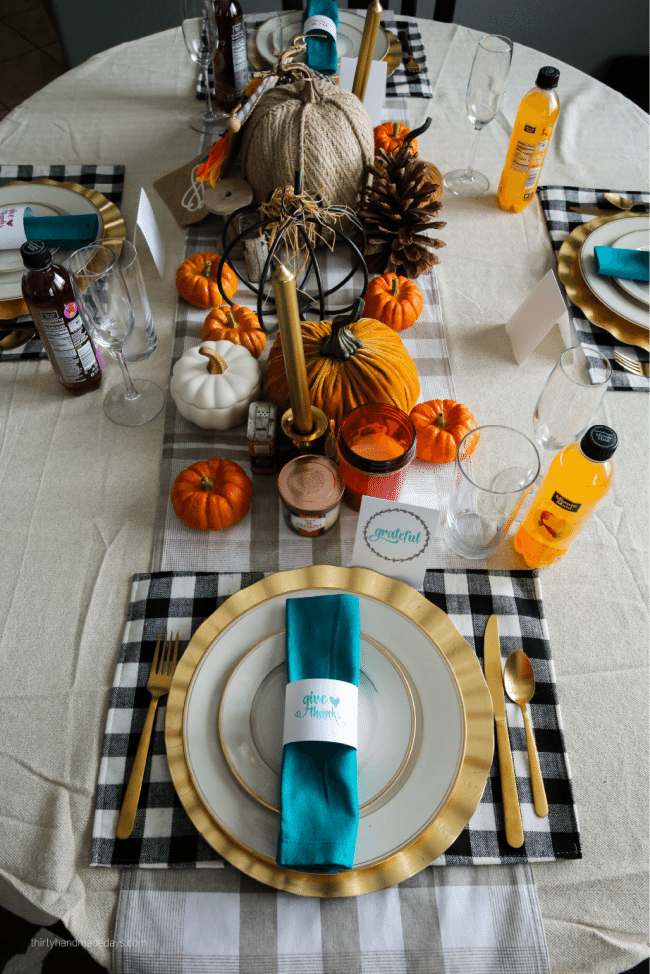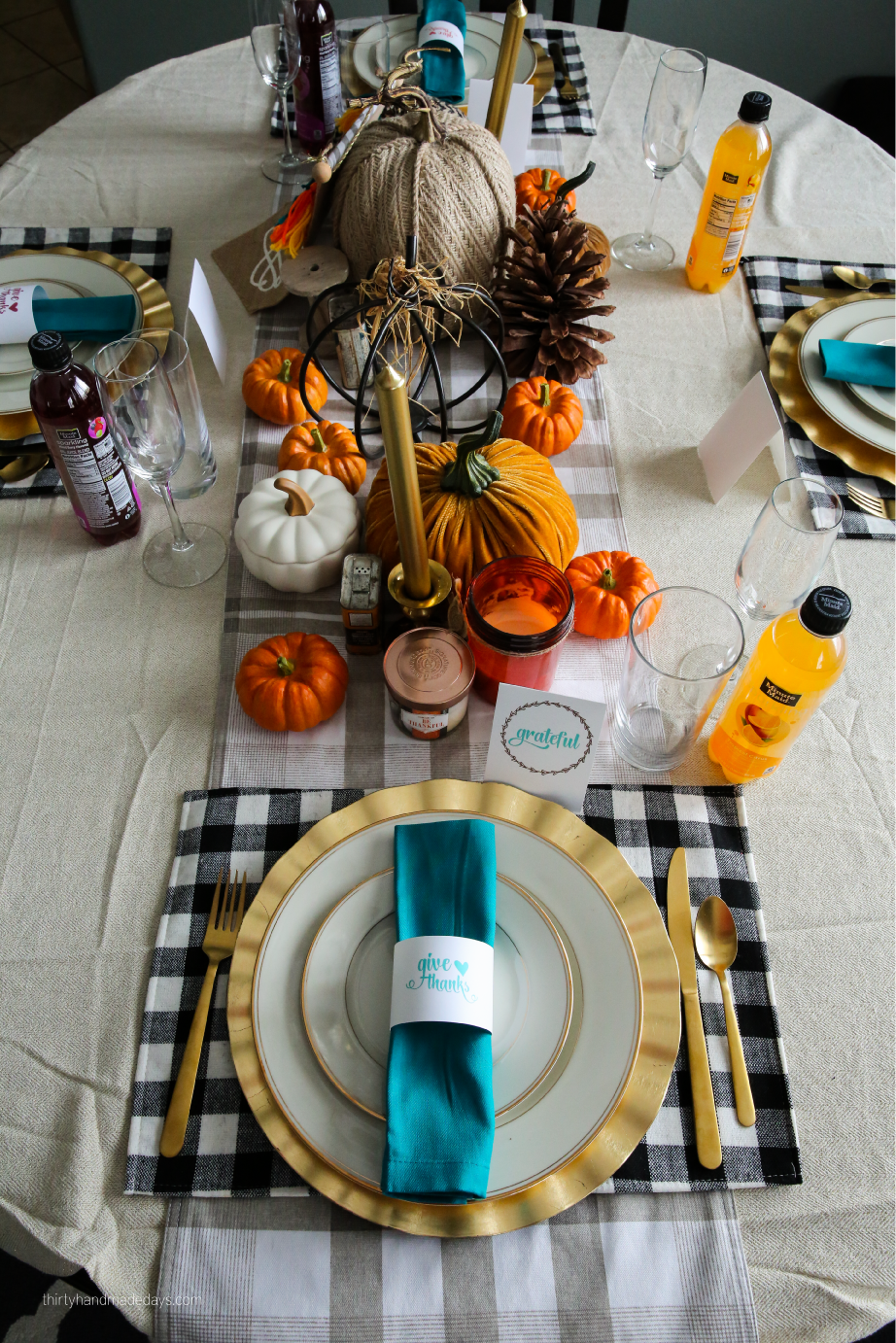 There have been a lot of highs and lows over the past year but above all else, I am so appreciative of the people I share my life with.  My friends, extended family, and especially my kids.  They teach me every single day.  I might fall short (A LOT), but somehow they manage to forgive me and love me anyway.  This parenting gig is no joke.  It can be physically and emotionally challenging – especially during the holidays! And yet, I wouldn't trade it for the world. It's this time of year that has me reflecting on the job I'm doing as a parent and appreciating those around me who lift me up.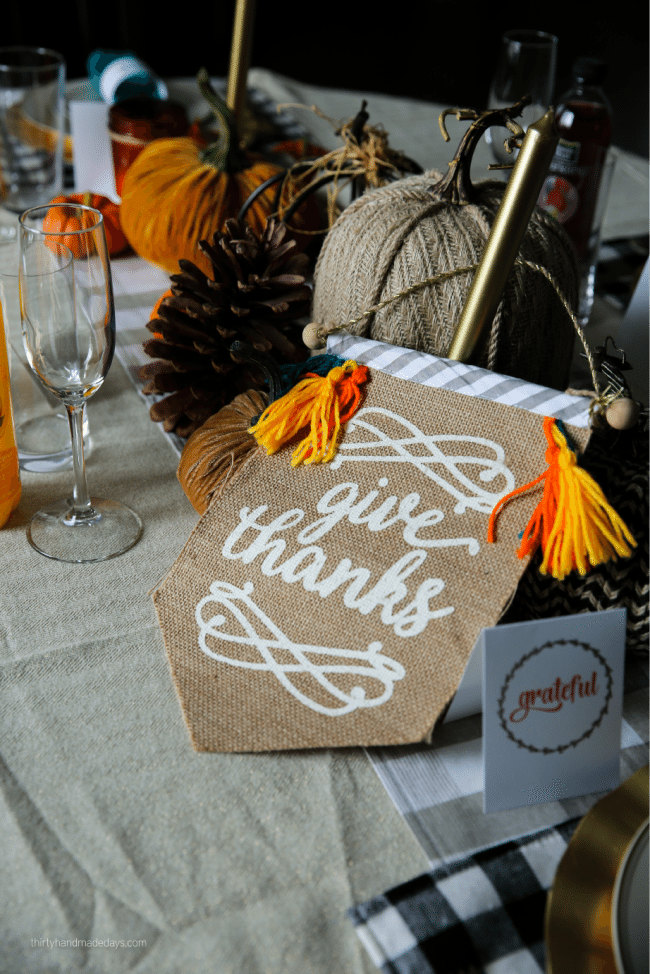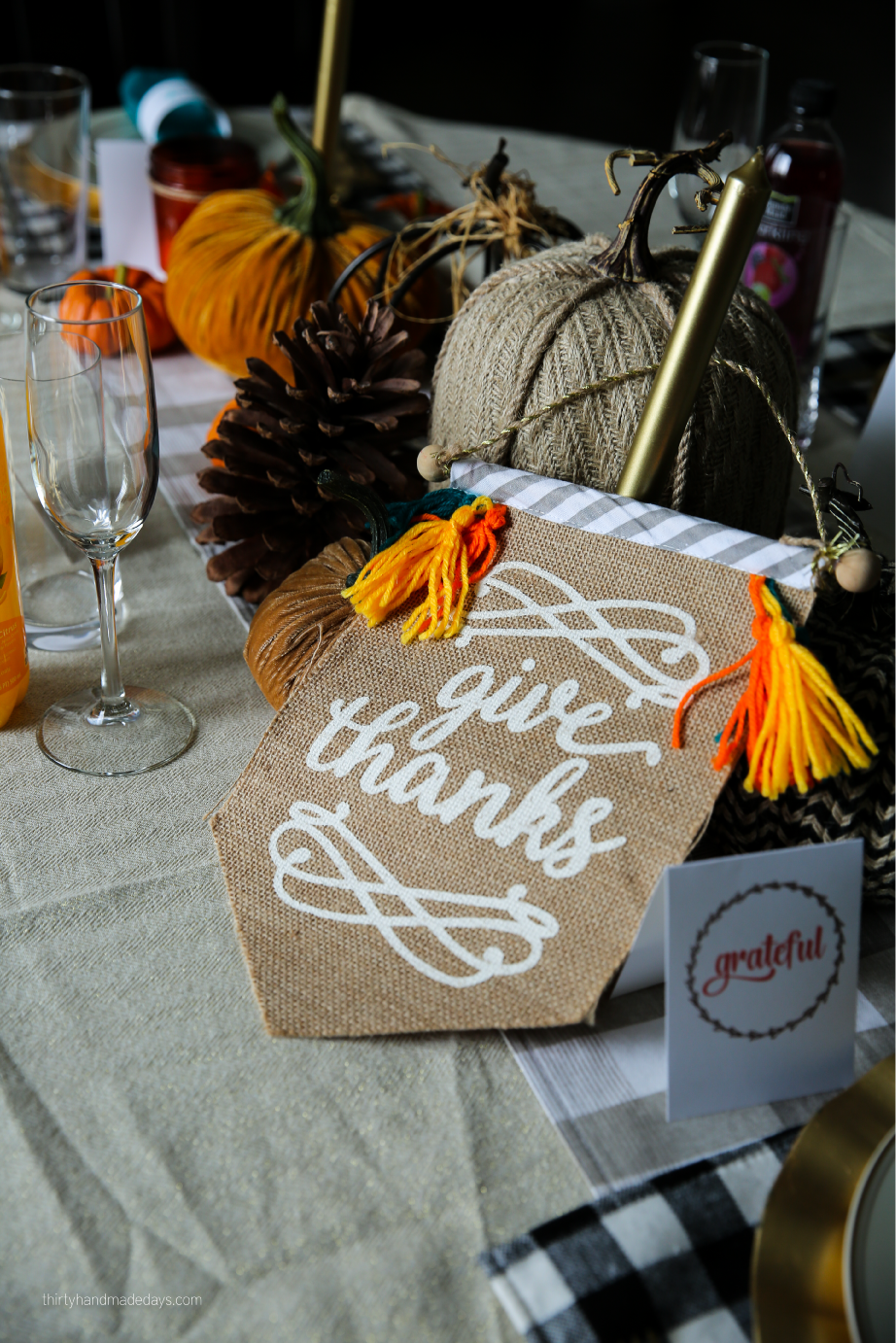 I've had the joy of working with Minute Maid on their #doingood campaign. I absolutely love everything that it stands for – Minute Maid is reminding parents of all the wonderful things they do to make a positive difference in their children's lives on a regular basis.  But it's more than that really. It's about spreading good to everyone around you – uplifting others who might need a reminder that they are in fact doing a much better job than they might think.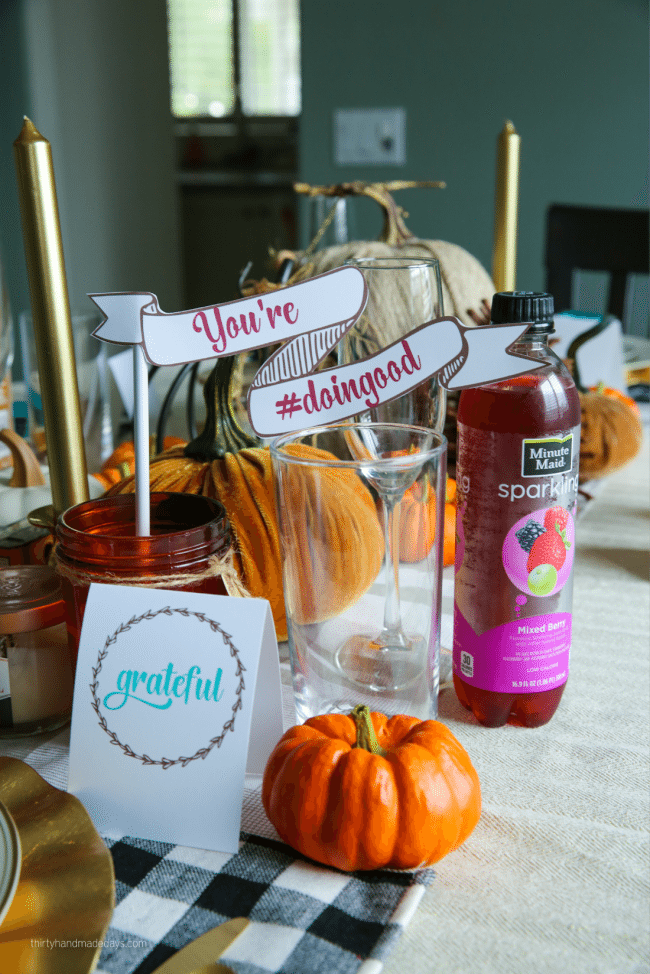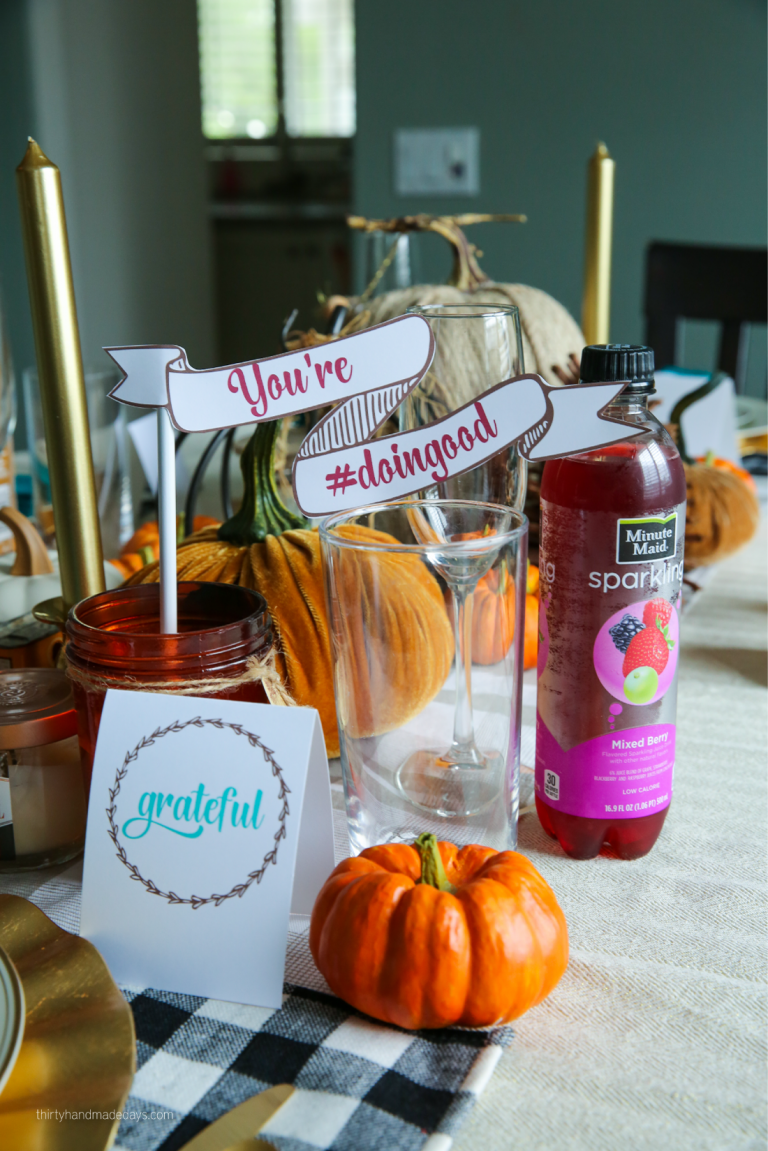 Is there a better time to tell those around you that you love, appreciate and acknowledge how awesome they are doing as a parent than Thanksgiving? I mean, any time is a good time but Thanksgiving just puts an exclamation point on it.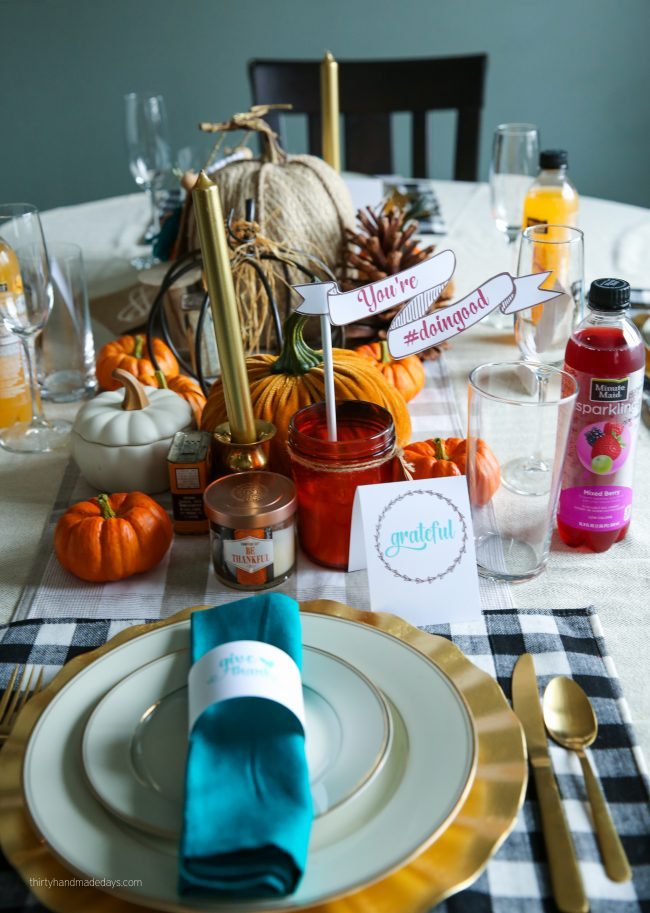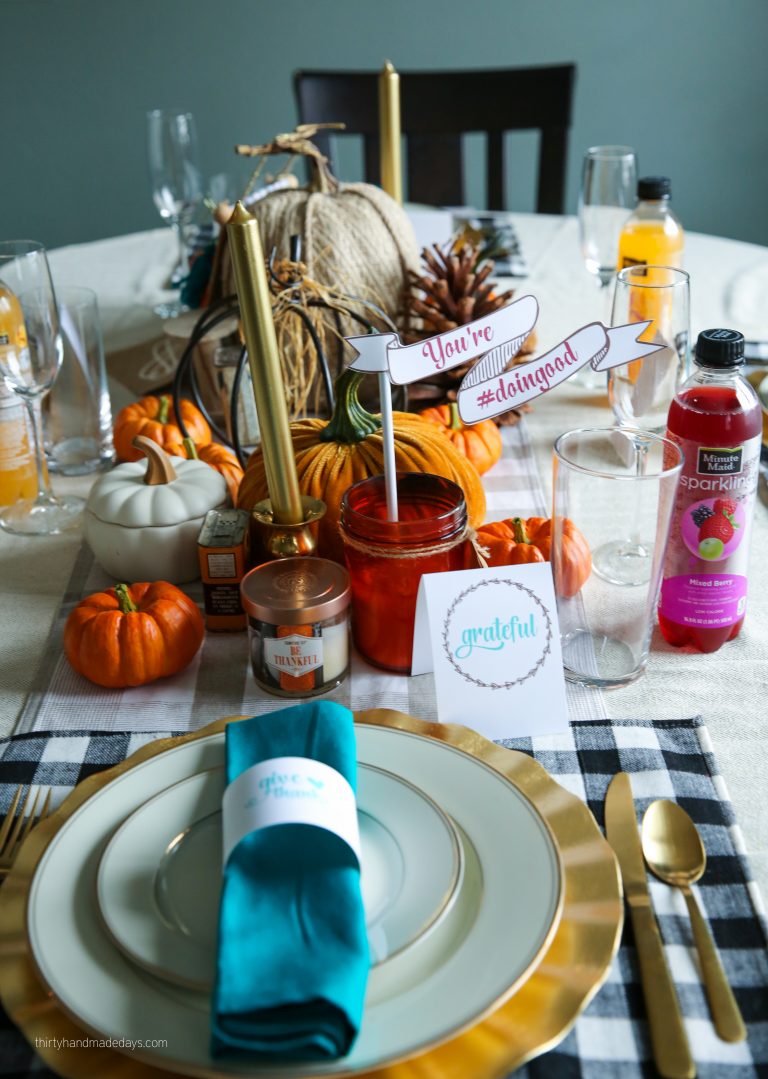 With the Thanksgiving printables I created, you can download, print and decorate your table and remind those around you of the wonderful job they are doing as a parent this holiday season.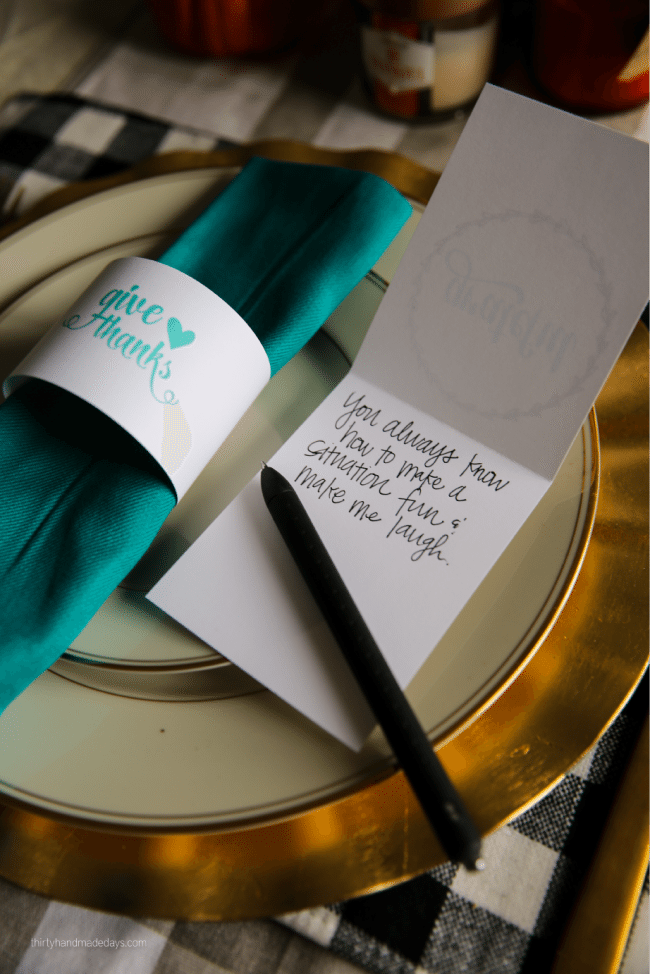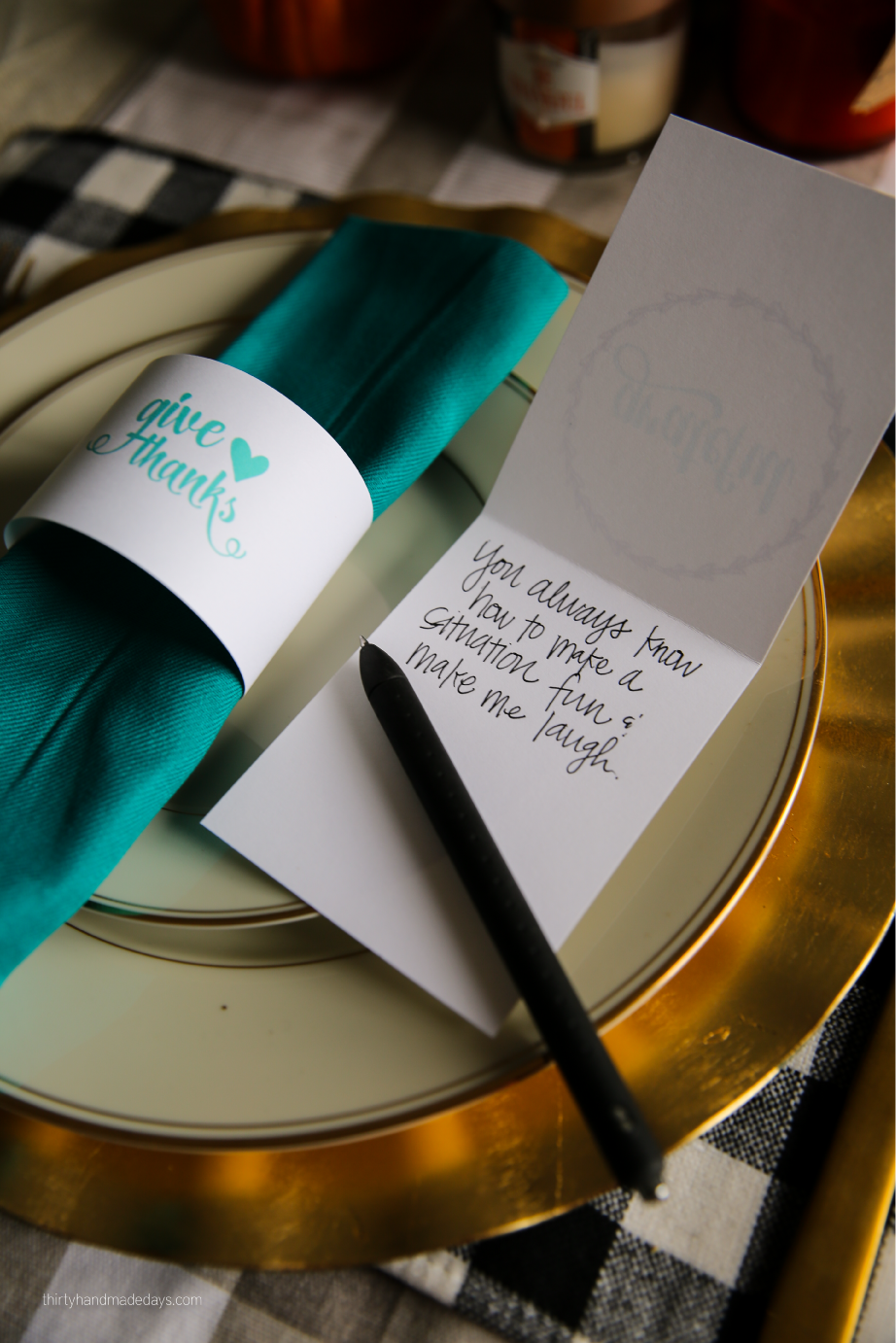 For the place cards, my hope is that you will encourage your children and family members to write down the things that they appreciate about each other. A #doingood message from your son or daughter to their dad, an aunt, or grandfather would be the greatest gift to make their day!
>>>DOWNLOAD THANKSGIVING PRINTABLES HERE.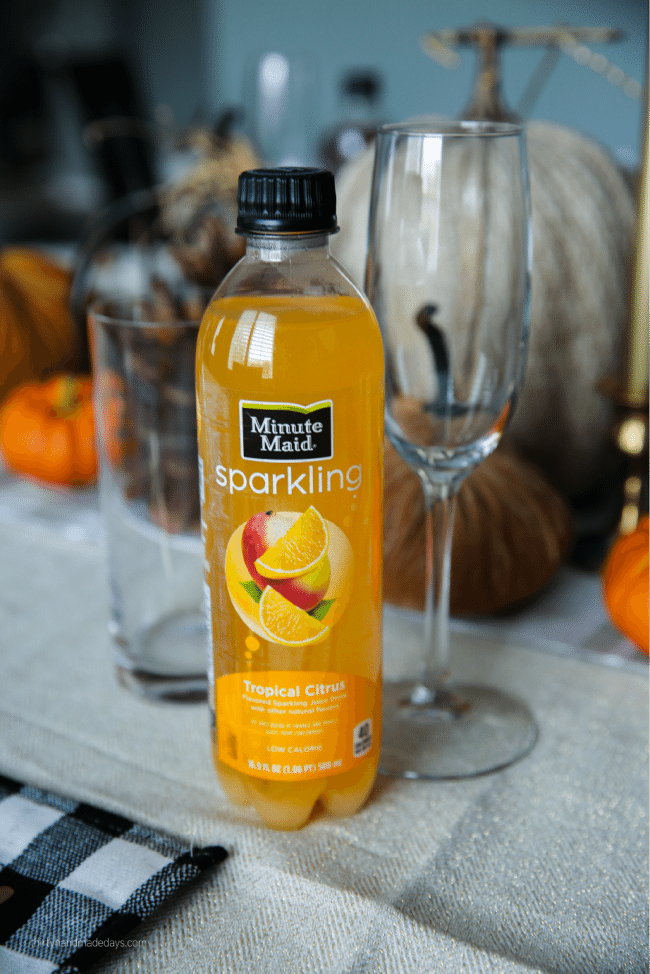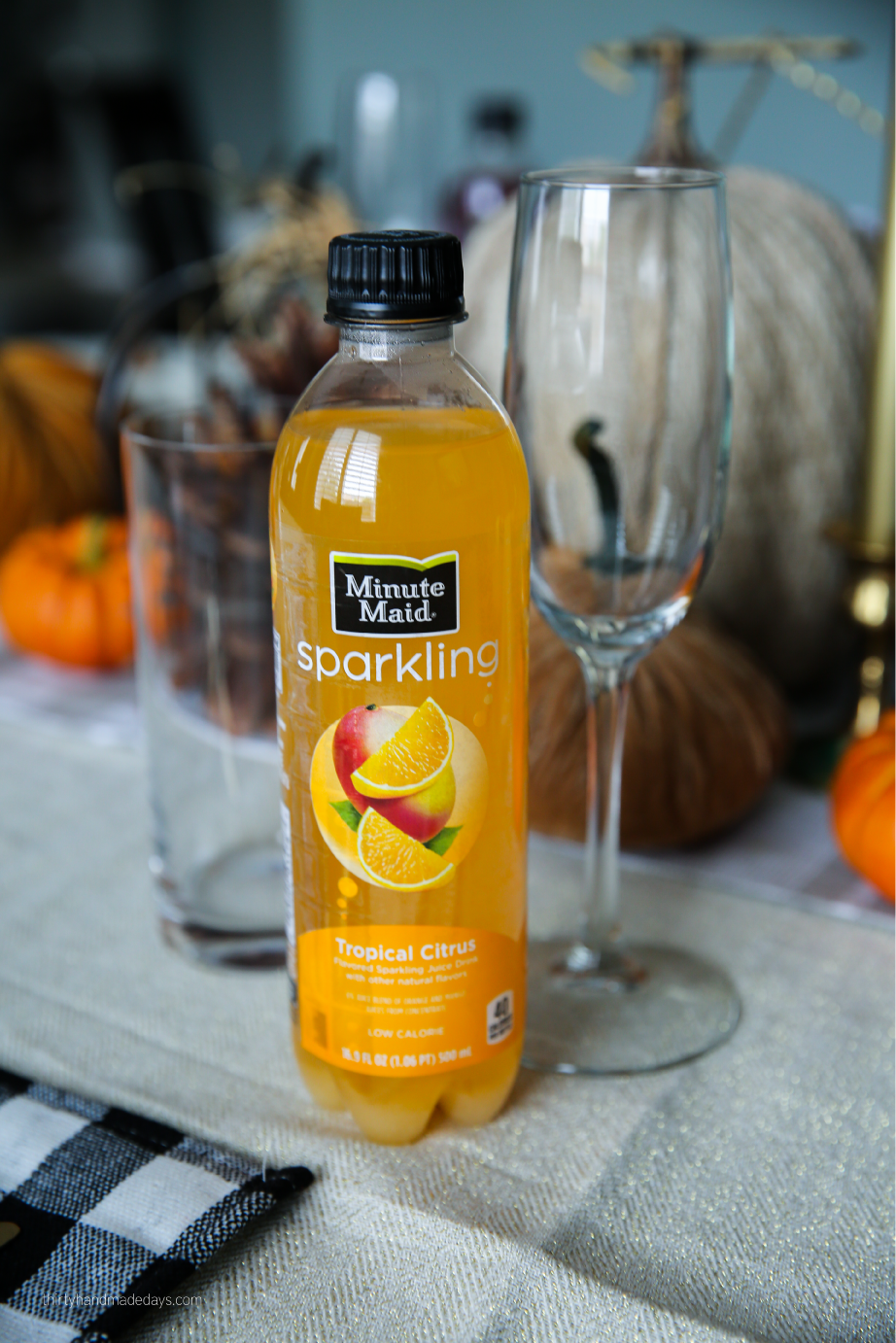 This is the perfect time of year to spread joy and Minute Maid wants to inspire you to celebrate the perfect imperfections that make the holidays special with your family. And to also celebrate and recognize others who are #doingood. Just share ideas and inspiration on how you plan to celebrate great parenting and recognize others who are #doingood during the holidays on Pinterest for a chance to win a Minute Maid holiday prize pack. (approx $500 retail value!). 
Create a Pinterest board and name it "Minute Maid #doingoodcontest"
Pin ideas and inspiration to celebrate and recognize great parenting and family moments for the holidays
Post a link of your Pinterest board in the comments below and include the hashtag #doingood


Make sure to follow along with Minute Maid and all they are doing:

OFFICIAL RULES:
Enter to Win a Minute Maid Prize Pack! (the "Promotion") is governed by the following Official Rules. By
submitting an entry, Participants agree to the terms of these Official Rules.  Participants in this Promotion must be legal U.S. residents, 18 years or older, and accessing this site in the United States, its territories, possessions, or commonwealths. This Promotion is void where prohibited.  By submitting an entry, Participants further agree that these Official Rules will be construed and evaluated according to the laws of the United States.  The Promotion will begin on Nov 1st at 12am PST and run through Dec 8th, 2016 at 11:59pm PST.
No purchase necessary.
Each Participant must be a natural person, and each Participant is limited to a single email address, Facebook account, and/or other accounts used for entry. Multiple Participants are not permitted to share the same email address, Facebook account, and/or other accounts used for entry. Any incorrect or incomplete entry is void. 
The prize Winner will receive:
(1) Minute Maid Prize Pack (approx $500 value)
The Approximate Retail Value (ARV) of the Prize is $500 ($500).
Odds of winning will vary depending upon the number of entries submitted.
The specifics of all aforementioned elements of the prize are solely determined by Sponsor. All costs, taxes, fees, and expenses associated with any element of the prize not specifically addressed above are the
sole responsibility of the respective Winner. All federal, state and local taxes on prizes are the prize Winner's responsibility.
Prize cannot be transferred, substituted, or redeemed for cash except at Sponsor's sole discretion. Sponsor reserves the right to substitute the prize, or portions thereof, with a prize of equal or greater value. 
The prize Winner will be selected in a random drawing from all eligible Participants conducted on the Sponsor's behalf.  If Sponsor is unable to contact the prospective winner or winners within three (3) days from first notification attempt, if the prospective winner or winners fail to complete and return all requested forms
by the specified date, or if the prospective winner fails to comply with any of the requirements, his/her prize will be forfeited and an alternate prospective winner will be selected. By entering into the
Promotion, all Participants consent to the use of their name, photograph, likeness, biography, voice and/or video for advertising and promotional purposes, including online announcements, worldwide and without
limitation and without additional compensation, except where prohibited by law.
When Participants submit their entries, they may be asked to consent to receive promotional emails and reminders from or about the Sponsor. If you do consent to receive those emails, the use of that personal information, and all personal information submitted, will be subject
to the privacy policy of the Sponsor, located at: https://www.thirtyhandmadedays.com/disclosure/. 
This Promotion is governed by United States law, is subject to the laws and regulations of the 50 States, of the District of Columbia, and of the Federal Government, and is void where prohibited. In the event of a dispute arising out of this Promotion, the Participant agrees that the law of California will govern and specifically consents to personal jurisdiction over any such dispute in California. Any claims, judgments, or awards will be limited to actual costs associated with entering this promotion. The Participant hereby waives any rights or claims to attorney's fees and indirect, special, punitive, incidental, or consequential damages of the Participant, identifiable persons, or third parties, whether foreseeable or not and whether based on negligence or otherwise.
The Sponsor and other participating vendors (collectively with Sponsor, the "Promotion Entities"), their respective affiliates, subsidiaries, parent, advertising and promotion agencies, and their respective officers, directors, shareholders, employees and agents, and any and all Internet servers and access provider(s) are not responsible for: any incorrect or inaccurate entry information; human error; technical malfunctions; failures, omissions, interruptions, deletions, or defects of any telephone networks, computer online systems, computer equipment, server providers, or software, including any injury or damage to Participant's or any other person's computer relating to or resulting from participation in this Promotion; inability to access the Website; theft, tampering, destruction, or unauthorized access to, or alteration of entries; transactions that are processed late or incorrectly, or are incomplete or lost due to computer or electronic malfunctions or traffic congestion on the Internet or at any web site; printing or human or other errors; and any entries which are late, lost, incomplete, misdirected, stolen, or any combination thereof. Online submission is not considered proof of delivery or receipt. All entries become the property of Sponsor and will not be returned.
By entering, all Participants also agree to release, discharge, indemnify and hold harmless the Promotion Entities and their respective parent companies, subsidiaries, their respective representatives and agents, advertising and promotion agencies, promotion partners and prize suppliers, and all of their respective affiliated companies, employees, officers, directors and shareholders, from and against all claims and damages or liability arising in connection with each Participant's participation and/or entry in the Promotion and/or their receipt or use of any prize awarded in this Promotion or due to any injuries, damages or losses to any person (including death) or property of any kind resulting in whole or in part, directly or indirectly, from acceptance, possession, misuse or use of any prize or participation in any promotion-related activity or participation in this Promotion. Any and all warranties and guarantees are subject to the respective manufacturer's terms. Participants further understand and agree that all rights under Section 1542 of the Civil Code of California ("Section 1542") and any similar law of any state or territory of the United States that may be applicable with respect to the foregoing release are hereby expressly and forever waived. Participants acknowledge that Section 1542 provides that:
A general release does not extend to claims which the creditor does not know or suspect to exist in his or her favor at the time of executing the release, which, if known by him or her must have materially affected his or her settlement with the debtor.
The releases hereunder are intended to apply to all claims not known or suspected to exist with the intent of waiving the effect of laws requiring the intent to release future unknown claims.
In the event any Participant suspects that a technical error has occurred, believes their entry was not properly submitted, or has other questions about this Promotion and its administration, the Sponsor can
be contacted at: info@thirtyhandmadedays.com.
This prize was provided by The Coca-Cola Company. The Coca-Cola Company is not a sponsor, administrator or connected in any other way with this [program].