After years of putting it off, I finally decided to share my story as an autism momma. If this is your first time reading, start here. Unfortunately with a server crash last week, all of my comments were lost from the last six weeks. :( I am most sad about that for this series. The comments have been amaaaaazing! Thank you! I'd love to hear more from you, comment away or email me.
….back in the day when Josh and I were dating (loooong ago)….we talked all about what our kids would be like.  We both envisioned six kids, each two years apart.  That was obviously well before we had one. 
After we had JJ, we knew we would have more.  Julia arrived, perfectly timed- two years and two weeks after J.  But after Julia came and autism came into our every day vocabulary, I seriously questioned whether we would be able to have even one more child. 
As J got older and therapy and school became a daily routine, we started talking more and more about having another baby.  I was very reluctant. Josh, not so much.  Still, what comes naturally to a lot of families, was a huge struggle for us.   I felt like we were running out of time as Julia was almost four.   We never wanted to have a big age gap.  But someone had other plans. ;)
Eventually we decided to take a leap of faith and have another baby.  And even though I was excited, I was still really nervous. 
Nine months later we welcomed a screaming baby boy into our family.   Though it definitely took some time to adjust, (I think three is an adjustment for everyone) we settled in as a family of five.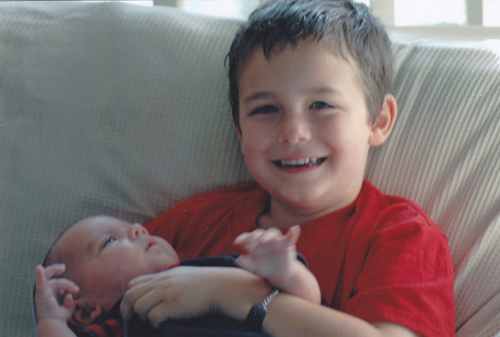 Now thinking of life without our baby (who will be five in a couple months) seems impossible.  He fits the baby role so perfectly.  He's hilarious, fun, smart, and four going on fourteen.  Drew brings something different to our family that was missing.  All three of my kids  brings joy to my life in ways I never imagined.  Our family of five is complete.