I get asked a lot of questions about my printables and designs. I wish that I could respond to each and every question but there's just not enough time in the day! I do answer questions quicker over on my Facebook page so visit me over there.  But I wanted to address some of the things that I get asked over and over — the main thing is about fonts. (and printers – but I'll save that for another day)  It's pretty clear that I'm obsessed with fonts.  Most of the ones I use on a regular basis are free fonts.  I do have several that I've paid for and use over and over as well.  Today I'm focusing on the free stuff.    Here are the top fonts that I use every day: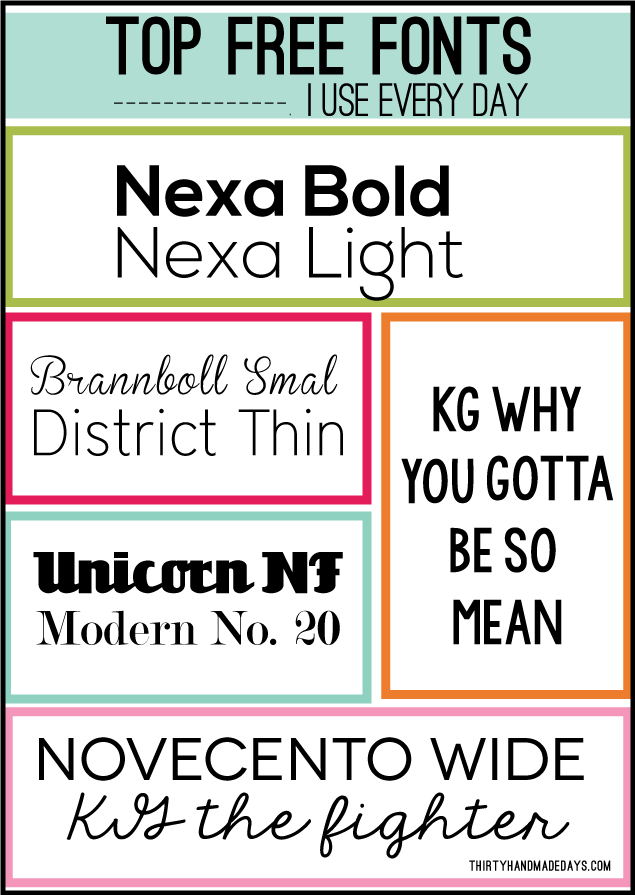 Nexa Bold || Nexa Light || Brannboll Smal || District Thin || KG Why You Gotta Be So Mean || Unicorn NF || Modern No. 20 || Novecento Wide || KG the Fighter
Now they might look different because I add color and do design-y (yes that's a word) type things to them.  I use Illustrator for design and Photoshop for images.  I mainly taught myself with a few short online classes here and there.
As with all fonts, there is a risk in downloading.  Sometimes fonts contain viruses.  So I want you to be aware of that.  For me, it's never been a problem because I have a Mac (big puffy heart love my Mac) and most Mac's don't have issues with viruses.
Not sure how to download a font?  There's a great post here from the Graphics Fairy for a PC and for a Mac on Stories A to Z.
And what do you do with fonts?  I design all the live long day using fonts.  They are a big deal to me.   But you can do whatever you like with them.  Learn how to pair them here:

How to pair fonts together
And here are some other favorites:
Click on the image to be taken to the post.