This post is in partnership with Coca-Cola.  I am beyond thrilled to work with a company I absolutely love and believe in!
With the holidays fast approaching, gift giving is on the forefront of everyone's mind.  Instead of giving the same old coffee mug or apple ornament, why not give something meaningful like this Treat of the Month Club idea?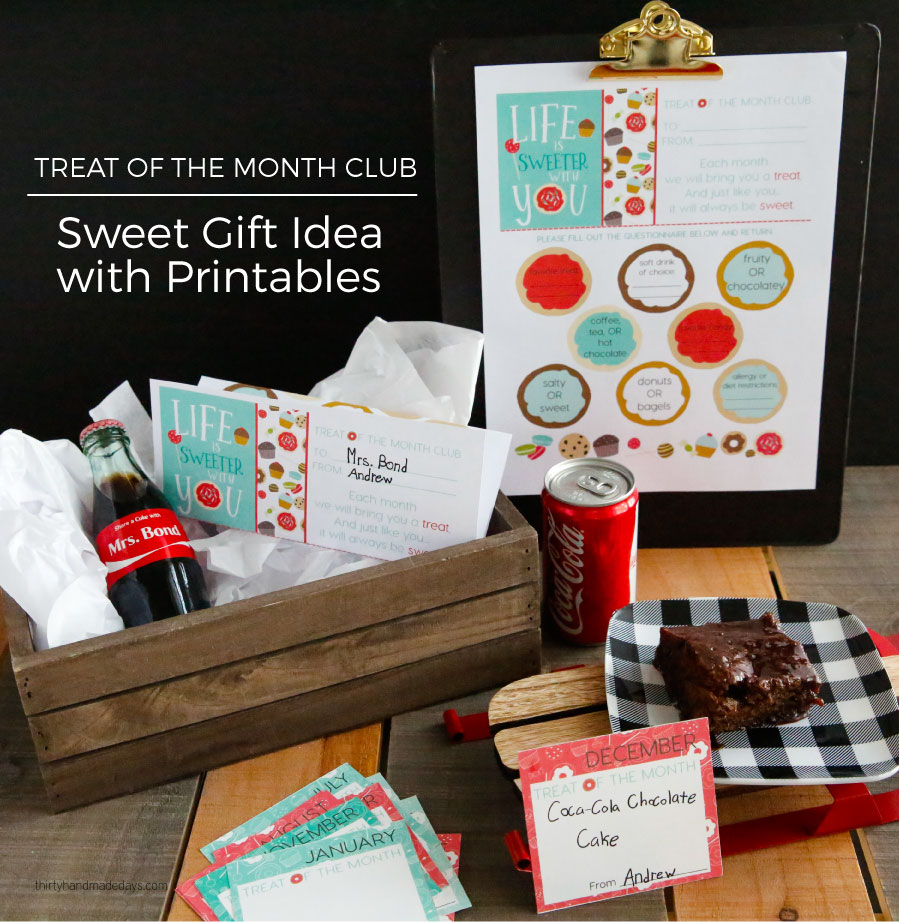 When I was a little girl I wanted to be a 4th grade teacher.  It was right in between the little little kids and the big kids and I thought the perfect age.  I liked the idea that I could spend time with kids and help them learn about all different things.  And then I got older and realized that I probably didn't have the patience that was required to be a teacher.  But my love for teachers has remained the same.  Teachers made a big impact on my life.  Mrs. Massip was my favorite and I still find myself singing songs that she taught us in third grade.
Since having my own kids, we have been blessed with some amazing teachers over the years.  My oldest, JJ, has had a lot of teachers and aides who have made an incredible difference not only in his life, but in all of our family members.  He has learned and progressed immensely because of their work to think outside of the box, patience, kindness and caring in general.  My other two kids have had teachers who encouraged them to do their best and to work hard while having fun.  We have been so fortunate by these teachers who put in countless hours and shape kids lives.
In partnership with Coke, I wanted to recognize these unsung heroes – the teachers.  Coke wants to make this season special by spotlighting people that don't often get recognized for all of the good they do.  There are so many people around us that go the extra mile during this stressful and busy holiday season.  Let's celebrate them!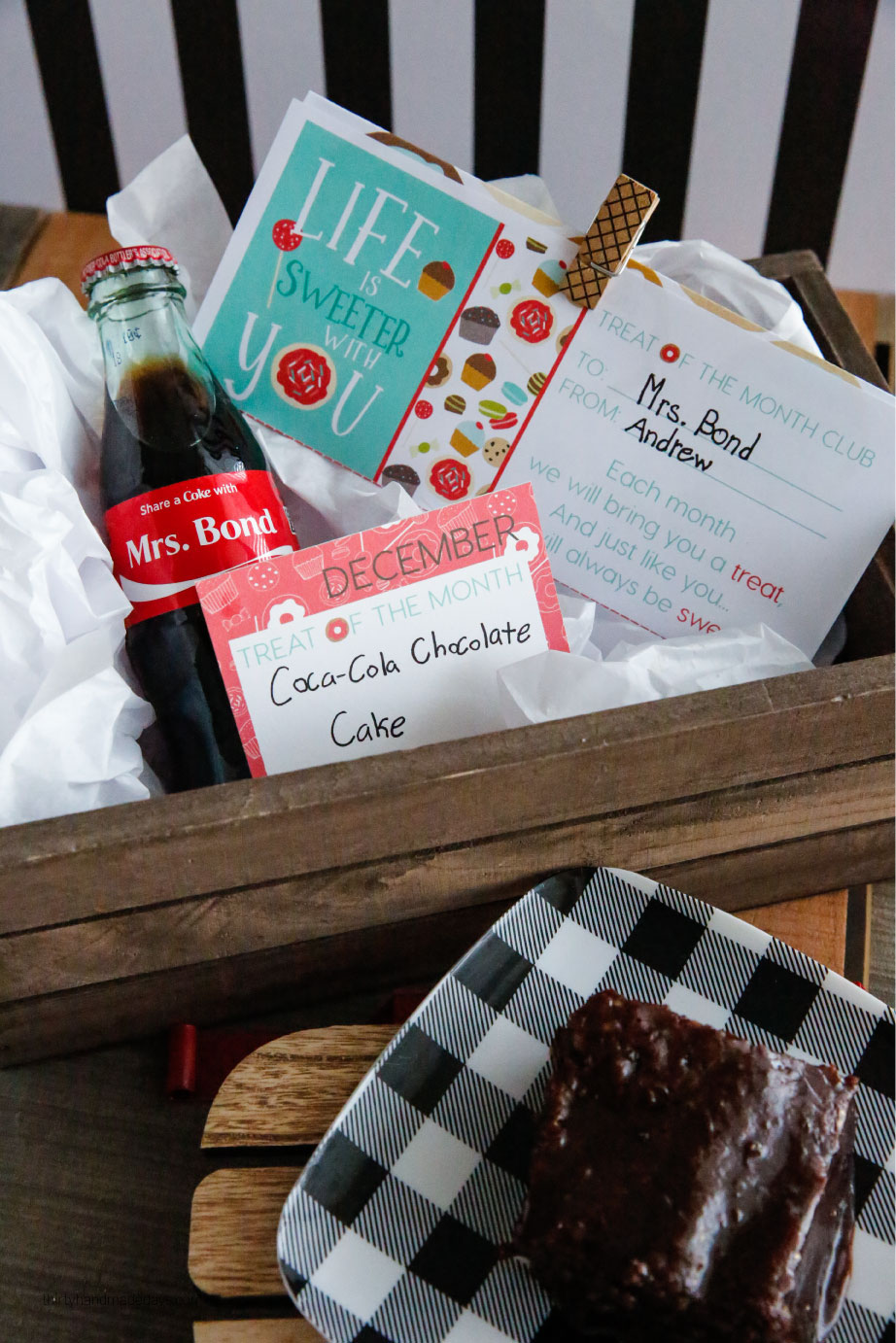 In the 13 years that we've had teachers, I've tried to make our gratitude known by volunteering, donating and telling them how much we appreciate them.  A couple of years ago I came up with the idea of Dessert of the Month Club.  Instead of just giving one gift at the holidays, we gave a card to celebrate them throughout the year.  It has become a tradition that my kids look forward to.  Every month we make treats of some kind and deliver them to the teachers.  To put this together for the teachers in your life, here's what you'll need: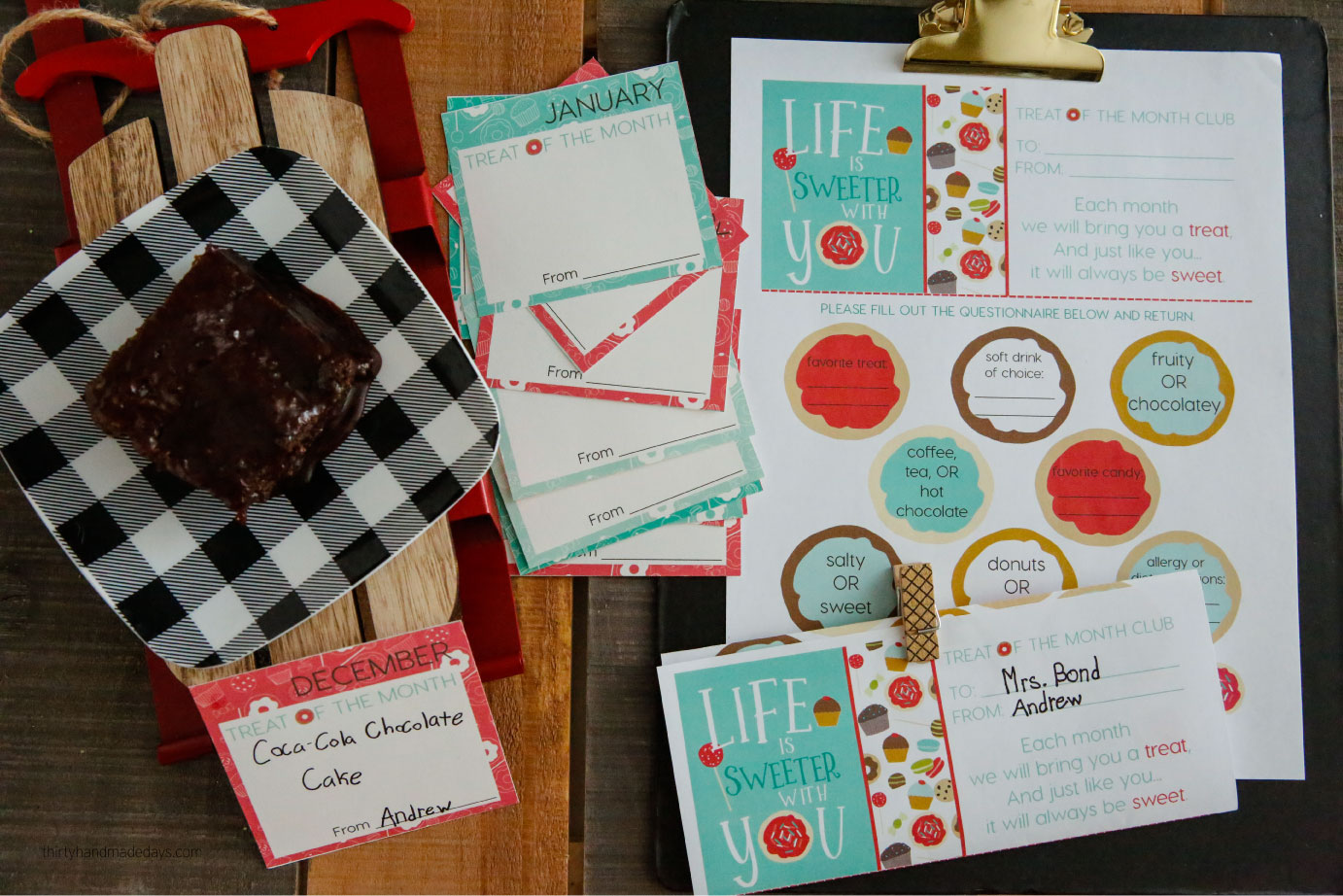 A treat to share for the holidays to go with this gift  – recipe for Coca-Cola Chocolate Cake below!
#ShareaCoke bottle with teachers names on it – You can order special personalized #ShareaCoke glass bottles for loved ones this holiday season using this special discount code on ShareaCoke.com!   Use the code CYBERMONDAY.
Want to try this amazing cake for your first treat? It has been around for a long time and been made a number of ways.  This is the recipe that I used if you want something suuuuuper delicious to make for the holidays.  It's perfect for the Treat of the Month Club!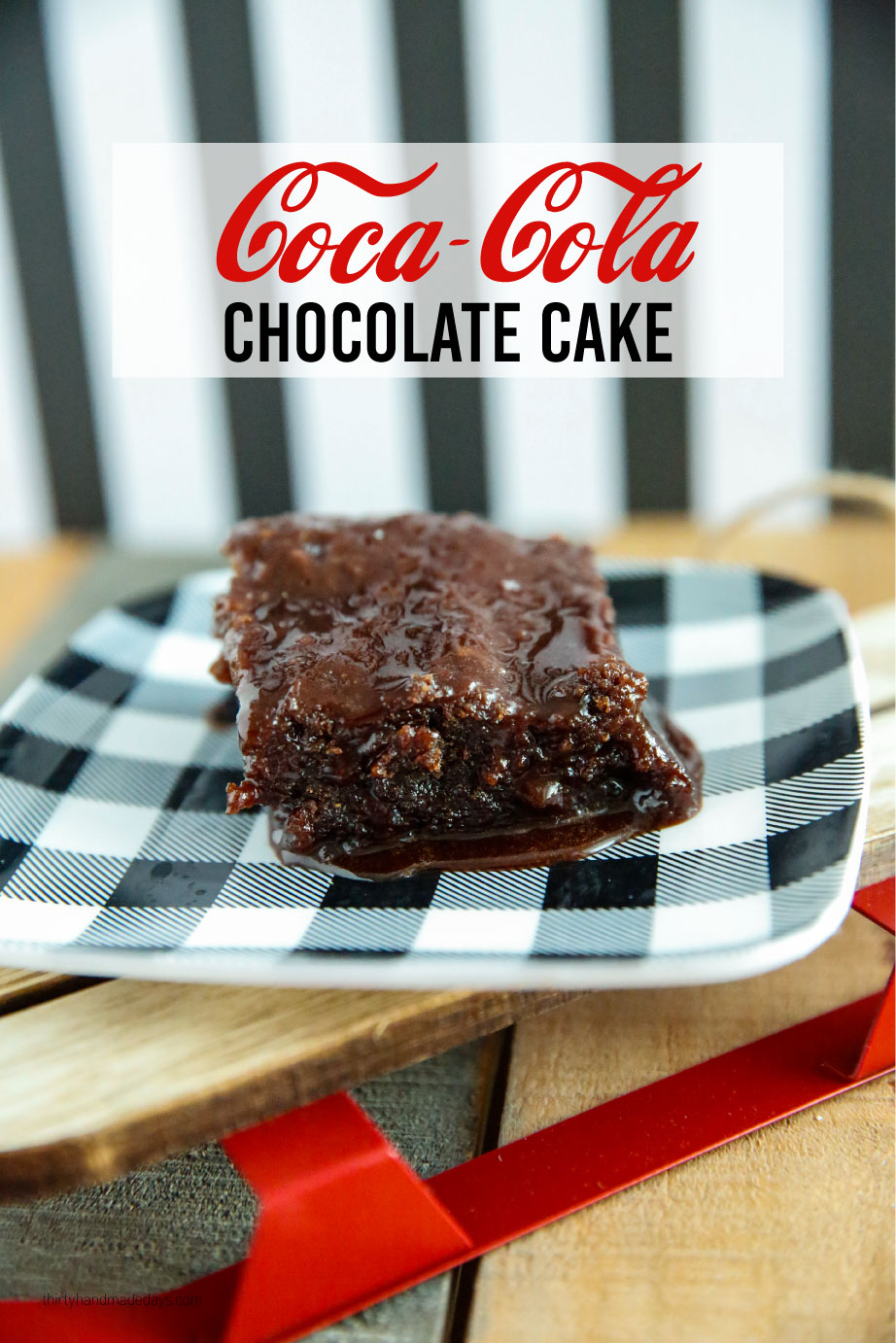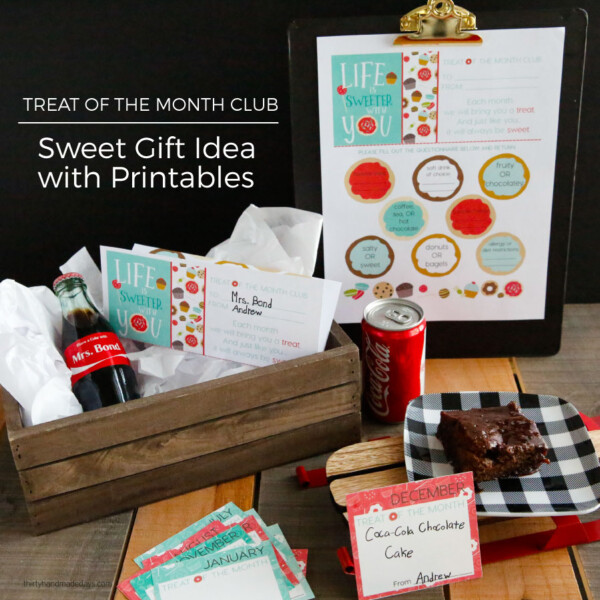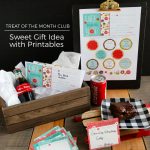 Print Recipe
Coca-Cola Chocolate Cake
This Coca-Cola Chocolate Cake has been around for a long time and been made a number of ways. It's suuuuuper delicious!!!
Ingredients
Cake
2

c

all-purpose flour

2

c

sugar

1

tsp

baking soda

½

tsp

salt

½

tsp

ground cinnamon

12

oz

Coca-Cola

1

c

butter

cubed

¼

c

unsweetened baking cocoa

2

large eggs

½

c

buttermilk

1

tsp

vanilla extract
Glaze
12

oz

Coca-Cola

½

c

butter

cubed

¼

c

unsweetened baking cocoa

4

c

confectioners sugar

(powdered sugar) sifted
Instructions
Preheat the oven to 350°. Grease a 13x9-in. baking pan and set aside.

In a large bowl, whisk flour, sugar, baking soda, salt and cinnamon, set aside.

In a small saucepan, combine Coca-Cola, butter and unsweetened cocoa.

Bring just to a boil over low heat, stirring occasionally.

Add to dry ingredients, stirring until moistened.

In a small bowl, whisk eggs, buttermilk and vanilla until blended then add to flour mixture, whisking constantly.

Transfer to prepared pan.

Bake 25-30 minutes or until a toothpick inserted in center comes out clean.
For the glaze
Approximately 15 minutes before the cake is done, make the glaze.

In a small saucepan, bring Coca-Cola to a boil.

Cook 12-15 minutes or until liquid is reduced to ½ cup.

Stir in butter and unsweetened cocoa until butter is melted.

Remove from heat. Add confectioners (powdered) sugar and stir until smooth.

Pour immediately over hot cake.
Nutrition
Calories:
305
kcal
|
Carbohydrates:
48
g
|
Protein:
2
g
|
Fat:
12
g
|
Saturated Fat:
7
g
|
Cholesterol:
44
mg
|
Sodium:
214
mg
|
Potassium:
52
mg
|
Fiber:
0
g
|
Sugar:
39
g
|
Vitamin A:
385
IU
|
Calcium:
16
mg
|
Iron:
0.9
mg
Recipe originally found from Taste of Home.
One of the coolest things was having the chance to personalize some Coke bottles.  Since I have a unique name, I have never once found my name on anything.  (that's partly why my kids have common names)   I was able to order bottles of Coke that had Andrew's teacher's name and also some for me.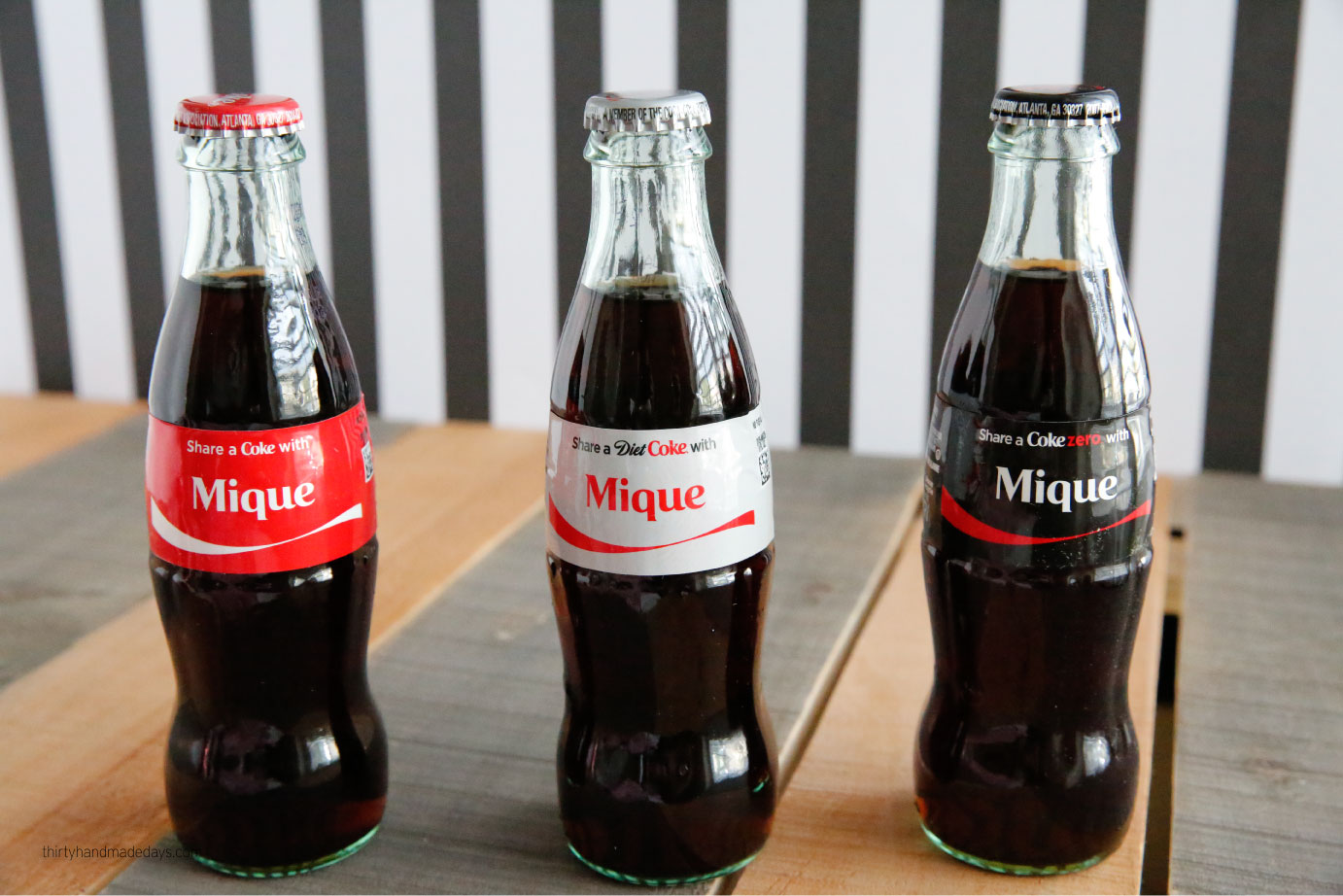 Coke wants to give away a #ShareaCoke prize pack.  Included in this prize is:
One (1) six-pack of personalized "Share a Coke" glass bottles on ShareaCoke.com
A $100 Visa gift card to use in a gift or celebration for your unsung hero
To enter, it's simple- share the story of an "unsung hero" in your life in the comment section below.
(It doesn't have to be a teacher – it is anyone who you consider a hero! ;) 
*This prize was provided by The Coca-Cola Company. The Coca-Cola Company is not a sponsor, administrator or connected in any other way with this campaign.