As much as I love Valentine's Day, I know there are plenty of people who loathe it.  Can't stand it.  Don't even want to think about it.  I've filled up this space of mine with red and hearts and gooey-ness but today I have a different twist on Valentine's Day.  The Un-Valentine's Day.  If you aren't single I betcha have a friend or family member who is.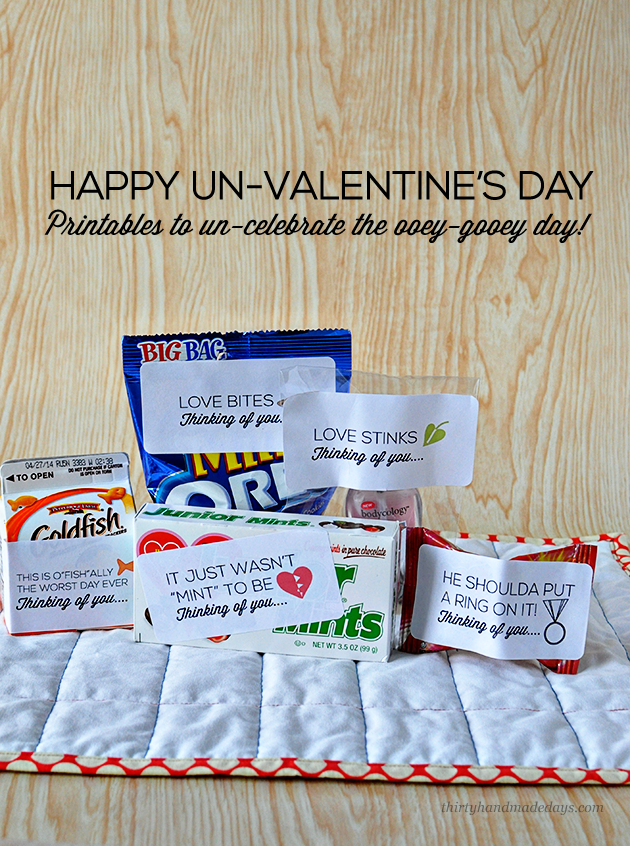 Ok hear me out….this is in no way meant to make anyone feel bad.  Not a teeny tiny bit.  More like a way to brighten someone's day who might not be loving that there's pink and red from one side of the world to the other on February 14th.   These labels wouldn't work for everyone… they are meant to be light hearted and fun.  I'm all for more ways use puns and make treats out of easy to find items.  Goldfish, Oreos, Ring Pops, Junior Mints and a good scent – all things you can find at a grocery store or Target or pretty much anywhere… the gas station would even have these.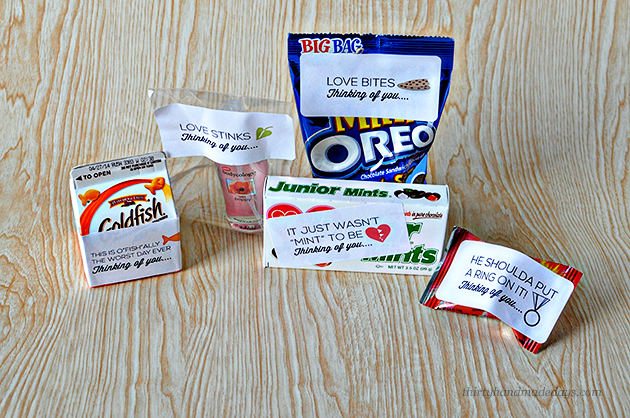 Print out the labels, stick them on and call 'er good.  You could do homemade cookies for extra points.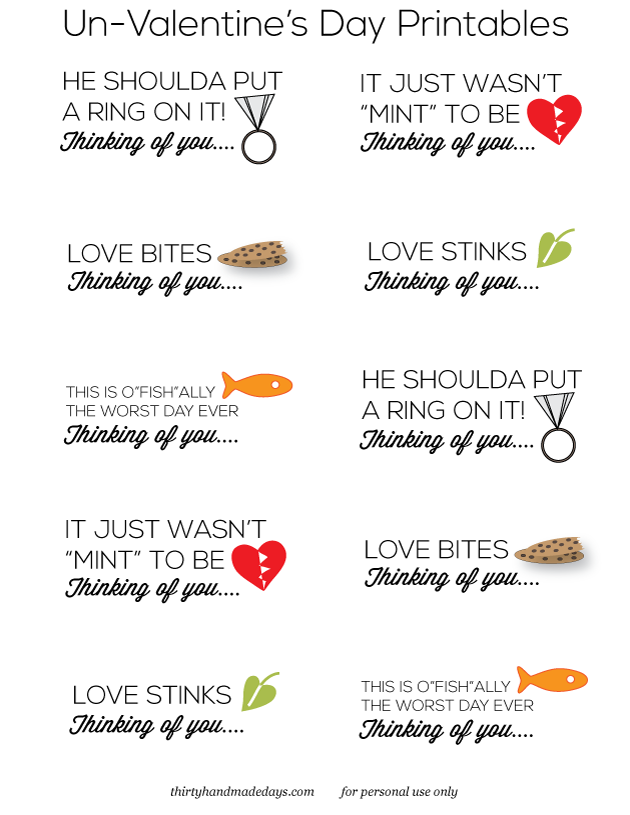 These are meant to work with 2″x4″ labels but you could print them on cardstock and attach as a cute tag as well.  Click on the image above to download.  I included one with "thinking of you" and one without.  You can choose whichever one you want and print it.  For personal use only- thank you!
**On the flip side of this, I know there are lots of single ladies (and gentlemen) who have lost the ones they cherish.  My Mom and my Mother-in-law are both now without their soul mates.  That breaks my heart into a million pieces.   Or people who are hoping to find the right person to share their life with.  As well as people who would rather not have a significant other but you'd still like to acknowledge that you care about them.  I will be sharing some thoughtful ideas to remember them soon….and I am open to suggestions.   Have you done something sweet? Received something special?   Please tell me all about it so I can share. ***
More than anything, I hope your take away from this post is that there are lots of people out there who might not feel like celebrating "Gooey Hearts Day" but who would definitely want to feel remembered or thought of.  I'm challenging you to get out there and do something nice for them (or yourself!) on Valentine's Day.   Look for someone who could use a little sunshine on an otherwise lonely day!

Ok…for some exciting news– I'm thrilled to be hosting a Pinterest Party to celebrate Valentine's Day with some fabulous blog friends.  Help us create the most comprehensive holiday Pinterest board on Sunday, January 26, at 9 p.m. EST/ 8 p.m. Central/ 7 p.m. MST/ 6 p.m. PST by sharing your favorite Valentine-themed projects and recipes.
Hosted by…
Here's how you can participate:
Follow the Year of Celebrations Pinterest board.
Comment on this post and leave a link to YOUR favorite Valentine's Day project and/or recipe.
Tweet YOUR favorite Valentine's Day project and/or link using the hashtag #yearofcelebrations
On Sunday, January 26, at the appointed time and watch as we build a board full of amazing ideas – including yours!
Be sure to follow along during the party to repin and comment on the board's posts using the hashtag #yearofcelebrations.
One lucky party participant will walk away with $200 in DIY party products from American Crafts!
Looking for other more traditional Valentine's Day ideas? Here are a few more…..